Purple metre eaters
---
Earls Express has some of the best looking rigs running on and off road around the country and, despite the occasional setback from the likes of Mother Nature, nit-picking authorities and certain truck reliability issues, this no-nonsense family operation is achieving positive things for the industry.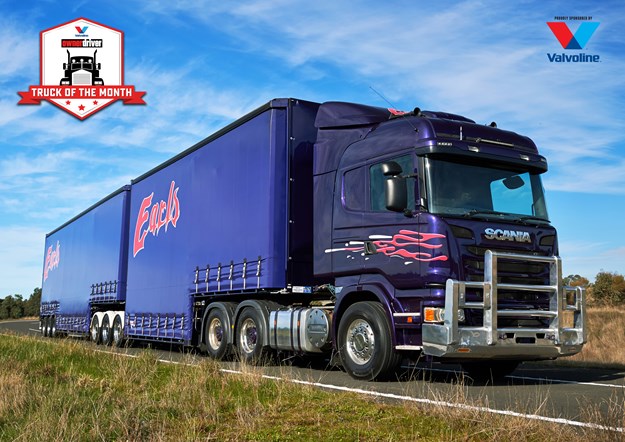 Every truck owner and driver has a story to tell about how they started out in the industry. For Steve Earl, he's straight to the point with his explanation. "I was selling cooking oil and running it out the back of my ute, then in a little truck."
"Then I thought, 'bigger truck, bigger money'. How f***ing wrong I was," he remarks with a wry grin.
As you can guess, airs and graces are not part of the Earls Express culture.
"There's nothing politically correct in this place. We're very down to earth, and very black and white," Steve remarks.
"If you can't handle being told, you don't need to be here."
Not that Earls Express has any issue with attracting the right employees. With the nucleus of Steve and his wife Kym, son Jake and daughters Jessi and Jaime, plus Jake's wife Daniela on the front desk, this family-run business also employs 12 full-time drivers.
"Anyone that works here, we tell them 'you've got to be able to cop shit'," Jake chimes in. "And if you can't cop it, don't dish it out. If you can cop it, dish it out as much as you like.
"We stir everybody up around here; it's just the way we are."
Steve and Kym have been involved in the trucking industry for approximately 40 years. Previously also spending time behind the wheel, Kym moved into the office admin side of the business when Jake, now aged 28, was born.
Jake's career starting when he was "pulling boxes of the wharf at 14". Around five years later he had his own truck, an old SAR. "I bought it out of my back pocket and it blew up two days after," he says.
"The second one I bought which I had for quite a while was an '84 W model."
As far as the daughters' roles in the business go, Jaime has a rigid licence while Jessi drives semis. Jessi, in fact, used the money made from driving interstate to finance her hairdressing and make-up course in 2018.
"She would do the schooling Monday to Wednesday, and then we'd stick her in the truck and she'd go interstate as far as Cairns and back," Jake explains. "Then she'd be back Sunday night and back to school."
According to Jake, Jessi's plan was to concentrate on hairdressing and makeup. But three months later she had the urge to once again get back in the driver's seat.
"She only works about two or three days a week in the truck," Jake adds. "She's rather do local now, she's got other commitments. But she still goes out every now and then."
Truck change
Following a previous business venture with a third party, Earls Express, based in Faraday, Victoria, came to fruition just over 10 years ago. But it truly began make its mark over the past few years since the Scania truck brand began entering its fleet.
After securing a contract that required a particular tautliner-rigid combination, the Earls ended up with a second-hand Scania R 340 and dog trailer which they still own.
Impressed, Steve and Jake decided to fork out for a new Scania – a G480 – with all the bells and whistles such as Adaptive Cruise Control and Scania Retarder. Then came a P440.
Earls Express now boasts seven Scanias in its fleet, including their most recent acquisitions, three second-hand R 620s, one of which recently stepped out of All State Truck Repairs paint shop at Campbellfield in Melbourne, sporting the striking purple and pink Earls Express colours.
Certainly there are other truck brands in the fleet, but the Earls are slowly in the process of removing those from the line-up, including an old Kenworth W model.
"We've got an old [Freightliner] FLB that sits over in WA with a bloke. We've got a yard over there, that's our main run," Jake says.
"We'll probably be selling that one as well, and getting more Scanias."
Then there's their Iveco. Steve, who doesn't mind voicing his opinion when it comes to truck brands, is not impressed with his three-year-old Stralis. Instead of taking its place in the Earls' fleet, he says the truck is sitting in an Iveco yard in Melbourne.
"We won't take it back; It's a heap of shit," Steve says succinctly.
"It just keeps breaking down. We make the payments every month and leave it in their yard down there."
Jake believes the truck, which he says has done around 500,000km in two years, is a "total lemon".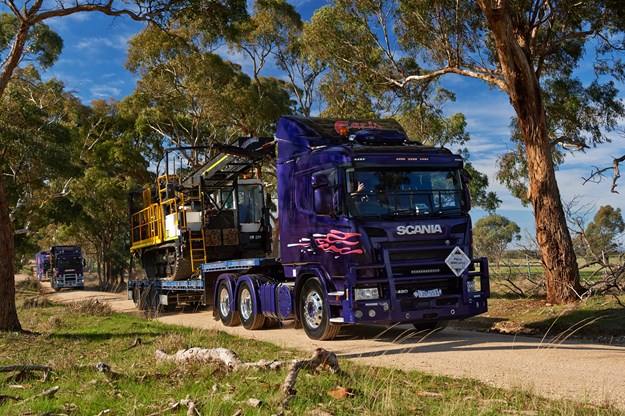 "After 500,000 ks we were under the impression we had the same warranty as what the new Scanias have got, and that's the million kilometres in five years.
"It gets to 500,000 ks and they say it's out of warranty."
"We've got no leg to stand on at the moment. We can't afford to drive it out the door because we're afraid it's going to break down on the Nullarbor, and that's going to cost us an absolute fortune."
As far as Nullarbor breakdowns go, it's a case of 'been there, done that' on at least once occasion for the Earls. Surprisingly, however, the offending truck was the Scania G 480 which they bought new. Although the G 480 had only done 17,000km, an engine fault meant the truck was grounded 800km from home. The truck was only covered for 500km of free towing, but Scania picked up the bill for the entire trip back.
"Scania did brilliantly with that one," Steve remarks, adding that the 480 is still his favourite truck.
"I find Scania is very good to deal with. They work with us, not against us."
The Nullarbor is a regular Earls Express run, although that route was temporarily put on hold due to the Western Australian bushfires around December and January, causing the closure of the Eyre Highway.
"Yes, it's hurt us a bit but we'll get through it," Jake says. "We're in a lot better position than a lot of people. We don't have to worry about losing our house or anything."
With trucks traffic across the 'paddock' suspended, Steve and Jake decided to leave their trailers at Port Augusta until the highway reopened, bringing the trucks home bobtail. They had other work to be done in the meantime.
Ingenious combo
Freight-wise, they haul heavy machinery, oversized freight, steel, cardboard and anything else that comes along. It's a sign of their adaptability, an example being Earls' most expensive setup – a rigid and pig trailer combo. When needed, the tautliner body can be removed, converting to a flat top.
"It's actually a skel truck and skel pig trailer, so I can do local containers if I'm really quiet," Jake says.
"With the rigid and pig trailer, you've got eight and half metres in the truck and six-odd metres on the trailer. It's all one combination.
"We've got a ramp system which is 22 tonne rated, that are only about 30 kilos each ramp. That's another engineering side of it.
"When the tautliner's on, you can concertina the truck and the trailer together, open the front doors of the trailer and the back doors of the truck, close it together and drive machines straight through."
Jake came up with the original idea, despite feedback suggesting it couldn't be done. So he made the trip across to Drouin where he sought the help of Brendan Harris of Harris Trailers. "They said 'we can make that, no drama'," Jake recalls.
It's a sign of the Earls fierce independence and not taking 'no' for an answer. And, despite no financial assistance from the regular institutions, they've still managed to grow the business.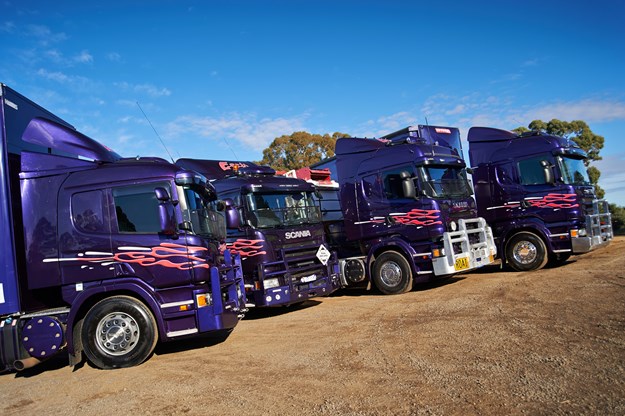 "Nobody would give us a loan," Jake explains.
"We live on 100 acres, we're self-employed and an owner-builder. But nobody wants to touch you; they think you're the biggest risk in the world."
That hasn't prevented Earls Express from attracting fresh young blood into it ranks – a situation all too rare in an industry where the average age of truck drivers continues to rise each year.
"We take on young people with no experience; as long as they've got the right attitude," Jake says.
"We'll happily train them up, give them weeks of experiences with myself and the old man, out there on the road and in the yard.
"We teach them the whole lot, even how to adjust your brakes, change tyres … they get the whole real operator's experience.
"We don't want steerers, from point A to point B. They need to do all their loading and unloading out on the road.
"It has worked out well; we've got some good reliable young adults."
Overzealous authorities
Jake admits the downside of hiring young drivers is the higher cost of insurance. As far as Steve is concerned, however, the trucking industry's major deterrent for hiring new recruits is the endless harassment from the road authorities. In fact, mention the NSW Roads and Maritime Services (RMS) or VicRoads and Steve doesn't pull any punches.
"Every time you pull into a bridge, or get pulled up, you know you're going to get a fine for something," Steve says. "That's what turns people off the industry.
"When we put any of these kids on, their mouth drops when we tell them what it's like out there.
"Every single week we get a ticket or something in one of the trucks.
"The driver's just doing a basic human error, like they might be over 15 minutes in any 24 hour period. They hit them hard.
"We do Australia wide, and we might be out in the middle of nowhere, and they've come in and they've chewed one of the tyres out on the dirt road. Or one headlight's gone, or something.
"Then they give you a major defect and you have to do a full roadworthy. They absolutely hound you; it's just wrong."
Steve points to his first Scania, the R 340, which was recently pulled off the road for what he believes to be totally unwarranted issue.
"The tyres were starting to scallop out, which means you've got a wheel alignment issue, or under pressure, or something like that.
"It was due to go in for new steer tyres once it got back off this trip. There's plenty of life in them, more than 40 to 50 percent of tread left, and it started to scallop. So we sent it out; it's nothing unsafe.
"It gets down the road and gets a defect for tyres. Well, defect for tyres, no worries, fine. If you want us to change them, we'll change them.
"But the defect they put on there – 'must have full roadworthy' – now that has just cost us.
"So far it's been off the road now for six weeks because in that full roadworthy, the truck and trailer unit that we bought, unbeknown to us, didn't have some sort of plate that it's supposed to have on the trailer.
"Now we've had to go and have it fully engineered and all the rest of it. The unit's been running around for 12 years like this. Now it doesn't comply."
Jake believes the National Heavy Vehicle Regulator (NHVR) is slowly changing the authorities' mindset, although he says another incident, this time on the South Australia-Western Australia border, has again cut into their profit margin.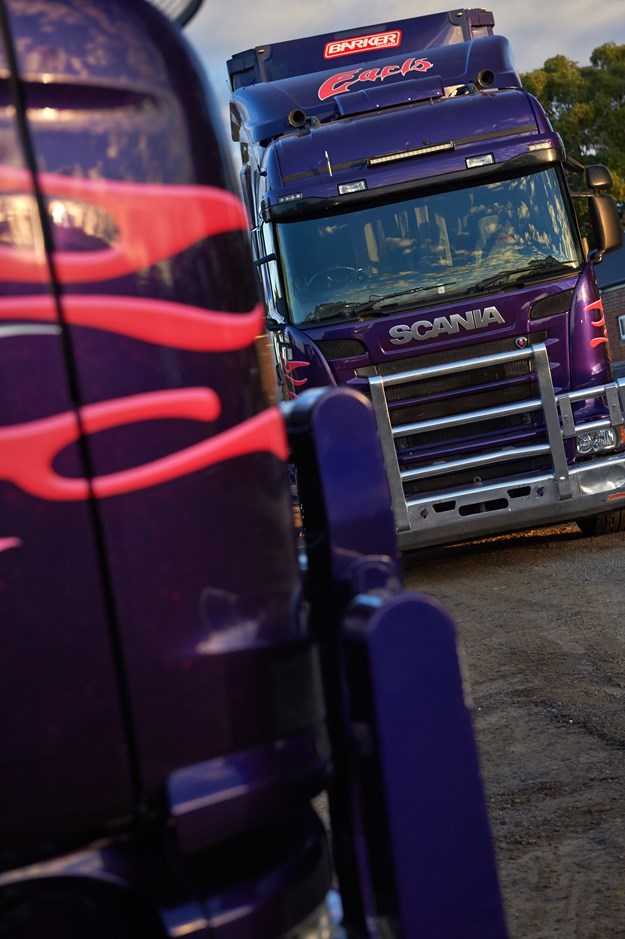 "We got picked up for defects and insecure loading and all sorts of crap over in WA when they did a blitz one day at Border Village.
"They grounded the truck for eight hours which turned into overnight, and for something that we've been carting for over 10 years.
"Because the guy on the floor, who's never put a load on in his life, didn't like the way it was sitting. It was totally safe, totally legal, totally within limits, all that sort of stuff.
"They ground you, they gave us a list of about six or seven different defects, and it included rocker box bushes, all brakes, all this, all that.
"They don't understand. None of it was even right."
Again, it was classed as unroadworthy until Steve and Jake took it to their regular roadworthy repairer whose response was, "there's nothing wrong with it".
"We had time off the road; and we lost some of the freight because we were late to pick up the next load," Steve says.
They took it up with the NHVR's Adelaide head office who agreed with the Earls version that the truck and trailer was roadworthy.
"We got everything revoked," Steve says.
'It cost us money but the bottom line is now we've got a little bit of respect over there in South Australia and they know that we know what we're talking about.
"The people over there in head office, they were good to deal with, so we're hoping that will be the same when they start taking over the other states."
Steve says, while the NHVR in SA were approachable, the same can't be said for the NSW RMS and VicRoads.
"VicRoads, you can't talk to. The police, if they give you one of these defects, you can't get onto anybody to talk to because they're arrogant. The task force especially are just arrogant p***ks.
"But NSW is the worst; the RMS. It's all revenue."
Building a brand
The Earls pride themselves on their fleet's appearance and their safety record.
"If anything's wrong with any of our vehicles, I'm more than happy to fix it because we do all our own repairs here, we do all our own tyres, and we think we do a pretty good job," Steve says.
"But anybody can miss something and if it's missed and somebody finds it's missed, we're more than happy to repair it because I want the vehicles out there safe.
"I've been doing this for 40 years and I have not had a driver have a major accident, I haven't had a truck off the road ever with accidents, and that's the way I want to keep it."
Steve is adamant that the health and safety of his drivers comes first and foremost.
"All our young blokes, they're all told, 'if they get tired, go to bed'.
"I care about the freight, but the freight's not that important. If they're going to be late and if they need extra sleep, we just ring the customers and let them know that the driver needs a bit more sleep and they'll be there such and such a time."
The stunning purple paintwork, pink splashes and lettering on the Earls Express trucks and trailers indicates this is a business that wants to create an impression – a strong, dependable one. And it's no surprise that the Earl family's female side – Kym, Jaime and Jessi – had much input into the livery's design, especially the metallic purple with fuchsia flakes.
"Back when the old man stepped up from the W model to the Aerodyne, mum gave him an ultimatum: 'If you want a new truck, we've got to pick the colours'."
The fleet's colour scheme on the fleet doesn't stop there. The Earls family, as well as the drivers, all sport the distinctive classy "uniform" of Earls Express. No blue singlets or thongs here.
"We're building the brand, and the brand we want is to stand for service and reliability, especially when we're out with the customers," Steve says.
"We're trying to build a reputation of doing things the right way."
Subscribe to our newsletter
Sign up to receive the Trade Trucks e-newsletter, digital magazine and other offers we choose to share with you straight to your inbox
You can also follow our updates by liking us on Facebook. 

Trucks For Hire | Forklifts For Hire | Cranes For Hire | Generators For Hire | Transportable Buildings For Hire