Loosened up for the long haul
---
The story of Paul and Gina Gleich is one of becoming transport operators almost by accident. But, after years of doing it tough, they're now enjoying the fruits of their labour with a fleet of Kenworths.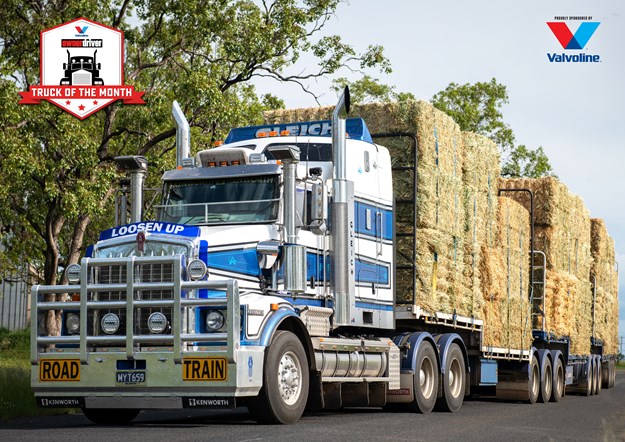 I know there is no easy road to success in the transport game, for those that drive the roads we sure as hell know there is no smooth road either.
I do have a lot of admiration for those guys and gals that show true resilience and just keep battling on. It's a trait I lack, no seriously! Last week I gave up on a bloody jigsaw puzzle after thirty-five minutes, even though the box said three to five years. So, sitting down with people that have not just toughed it out but come out the other side almost as sparkly as their trucks. Well count me in for that story and let me introduce you to Paul and Gina Gleich.
For those unfamiliar with the South Burnett region of Queensland, it's a huge farming area. It is also the base for Swickers, a magical place that makes all kinds of bacon. That's completely irrelevant here but hey, it is bacon.
Back on task, somewhere between the two vibrant little towns of Wondai and Tingoora you will find a massive shed that houses the trucks of Gleich Contracting and a lovely home that doubles as its offices.
However, the chances of seeing the shed full of most of their trucks is minimal as the fleet of eight stunning rigs is never in the same place at the same time. They spread their work from the top of Queensland all the way down into Victoria and South Australia. But when you do get to check them out they are some of the finest Australian-built Kenworths going around, each with their individual nicknames. Plus, with a team of drivers dedicated to their professional duties, the rigs look immaculate. 
Farm machinery
It wasn't always trucking for Gina and Paul though. Back in 1997, Gleich Contracting began as a sole trader farm contracting business. Paul was the driving force behind it, having grown up in a farming environment near Murgon, working from a young age with all manner of machinery in all manner of roles.
Leaving school after one week in year 11 saw him working at the local meatworks for a few years before moving to the Northern Territory to take up a new job. Returning home, he worked as a tyre fitter at the local tyre shop before travelling south to drive headers and cotton pickers at harvest time. The work ethic he learned meant early success when he decided to branch out on his own.
His contracting work covered the likes of spreading and slashing, ploughing and planting, and everything in between. Most of the work was around the South Burnett area, though Paul also spent a number of years doing contract work down at the Port of Brisbane. Their workload often saw the farm contracting teams work several shifts, both day and night in order to ensure the work was completed in time.
In the early days as the business grew, Gina would help out after finishing her day job. She was responsible for the paperwork and accounts and often helping Paul move equipment until late at night so everything was ready for the next day. It wasn't unusual for them to be getting home at midnight or 1.00am, several nights a week. 
Colourful language
The couple's first introduction to trucking over farming came when they needed to purchase a truck to move their farm equipment from job to job. That resulted in a stunning second hand 3070 ACCO joining the Gleich fleet. Paul had many colourful words to describe the ACCO, but it did do its job. They got a trouble-free run of almost 500 kilometres out of it before the engine blew. Yes, you read that right, 500, not 500,000.
Within weeks of purchasing the ACCO the young couple had to fork out for an engine rebuild. "It was a very nice 'welcome to trucking'," Paul recalls.
What it did do though was force them to find other uses for the ACCO when it wasn't moving machinery. Turns out the drop deck trailer the Gleichs were using for shifting their machinery was also perfectly suited for transporting hay. It was this move that would eventually become a niche market for the Gleichs.
At the time the ACCO was kept very busy, too busy in fact to keep up with the other work. So, another second-hand rig was brought. The next Gleich Contracting truck was a far cry from the old ACCO – a 1988 Kenworth T650.
The T650 was purchased with a tipper to cart manure, lime and gypsum for the Gleich's spreaders. This paved the way for their expansion into carting grain. 
Around 2003, when a lot of the country and particularly Queensland was suffering from drought, Paul and Gina took a good hard look at things and decided their future lay in transport rather than the farm contracting. Yes, since a young age the machinery had always been Paul's love but with the drought setting in and farm contracting work becoming scarcer the Gleichs had to look to the future.
Since branching out into transport and putting the old ACCO to work they had built up some great clientele with their professional approach to carting hay, and then grain. Paul and Gina believed this is where the company would head.
By 2004 it was all about road transport for Paul and Gina. If they thought building a farming business was hard, the next few years were a real testament to the true Aussie toughness ingrained in the Gleichs. 
Second-hand challenges
Like most new businesses you buy what you can to get the job done. For the Gleichs it was a series of second-hand trucks, ranging from early model Kenworths and S-Lines to Powerstars and Transtars – they bought what they could to keep up with the work. The regular downside of second-hand equipment is reliability, and that's exactly what proved to be the most challenging aspect for Paul and Gina.
"We struggled along with all second hands," Gina informs me. "We had a lot of issues with engine dramas and constant repairs."
Both Gina and Paul admit that, as they were establishing the business, there was a certain safety net to their thought process. "It was affordable, and we were of the opinion that if the work ever ran out in that time, that we wouldn't have these huge repayments."
It was practical thinking really, even though it really pushed the Gleichs to their limits at times. "We were just plagued by breakdowns for quite a few years," Gina continues, adding that in a spate of 16 months they copped four unfortunate accidents which saw trucks off the road for repairs and even write offs.
If their first ever truck lasting only 500km was tough, their venture into trucking fulltime was tougher than my wife's slow cooked silverside.
Times like this can make or break people (I turn your attention back to my hissy fit with that damn jigsaw puzzle, and don't even get me started on my nieces 'Where's Waldo' book). But tough times can bring out the best in people and those formative years brought out the strength and commitment in the Gleichs.
"There were so many times when we just wanted to walk away, we really did," Gina recalls. "We got to that point where we thought, 'oh gosh, what are we doing this for'?"
It was about now that Gina dropped two little words that I think sums up the success of Gleich Contracting – 'pure resilience'.
"We just kept pushing through, and it was just pure resilience I suppose, and working ourselves crazy to push through," she explains. adding that Paul was adamant they could work their way out of it.
Things started to change a little in 2006 when they bought their first brand new truck. Now looking back, the couple admit that they would have looked at less trucks, but newer, in order to take advantage of better reliability, but it wasn't seen as an option at the time. 
That first new truck was an International Eagle. Yes, the repayments were higher, but the running costs dropped. Alongside that the work was becoming more dependable as the reliability of the newer equipment took effect.
"We did a lot of kilometres with the Eagle … we did a lot of hay with it," Gina says, adding that they had a pretty trouble-free run with it.
Around the same time, Paul and Gina welcomed two beautiful children into the world and from that point on family life became an integral part of their owner-operator business. By far this was their greatest achievement yet and gave them some much needed perspective and motivation to keep things moving along.
Of course, an owner-operator transport business means sacrifices are often necessary and this often means time away from home and family. At times Paul was away driving for several weeks at a time while Gina cared for the kids and ran the office.
The next milestone for the Gleichs came in 2015 when they ordered their first Kenworth. "The first brand new Kenworth, that was a great day," Gina beams.
That truck was a stunning T659 which is still earning its keep in the company colours. Since then, with the company well established and having built itself a solid reputation, the Gleichs have been constantly upgrading both the truck and trailer. They now run a total of three T659s (including the latest nicknamed 'Loosen Up'), these being the first-choice options as a lot of their work is off highway.
A fair bit of paddock bashing means Paul and Gina wanted strong, reliable trucks that also offered great vision, especially as the trucks were on and off tight weighbridges every day.
They also run a King Cab K200, chosen to meet B-double length requirements, and it's predominantly hauling hay.
In addition, there's still a couple of old girls – a stunning K104 purchased under a tight time constraint. There's also a second hand T908, not Paul's first choice in the Kenworth range (the repeated repairs to the bull bar showing the tight weighbridges aren't as easy to see from behind the big bonnet), but having known how meticulously the previous owner had cared for it, he couldn't say no. 
Grain and hay
The latest addition to the fleet is a T909, purchased recently to meet ongoing work commitments. Oh, and the final truck is the 1988 T650, the truck that got them into grain and also the motivating factor for the company's paint scheme. The lines on the T650 were used to inspire Paul when ordering the first T659 in 2015.
In terms of the spread, five of the trucks are on hay with a mixture of B-doubles, road trains and B-triple combinations. The other three trucks cart grain and help with hay when necessary.
Gleich Contracting has definitely weathered the early years and fought its way through. Things have changed a lot since they started out, when trucks were purchased solely to get the job done. Now each new truck now has a little more bling added, sometimes, as Paul jokes, without the "minister for war and finance" being aware. Ask Gina about the expensive water tank/shiny stack behind the K200.
Importantly, the trucks look the part with both Paul and Gina agreeing that a clean and tidy appearance on-road is important.
It's not just the outside that matters to them, however. The trucks get kitted out with everything the drivers need. With the boys living in them for a great length of time, Paul and Gina realise how important it is to look after the company's greatest assets and ensure they have the tools to be comfortable.
"It's of the greatest importance that our drivers are well looked after. Our drivers are a fantastic group of people who go above and beyond every day. We are so appreciative of all the hard work they put in," Paul and Gina say.
Gleich Contracting has come a long way since they rebuilt the engine on their first ACCO – and I mean that both literally and figuratively. They've come all the way from Western Australia with hay, and it doesn't get much further than that.
They have also come from a place where a lot of people would have pulled up stumps and tried something different. Paul and Gina didn't though, they dug in and worked their way through and have a stunning fleet of outstanding trucks to show for it.
Hell, they've even inspired me, so you guys head off and check out the photos, I'm going back to finish that damn jigsaw puzzle! 
Subscribe to our newsletter
Sign up to receive the Trade Trucks e-newsletter, digital magazine and other offers we choose to share with you straight to your inbox
You can also follow our updates by liking us on Facebook. 

Trucks For Hire | Forklifts For Hire | Cranes For Hire | Generators For Hire | Transportable Buildings For Hire