Meaty big V8s
---
On the outskirts of Albany in WA's deep south, Ken and Angela Zambonetti have built a dynamic livestock transport business based on reliability and total commitment to delivering cattle and sheep in first-rate condition. But in an age when long-term loyalty is often overshadowed by short-term satisfaction, this couple firmly believes in sticking to those things they know to be tried and true. When it comes to trucks, that means Scania.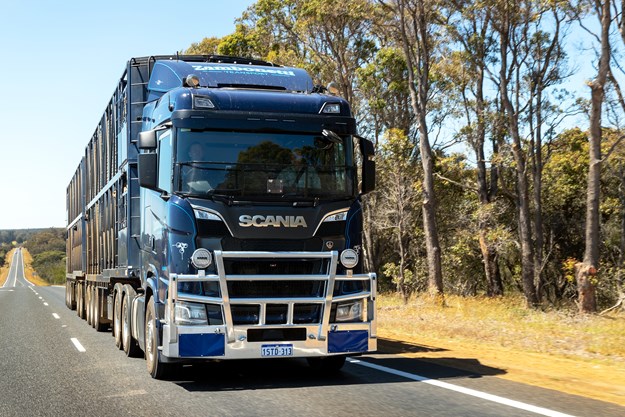 The previous few days had been particularly busy for Ken Zambonetti. Even busier than usual as a run of stockyard sales arrived in quick succession throughout Western Australia's southern pocket, creating a spike in calls from farmers and feedlots.
Still, it's not uncommon for the phone to run hot. In these parts, the Zambonetti name and reputation are etched deep in the rural register.
Finding the time to just stop and talk about trucks for a while is rare, but right now there's a break in the scramble. Inland from Albany's sea breeze on the southern coast, the afternoon brings heavy heat to the Zambonetti property and in the cool of the family dining room with wife Angela alongside, a broad smile comes with a grateful sigh as Ken says "G'day" and sits down. 
"So you had a drive of Paul's truck this morning?" he asks, knowing full well I did. "How'd it go?"
"Yeah, it's a nice bit of gear," I say with what I hope is obvious sincerity, because it really and truly was a nice bit of gear. "There's definitely nothing wrong with the way it pulls."
"I love the sound of the V8 when it's working hard," Ken nods, the smile still firmly intact. "There's nothing like it."
True, the burly burble of a big bore V8 invites a certain appreciation for the mettle and muscle of the mass underneath, even when it's muted to a soft rumble by the modern manners and creature comforts of trucks such as Scania's latest R and S-series models. 
There is, however, more to the Zambonetti zeal for Scania than just the deep-throated gurgle of a lumpy double-banker. Much more, and it goes back a long way. To 1990, in fact, and Ken's purchase of a second-hand T142 'gumboot' conventional which accumulated 1.5 million reliable kilometres for the eager young operator, mostly hauling carpet between Albany and Melbourne. 
Two years later though, things would be markedly different. Zambonetti Transport was actually started by older brother Frank but when he opted to start another business in Perth, his 21-year-old sibling didn't hesitate to step in and, as Angela puts it, "have a crack". 
The last seven years or so have been a time of significant growth, Ken explains. "We occasionally do some general and hay work, and there's a pocket [roadtrain] double on milk but at least 95 per cent of the business is moving sheep and cattle. That's what we're about."
Obviously, the performance of that first second-hand 'gumboot' and his association with Scania's local people were good enough to create a lasting impression, to put it mildly. Since then, more than 40 Scanias have joined the business at various times, to the total exclusion of any other brand.  
What's more, says a resolute Ken: "They've all been V8s. Every one of them."
Nowadays, the family fleet is a mix of models. All Scanias, sure, but covering past and present generations dating back to the gumboot's successor, a much-loved T530 'ugg boot' conventional from 1999, now with more than three million kilometres on the clock and still earning its keep. Apparently, it's part of the family furniture and according to Ken, it won't be going to live anywhere else.
Yet when asked how many trucks are currently in the family frame, it's Angela who answers earnestly: "We're accidentally running 15." 
Accidentally? "Well, we thought we'd need to run 13 but we got busy and the two we intended to trade are still here." And given increasing workloads, husband and wife agree the so-called 'spares' are probably set to stay for quite a while yet.
Along with the evergreen 'ugg boot', the family fleet includes a batch of eight models of various vintage from Scania's previous R-series range, rated from 500hp (373kW) to 560hp (418kW) and 620hp (462kW).
Latest, however, in Zambonetti's long line of Swedish stalwarts are six of Scania's 'New Truck Generation', delivered intermittently over the past 12 months or more – three R620s and the same number of its taller brother, the 620S.
(If you're wondering why the S-series has the letter behind the numbers, it's because Scania recently conceded to a Daimler request to make the change and thus, avoid confusion with Mercedes-Benz's top-shelf S-class cars. Go figure! Like, how much confusion can exist in the difference between a luxury car and a heavy-duty truck? But such, I guess, are the paranoid sensitivities of corporate kingdoms.)
By this point in the conversation though, a few pertinent questions were begging answers. Like, why Scania? Have you ever looked at other brands and with such devotion to one brand, how do you know if it's doing a better or worse job than something else? And why the S-series cab over the R-series?
On the reasons for Scania, Ken's response was immediate. Reliability tops the list, followed in no particular order by turning circle and overall road manners, fuel economy and Scania's highly effective retarder. But when it comes to the new generation trucks, he adamantly cites the added attractions of a new cab, enhanced safety features and a notably more intuitive and responsive Opticruise transmission. 
Okay, but do you actually look at other brands when considering the purchase of new trucks? It appears to be a carefully considered response: "Yeah, I've test driven a few other brands but seriously, I've never come across a big enough reason to change," he says plainly.
"Scania is just so familiar to us. We know the truck and the people and besides, loyalty works both ways and Scania doesn't disappoint in that respect."
He smiles when he says there have been occasional 'discussions' on warranty and service but in the next breath concedes that most matters are easily and quickly resolved. Likewise, he contends that service issues are minimal because "we do our own maintenance but Scania supplies filters and oil as part of our standard service agreement. It works well that way, for us anyway".
"Like I said, reliability is the big thing for us with Scania." 
Indeed, if there has ever been a particularly disappointing model or even a consistently problematic truck, it doesn't rate a mention.  
Thoughtful for a moment, Ken says one of the new S-series units had a faulty electronic control unit but that was replaced and the truck has been performing well ever since.
On fuel, he's adamant when he says fuel consumption is a difficult thing to quantify given the vastly varying combinations, loads and routes, but without offering a figure, he equally insists he's "very content" with the fleet's overall fuel figures. Besides, from discussions with other operators and drivers, Ken firmly believes he is "well in front, especially compared to the Yanks". 
By Yanks, you mean Kenworth and Cummins? "Yeah, they're the obvious ones," Ken shrugs.
As for fuel comparisons with, say, similarly powered Volvo or Mercedes-Benz models, he suggests there would probably be little difference between the brands when measured on the same workloads. Once more he insists with absolute certainty that Scania would not be overshadowed in any real world comparison. 
With his trucks averaging around 230,000km a year hauling the higher-than-normal gross weights available from concessional loadings for livestock, and the inherently poor aerodynamics of stock crates with or without a load, Ken asserts that performance needs to be equal to the task in high weight applications, and fuel consumption must be considered with these factors forefront in any assessment or comparison. 
Again: "I'm more than content with the fuel figures we get but in this work, you also need the power to do the job." 
Plenty of punch
Over recent years, Scania has stolen a march on most heavy-duty competitors by offering both Euro 5 and Euro 6 versions of its five-cylinder 9.0-litre, six-cylinder 13-litre and 16.4-litre V8 engines. 
Biggest of them all, of course, is the 730hp (544kW) Euro 6 V8 with a thumping 3,500Nm (2,581ft-lb) of torque. It is, however, the only rating in the entire engine family to use both exhaust gas recirculation (EGR) and selective catalytic reduction (SCR) emissions systems. All other ratings and displacements in both Euro 5 and Euro 6 forms use an SCR system with its AdBlue requirement. 
Yet, whereas there are four ratings in the Euro 6 V8 range – 730, 650, 580 and 520hp (544, 485, 433 and 462kW) – the only Euro 5 V8s are 520 and 620hp, with respective torque peaks of 2,700 and 3,000Nm, or 1,991ft-lb and 2,212ft-lb.
Experience is the obvious driver of the Zambonetti specification, with recent years showing the Euro 5 620hp rating to be the most versatile and effective for both fuel and performance in an operation where road conditions and trailer configurations vary greatly. From rutted dirt back roads to slick highways, the workload varies from short stints with a single trailer to B-doubles, 'pocket' roadtrain doubles and occasionally, top-weight triple combinations.
"These days we run pocket doubles as much as we can. They're definitely the most efficient combination to operate," Ken explains, citing a gross weight allowance of almost 90 tonnes on an 11-axle combination compliant with strict volume loading concessions, compared to a tad more than 70 tonnes on a nine-axle B-double working within the same concessions. 
He is, however, quick to mention that a great deal of time, energy and expense has been invested in trailer designs for concessional combinations and systems which enhance the welfare of livestock during loading and travel. As the discussion continued, it became blatantly clear that plenty of pride and satisfaction have come from years of work and thought into the design and operation of trailers, and their influence on Zambonetti's subsequent reputation for delivering livestock in the same condition they walked on.
Similarly, it's a definite Ken who cites Scania's highly advanced standard safety features, not least electronic stability and traction control systems, as major assets for any transport business but perhaps most significantly for dynamic, high centre-of-gravity loads such as livestock.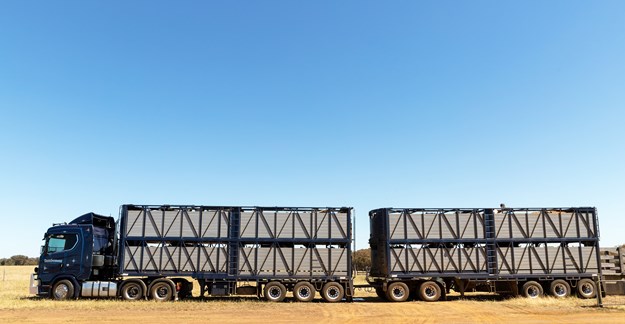 Sand advice
Meantime, all six of the 'New Generation' trucks are rated at 620hp, driving through the latest 14-speed overdrive version of Scania's Opticruise automated transmission, featuring 12 on-highway speeds and two crawler gears, and three operating modes – economy, standard and power. 
Ken is in no doubt about the benefits of the revamped Opticruise shifter in the new model range, particularly an enhanced shift sequence. 
"Putting power to the ground is a noticeable improvement, particularly in sandy areas. And there's plenty of sand in WA," he smirks.
Built on a 3,825mm wheelbase to achieve the 27.5 metre overall length requirement for a 'pocket' roadtrain double, all the trucks are plated to a gross combination mass (GCM) of 130 tonnes and drive into a 3.52:1 diff ratio which 'slows' to 3.65:1 through hub-reduction axle ends. According to Ken, 100km/h is notched at 1,475rpm.
Carrying the back end is Scania's two-bag air suspension and while Ken is reasonably satisfied with the airbag system, he doesn't shy from expressing a preference for a six-rod mechanical rear suspension. 
"Air is the standard on prime movers these days but on any ground it's hard to beat the six-rod suspensions on the older trucks," he attests.
But there was still the question of why half Zambonetti's new generation trucks sport the S-series cab and the other half the enduring R-series which Ken admits has been the preference for many years?
What's more, the S-series has been something of a silent member of Scania's new generation since the Australian launch in the back half of 2018. While its G, P and R-series siblings have generated strong customer acceptance which saw Scania Australia achieve record sales results in 2019, the S-series was nowhere to be seen at the official launch. It was, in fact, several months after the event before word emerged of a few versions in Western Australia. 
In Europe, launch of the S-series was a big feature for Scania: a premium, tall new flagship model with a completely flat floor.
Unlike Europe, though, Australia doesn't have particularly generous front axle weight limits and the extra metal in the taller cab made it hard for the model to meet our general 6.5 tonne front axle weight limit.  
However, concessional loadings in some States allow 7.0 tonnes over the front axle as long as a few requirements are met, including the use of wide profile 385/65R22.5 steer tyres. Obviously enough, Western Australia is one of those States so for Ken, the S-series choice wasn't unduly constrained by weight issues. 
Nor was there a distinctive price disadvantage. "Price was not a major impediment," he said simply.
So again, why the S cab? "The extra space from the flat floor was the main attraction," Ken answered. Quiet for a few seconds, he added: "To be honest, the flat floor was the only attraction over the R-cab."
But the flat floor was achieved by raising the cab considerably, meaning there's a significantly higher extra step on the climb in and out. Also, external access to the locker boxes on the sides of the cab is considerably taller, making it difficult for shorter drivers to reach all the way into the locker. 
For these reasons among a few others, a thoughtful Ken says the R-series will continue to be the cab of choice in future purchases.
Yet as loyal as he is to Scania, and as satisfied as he obviously is in the long-term relationship with the Swedish brand, Ken doesn't shirk from mentioning areas where improvements could be made for Australian conditions. 
Diesel and AdBlue capacities, for instance. According to Ken, 1,210 litres of diesel and a modest 73 litres of AdBlue fall short of ideal for his operation, especially when trucks are hauling triples in more remote regions. In fact, he installs a 380 litre diesel tank at the back of the cab to boost capacity to almost 1,600 litres and likewise, looks forward to the day when Scania adds a bigger or second AdBlue tank to the chassis. Apparently, it's under development.
He doesn't drive much these days, "except when we're busy or down a driver", but climbs behind the wheel enough to confirm his belief that drivers are well served by the comfort, features and safety standards of Scania and specifically, its new generation of trucks.
Even so, he acknowledges that finding good drivers is perhaps more difficult now than ever before. But then, with a shrewd grin he quickly adds: "I don't think we lose any drivers because we run Scanias." 
Cattle drive
Paul Bradshaw certainly doesn't mind driving Scanias or working for Ken and Angela. The solid, mild-mannered country bloke with a friendly disposition, easy attitude and mechanic's qualifications, has been with the family company for 12 years and by his own admission, doesn't plan on going anywhere else. 
On this particular morning he's calmly coaxing a mob of big, healthy Angus cows through the yards, up the ramp and into the rear trailer of the pocket double, joining a mob of similarly sized beasts loaded earlier at another property. All up, 62 head are on board, destined for the big paddock in the sky at an abattoir half a day north. Soon, with far more confidence than I'd have with a complete stranger behind the wheel of such a dynamic load, he'll move across to the passenger seat and give me the reins of the S620 (sorry, 620S) for a few hours. 
For now though, with the decks full and the paperwork signed off with the owners, he'll guide the Scania out of the property and for the next half hour or so, tell me plenty about the superbly presented truck he has been steering since new. 
It is, he says, the latest of the three S-series in the Zambonetti operation and he's driven all three. Arriving in March last year, this particular truck has 145,000km on the clock but it's the same unit Ken referred to earlier, suffering what Paul describes simply as "a computer problem, shutting down when there was no reason to".
Since then, with the electronic control unit replaced, "it hasn't missed a beat", he explains. "It's going really well. So are the other new ones, but they haven't had a problem that I know of."
The only issue now, Paul continues, is the sealing around the driver's door in wet weather. It's easy to agree that it's not what you'd expect from a premium European brand which prides itself on build quality. Sure, it's due to be fixed, but he still wonders about the wisdom of placing electronic mirror and window switches on the upper edge of the door where they're exposed to wet weather if the door's open, the window's down, or the door sealing's not as it should be. It was a fair point.
In most other respects, however, there's nothing but praise for the big Swede. This new generation is, he says, a big step ahead of earlier models in many areas and like his boss, cites the Opticruise transmission among the most notable improvements. 
"It's definitely a step up on the previous box. Things like manoeuvring mode and the way it even remembers the way you drive and the road you're on. It's amazing, really."
Pushing 50 years of age and with the vast majority of his working life either in or around heavy trucks, a smiling Paul says that unlike some blokes he knows, he has no issue with the absence of a gearstick. "Not at all, especially with the way this box works."
There is, he concedes, more complexity than before in the range of features and functions available to the driver but, "you can't be afraid to let the technology do what it's meant to do".
A while back he'd spent time in the cab with Scania's long-serving driver trainer Alan McDonald and he's in no doubt it was time well spent. 
"Alan just pointed out there are lots of things that make the new trucks so much easier and most times, the best way to drive it is to let the truck drive itself, particularly on cruise control with the hill descent engaged."
And talking about hill descent: "I reckon you'd go a long way to find a retarder as good as the Scania," he said with total conviction. It'd be hard to argue with that conclusion.
"We don't drive hard," Paul continued. "It's all about looking after the cattle and we run on dirt roads quite a lot, especially up north if we're pulling six decks [triples], but the truck's doing the job well whether we're up there or down here."
Keeping a tab on fuel consumption through the on-board trip computer, Paul says the average with the pocket double combination is routinely around 1.5km/litre. However: "For whatever reason, AdBlue consumption is significantly higher than the other new trucks," he asserts. 
Soon enough he pulled up at a roadhouse and offered me the driver's seat as he went to get a couple of coffees. In such a tall cab with a completely flat floor, it was easy to stride from one seat to the other but climbing earlier into the passenger seat, the extra height of the S-cab was easily noticeable. 
Too high? I guess it depends on how often you're climbing in and out but from inside, it certainly provides an expansive view.  
Paul would later comment as Ken did, that some drivers also find the extra height of the locker boxes too high for convenience. It's easy to see why. 
At 185cm (6ft 1in in the old measure), it's not a problem for Paul but he agrees the boxes are higher than ideal. Meantime, back on the inside, he has no issues with the bunk despite some assertions it's marginal for Australian conditions. 
"I don't have a problem sleeping in it, that's for sure," he smiles. 
Back on the road, hauling an estimated gross weight of 80 tonnes or thereabouts, the 620 with more than 2,200ft-lb of torque in support was easily and smoothly into stride, stepping through the Opticruise box with seemingly seamless shifts. 
Heading north on the long stretches of undulating bitumen, it took a while to be reacquainted and comfortable with the various functions controlled by switches on the steering wheel but with cruise set a touch over 90km/h and hill descent active, it was easy to understand why this new generation of Scania trucks has been so well received across Australia. Inside, the comfort and quietness of the cab were extraordinary. Serene even, and totally at odds with the potent performance happening underneath.
Still, on a relatively short wheelbase, pulling a high centre-of-gravity, constantly shifting load, steering tended to be a tad twitchy.
Paul agreed but quickly explained: "It's the nature of the load. High and heavy. It pays to be gentle." Indeed it does.
The best part of two hours passed quickly and it seemed too soon to be climbing out and heading back to meet Ken. 
Well, it was at least a brief but practical insight into the reasons for something so rare in the modern world. Loyalty! 
Subscribe to our newsletter
Sign up to receive the Trade Trucks e-newsletter, digital magazine and other offers we choose to share with you straight to your inbox
You can also follow our updates by liking us on Facebook. 

Trucks For Hire | Forklifts For Hire | Cranes For Hire | Generators For Hire | Transportable Buildings For Hire