Northline: a window to the world
---
How Northline continues to make strides in its global logistics ambitions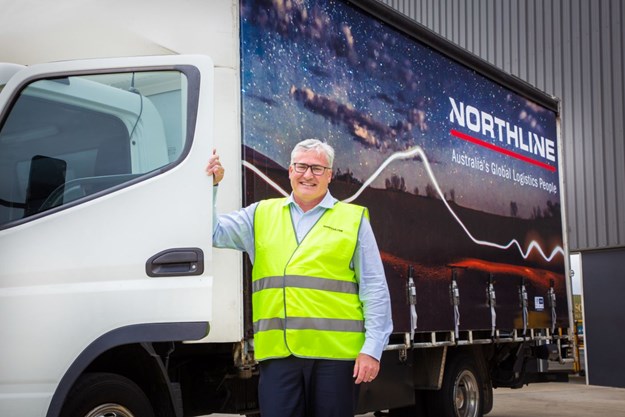 Craige Whitton recently celebrated 15 years at Northline; more than a decade of those spent at the helm of the ambitious logistics firm.
Despite arriving with no discernible transport background, the industry, like it does to many, absorbed him and he's now deeply entrenched in a project that continues to grow.
"From my perspective, I'm as energised and passionate as I've ever been since I joined the business – I don't take for granted the role I have or the opportunity that I've had," he says.
"I get to work with a great group of people within the company every day of the week and I get to work with a great group of people being our customers and now supporting suppliers.
"It just provides the environment, the culture, and all I'm trying to do is provide the leadership to help make it a better place in every different way possible."
So how did it get to this stage for Whitton at Northline?
It's worth looking back at the last time ATN visited – December 2013 – when the firm with South Australian roots was celebrating its 30th birthday.
Back then, its Smithfield depot in Sydney was up and running and the wheels were in motion for its Brisbane facility.
Six years later, those pieces, and more, of the puzzle continue to come together as part of a wider blueprint to cement itself as a global player.
This is highlighted by Northline's evolution from a business mainly servicing northern Australia to a nation-wide and international business, economic changes that saw the country's traditional manufacturing base recede and regional trade increase.
While Northline's customer-base remains largely Australian, Whitton explains, these customers increasingly rely on overseas markets as supply partners for their businesses in Australia, while export opportunities also continue to grow for Australian businesses in key industries, particularly commodities.
Northline's ability to adapt – and thrive – has underscored by a 22 per cent growth in revenue in the past six years.
FACILITIES
Underpinning that strategy has involved refining Northline's fully integrated end-to-end supply chain capabilities, investing more than $120 million over the past six years to establish a state-of-the-art domestic multi-modal transport and national warehousing network.
New facilities have opened in Perth, Adelaide, Darwin, Brisbane, Townsville, Sydney and Mackay.
A new $30 million Perth facility, pictured, was the most recent development, officially opening in April 2019.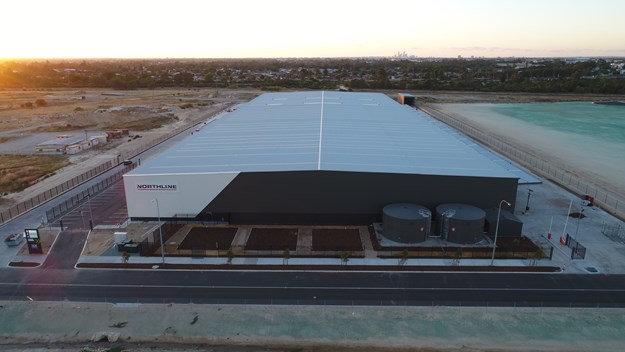 The depots are in strategic locations, offering greater speed and efficiency through improved road-rail connectivity and increased capacity.
"Those two – Sydney, followed by Redbank in Brisbane – were the beginnings of a sort of infrastructure capability element of our strategy at the time," Whitton says.
"From our perspective, it's a part of our growth strategy.
"The purpose is to have state-of-the-art or A-grade purpose-built and designed facilities that allow us to grow because there's greater capability and efficiencies that come out of it. And, as a general rule, allow us to improve as a business."
As a sign of the company's progress, in 2020 it will be considering its options with the Smithfield warehouse as its lease expiry approaches.
"Over that period of time, we've actually grown to the point where we now have a second facility in Sydney at Wetherill Park," Whitton says.
"So now that we've outgrown Smithfield it's time to consider what the options are, but that planning will take place in 2020 before a 2021 execution."
TECH
In 2019, Northline expanded its international freight management service to more than 100 countries, facilitated by growth in Northline's international team to ensure specialist service.
"That's all being managed from within Australia – some of it's based in Adelaide, some of it's based in Melbourne," Whitton explains.
"So there's people providing shipping services, customs clearances, wharf cartage, air freight services, or otherwise."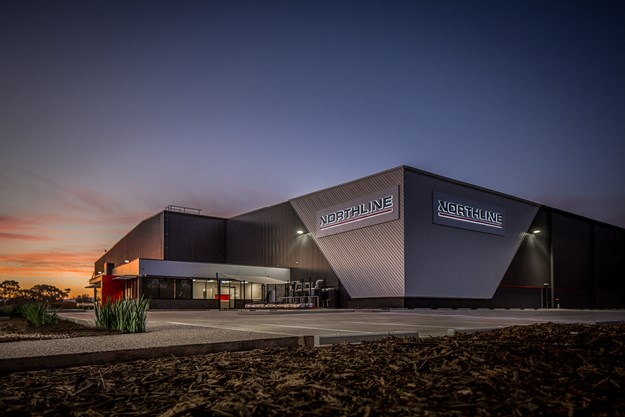 In the pipeline is a new online portal for customers to create freight movements, pick up requests, warehouse order processing and track and trace their freight across Northline's international, national and warehousing services.
"Trying to get ahead of technology is an ongoing challenge. But we are always working our way through all of the systems that we need to develop, increase, replace, build," Whitton says.
"It's about creating optimisation, efficiency, engagement and helping to improve the business.
"The updated and refreshed online customer portal that's in testing phase at the moment should be released in the first quarter of 2020, which will be terrific for us to be able to interact with our customers, be better in that way.
"It allows us to provide the full supply chain suite of services end-to-end, door to door, for our customer base."
"And of course there has been an app developed along the way through. That app helps with customers to be able to have mobile access to track and trace, for their freight or getting quotes or getting pickups or that type of stuff as well."
END-TO-END
Whitton sees a growth opportunity for Northline with its existing customers as well as bringing new customers into the mix.
 "With manufacturing going down the path that it is in Australia, certainly importing and certainly from China in particular has been very strong, most of the exporting side of things is related to agriculture, whether that's wine or otherwise.
"Given we can provide customs clearance, wharf cartage, cross dock, 3PL warehousing and then domestic intra- or interstate and local delivery, there are lots of options and lots of support that we can provide to help our customers grow and expand for them at the same time."
That includes project logistics, working with customers to undertake more complex projects from initial feasibility, project scoping and investigation, through to project delivery and completion.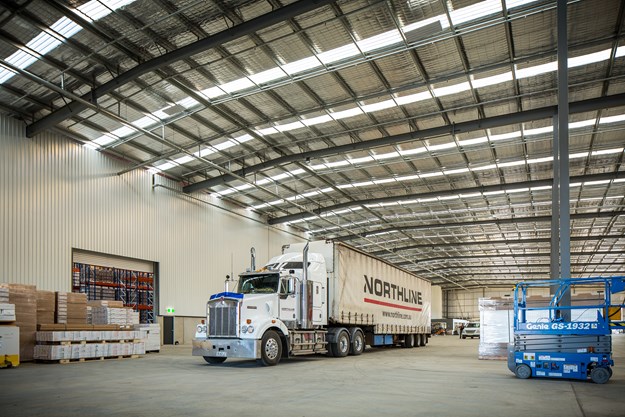 "Project logistics is really another expansion of existing service offerings. It tends to target industries like LNG or coal type of markets or solar," Whitton says, spotlighting the firm's end-to-end contract for one of Australia's biggest solar farms – the $277 million 255MW Sunraysia Solar Farm project.
"We handled the shipping in of the containers and from memory there were about 2,500 containers.
"In that particular case, most of them came from China, some from the US as well.
"We handled that from start to finish: brought them through the port and customs cleared them, brought them into a standalone facility just to service that project, using it to store, create, work packs that needed to go to the construction site, and once the work packs were created we then put them on road trains and sent them to the construction site."
---
More on that solar project for Northline, here
---
One of Northline's next big projects is to manage the freight and logistics for the construction of the Cann Group's multi-million-dollar medical cannabis facility in Mildura.
FUTURE-PROOFING
Northline's diversification will hold it in good stead regardless of the challenges it may face in the future, Whitton says.
"Logistics and transport is often referred to as a barometer of what is happening in the economy.
"There is lots of noise about the economy but we just have to keep doing what we're doing and doing it to the very best of our ability.
"Unless there is another GFC, there may be pockets of problems, but from our perspective our customers are across the entire country, so if one industry or state economy struggles, the impact is minimal."
It covers a spread of industry sectors, areas and customers of a range of sizes, from start-ups through to blue-chips.
"So, from that perspective, the impact is managed as part of a risk-management strategy to get those three things right: the geography, the industry and the size of the business.
"We are comfortable with where we're at. We're not trying to be the biggest, but we are trying to provide a full range of services to our both existing and growing customer base and doing that the very best we can.
"From that perspective that holds us in good stead to be able to retain the existing customers and acquire new ones along the way."
In the past six years, Northline has grown from about 440 to 535 staff, not including its subcontractor network mainly deployed for pick-up and delivery work in capital cities.
It continues to invest in its own people, which Whitton says is vital in an ageing industry.
"I think the entire industry's got a challenge to make sure it presents itself as a career opportunity for people," he says.
"Irrespective of age, irrespective of gender, they need to see it as a career path where they're going to grow and develop it.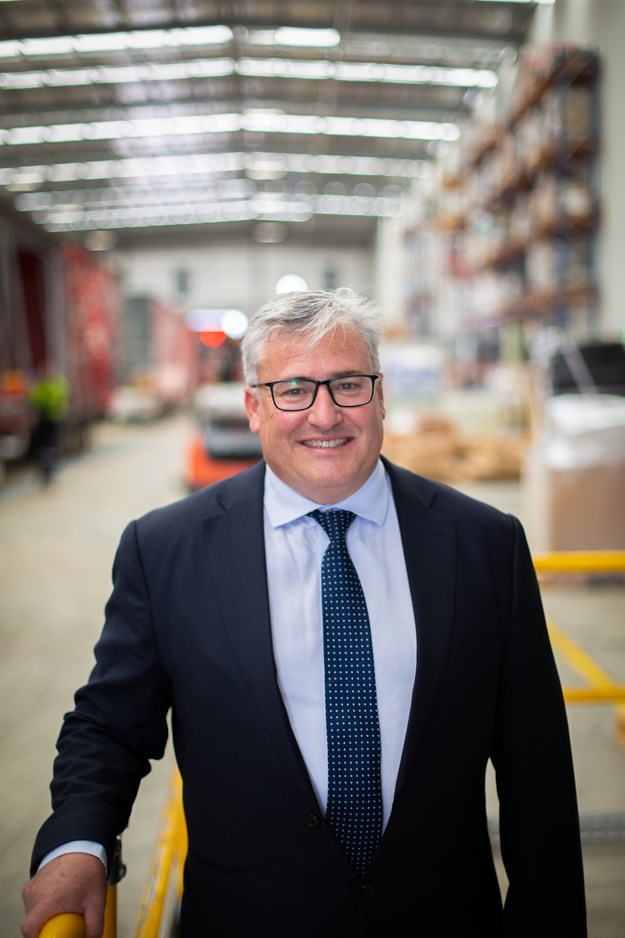 "And we are putting a lot of time and effort and resource into organisational development and what our learning and development programs look like, and upgrading our talent management strategies and programs and draw to help sort of future-proof the business in that way.
"Our graduate programs are continuing – developing those people and then keeping those people is key."
Its emphasis on the future viability is also represented by a brand refresh, including a new tagline – Australia's Global Logistics People – to better reflect being "proudly" Australian but with a global outlook and services, Whitton says.
"The new tagline is still underlined that we're Australian owned and operated.
"The global aspect is that we operate in both Australian markets, but we also operate globally in the logistics and transport industry.
"And 'people', both our staff and our customers is what we're here for.
"So that, has been specifically designed to reflect those personalised services and those values and relationships." 
By all accounts, Australia's global logistics people continue to find true north.
Subscribe to our newsletter
Sign up to receive the Trade Trucks e-newsletter, digital magazine and other offers we choose to share with you straight to your inbox
You can also follow our updates by liking us on Facebook. 

Trucks For Hire | Forklifts For Hire | Cranes For Hire | Generators For Hire | Transportable Buildings For Hire