Pretty in pink
---
Canada's Eva Knelsen had a hankering for truck driving from an early age. Now she's driving long-haul across Canada and the US, while raising breast cancer awareness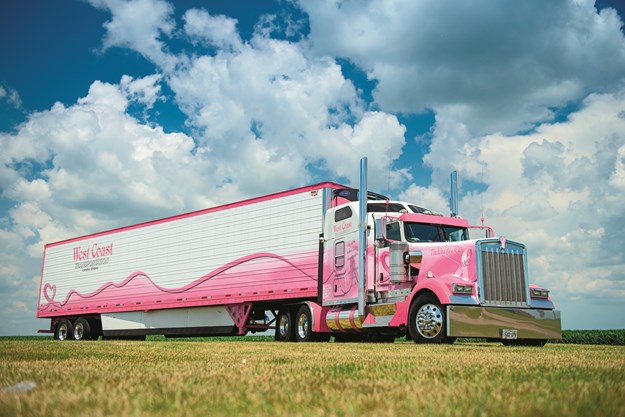 The transport industry over the years has predominantly been a male dominated arena – sad but true. However, in the modern age it has become a lot more evenly mixed with more and more women becoming involved in the industry. Thankfully over the next few issues I've managed to catch up with some extremely cool women that are not just involved, but leading the way in the transport industry - from a mechanic turned driver, a woman with her own fleet of tip trucks, a nurse turned professional polisher to even a team of women that spend their days wrapping trucks.
However, I'm going to start with a young driver from Canada, and it's not because we can't find enough over here. It's because, firstly, I have never seen so much pink, inside and outside a truck; and secondly, it gives me the chance to write the phrase 'Save the Boobies' and get paid to do it.
Meet Eva Knelsen and the stunning Kenworth W900L that she drives for Don English of Canada's West Coast Transportation.
Eva is a testament to following your passion and dreams despite all the obstacles that crop up along the way. Her reward for battling through is the keys to this stunning truck. Keep in mind her boss Don was once quoted as saying: "No way I'd ever f***** buy a f****** pink truck". It seems Eva's charms just wore that poor man down.
While I caught up with Eva in Iowa, she is actually Canadian born and bred. One of 15 siblings, with four brothers and 10 sisters, her family found a home base in Ontario after their mum and dad moved up from Mexico.
Eva's love of trucks can be blamed on her Mexican ancestry. Every year her parents would squeeze the league team (well there was enough for the starting 13 plus reserves) into their passenger van and drive the 46 hours to visit family down in Mexico. Eva remembers being around 11 or 12 and seeing all the cool trucks on the highways. 
"My sister and I used to do the arm pump thing out the windows to all the trucks," Eva recalls. Her dad had a CB fitted to the van as well so they were able to chat to the truckies on the way.
It was those trips that got Eva interested in trucking, but it wasn't until she was 21 and able to save some money that she managed to put herself through a truck driving school. The three-month course to get her licence consisted of the first two weeks, all day every day, in the classroom learning theory. That was followed by almost 200 hours of on-road training and assessment before receiving a commercial vehicle licence.
So, at age 21, Eva could drive an 18-speed 'box like a pro. Ironically though, she could also stall her friend's manual car more times in one block than I could in a lifetime. Eva laughingly admits that's still the case; she can't drive a manual car. 
EXPERIENCE NECESSARY
The next challenge for Eva was getting a job. We all know the old 'can't get a job without experience, can't get experience without a job' dilemma. It's a real issue for many. The same thing applied to Eva – very young, very petite, very new, very keen but not very lucky. She wasn't deterred though, she kept applying and applying while keeping a factory job as she chased her trucking dream.
Ironically it took losing her job and going to visit her sister that led to the break she needed. Another newspaper ad application, another interview, however this time on the ride home she got a phone call and after a little convincing that it wasn't a hoax, she had her job. It had taken just over a year, but the now 22-year-old Eva had the keys to a brand-new Freightliner Columbia.
A few weeks with a trainer beside her in the truck and Eva was on her way. No looking back, despite her youth, her inexperience, and despite family objections, the young Eva had followed her dream and was doing exactly what she wanted to do – driving the highways in an 18-wheeler.
It has been a huge learning curve for her; Eva has experienced more varied conditions than a lot of truck drivers around the world. Her jobs have mostly been in Canada although she prefers running down into California, but there aren't many places she hasn't been. This means she has had to cope with crossing the Rockies, ploughing through snow, skating on ice and floating through rain.
"I actually learnt how to chain up by watching YouTube, while doing it," Eva admits with a laugh. "It took me four hours the first time."
Thankfully during her second attempt she had a fellow truckie turn up. He made it look easy, but it did help her learn.
From there her experience and professionalism ensured Eva never had issues with employment. She eventually landed a job at West Coast Transportation and was given the keys to a 579 Peterbilt.
"It wasn't anything flash on the outside, very plain," Eva tells me. "But I looked after it and had everything pink on the inside – steering wheel cover, floor mats, bed, all pink."
I'm not sure if it was for this reason but it seemed no one else in the company wanted to drive Eva's truck when she wasn't there. In fact, they'd often ring her up to get it taken down for a service as the yardies wouldn't do it.  
PINK POWER
Every truck Eva was given was looked after as if it was her own. It was that kind of dedication was what earned her the new W900L. Even after Don had sworn he would never buy a pink truck, Eva's work ethic, mixed in with the opportunity to acknowledge Don's partner's mum who had passed away with breast cancer, meant Don backtracked. So in 2018 he ordered the Kenworth W900L.
The truck is fitted with a 72-inch bunk, or as Eva says, "It's only a 72-inch bunk." Only?
The ISX15 puts out 480hp (358kW), which apparently still pulls well, even when Eva's sitting at 80,000lbs (just over 37 tonne or half a load). While Eva didn't get a say in the truck itself, Don was silly enough to ask what she wanted in the truck. "You mean I can have what I want?" Eva had queried.
For the record, one of the yard boys has apparently used the phrase, "It looks like Pink Panther took a dump in there" as a way of surmising the amount of pink influence. I would tend to disagree, though there is more than enough proof the Pink Panther was on the decorating committee.
It didn't stop there though. You can't have a pink truck without pink lights, and there's more than enough of them as well. It seems Don opened a can of worms when he asked for Eva's input.
Once it was all kitted up, the truck was sent off to a lovely lady in the city of London, Ontario to get all the artwork added. Annette from Xtreme Graphix was able to fit the truck in her shed with about two inches to spare (obviously the trailer had no hope).
When it was completed Eva checked with Don and his partner Julie about putting Julie's mother's name on it. They both agreed, though the truck was dedicated to not only her but all the women who have been and continued to be affected by breast cancer. The 'Save the Boobies' slogan was out there for everyone.
It's now been 13 years since Eva got her shot at trucking, which makes it about 23 years since she recalls ogling the 18-wheelers on family holidays. She set her goals and went after them. She has driven some of the toughest roads in Canada and the US in some of the harshest conditions. She now has one of North America's most eye-catching Kenworths under her and there is no drop in her enthusiasm and love of the job.
So along with her trusty little dog Dixie, Eva is going to keep plying the trade that she has mastered for years to come. I can't wait to catch up again. 
Subscribe to our newsletter
Sign up to receive the Trade Trucks e-newsletter, digital magazine and other offers we choose to share with you straight to your inbox
You can also follow our updates by liking us on Facebook. 

Trucks For Hire | Forklifts For Hire | Cranes For Hire | Generators For Hire | Transportable Buildings For Hire