Freezex expands on navigating a rocky road
---
Last mile refrigerated operator Freezex, which services small food distributors, has had to roll with the punches as the coronavirus crackdown forced mass closures of pubs, clubs and restaurants
Located in the heart of Sydney's logistics centre at Marsden Park, Freezex is a family-run company established some 45 years ago.
The business has seen many ups and downs throughout its time but this year is definitely one of the hardest as the country adapts to a coronavirus pandemic economy.
As he navigates the new normal, managing director Luke Howard-Bath has implemented organisational changes in just a matter of weeks to stay afloat – shifting to working from home and potentially asking his workers to consider taking leave as the business slows down.
The refrigerated transport business has become a trusted name in the New South Wales transport sector, with Howard-Bath joining his parents' business in 2008, transporting a range of fast-moving consumer goods (FMCG) including dairy, fresh and frozen baked goods, produce, flowers, frozen seafood and meat.
Its core services include temperature-controlled transport, warehouse management, cross docking and freight forwarding. Freezex transports over 500 pallets of perishable products daily throughout NSW for a range of small and big companies.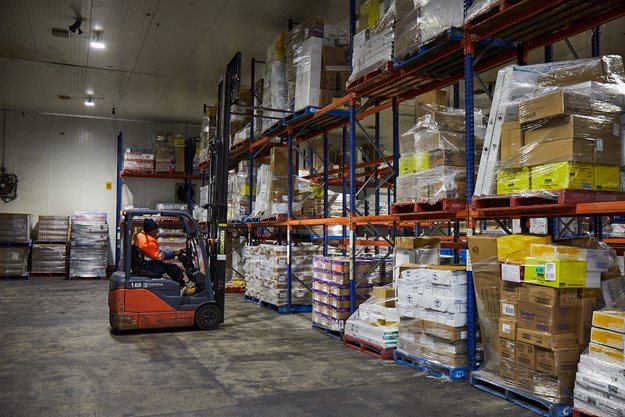 With just under 50 staff and subcontractors, Howard-Bath has been busy coming up with a measure to avoid redundancies.
"It's going to really slow down, I'm nervous and quietly concerned," Howard-Bath says.
"Eighty per cent of our customers are small operators, with up to 100 food service distributors.
"The estimated loss of revenue for us I'd say is probably up to 60 per cent, so over half, it's serious.
"I'm literally working through a plan at the moment where I'm thinking of offering staff holidays," he adds.
The business has not lost any revenue yet and Howard-Bath is staying hopeful, saying trends could change.
"I might see an increase depending on how the big retailers order, they could buck the trend," he says.
"I actually thought it was going to go in the other direction, that we were going to be quite busy and we still may be.
"Being a cold store ourselves, when the DCs get jammed up and can't receive their freight then all that freight will then come to us, which happens over peak seasons.
We get an influx of loads that may get rejected for one reason or another and also for the big retailers so we may end up seeing an increase in our workload for that reason.
"We act as a backup; even though we supply to the retailers, we also act as a buffer for them when things go bad. So, if they have deliveries that are late and that have missed their slot or there's issues with paperwork, whatever could go wrong with the delivery, then those loads will get diverted to us and we'll hold that on behalf of our customers."
One to always analyse situations logically, Howard-Bath is watching patiently as the outbreak develops.
"I just want to see how things unfold over the next four weeks before I start panicking. I haven't seen a decline in what we do as of yet and I have to try and draw a line between the hysteria and actual truth factors of what's happening."
ALWAYS A SALESMAN
Thirteen years since joining his family business, Howard-Bath has focused on diversifying services into storage and warehousing.
His father Leslie started the company driving a truck delivering pizza after his Paternoster restaurant ceased trading. That soon grew into delivering poultry for Ingham's Chicken twice a day. His mother Sandy joined the business in 1980.
Howard-Bath's grown the business by 300 per cent over the last six years by diversifying into meat, seafood, bread, confectionary and flowers.
He was quick to adjust to a new trend when the company's volumes started dropping.
Having worked at the Sydney Fish Market for eight years, buying and selling seafood for hotels and for Tassal Tassie Salmon before then, Howard-Bath put his salesman skills to good use.
"I could see a trend was happening; the linehaul carriers and producers were getting better at ordering, which meant a lot of the orders were skipping past our business, they were going directly into a store so our volumes were declining," he explains.
"I could see that if I didn't go and get more business that we would have lost market share.
"So, by watching the trends, we've diversified. There are not many trends we haven't been through. To be honest, we've seen it all.
"It's extremely challenging but for me it is rewarding because I'm a salesman by trade, I get the thrill of closing a deal."
He describes his business as niche, being the last 10 miles of the supply chain.
Following Leslie's passing 12 years ago, Howard-Bath has been adjusting the business to Sydney's demands and its growing population.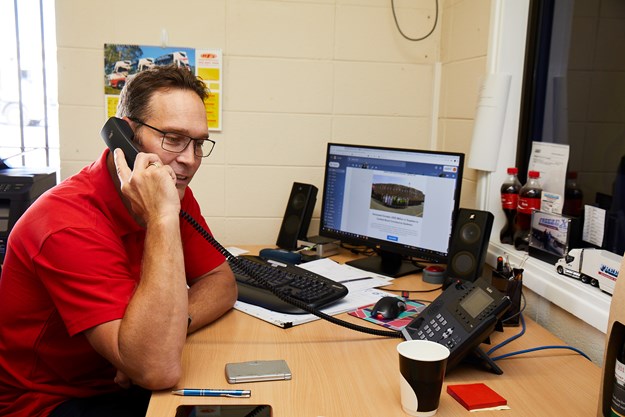 "The supply chain hasn't evolved as it should have to keep up with population growth. We're still operating under the same conditions as we did 10 years ago in that we're now needing more vehicles to deliver the same amount of freight because of the conditions we're under to deliver our freight in the last 10 miles," he says.
"The pressure is put on the linehaul carriers to meet the same-day deliveries.
"We stay competitive by diversifying; we diversify our services and we try to be a one-stop-shop to as many services as we can provide the market within our sector; so pick and pack, storage, transport and value add services above and beyond transport.
"We focus on the smaller consignment.
A lot of the bigger companies are focusing on the linehaul aspect, which is deliveries from Melbourne to Sydney or Sydney to Brisbane – we focus on when these deliveries are coming to us where a truck will have up to 100 different orders on it with a customer base of 70 end users that we need to deliver to.
"We focus on the smaller, more intricate route traits and anyone that needs services out of storage or pick and pack and courier work."
OPERATIONS
Freezex uses 58 of its own vehicles to deliver to 50 customers. Its fleet consists of trucks, trailers, prime movers and vans.
Three of them are MAN prime movers – a dependable and reliable truck, according to Howard-Bath.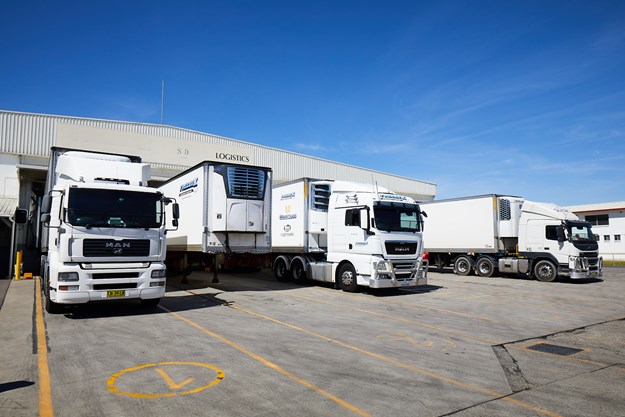 "That's our prime mover of choice because they're a brilliant truck, very low-maintenance and very durable," he adds.
The company also has 22 Hinos – chosen because of price.
"They were cheaper that Isuzu, considerably, but again very well built, put together vehicle with good warranty and good dealership support and network."
The company also has a mix of 21 FTE, Lucar and MaxiTrans semi-trailers.
As part of an ongoing move to upgrade its equipment, it had recently purchased two new 22-pallet Maxi-Cube Classic refrigerated trailers from MaxiTrans. Most of its fleet is upgraded every three years.
There are 36 drivers and 12 subcontractors who have worked with the company for many years. Managing subcontractors is no different to managing his own drivers, Howard-Bath explains.
"We have a very established driver network with our subcontractors, who we've worked closely with for many years," he says.
He uses a recruitment agency to attract new drivers, saying one of the biggest challenges is finding skilled staff.
He retains drivers by treating them well, saying Freezex is known for its good morale.
"We're known to have good people and we're known to be a good place to deliver to," Howard-Bath says.
"I've got good drivers that work for us and it grows, the more people come into the business, it spreads – that good attitude and morale spreads, just like it can if it was bad.
"We just happen to have good staff and we all help each other when we need to and we back each other up when we need to in tough times.
"It's a good place to work and always has been and that's a testament to my father; people loved dad and wanted to work for him because he was a good guy and he was a gentleman."
---
More on Freezex's relationship with MaxiTrans, here
---
Howard-Bath upskills his drivers through toolbox meetings, with most drivers having worked in the industry before joining Freezex.
The company has been at the Marsden Park location for the past 45 years. It is 3,000 square metres big, featuring chiller and freezer equipment, including eight loading docks.
Freezex has recently upgraded its refrigeration equipment in order to reduce carbon footprint, at a cost of $700,000.
Up to 2,500 pallets can be stored inside at any time, with the company handling up to 500 pallets each day.
Utilising GPS tracking technology, Freezex prides itself on customer service, delivering to Coles, Woolworths, Metcash, Aldi, Costco, Qantas and Tiger Airways.
"We're very good at doing a very different job and quite often the supply chain can fall over based on the services that we offer and that's been our core business," Howard-Bath says.
"A lot of people can deliver freight from Sydney but it's that extra leg, the last 10 miles, that can be very challenging, that we are professionals at and market leader at doing."
One thing he's learnt from his father is to be firm but fair. Howard-Bath describes himself as a logical businessman, saying he doesn't look at things emotionally.
"I like to have all my facts together when I'm making big decisions and I never base my decisions on emotions; everything is calculated and logical. If you look at anything from an emotional point of view, you will not last in this industry.
"I stay abreast of industry issues through media reports and what comes across my desk and we have companies that manage our OH&S requirements, helping us with industrial relations."
Subscribe to our newsletter
Sign up to receive the Trade Trucks e-newsletter, digital magazine and other offers we choose to share with you straight to your inbox
You can also follow our updates by liking us on Facebook. 

Trucks For Hire | Forklifts For Hire | Cranes For Hire | Generators For Hire | Transportable Buildings For Hire