Pooch perfect
---
A two-year restoration has turned a broken-down 1985 day-cab Mack Super-Liner into this stunning truck owned and operated by G & L Pilbeam & Daughters
If you are reading this then it means I managed to get this story to my editor on time. If that is the case then I sincerely hope you guys all appreciate what a monumental task this has been for me. Seriously, it has taken a huge effort when it comes to writing this particular story.
Let me give you a little behind-the-scenes information on my process so you can try and appreciate my dilemma. When I compose a story, I start by processing all the photos. Often I can take anywhere from 40 to 60 photos and cull them down to around 20 to submit with a story. I then set up my laptop in front of my PC and have my favourite shot on the computer screen to help inspire me as I attempt to put a 1,000-odd words into an interesting order to entertain and hopefully inform as many readers as possible. It's a practised system that has worked well, until I got to Glen Pilbeam's Mack Super-Liner.
Now here is where I'm going to fill you in on why I deserve special applause for getting this finished on time. I must have taken over 100 shots of this stunning 1985 Mack Super-Liner, and when I tried to whittle them down, I think I may have culled about four shots, and two of those I changed my mind on. The truck just looks too damn good.
I set up my laptop in front of my PC and instead of being inspired by the photos on my PC and allowing that creative inspiration to flow through the keyboard, I just kept getting distracted and ended up shorting out my laptop when the drool kept landing on the keyboard. 
Taking the focus off the stunning Super-Liner long enough to get the story together was difficult. So you may find several typos and spelling mistakes in this story. I accept no responsibility and no doubt neither does my editor. Truth be told, I bet most of you haven't even realised there is an article with the photos; you are most likely all just transfixed by the images of one of Australia's most iconic trucks – the Mack Super-Liner. I don't blame you, so I'll be brief.  
TRUCKING FAMILY
If you drag your eyes back to the photos for a minute you will notice the name on the side of this majestic Mack is G & L Pilbeam & Daughters. That's right this is a family project, and there is plenty of oestrogen involved in this story. In fact Glen (the 'G' in G & L) is the only male involved in this family project. But if you ask his daughter Gemma (one of the daughters in G & L Pilbeam & Daughters), Glen is actually the spare driver for the big Mack.
The driver's seat is set up for Gemma's petite frame, not her father's. Glen never got the opportunity to dispute this claim, as he was off to work when I rocked up to the Pilbeam's Heyfield home in Victoria to photograph the big Mack. Gemma's claim to the number-one driver role was substantiated as I watched her wheel the Mack around for me as I became awfully pedantic over the photos. This girl can drive.
After the photos I had the pleasure of sitting down with Gemma and her mum Lynette (the L in G & L) and learnt a bit more about the truck, and also about how such a young lady like Gemma became so skilled with a truck that most drivers nowadays would struggle to find reverse in.
The Pilbeam family is another family with decades of diesel in their veins. Glen's father was a truck driver, whilst Glen headed in the diesel fitting side of the industry. Glen met Lynette years ago through the industry as Lynette's dad was also a truck driver. Lynette's brother lives around the corner from them and runs his own truck. All the black smoke and rumbling engines were going to influence Glen and Lynette's kids and sure enough by the time Gemma was 19 she was happily getting her hands dirty driving rollers and graders. Once she had her license she was behind the wheel of a single-drive tilt tray. A boggie drive quickly followed and before you knew it she was doing oversize float work. 
Gemma admits her goal was to get into the logging trucks. As a kid she used to go out with her dad when he was fixing equipment in the bush and she swore to him then that one day she would be driving log trucks. Pretty sure he swore back to her – he knew the dangers involved in hauling logs and fatherly instincts had him wanting his daughter in a nice safe office job. If you know Gemma you know that wasn't going to happen. She's picked up her mothers' and fathers' stubborn determination and she worked away building her driving skills in the oversize work until the opportunity came to get into a log truck.
Starting with a single trailer she got in and out of places many of us wouldn't look twice at. Next thing you know she had a B-double on behind her as she was tearing up the bush tracks. 
With logging mastered, Gemma decided to test her skills again and made the move to carting stock, getting a couple of years of experience in that under her belt. It must have been the constant noise from the sheep, mixed with their ability to defecate anywhere and everywhere, that inspired Gemma to try a similar challenge. She transitioned into motherhood. Sure her kid might be a bit cuter than the standard truckie, but there is still just as much whining, crying and unreasonable arguments as if she was on the road.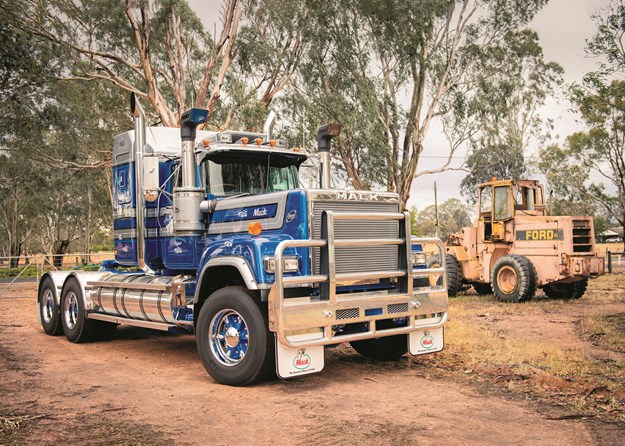 RESTORATION PROJECT
With Gemma's pedigree established, and her ability to be the big Mack's designated driver established, lets jump back to 2015 when Glen and Lynette decided they wanted to invest in a little restoration project. 
With his mechanical skills Glen has always been a fan of big V8s, and Lynette had a real desire to restore an old panel van. So the family agreed to meet in the middle and find a truck to restore. I know, I'm not sure how it jumped to that either. The family had a sit down and decided they would find a Super-Liner to bring back to life.
Deciding on it and finding it are two very different things. The Pilbeams looked around for ages before finally finding a broken-down 1985 day-cab Super-Liner up in Queensland. In its day, the truck carted rum from Bundaberg to Adelaide and reportedly used to run second only to the original 'Silver Bullet'.
Sadly, when Glen bought the truck it was a little worse for wear. They got the truck floated back down to their family home where the hard work began. The truck was stripped right back to bare bones. After setting land-speed records loaded with rum the truck had ended up out in the bush carting logs, so the factory diffs were long gone, and a much more applicable setup was tagged in behind the trucks original 12-speed box. Glen took care of the engine; the original E9 V8 still very much in good working order.
Cosmetically it wasn't too bad, the cab and bonnet having just the expected levels of corrosion and rust. With everything ripped out of the inside the skeletal remains were loaded onto a truck and sent into the team at Royan Truck & Trailer Repairs in Melbourne. The team there set to work repairing and repainting the old girl. Every Friday, Glen would excuse himself from work and drive down to give the boys some assistance as well. 
Gemma admits there was a fair bit of family discussions around the colour and lines (I'm not sure if that means there were dishes tossed and knives thrown, or if that's just my family discussions). The original choices turned out to be very similar to another Mack Super-Liner so second choice was the blue and silver look. Never has second place been such a winner, I reckon.
The original idea was to leave the truck as a day-cab. I'm not sure who talked Glen into sourcing a Mack box, but we will give Gemma the credit anyway. So the sleeper box also ended up at Royans and the repaint commenced.
Interior wise, the truck was well-worn as well. The family employed the assistance of a lot of the right people. There are a fair few Mack gurus out there and they all helped the Pilbemas source as many genuine parts as possible. All the seats and linings were reupholstered in as close to original colours as possible and the instrument panel returned to its former glory.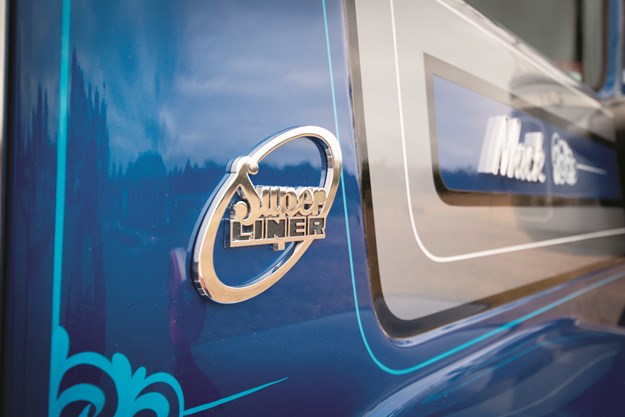 The decision to try and keep the truck as close to original as possible eventually collided with Glen's passion for the big staunch look. Thankfully, Glen's artistic side won out. You can see that with the stainless guards and the twin stacks. The fuel tanks aren't off the original truck but are all genuine Mack tanks and traditionalists will notice the bullbar is a lot flatter than the Super-Liners used to have. Good old spider rims however still adorn the Mack, keeping the old-school coolness to it.
The entire project took the family two years to complete, bringing the truck back from a slow death to better than new. I'm sure there are loads more I could tell you but let's be honest, most of you would have just skimmed through this story with abandon as your eyes kept glancing at the photos. I don't blame you. I reckon my editor will be doing a lot of corrections on this one as I've been just as distracted. So you have my permission; away you go and enjoy G & L Pilbeam & Daughters' stunning 1988 Mack Super-Liner.
Subscribe to our newsletter
Sign up to receive the Trade Trucks e-newsletter, digital magazine and other offers we choose to share with you straight to your inbox
You can also follow our updates by liking us on Facebook. 

Trucks For Hire | Forklifts For Hire | Cranes For Hire | Generators For Hire | Transportable Buildings For Hire