Tas Star Transport: on the rebound
---
A decade-long court case has changed the way specialised freight carrier Tas Star Transport operates
Ken Hughes has been running Tas Star Transport, formerly known as Kellara Transport, out of Rocherlea in Tasmania since 1990.
Twelve years ago, on July 1, 2008 – the day he returned from a seven-month long caravan trip around Australia with his wife, one of his drivers ran a prime mover with an excavator in tow into a railway overpass, causing damage.
The driver and company were sued for damages for negligence by the State of Tasmania, with Hughes subsequently taking up third-party proceedings; claiming an indemnity from National Transport Insurance (NTI).
According to Barry Nilsson Lawyers, NTI had relied on three exclusion causes to deny indemnity: conveying an excess load; an unsafe or unroadworthy condition; and reckless non-compliance with regulations.
The driver and company admitted the trailer was overloaded at the time of the incident because the load was too high but argued that the exclusion clause did not apply because the overloading was accidental.
They appealed the dismissal of their claim against the insurer – a decade-long case that has seen the company name and operations change.
HARD TIMES
Seated at his office at the base of the timber logging region, Hughes, 72, has seen and been through so much in this fiercely demanding industry.
He's been working with trucks since the age of 14 upon leaving school but says the court case was the hardest blow he's experiences during his career.
"It was a bit frightening because my insurance company at the time tried not to back up the claim and fought it for about eight years – it went to the high court and they threw it out in the end," Hughes says.
"It cost me $400,000 and I got half of that back after nine years.
"It worried me of course and the family but you keep on going; I kept on going and had to do a lot of things to get the money in to fight them.
"We lost a lot because I changed the name of the company – Kellara was well known, so it really impacted the business.
"Different companies probably didn't use us because they thought we wouldn't be there to do the job."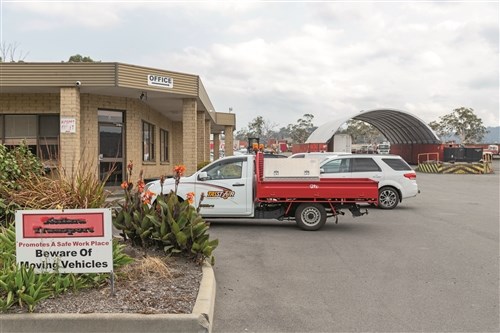 The specialised transport company carries products all over Tasmania including interstate; from general cartage to over-sized and heavy duty equipment, machinery, houses, portable office buildings and boats.
What Hughes has learnt from the incident is to run his own show.
He's cut the business in half, reducing the number of trucks from 22 to 13.
"I don't need the stress of managers and things like that anymore," he says.
"The court case has impacted our reputation for sure; it was a really good business, we were the only one in Tasmania that started a transport company with two trays and I was the only one doing it at the time.
"We used to have four A4 pages of customers before but now that's down to two pages.
"Whether I lost them because of that or because of other people coming in with similar gear I had, which was the specialised tilt trays and crane trucks, I'm not sure."
---
Read about another Tasmanian operator, Page Transport, here
---
Hughes maintains a strong focus on recruitment and training, preferring experienced drivers and having long-term employees accompany those new to the company on trips until they have a good understanding of the routes.
LONG HISTORY
Starting out at his family's transport company, Trans United Transport, he worked alongside his father Ray and brothers, picking up the necessary skills. Working there up until the late 1980s, Hughes has seen many changes within the transport industry.
"I was always a truck driver but what I've learnt from my father is mainly about the administration side of things," he explains.
His father established the family business in the 1930s before changing the name to Trans United, which was then sold to ANL before Chas Kelly took over the remaining assets in 1999.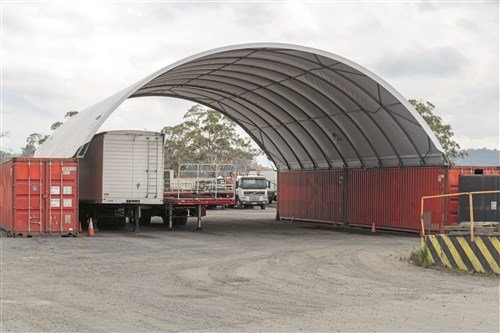 After leaving the family firm, Hughes established his own transport company, Kellara – the combined name of his two daughters, Kelly and Lara – in 1990 after sensing an opportunity in specialised and over-dimensional transport.
"I knew what was needed at the time with the tilt trays because I had been in transport all my life," Hughes explains.
"I knew what I needed to do, which I've done to grow the business."
With the Tasmanian construction sector now booming, Hughes has been busy moving machinery.
"At the moment, there's a lot of work in the area we do, machinery and roadworks, I move a lot of buildings and accommodation units and wind farms," Hughes says.
"There's another mine that's started up where we take transport buildings to, it keeps us very busy and there's also a big job coming up over at the airport, so it keeps us going.
FLEET MAKEUP
Hughes grew the company from the ground up, from a one-truck operation to 13.
He has slowly shifted his fleet from Mack trucks to a mix due to the truck dealer in the area, so the fleet now consists of Mack, Volvo, Western Star, Hino, UD and MAN trucks.
"I used to buy all of my trucks through one company here called Webster Trucks and they were agents for Mack, Volvo and UD," he explains.
"It's not for any other reason like performance of a truck; I had three Western Stars and have just sold one."
Hughes values the performance of a new truck, saying he's never bothered buying used, and is due to receive a new Mack Superliner Quantum by the end of this month.
"I've learnt my lesson in buying trucks over the years; what happens when you buy a second hand truck is that you buy someone else's problems they get rid of," he adds.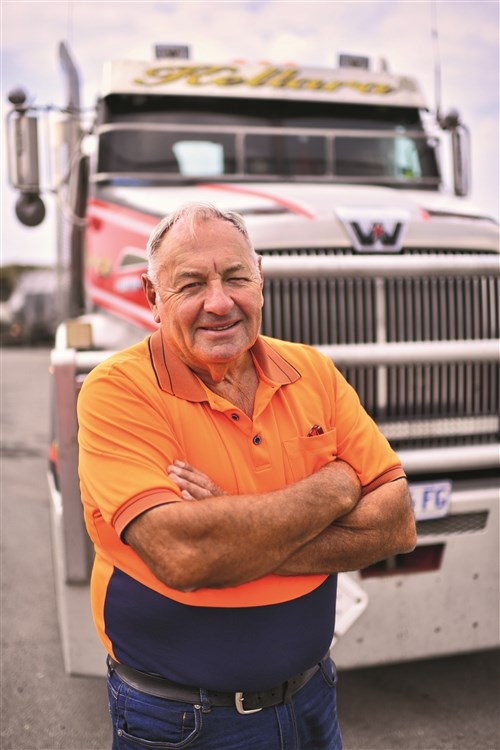 He does the day-to-day maintenance of trucks himself but sends them to the service provider for any major works.
With the workforce slim at the moment, Hughes' days are getting longer.
"It is hard, if you do get the right person in to do the operational side of things I can probably get more time off but my job is being specialised. I need to go with the drivers to do the job, so it's a bit hard unless you have got the right person to go with them which I haven't, it's only me."
Starting a company now would be hard, he adds, saying he was lucky he identified a niche in the market.
"There's competition out there [now] because others have gone out and bought similar gear that I've got but we set ourselves apart by being on call all the time, which doesn't leave me much time to switch off," he says.
With plans to retire within five years, Hughes is unsure what will happen to the company.
With neither of his daughters keen on taking over the business, Hughes says that he's happy to sell Tas Star Transport if the price is right.
Subscribe to our newsletter
Sign up to receive the Trade Trucks e-newsletter, digital magazine and other offers we choose to share with you straight to your inbox
You can also follow our updates by liking us on Facebook. 

Trucks For Hire | Forklifts For Hire | Cranes For Hire | Generators For Hire | Transportable Buildings For Hire