Shining Star
---
In a fleet of various makes and models, a superbly presented Mercedes-Benz 2658 is setting high standards in reliability and fuel economy for Cromack Transport in northern NSW. As things stand at the moment, it's the only Benz in the family business but as company principals Graeme and Jeff Cromack declare, it may not be the last as the big Benz continues to notch impressive results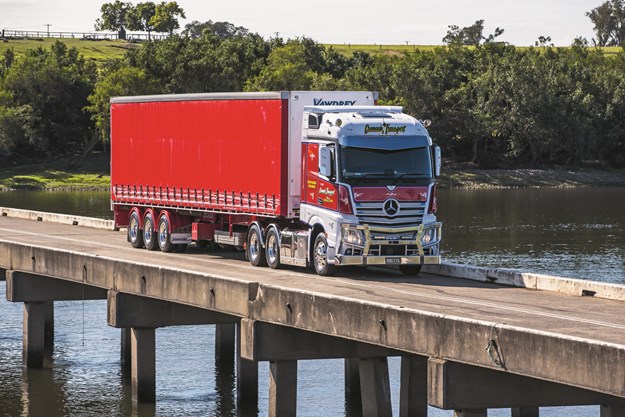 There was a time, Graeme Cromack casually reflects, when Mercedes-Benz came close, very close in fact, to being a major part of the family trucking business. But that time was more than 50 years ago and since then, for one reason or another, Benz has largely missed the boat.  
Until now!
It's a long story and as Graeme sits watching company driver Ben 'BJ' Jacobs reverse the meticulously maintained 2658 prime mover under a similarly sleek curtain-sided trailer, he recalls stories from the early days of a family which, like most families in the district, actually relied on boats for many things. Specifically, the boats which once plied products and produce to and from Grafton along the broad and occasionally flooded expanse of the Clarence River in northern NSW. 
"It all goes back to sometime around the early 1900s," Graeme explains, when the local Cromack and Tranter families were typical of a generation which toiled long and hard in the logging and agricultural industries of the northern rivers region. "Back then, people just did what was needed or what was available and really, it was probably as simple as that." 
Marriage would ultimately bind the two families and for 15-year-old Fred Cromack, the opportunity to work with a horse and sulky for his uncle Jim Tranter, delivering parcels as they arrived by boat at the Grafton dock, was obviously seen as a better option than school work. Young Fred probably didn't know it at the time, but it was also the start of an enterprise which would develop and diversify across several generations, with his sons Graeme and Jeff and now their children, keeping the family business firmly ensconced in the 'Big Rivers' region of northern NSW.
It was, however, only a matter of time before river boats steadily succumbed to a fledgling road transport industry operating on an expanding network of dubious roads. Neither Fred nor his equally enterprising cousin Kevin Tranter were blind to the potential for a growing transport business and the two ultimately agreed to join forces. Thus, in September 1951, a new transport firm called Cromack & Tranter was formed.  
Trucks of that time were, of course, basic and largely of British origin but as the business grew and loads to Brisbane and beyond increasingly became the mainstay of the operation, stronger and more reliable trucks were called for, with the iconic Diamond T eventually emerging as something of a fleet standard. Indeed, such was the famous Diamond brand's success that a superbly restored model still sits proudly in Cromack's Grafton depot as a stoic reminder of the company's early days.
By the late '60s, however, even the legendary Diamond was close to its evolutionary 'use by' date and continental alternatives were starting to make their presence felt. Volvo, for instance, was on the hunt to expand into markets far beyond its traditional Scandinavian and European borders. So, too, was Mercedes-Benz casting for wider horizons with models that included the 1418, a truck lauded by enthusiasts of Australia's transport history. 
"I remember that in 1968 when Dad and Kevin were looking at replacing the Diamond Ts, Volvo and Mercedes-Benz were both being considered," Graeme remarks. "The decision could've gone either way but I think Volvo just worked harder to get the business." Since then, the Swedish brand has been a consistent presence in the company's cab-over contingent. 
In the conventional class, Kenworth figures prominently these days but Mercedes-Benz's corporate partner Freightliner has also had a notable presence since the late '90s when a Business Class model joined the company. With trucks generally having a long lifespan in the Cromack operation, it was more than a decade before the next new Freightliner, a Columbia model, joined the ranks. Then a few years later came a Century Class and Coronado 114 which, Graeme comments, "… have both been good trucks." 
The Coronado is powered by a Detroit DD15 engine and driven by Graeme's son Brenton, who doesn't shy from expressing his liking for the former flagship of Freightliner's conventional line-up. "There's nothing not to like. It's just a really nice truck to drive," he says with blunt certainty. 
Yet, as Graeme Cromack is quick to point out, a critical factor in Freightliner's emergence in the fleet and most recently, the introduction in mid-2019 of a Mercedes-Benz 2658 model, is the strong relationship with the Mavin Truck Centre dealership at Kempsey, led by dealer principal Dean Mavin and sales manager Steve Pinkstone.
"They're just really good people to deal with," he remarks. "Like family, really." 
Trucks, however, haven't been the only changes in a family operation which now has depots in Grafton, Coffs Harbour and Brisbane. Following Kevin Tranter's retirement in 1977, the company continued to operate as Cromack & Tranter until April 2006 when it became simply Cromack Transport. With Fred's passing in 2009, Graeme and Jeff took the helm. However, with Brenton Cromack and his sister Tahlia, and Jeff's daughter Chiveau all working in the business, the next generation is already being primed for the future.
It remains, however, a business with a diverse customer base hauling an even more diverse range of loads, from building materials to foodstuffs and an almost endless array of general freight goods. While the mainstay of the operation remains the Grafton to Brisbane route along the Pacific Highway, there are also daily runs from Brisbane down the New England Highway to Armidale and Tamworth, and regular loads between Grafton and Coffs Harbour. "It keeps us busy enough," Graeme concedes with a subtle grin.  
Moreover, as he explains, the regional nature of the business with its diverse loads and the need for regular drops on most routes precludes the use of B-doubles. "B-doubles don't suit our work," Graeme asserts. "There would be just too much time taken up with hooking and unhooking trailers for different types of freight. They're simply not practical for us." 
Consequently, all 20 prime movers in the business – supported by six rigid curtain-siders on local pick-up and delivery work – haul single trailers and as he suggests: "That's not likely to change anytime soon." Thoughtful for a moment, Graeme adds: "I'm not saying we'll never run a B-double but as things are at the moment, it's not on the agenda."
So, given maximum gross weights of 42.5 tonnes, why run powerhouse models like the 16-litre 2658 Benz or, for that matter, a 16-litre Volvo FH, or even the 15-litre Cummins X15 in a Kenworth T610?
The question draws a thoughtful response. "As long as the trucks are cost-competitive, we don't see any obvious negatives with the higher powered models," Graeme contends. "They're at least doing the job easy and on R and M [repair and maintenance] contracts, the operational costs aren't high enough to trouble their viability.
"Besides, hauling singles they're no worse on fuel than other trucks. In fact, depending on where they're running, they're actually better in some cases." As he would soon add, since joining the company mid-way through 2019, the 2658 has established itself as the most fuel efficient truck in the fleet, notably on the demanding run up and down the New England Highway. 
But perhaps the biggest question was why buy Benz after so many years with other brands? 
"Like I said, we have a good relationship with the Mavin dealership and they were obviously keen to put a Benz into our business, so the cost-competitiveness of the truck was good and we'd heard plenty of good reports on fuel," he said thoughtfully. "To be honest, we were keen to try it anyway and the truck's done absolutely nothing to disappoint us."
An hour or so later, he confirmed the 2658 is averaging an exceptional 2.6 km/litre (7.3 mpg) on the sharply undulating New England run and up to 3.0 km/litre (8.47 mpg) on the flat coastal run between Grafton and Coffs Harbour.  
By comparison, the Kenworth T610, punched by a 550hp (410Kw) Cummins X15, bought around the same time as the 2658 Benz and operating on the same New England run, is averaging 2.3 km/litre (6.5 mpg).  
However, asked about performance and overall driving impressions, Graeme was quick to pass the baton. "You need to talk to Ben. He's in the truck every day." 
DRIVER'S DELIGHT
Ben Jacobs agrees that with maximum outputs of almost 580hp (425 kW) coming on stream at just 1,600 rpm and top torque of 2,800Nm (2,065 lb ft) at 1,100 rpm, the Mercedes-Benz 2658 can easily seem too much truck for the work it's doing at Cromack Transport.
But then, it's doubtful if Ben would have it any other way. "It just does the work so easy. Why would you want less, particularly when it's so good on fuel?" he asks with candid confidence. 
A full-time driver for the past seven years, the last three with Cromack Transport, he was handed the new truck in June last year, notching 180,000km in the first 12 months and subsequently conceding with a broad grin: "The Benz has spoiled me. A new truck with a new trailer. It's all good from where I sit."
The Mercedes-Benz has, he adds, also surprised him after a long liking for Kenworth conventionals and despite some early reluctance at the thought of stepping into a European cab-over for the first time, Ben doesn't deny there's now an entrenched regard for the 2658.
"Seriously, I don't know if I'd ever want to get into anything else now," he admits. 
Even so, he concedes it took a while to come to grips with the mannerisms and features of the big Benz, especially after stepping out of a Kenworth conventional. Sure, it's a tall cab but as he points out, it's an easy climb up and once inside: "There's lots to like." Overall comfort, internal space, a flat floor and a comfortable bunk, the layout of the switchgear and the easy logic of the various safety and operational functions inside the cab all rate high in Ben Jacobs' estimation. 
Equally, while steering and overall road manners are impressive, the potent performance of the 16-litre engine and the harmony of an all-Daimler transmission and powertrain earn particularly high praise. 
"Performance is actually deceiving," he remarks. "It goes a lot better than you might think from behind the wheel because it just does everything so smooth.
"I honestly enjoy driving it. A lot," he says with total conviction.
Yet arguably the greatest testament to Ben Jacobs' satisfaction and pride in the big Benz is his extraordinary and obvious care for the truck. Admittedly, the Cromack livery is impressive in its own right but inside and out, the driver's attention to detail, right down to the personal extras he has added to the truck at his own expense, keep the 2658 in sparkling showroom condition. His dedication is truly a credit to his own standards and an asset to the Cromack company. 
"In the 12 months we've had it, the truck has been faultless. Seriously, there's not been one problem," Ben insists. 
"And any truck is easier to like if nothing goes wrong with it," he smirks. 
As for the future and the possibility of another Mercedes-Benz joining the fleet, Graeme and Jeff Cromack play their cards close to their chests. 
Nonetheless, it's a serious Graeme Cromack who concludes that as long as cost-competitiveness is up to expectations, "There's nothing in the truck's performance and efficiency that would stop us buying another one."
At the very least, it'd be surprising if another 50 years pass before another Mercedes-Benz is seen in Cromack colours.  
Subscribe to our newsletter
Sign up to receive the Trade Trucks e-newsletter, digital magazine and other offers we choose to share with you straight to your inbox
You can also follow our updates by liking us on Facebook. 

Trucks For Hire | Forklifts For Hire | Cranes For Hire | Generators For Hire | Transportable Buildings For Hire