Sweet fleet
---
For truck lovers, Wallace International's Sydney warehouse is akin to a lolly store – full of a raft of sweet looking and sounding truck makes, including Western Star, Kenworth, Mack and DAF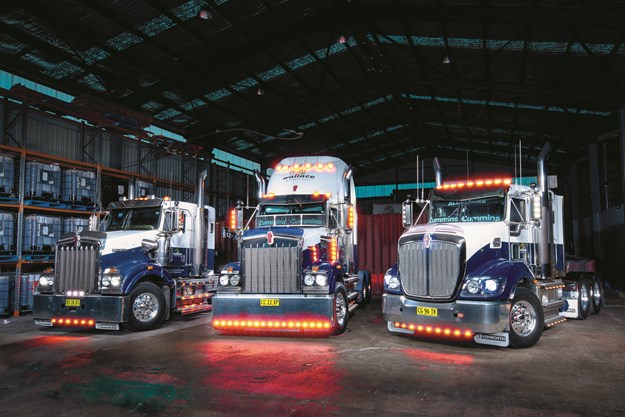 Have you ever gone into a lolly store with your mind set on one particular lolly, then by the time you get down to where that lolly is you've seen a half dozen more lollies that you just have to have? You know that feeling right? How about I put it in a way that you can probably relate to a little easier. Have you ever gone into the bottle store to pick up a carton and then by the time you get to the cool store at the back you've ended up with a trolly full of scotch, rum and some ciders that just looked too good to pass by? Now you are with me aren't you! Well, metaphorically speaking, that was the sticky situation I found myself in when I popped in to see the boys at Wallace International in Sydney.
To keep milking the bottle store analogy, the carton I was dead set keen on is one of Australia's coolest-looking Western Stars. Not only does it look sharper than a butcher's blade, but with stacks you could lose a litter of cats down, the big Star sounds as good as it looks. Yip, the stunning Star you were perving at before reading this story was the metaphorical carton I referred to. Its sharp looks were enough of a drawcard for me to voluntarily endure Sydney traffic and make my way to the warehouses of Wallace International.
Once I arrived at the Sydney headquarters of Wallace International though, that's when I suffered the 'scotch, rum and cider' dilemma mentioned earlier. As I waited for the heart-warming, deep throaty tones that would signal the arrival of the Western Star, a jaw-dropping K200 rounded the corner with a swinglift on the back. So I stepped out to grab a shot or two and then glimpsed a mouth-watering 409 sitting behind another shed. Did I mention the T610 I saw? Seriously folks, this place was better than any lolly shop or bottle store.  In a world where Covid-19 means there are hand wipes everywhere, Wallace International have them at the entrance to their yard to help visitors like me clean up the drool that their fleet incites.
WALLACE INTERNATIONAL
So, a little about Wallace International. It isn't actually a transport company. It's a freight forwarder. What is the difference you may ask? Well, I posed that same question to Gary Perry, Wallace International's transport manager and the man that had been kind enough to tolerate this drooling kiwi and allow me into Wallace's yard to photograph the trucks.
A freight forwarder handles imports and exports. Anything coming in or out of the country, it picks up, delivers and often stores as well. Wallace International was started in Brisbane by Bob Wallace and another partner, operating under a different name until Wallace bought his partner out and Wallace International began.
In the beginning, the company looked after a select few customers in Brisbane only, taking care of all their import and export requirements. Contractors were used to pick up and deliver containers from the wharf, as well as delivering the products direct to the customers. As its customer base grew, and Wallace International's reputation grew, it was decided that purchasing its own trucks for stock movements was the obvious next evolution.
With its success in Brisbane, Wallace International needed to grow alongside its customers, starting with a depot in Sydney to look after their NSW clients. Again, subbies were used to begin with before Wallace International found it necessary to have its own truck based down in the Sydney office.
Up steps Gary Perry. Well, actually, considering he drove the company's K125 down from Brisbane to be Wallace International's first Sydney truck, maybe the term 'up hobbles' Perry is more appropriate. Perry originally began as a local driver for Wallace International in Brisbane. When an experienced hand was needed to help establish the business in Sydney, Perry stepped up. For six months he was FIFO for Wallace, driving the truck around the city and managing the warehousing, then flying back up to Brisbane on a Friday night.
That was almost 20 years ago. Some things have changed since. There's now 16 trucks in the fleet, the warehouse is much bigger, and Perry no longer steers the big trucks. But some things have also stayed the same. Wallace International is still extremely focused on customer service; the Sydney traffic still sucks; and Perry still loves the big trucks.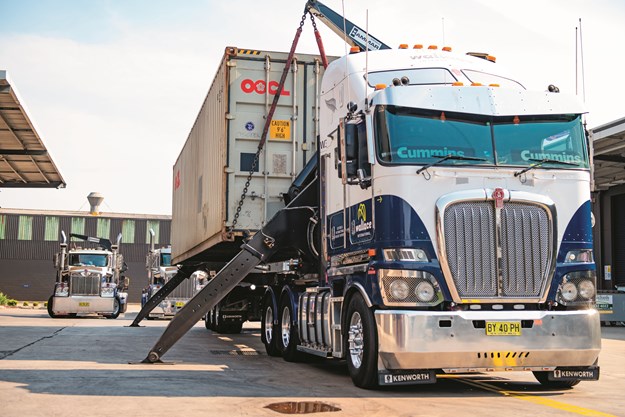 THE BIG GUNS
So let's focus on them, the reason I'm here after all. "I can't drive 'em, but at least I can spec 'em," is the line Perry recites with just a touch of resigned disappointment in his voice. As a truckie he does miss the road, and openly admits that when a new one turns, up he is often tempted to go back out there. Though he also admits he's incredibly lucky: he loves his job and has found a way to make the most of it.
He is also the first to admit that the reason Wallace International's trucks turn so many heads is because of the drivers that it has got in them. Perry commends them all for the pride they take, not just in the appearance of the rigs, but in the professionalism on the road. That is saying something in a city where I am pretty sure the middle finger gets more use than the indicator stalk on most vehicles.
As far as what's parked in the wonderful Wallace garage, well drool away with me here guys. Obviously, there is the 2008 Western Star, sporting the looks and sounds of a truck half its age. There is a 2013 Mack Granite, a couple of Isuzu rigids, and after that it is basically a who's who of the PACCAR catalogue.
While Wallace International did have a second-hand K125, its first brand-new PACCAR prize sported the DAF badge. There would be a few more DAFs come through before Perry's preferences started to influence the new truck choices.
The company's first brand-new Kenworth was a T404S with a 36-inch (91.4cm) bunk. It was the presentation of this truck that suddenly started to get the Wallace International trucks noticed. Add in good feedback from drivers, customers and even prospective drivers, and it all but ensured more Kenworths were soon to follow.
One thing Perry has always put a lot of emphasis on is image. The company colours, though simple, work beautifully. Mix in just a splash of shiny parts and it's a perfect recipe. Perry will admit, though, that the 'splash' is getting bigger and bigger as each new truck arrives.
Another addition to each truck that Perry sees as essential is the small bunk. Yes, the trucks are container trucks that spend 80 per cent of their time running around Sydney. Drivers are home more nights than they are ever away, but the policy of Wallace International of caring for, and looking after, its staff extends to more than just the golf days or Friday night drinks.
"If you care about your drivers, you'll spend the extra 10 grand and get the bunk on," says Perry, adding that they are not designed to live in, but it gives the drivers an extra bit of room in their trucks and if they really need to they can lay down in them. Dealing with ports and delivery schedules means there can often be a lot of hanging around waiting. There is also the odd expatiation outside the city limits for Wallace International. So the boys are equipped to do the odd overnighter if needed.
Each truck that joins the fleet is individualised. Be it painted or wrapped tanks, lights on the top step, or the bottom, or even both. Wallace International ensures each truck has its own little characteristics. While there has been a fair bit of variety in the models, one truck that has impressed a lot – and its growing numbers show that – is the new Kenworth T610. The new design really seems to have hit the mark for Wallace International's needs. It's turning circle and power plant works for the company, while the comfortable ride and cab ensure the drivers are as happy as a dog with two ... well they are pretty happy, let's leave it at that.
It's not just the trucks that get the Wallace treatment, the mix of tautliners, sideloaders, skel and flattops also get a little bling and a splash of lighting. Can't have the trucks taking all the glory!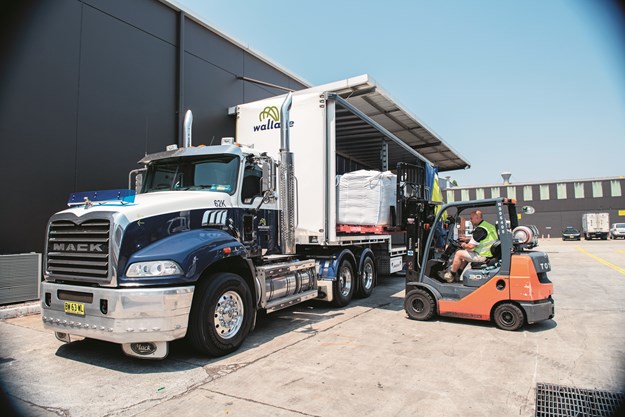 FAMILY AFFAIR
Wallace International has been around now for nearly 40 years. The past two decades have seen it grow exponentially, now with depots Australia-wide. With that growth has come an expansion in its truck fleet so now there are even more stunning silver-and-blue units on Australia's road network.
At its heart though, Wallace International is still a proudly Australian-owned family company, with emphasis on the family. Credit gets given not just to Wallace at the top, or managers like Perry, but to all the staff that keep the company running in an often minute-by-minute way. Co-ordinating trucks in traffic, as well as container slots, mixed with customer requests, isn't easy and doing it without tearing your hair out or going off like a Bronco's supporter can't be easy. It's that kind of dedication to the company from its staff that sees Wallace International insist on things like the Friday after-work gatherings and regular company social events. Not just to reward the team for their efforts but to acknowledge the work that they do as well. Maintaining staff morale ensures that the good staff hang around. Their shortest-serving driver has been there for five years.
In this day and age, where jumping the fence to chase the greener grass can almost become an Olympic sport, Wallace International puts as much importance on keeping its workers happy as it does on ensuring its customers are happy. That in turn is a win for all of us though, because the happier Wallace International's clients and workers are, the more stunning Wallace International trucks there are. Subsequently, the more Wallace International trucks there are, the happier us truck fans are. As happy as the aforementioned kid in a candy store, or if it's more relatable 'adult in a bottle store'.
Subscribe to our newsletter
Sign up to receive the Trade Trucks e-newsletter, digital magazine and other offers we choose to share with you straight to your inbox
You can also follow our updates by liking us on Facebook. 

Trucks For Hire | Forklifts For Hire | Cranes For Hire | Generators For Hire | Transportable Buildings For Hire