Green machine
---
Nicknamed 'The Hulk', Ryan Demasi's beautifully restored 2006 Kenworth T904 may leave you all a little 'green' with envy
There is something extremely uplifting about meeting a genuine Aussie. Not the cliché 'corks on his Akubra' kind of Aussie, I mean a real Aussie. The kind of person that thrives on hard work, who lives for challenges, who doesn't shy away from anything. The kind of person that stands by his mates and the kind of person whose entertaining tall tales requires my editor to censor nearly every second word just so we can print his quotes. A true blue 'No BS' genuine Aussie.
Filling that position today is Ryan Demasi of Bandana Earthing in Perth. When it comes to filling the role of a genuine Aussie, Ryan fills it fuller than a self-poured pint. His story is about as true blue Aussie as they come. His work ethic is extraordinary and by now you would have all perved at the hulking Kenworth T904, which is about as iconic Aussie as you can get. Quite honestly, if it was not for Ryan's almost compulsive addiction to cleaning his gear, the truck would be caked in Western Australian red dirt just to top off all the true blue Aussie clichés.
I'd really love to skip straight to telling you about the time and effort gone into this amazing Kenworth, but we can't really gloss over the road that has gotten Ryan and his family here. Truth be told, Ryan's success was built on the back of an arrogant bank manager and Ryan's determination to prove him wrong. 
"If someone says you can't do something, well then you kinda just have to do it don't you," he says, not so much a question as a statement of fact. 
As a young bloke, Ryan grew up working with his old man Tony Demasi. His dad was a partner in Home Green Turf Farm, a roll-out lawn business. Ryan jokes that three years working alongside his dad taught him a very valuable lesson: "F*#k, this manual labour stuff is tough. There's got to be an easier way to make money!"
I am sure he learnt other things as well but the story is much more entertaining when you tell it Ryan's way. 
After having a bit of a spin in a mate's Bobcat, Ryan found himself hooked. At just 18 he sat down with his dad and his dad's business partner and told them he wanted to buy himself a Bobcat. He had even hunted around and found an old Ford LNT tipper and Bobcat combo for sale for $30,000.  
"What are you going to buy it with, bottle tops?" was the reaction he received, but that would not deter Ryan. He went down to the bank and asked for a loan. As the bank manager knew Ryan's dad and his business, he also knew how much money Ryan was bringing in. Laughingly he warned Ryan against it. Remember what I said before about 'tell me I can't do something', well this is where it originated. Ryan pushed for the loan, eventually getting a snide 'alright I'll give it to you, only because I think it'll be funny when I repossess it' remark. 
With an ad in the local rag costing $30 a week (yes kids, we advertised in the local newspaper in the days before the internet) Ryan began picking up odd jobs around the neighbourhood. Digging up driveways, clearing gardens. Ryan would be up at 4am every day, squeezing in as much work as he could before he went to his day job at Home Green Turf Farm, 7am-3pm every day.  Then he'd be back on his Bobcat, often until he was getting kicked off sites well after dark.
For three-and-a-half months Ryan kept this up. He put fuel in the truck and the rest of the money went into an envelope. Fuel in truck, money in envelope. That was his life. Then after those 14 weeks, he marched into the bank manager's office with $33,000 in cash and told him to clear the loan. I can just imagine the bank manager sitting there looking like a dog trying to understand algebra. That was the last time Ryan ever dealt with that bank and it was the beginning of what would eventually become Bandana Earthmoving.
I would love to share all of the stories that I heard from Ryan about his adventures in the early days, but my editor would have a coronary with the language and many of you may do yourselves an injury falling off your seats laughing. So, I shall just try and progress quickly through to the current gorgeous green trucks. 
With that first Bobcat, Ryan built his reputation, moving from small local jobs, to bigger building jobs. That first Bobcat was soon replaced with a brand-new air-conditioned version, fully kitted out with stereo, tinted windows and chrome rims. You could see that Ryan placed huge importance on company appearance, even back then.
The LNT was joined by an LTL and custom-built pig trailer, all of which were looked after with more love and attention than most people give their kids. Though I would do just the same, there is a lot less drama from an LTL than a teenager. 
With a bigger truck came bigger jobs. Ryan's non-stop work ethic saw him taking on jobs with his Bobcat, which would have been completed more effectively with a front-end loader. So that's what Ryan did; he purchased a Caterpillar 926 loader and moved up another level. For those wondering, yes the pig trailer was designed to cart the Bobcat, but in typical Ryan fashion, a little bit of "creative parking and chaining" soon ensured the new loader fitted on the combination perfectly. You guys know what I mean.
From there Ryan just kept growing, putting more and more equipment on the road as his reputation for great work grew. His first big jigger was a second-hand AeroMaxx that he picked up out of Sydney. Ryan cut the bunk down himself and turned it into a truck-and-dog tipper. The rig got painted up in a stunning Tiger Mica with gold flames and even managed to grace the pages of Truckin' Life magazine as a 'Rig of the Month' many moons ago. Though it was more infamous for leaving all the other mud carters for dead as its 525hp (391kW) would tear up out of the quarries fully loaded. 
By the time the global financial crisis hit Ryan was running fleet of around seven trucks, which included a magnificent Mercedes eight-wheeler and a few Ford Sterlings. With the downturn in work Ryan had to sell off a lot of equipment, eventually returning to just a two-truck operation.
But like a profanity-riddled Phoenix that loves working eight days a week, 26 hours a day, Ryan worked his way through the GFC and came out the other side. Things had changed as a result of the crash though. While he'd had a great run out of his Sterlings – "They were great trucks, cheap and made money" – sourcing parts wasn't easy. So when it came time for Ryan to build himself a new marque tipper he found himself purchasing a second-hand Western Star. The new (old) truck was parked-up in Ryan's workshop and totally rebuilt. When it was all stripped down and ready to paint, Ryan noted Holden had just come out with the new 'Hothouse Green' colour. It struck a chord with him and in collaboration with his painter they created their own colour based on Holden's. This one was Bandana Green. The truck got sent off and resprayed at a local painter. The end-result was beyond breath taking when the Western Star returned to Ryan's shed. It was the first official Bandana Earthmoving Western Star, but certainly was not to be the last. 
As the company rebirth gained momentum more Stars were added, and more of the rebuild work was getting done in-house, including the painting. "We painted the first Western Star in here," Ryan says, pointing to one of his sheds, "using my phone for light as we didn't have power on yet and we were using the little compactor truck, which had a generator on the back for a compressor." Serious Aussie adaptability! In the end they painted five trucks in their sheds before it was decided to build a proper paint booth. No coincidence that that was built just before the purchase of the 904.
That's a great segway allowing us to deal with the Hulk in the room. A fleet of stunning green Western Stars grace the Bandana Earthmoving fleet – how come there's a Kenworth? Well I put that question to Ryan, and in true Ryan fashion he answered (again, words have been changed to protect my editor's stress levels). 
"To be honest, all bulls#$t aside, I say to everyone, to be the biggest wanker you've gotta have a Kenworth 904, and, I'm going to be the biggest wanker. So I bought it." 
It may not be the most politically correct way of saying it, but Ryan's right. There is just something about the big bonnet of the Kenworth that just adds a few more ounces of testosterone to anyone. 
"People love my Western Star," Ryan admits. "I love it, but it's just not the same." 
So Ryan found this 2006 T904, with 800,000km on it and when it hit his price range he snapped it up. What you see now is not what was in its intended future. Black chassis, polished rims, Bandana green paint job and whack some side tippers behind it. That was the go. Until Ryan got it home and started the tear down. Ironically, the plans went from a rather plain Bruce Banner truck into the Incredible Hulk it is now. 
So where do I start with the attention to detail on this thing? The engine was removed and given a full Hollywood-style makeover. It's no longer the quiet Cummins workhorse. New piston linings, rings, pumps everything got slapped on. A huge Cat turbo on a Cummins engine, new program and it's pumping out around 900hp (671kW). 
Cosmetically, the whole engine got a fresh lick of custom paint. Every pipe got chromed and every single visible bolt is standing in unison with the others. If you could get fashion awards for engines, this thing would be unbeatable. 
Now let us tackle the outside. It really is hard to put into words just how precise and on-point this Hulk is, but I'll try. Ryan's main goal was to have a very clean look. His interpretation of that involved countersinking every possible bolt they could. You heard me, go back and look at the chassis images; not a single bolt. Same with the Hogebuilt guards; all the bolts and brackets have been hidden as much as possible. It is amazing. Ryan wanted to wrap the tanks, but no straps and step box up the front instead of fuel tanks (for those guessing, yes Ryan spent a fair bit of time watching Trick My Truck on Fox). The step boxes were not an easy option either; there were seven different step box designs made before the final choice was-made and mounted, the added issue being the step box had to line up perfectly with the shape of the tanks. There was two weeks on that alone.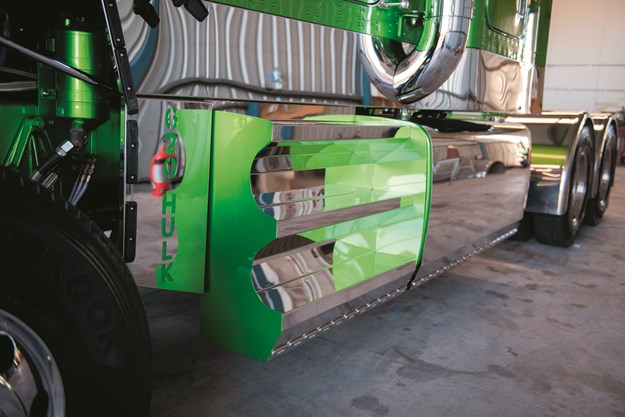 We all know the importance of a good arse end and in this case Ryan wanted it all to follow the contour of the guards. I am not even going to attempt to explain the lengths the team went to to get all that matching. Check out the photos though, they did the job perfectly.
The bumper and the grill were all made in Ryan's work shop. The flush deck plating and the Kenworth emblem where the airlines connect were all custom build. 
I'm sure the keen-eyed observer has noted that the truck does not have factory-fitted mirrors – another time-consuming idea by Ryan in his attempts to keep it clean. All the Kenworth bracketry was removed and custom-built mirrors were fitted. The driver had a big hand in these actually; he had to sit in the truck and tell them exactly where to fit them as there is no adjustment to them. Once they were in position the glass was fitted and that's it. No movement at all.
Next step was some artwork. While most of the fleet is purely Bandana Green, Ryan had personalised his Western Star with an amazing snake on the bonnet, so he wanted to add another level to the 904 with more airbrushing. He'd already used the snake idea so decided a green-on-green image would also be cool on the Kenworth. The Hulk was a perfect concept considering the muscle involved in the truck. Ryan dealt with the boys from Advanced Airbrushing, floating the idea of the Hulk on the front and $100 notes out the back. The design team soon tied the two concepts together and came up with Hulk bursting from the bonnet with a fistful of dollars and the money streaming out the back. Countless dedicated hours later and the end result is unreal. 
With all that information under your belt I hope you go back and browse the photos again, take note of the detail and dedication involved. 
Also I urge you to have a little sympathy for both the Hulk and Ryan, for we live in a world now where discrimination and prejudicial thinking is rampant and has had adverse effect on poor Ryan. For he suffers from a fairly rare disease, a disease though that is often found in truck drivers and Ryan would be one of the most afflicted people I've ever seen. That disease is-known as ATDD or Attention to Detail Disorder. Though it is also known as 'Does that truck even work syndrome' Ryan has actually lost a truck show because his truck was too clean. Turns out the four hours he spent underneath the chassis cleaning every drop of grease off was actually a hinderance. The fact is the big T904 is a working truck; while it may not clock up the huge kilometres of the interstaters its often seen around the Perth area, float behind it, delivering both Ryan's and customers equipment to various challenging locations. It earns its keep, but like the rest of Ryan's fleet and his business in general, attention to detail is paramount. Looking good and preforming well is what has enabled Ryan and Bandana Earthmoving to weather many storms and not only survive but flourish.
So that's it folks, I'd love to end with a witty anecdote or pun about 'The Hulk', or the benefits of being a 'true blue Aussie', but I actually think for this story you should all just have to go back and enjoy the photos once again. Though, they may leave you all a little 'green' with envy. 
Sorry, couldn't resist.
Subscribe to our newsletter
Sign up to receive the Trade Trucks e-newsletter, digital magazine and other offers we choose to share with you straight to your inbox
You can also follow our updates by liking us on Facebook. 

Trucks For Hire | Forklifts For Hire | Cranes For Hire | Generators For Hire | Transportable Buildings For Hire