Beer and bling
---
Like a mobile billboard, it's hard to miss Airlie Beach Hotel owner Michael McFee's stunning Kenworth T909 B-double combo. It's enough to whet the appetite for a schooner and parmigiana at the popular tourist destination.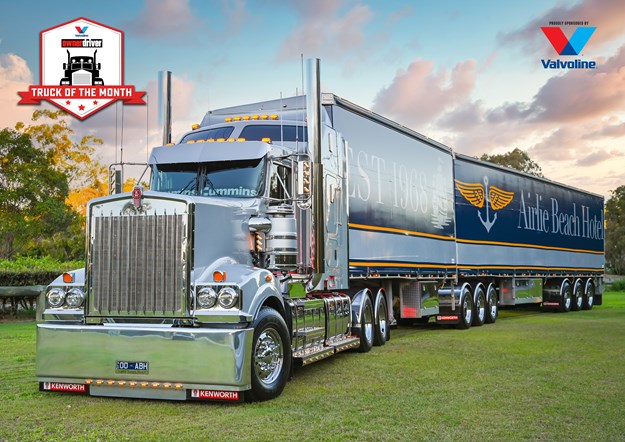 Chicken parmigiana! Yes you read that correctly, I've just started a story on one of Australia's coolest Kenworth's with the words 'chicken parmigiana'. No doubt you're wondering why? Well, I guess that's a fair question. It would make a really cool story if I was to BS you and say it's been done on a dare, however I'm sure my editor would have already rewritten the intro if that was the case.
No, I've used those two words because I stumbled upon this standout truck while enjoying one of the best chicken parmigianas you could ever have! I know that's a big call. Australians are pretty serious about many things, their footy, the Melbourne Cup, habitually losing to New Zealanders at rugby and their chicken parmigiana. So I don't speak lightly when I say, sitting down at the Airlie Beach Hotel and enjoying a 400g parmy was unbelievable.
When I'd finished it (and you better believe I finished it), not only was I about two inches short of being perfectly round but I'd also managed to catch sight of a stunning 10 tonne taxi that happened to be parked in the driveway. I couldn't pass up the opportunity to learn more. So off I went to investigate.
Now instead of writing a food blog about parmigiana, we've ended up here, with this story. Allow me to fill you in.
Understandably after a tough 2020 my better half wanted a break away, surprisingly with me in tow. So with holiday destinations somewhat limited in 2020 we decided to try out Airlie Beach. The Airlie Beach Hotel to be precise; perched right on the waterfront in one of Australia's top tourist towns. It seems the most unlikely place for me to stumble on a stunning Kenworth T909 but that's exactly what happened.
So there we were, sitting outside having dinner. In my case it was the chicken parmy I've already waffled on about, obviously with cheesy garlic bread. Suddenly my ears sensed the sound of a rumbling engine, those sweet smooth tones of a Cummins X15. I popped out the back of the hotel and there she was in all its bug-covered glory - the Airlie Beach Hotel T909. Even parked in the carpark of a top-notch hotel in a top-notch holiday location, the Kenworth stood out like a pregnant pole vaulter. I must admit I was smitten straight away.
Like a star struck One Direction fan I lined up to have a word with the driver. The truck draws plenty of tourists every time it pulls in and that night was no exception. A few holidaymakers who had been walking by had been blinded by the bling and came over to photograph the truck. Once it was my turn, I was pleasantly surprised to find out the driver was a fellow kiwi, Bradley Gallagher.
I expressed my interest in catching up and doing a few photos – and that's where it all began. Now that we all know how we got here, let's learn about what and who drives arguably Australia's coolest T909. 
Heading north
The 2019 Kenworth T909 and Vawdrey B-double set is the pride and joy of Michael McFee, the owner of the Airlie Beach Hotel. While Mick's main game is in hospitality, he is no stranger to the transport industry. His school holidays were spent travelling the roads between Sydney and Canberra with his grandfather who carted gas. Michael remembers tagging along in his pop's old ACCO before moving up to a Mack Super-Liner.
So Mick had diesel in his veins from a young age. But instead of following in his pop's work boots he headed along the path of his father who worked tirelessly in the hospitality industry. During his growth within hospitality Mick ended up shifting from the ACT up to sunny Queensland, or more precisely, Airlie Beach where he bought the Reef Gateway Hotel.
After the devastation of Cyclone Debbie in 2017, which left the Whitsundays decimated, he moved onto the Airlie Beach Hotel in a bid to revive it to its former glory and to help kick-start the local community. If the attention to detail on his truck isn't already an indication, you soon learn Mick is all about doing it right. He rebuilt the hotel with a Vegas-like bottle shop out the back and a top-quality restaurant out the front called The Pub. Currently, he is still revamping the 80-plus rooms on site.
Now in order to keep the workers and patrons fed and watered Mick was bringing a fair few supplies up from Brisbane – his closest main distribution centre. At his previous hotel he had experienced several third-party issues that not only delayed, but often damaged the products he was ordering. He approached an old family friend, Geoff Richards, to see if he could cart his product up.
"I spoke to dad's old friend Geoff about getting his company to cart my stuff," Mick tells me, knowing that at least he could rely on a quality service. "Geoff said for the amount I'm moving I should just buy my own truck." So that's what he did. 
Kenworth connections
The first truck he bought was for his previous hotel, the Reef Gateway, and it was an eye-catching Mack Super-Liner, brighter that a 10-year-old spelling bee champion. The truck is amazing and can still be seen up and down the coast, supplying the Reef Gateway Hotel.
However, when it came to a new truck for the Airlie Beach hotel Mick left all that to his driver at the time, Brendon Murphy. "Brendon was a full blown Kenworth man," Mick jokingly informs me. "So I just chose the colour and paid the bill."
Brendon's Kenworth connections came to the fore, directing Mick to Ben Sparrow at Brown & Hurley in Yatala who was tasked with the job of fulfilling the long list of requirements.
"It's very cool to be part of a build like this," Ben says as he broke down the almost year-long project. "That truck ticks all the boxes; it has all the right stuff in it."
The truck emerged out of Kenworth's Bayswater facility in Melbourne in the requested colour – and that was about it. Everything else was added afterward, including a revamp for the entire system, thanks to the specialist sound team at Brown and Hurley's Yatala branch. They added four sub woofers, a couple of amps and replaced all of the factory speakers with upgraded equipment. Ben applauds the work done there. "It's all upgraded speakers but installed in the factory positions, so you can't tell. Great work!"
Right from the start Brendon the rig to have a clean, crisp look. The truck left the factory without any badges, and the bottom of the sleeper is painted to match the truck rather than traditional stainless.
Once it was out of the factory the truck was sent to Ryan Northcott at Bling HQ in Brisbane. "He's the best in the business," Brendon tells me. Ben also heaped praise: "The quality of the work speaks for itself." They are not wrong. Brendon and Mick both sat down with Ryan to discuss the look they wanted and both reckon he had absolutely nailed it when the truck was handed back.
The fuel tanks and AdBlue tanks were wrapped together to give the truck an old school clean, four tank appearance. The custom-made rear bar was one of Brendon's favourite parts. Custom made step boxes were made to suit Brendon's vision as well.
Those are the big talking points; there's so much added to this truck it's almost impossible to list. Bling HQ nailed the look perfectly with just enough shine to make it stand out without being all garish.
By the time it rolled out of Bling HQ it was already a standout truck. Then it got hooked up to its top-of-the-line Vawdry B-double set. Talk about wow factor. Mick actually let me into a little of his marketing genius in regard to this. 
Marketing tool
The simplicity of the truck is there to emphasis the trailers. The whole unit is a rolling billboard for him, but it's the trailers that let people know what he's selling. I had asked him why there was no company logo or anything on the truck and he replied, "You don't want people looking at the floors or walls, you want them focussed on the product". I admit I had to listen to that quote a couple of time before Mick's wisdom sunk in.
Mick sees the importance of good quality gear on the road, and exactly what it can do for a company's image. It's not hard to be smarter than me, but this man leaves me licking windows in the principal's office.
So with the truck on the road I guess you are wondering, does it actually do anything other than just look friggin' amazing. Normally I would agree with everyone and say, it doesn't look like it. However, I did find it when I met current driver Bradley up in Airlie Beach and it was plastered in bugs. So it does work.
Kiwi boy Brad is no stranger to a pimped-up Kenworth. He's earnt his strips keeping the shine on some of the coolest Kenworths around, notably when previously piloting rigs for SRV and Greg McDonald. His reputation for professionalism and dedication was what earnt him the recommendation for the spot when Mick was looking for a new driver.
The big 909 loads up with the weekly supplies out of a couple of locations around Brisbane and heads straight to Airlie Beach. In a pre-COVID world the truck would be doing the run twice a week. Like most of Australia though, Airlie Beach has seen a drastic downturn in tourists and as such Brad is currently on one run a week. The tall poppy side of me would love to spend some time taking digs at Brad now for only working 'part-time' but truth be told the little bugger still makes himself useful.
Once the big rig gets up to Airlie Beach, Brad has to split up and unload as the hotel is not really B-double friendly. Once the A-trailer is unloaded it's put to the side where Brad and the staff will set to washing it. Then the B-trailer will be brought in and the same process is repeated. The truck gets taken around to the bottle store in order to make use of the tank water (oh yeah, they are that fussy). Once it's all shined up ready for the return trip the unit will be put back together out at Cannonvale.
Like a good little worker bee though, Brad then joins the rest of the crew in unstacking and organising the weeks' worth of product into storage and cold rooms as required. It's very much a team mentality that steams from the Airlie Beach crew, so much so I almost wanted to help myself. Obviously I didn't, apparently 'our holiday' does not include cleaning a truck and stocking shelves. But the thought was there.
Well, that's about all the information I have gathered. It seems everyone involved in this project – the salesman, the driver, the Bling man and even the guys that help keep it looking 11 out of 10 are just driven by pride. It's a wonderful thing to see. Pride in your job, pride in your workmates, pride in the company and definitely pride in the truck.
It's always hard to wrap up a story sometimes, never knowing the right words to say. I'm going to just let the pictures of this stunning Kenworth say more than I can and instead leave you with a solid piece of advice: whatever you do, when you're in Airlie Beach go to The Pub and try the damn chicken parmigiana. You will not regret it! 
Subscribe to our newsletter
Sign up to receive the Trade Trucks e-newsletter, digital magazine and other offers we choose to share with you straight to your inbox
You can also follow our updates by liking us on Facebook. 

Trucks For Hire | Forklifts For Hire | Cranes For Hire | Generators For Hire | Transportable Buildings For Hire