Horses for courses
---
The Fletcher family in Queensland's central highlands region are happy to talk about the toughness and reliability of their UD trucks past and present. But went it came to needing a unit that wouldn't struggle uphill, a 700hp Volvo was the obvious choice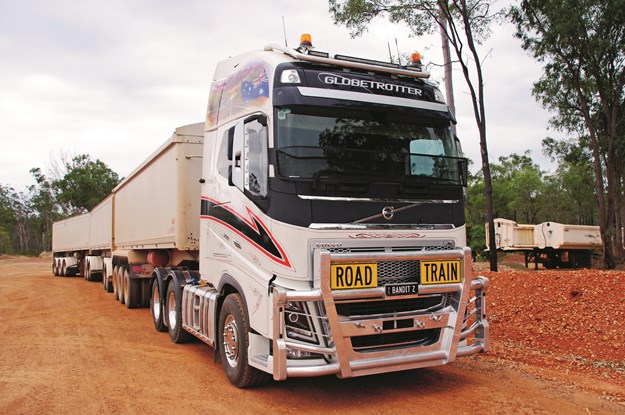 Despite the downside of these COVID-19 times, there can be some positives. Like discovering fascinating stories closer to Deals on Wheels' Brisbane base while interstate restrictions remained in place.
As it turns out I'd heard about the Fletcher family and their loyalty to UD Trucks. A bit of a hike as the Fletchers lived in the Central Queensland town of Duaringa on the Capricorn Highway between Rockhampton and Blackwater.
According to the 2016 Census, Duaringa boasts a population of less than 300. Since the collapse of the mining boom, the town has quietened down a little and house prices have plummeted. Zane Fletcher jokingly says his late father Geoffrey was the last person actually born in Duaringa.
Zane and his two sons, Nathan and Brodie, operate Fletcher's Earthmoving, a successful business that belies the town's current quiet status. Geoffrey Fletcher passed away early in 2020 and, due to COVID restrictions, only six people were allowed to attend the funeral. But it was Geoffrey who began the family's lifelong admiration for the UD brand when he bought a 1974 model back in the early 1980s.
"He used to be a mechanic here on the council and he bought the truck to cart gravel," Zane recalls.
"Then it got a bit quiet on the council. I was with Pioneer Concrete and I got him a job in Blackwater. So we took the tipper off and we put a concrete bowl on it, so then he carted concrete for years.
"Then it slowed up and he put the tipper back on and he carted grain. We made metre high sides on it, hungry boards."
"He could cart 20 tonnes on a body truck," Nathan laughs. "These days you'd get shot for it, but you could get away with it back then." 
He adds that his grandfather taught him to drive in that old green UD even though he was at an age where he could barely reach the pedals.
"When you're out in the bush you can do whatever."
Geoffrey later bought a water tank, spending the rest of his working life carting water until Zane took it over.
"I bought it off dad to stop him driving so he could retire," Zane adds. 
The truck then ended up with a property owner at Blackwater, still registered and currently hauling soil. It was that truck which was the beginning of a long, working relationship with UD.
"I drove for a bloke in Rocky, who had three 41s; they had 9-speed Roadrangers in them," he continues.
"The council had them here, they've had a heap of them, and they couldn't break them.
"And just reliable. We've hardly ever spent any money on them really. Never touched any motors, gearboxes, diffs, anything.
"I don't think you could beat a UD for council work, or off-road work. Big six rod, big springs at the back – just a real solid truck," Zane says.
All up, the Fletchers have owned seven UDs, however they've reduced that number down to two – a 1998 CW450 and, they're showpiece, a 2008 GW470.
However, when I arrived at Duaringa, Brodie Fletcher was out working the roadtrain-rated 470hp (350kW) UD on a road duplication between Gracemere and Rockhampton. Still, Zane and Nathan were keen to show off a large mounted photo of the 470 that originally hung on the wall of the Rockhampton Mack/Volvo dealership five years ago. It was the exact same truck that they'd bought second hand.
The Fletchers are regular visitors to the dealership, buying parts, although Zane points out that it doesn't include UD parts, but for everything else.
One day, the photo had disappeared from the wall, whereabouts unknown, until shortly after Nathan and Zane's brother Guy walked in where the one of the salesmen announced, "I've got a present for you" and brought the photo out.
Their other UD, the CW450, was having a day off, parked among the Fletcher's collection of trailers and equipment. Inside a shed sits a Kenworth T909 that regularly hauls side tippers. But more about that later. 
LOADING UP ON LEGUMES
The most visibly eye-catching item around the Fletcher's yard, however, was a 700hp (522kW) FH16 Volvo in AB-triple formation. So I joined Zane and Nathan who were taking it on short trip to a nearby farm to load up on around 65 tonnes of chickpeas, destined for Oakey on the Darling Downs before being transported off to the Port of Brisbane.
Although much of their main work comes from council and private property road maintenance, grain haulage is an area that the Fletchers moved into as a necessity.
"A couple of years ago the council cut back. The government pulled all the money, we needed something to do so we went into grain," Nathan explains.
"So we had to go to bigger trucks, AB-triples, because the UDs aren't big enough for the work."
A cab-over was needed for the AB-triple set up due to length laws, hence the arrival of the Volvo FH16 a couple of years ago.
"When we bought the Volvo the bloke told us it was 600hp [447kW]," Zane says. "But when we had a good look in it, it was 700hp.
"The more you put on it, the better it goes," he laughs.
It's not the first Volvo the Fletchers have had in their small fleet. In fact, they've had a variety of brands over the years including an International T-line, a Transtar, a Freightliner and a couple of Western Stars, one of which was a 2009 day cab 4900 model with a 600 Cummins.
"It had an 18-speed autoshift with the clutch still, and it was good when it was good, but because there's so much dust, dirt and bulldust, it used to play up a bit and get stuck on the road," Nathan explains.
Zane is concerned about the Volvo's capabilities on dusty roads. "No problems with that truck yet, but we really haven't stretched it on the dirt," he says. 
SCENIC ARTWORK
You know that the FH16 is going to be around for a while to come. For starters, there's the 'Bandit 2' numberplate that they bought at auction. It formerly adorned one of Heavy Haulage Australia's trucks, owned by Jon Kelly.
Then there's the distinctive 'doin it in the dirt' artwork above the Volvo's doors. The image of the hill came from a photograph just out of town towards Rockhampton. They contacted an ex-employee of PJs Custom Spraypainting in Brisbane, known only as 'Cyclone', who made the trip north and worked on the artwork in one of the Fletcher's sheds.
Which brings us back to the Kenworth T909 which is distinguished by similar artwork. This time, however, it's a mural on the back of the cab, the image based on a mountain scene on the road to Blackwater.
"He wanted to make it look better than just a white truck, and he designed the twirl on the side," Zane says.
As for its working role, the Kenworth pulls side tippers. It came with 430,000 on the clock, now it's up to 750,000. However, Zane says so far they haven't had an issue with its engine.
"We don't know what horsepower really it is. 600? But it's been a real good truck for us.
"Nathan won't let anyone drive the Kenworth," Zane jokes. "I might own it but I can't drive it. You might put a piece of dirt on the seat or on the floor." 
Zane's most recent purchase, however, is an old Mack Valueliner. 
"We've spent a big of money on it already, but I only bought it for the noise it makes," he laughs.
As far as any more truck purchases go, it will most likely come back to the UD brand although there's the issue of horsepower and payload. The 470hp, although setup as a roadtrain, is limited to less than 90 tonnes.
Again, Zane was reluctant to say a bad word about all the UDs they've owned, due to their reliability. Nathan, however, is more to the point.
"They turned us off them a bit because they've gone all Volvo and made them less horsepower instead of bumping them up, making a bigger truck," Nathan says.
"We would have loved something a bit bigger – a bit more power, bigger ratings, and we probably would stick with them.
"They're not big enough to pull our three trailers, and they don't go up to 100 tonne GVM rating."
All up, it was a day well spent with Zane, Nathan, and their family, highlighting that the right choice of truck, and the ability to adapt to changing times, goes a long way to keeping their small operation going strong. 
Subscribe to our newsletter
Sign up to receive the Trade Trucks e-newsletter, digital magazine and other offers we choose to share with you straight to your inbox
You can also follow our updates by liking us on Facebook. 

Trucks For Hire | Forklifts For Hire | Cranes For Hire | Generators For Hire | Transportable Buildings For Hire