The Motives of May
---
If Michael May ever departs corporate life, he should perhaps pursue politics. The latest in a long line of managing directors at Iveco Australia, the astute former head of Mercedes-Benz truck operations in Australia has that prudent propensity for saying plenty without actually revealing much at all. Even so, and whatever his ultimate agenda, he may be just the cool-headed leader who delivers stability, direction and energy to an embattled brand
This time last year, Michael May was the head of Daimler Australia's Mercedes-Benz truck and bus operations. A brand on the boil, kicking goals and much like the shrewd, mild-mannered May, secure in success.
From the outside looking in, it appeared a productive, comfortable, satisfying existence continuing to evolve on the back of a modern, efficient and increasingly popular line of trucks far removed from problems of earlier generations. And as director of Mercedes-Benz Truck & Bus, supported by capable people above and below on the corporate ladder, May's engineering background and steady hand had played a major role in ensuring the new Benz models were tested and tailored to Australia's unique demands.
Sure, there was no resting on laurels but nonetheless, after the hard groundwork it was time to enjoy the bounty of a rejuvenated Benz business. Or so it seemed. Word was though, Daimler Australia Pacific's leading lights were about to consign Michael May's considerable experience and abilities to corporate brother Fuso where innovative new leadership was deemed an imperative.
Even so, it was a tad surprising to see May late last year at the upmarket launch of Freightliner's new Cascadia, and he appeared similarly surprised when asked when he might be taking the reins of Fuso. Apparently, the impending appointment was supposed to be secret but typically, perhaps, the genial May just shrugged, smiled and said something benign like: "You never know Steve."
Indeed you don't, because just a few weeks later came an announcement that shocked the socks off many people, not least his closest colleagues inside Daimler's Mulgrave (Victoria) corridors. The erudite, savvy, calmly confident and carefully considered executive was casting aside the relative security and considerable success of a 20-year career with Daimler Australia Pacific to jump ship and become the latest in a long line of managing directors at Iveco Trucks Australia.
The big question was 'Why?' 
NEW FACE, NEW FUTURE
After all, even on first impressions, May is a smart, highly professional man who, according to those who have worked closely with him, critically weighs all factors before coming to a conclusion.
But, Iveco? Let's face it, when it comes to the 'fling factor' of executive appointments, the revolving door at Iveco Trucks Australia HQ in Dandenong (Victoria) has at times appeared to spin like a merry-go-round on methanol. A slight exaggeration of course, but it is no stretch of the imagination to suggest that over the past few decades, more senior management with good intentions and high hopes have walked through those doors only to be whisked out some time later (in very short time on occasions), than any other trucking brand in the country. Perhaps the world!
For industry commentators in particular, keeping track of who's actually calling the shots at Iveco Trucks Australia has become something akin to reporting on the weather; constant change and never entirely sure what's coming next.
For instance, May's immediate predecessor in the managing director's chair was the rarely heard and largely unseen Bruce Healy, whose tenure was barely two years before it was announced late last year that he was returning to Iveco parent, Case New Holland (CNH), and specifically, its New Holland Agriculture division.
In the same statement came official news his replacement was May, scheduled to take up the managing director's role in early 2020. February, in fact.
The timing wasn't great, of course. There were reports of a severe epidemic on the rise in China and elsewhere, and before long the world would drop into economic and social shock as a global pandemic was declared.
'Welcome to first grade' could've easily been an appropriate epithet for May's move to the managing director class, but with what was probably typical composure, he quickly took the reins, reduced production to three days a week, and resigned himself and the company to a constantly evolving business dynamic. 
Yet, back on his thinking for the move to Iveco, it is an adamant May who says Iveco approached him, not the other way around. As for the reasons he took the job, it's perhaps reasonable to suggest he would not have made the leap without an extremely attractive safety net written into the remuneration package. After all, Iveco's reputation for management movements and executive exodus is second to none.
Still, there had to be much more to it than that. At 47 years of age and with a strong record of achievement, May is at the top of his executive game, but to be blunt, he'd maybe gone as far as opportunity allowed within the Daimler Australia fold. Even from the outside looking in, it's likely the only way to move up would come from moving out. 
QUESTION TIME
So again, why Iveco, given the security of Daimler and Iveco's 'revolving door' history of executive appointments?
"A fair question," he says thoughtfully. "I felt I'd achieved good things at Daimler but I like that our industry continues to evolve and change. Iveco has new management right at the top and a new entrepreneurial outlook.
"It's also a slightly smaller company than I'm used to. It's not the biggest player but it can move at a different pace.
"At this point [Iveco is] looking to spin off from CNH and I was approached directly to consider the opportunity and I think it really is that: an opportunity. There's a lot of potential here and that's what I'm really interested in. Across my career I've gone into places that haven't been necessarily performing, transforming them and turning them around."
It's a role, he agrees, which also has plenty of professional challenges. 
"I think that was the driving force to really take it on," he says.
"The thing for me, it's not a quick journey. I want to make sure we do what is right and sometimes that takes time and I think it particularly helps the company to have someone local who has understanding of the market."
Asked if he has a set contract period, a candid May quipped: "As long as I keep it together. The last mob I worked for was 20 years, so I don't know how long this will be [but] it's an exciting time and the company has an opportunity to have a crack.
"I'm still young and at this point in my career, and with what I can bring with experience and the organisation's potential both here and internationally, it's pretty exciting."
The challenges, however, are considerable. Iveco's influence in the heavy-duty sector, for instance, has waned significantly over the past decade or so, with cab-over product such as the well-equipped X-Way and notably the iconic ACCO continuing to struggle for prominence under the intense pressure of modern competition.
What's more, the company no longer offers a conventional model since the earlier demise of Iveco's Powerstar and International's recent announcement that it will not be developing a right-hand drive version of an upcoming replacement for the long-serving ProStar.
"The loss of ProStar was certainly a disappointment, but I understand International's decision. Economically, it's hard to justify investment in a right-hand drive product if the volumes aren't there," May explains.
"Still, we were starting to do better with ProStar."
In other areas, May suggests some rationalisation will be required to make the most of opportunities with trucks such as EuroCargo in the two- and three-axle rigid market. Battling the Japanese is never easy but it's an upbeat May who believes the best is yet to come for EuroCargo.
In light-duty classes though, products such as the versatile Iveco Daily continue to do well. In fact, with fewer people opting for overseas holiday travel during the Covid crisis, demand for motorhome chassis such as Daily has spiked considerably, along with consistently strong support in parcel van and courier applications.
Daily, in effect, has been one of very few growth areas for Iveco over a number of years and it's no secret an updated Daily will debut here in the first few months of 2021.
All these factors, however, give weight to the assertion that perhaps May's ultimate task is to wind down manufacturing and assembly at the historic Dandenong factory, cash in on the sprawling facility's massive land value, and become a full importer.
The conversation stalled for a few seconds before he cautiously but somewhat optimistically comments: 
"I originally came into the industry as an engineer, so I'm excited by our potential to engineer and manufacture locally because I think Australians have the capacity to do that.
"We have opportunities to evolve provided we can bring adaptability and flexibility to the market and what it requires," he says earnestly.
So, is that 'yes' or 'no' Michael?
This time, a short chuckle. "The door's open for a number of possibilities but all things will be pragmatically assessed and evaluated. It will take time."
Yet, perhaps the most important factor of all in any question on Iveco Australia's future direction does indeed hinge on the door. Specifically, allowing the man at the top to do the job without worrying about 'the fling factor'.
After all, for the first time in a long time, there's a man at the helm with the experience and smarts to actually see the opportunities far clearer than the obstacles.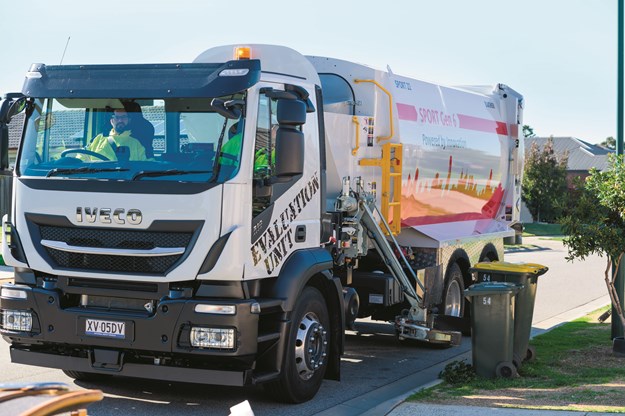 Subscribe to our newsletter
Sign up to receive the Trade Trucks e-newsletter, digital magazine and other offers we choose to share with you straight to your inbox
You can also follow our updates by liking us on Facebook. 

Trucks For Hire | Forklifts For Hire | Cranes For Hire | Generators For Hire | Transportable Buildings For Hire