Heavy as she goes for Kenworth C509
---
JANUARY TRUCK OF THE MONTH: Jarred and Cassy Sacca operate one of the most professional heavy haulage outfits in north Queensland, a Kenworth fleet that includes their first ever C509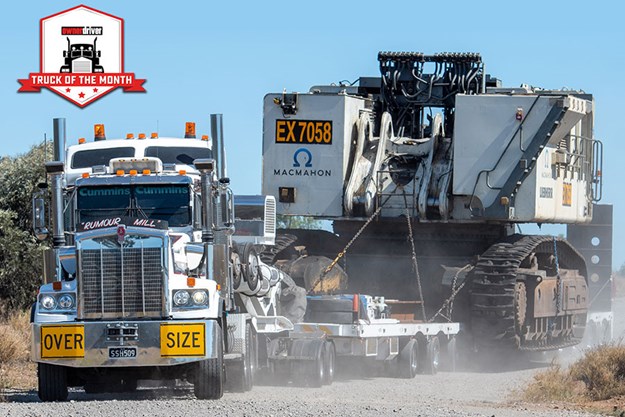 S&S Heavy Haulage operate some of the coolest Kenworths in Australia, including a rebuilt 2013 C509 workhorse.
I had spent several days with Jarred Sacca and his S&S Heavy Haulage team, watching these guys organise and prepare to shift a mammoth excavator. I watched them prepare all the equipment from a 12-row Drake trailer to BBQ supplies for dinner. I watched them work as a team and excel as they executed such a mountainous shift.
These guys spend hours on the road, sometimes only covering a few hundred kilometres a day.
In what they do – from the organisation before a shift to the practical on-site actions required to complete a shift – there is zero room for error. From the moment they turn the key, everything is switched on to the max – driving skills, mechanical skills, patience, foresight … everything.
It's impressive to watch them hooking up three impressive rigs and working together to move 180 tonnes of machinery.
Having seen the finer side of moving a 7.5m wide, 6m high and 180 tonne load over 200-plus kilometres, I realised it is definitely a highly skilled area of our industry.
S&S Heavy Haulage (the S&S stands for Sacca and Son) is a Mackay-based, family-owned and operated outfit. Top of the food chain is Jarred Sacca, however he is the first to admit there really is no hierarchy in the company, though if there was he definitely puts his lovely wife Cassy at the top. Not only has she played a major role in all the business decisions but she's also looked after her kids Tommy and Brienna-Maree and, of course Jarred – her 'big kid'. Everything is done as a team and nothing succeeds without the team.
Jarred and Cassy are originally from Bunbury, Western Australia. Jarred's after school adventures were spent in the passenger seat of his uncle's truck. You really earn your stripes when you are in the passenger seat of an old White 4000.
As Jarred got older his uncle changed to a Kenworth K123 so the passenger seat got comfier. Jarred even enjoyed some time in a 141 Scania. As often as he could he would ride along, soaking in the experiences of his uncle's broad variety of loads.
Working was just second nature to Jarred and as soon as he was old enough he ventured off to the big smoke of Perth and got himself a mechanic's apprenticeship.
Apprenticeship done, Jarred ended up with a job at Terex Mining based out of the thriving metropolis of Tom Price. He spent eight years working on diggers, trucks and drills on various mine sites around the Pilbara area. Eventually the long rotations away from Cassy saw him and the family transfer over to Mackay in Queensland.
He spent a couple of years working field service for Terex. His job requirements expanded from repairs and maintenance to becoming involved in a lot of the preparation tear downs for equipment that was getting moved from site to site.
Changes in ownership AT Terex saw Jarred and Cassy take the plunge and venture out on their own.
With one ute, some loyal customers and Jarred's 'eight days a week, 25 hours a day' work ethic, Sacca Heavy Repairs was established.
It's that "have a crack" approach that not only saw Sacca Heavy Repairs succeed, but grow and grow, eventually spawning S&S Heavy Haulage.
It's worth noting that S&S Heavy Haulage came about because of the success of and the specific work that Sacca Heavy Repairs were doing. Along with repairs and maintenance, Jarred and his team were involved in a lot of pull downs of mining equipment. The Sacca Heavy Repair crews were always busy, especially with mines opening and closing across the country – and mining equipment always needing to be relocated.
Jarred's teams would organise all the mechanics, cranes and crews needed to strip down all manner of equipment and help load it for heavy haulage companies. Then they would turn up at the other end and put it all back together again.
---
VOTE FOR YOUR FAVOURITE 2020 TRUCK OF THE MONTH FOR A CHANCE TO WIN A $5000 BCF VOUCHER. CLICK HERE:
---
As Sacca Heavy Repairs had grown, so had Jarred's fleet. Several more service vehicles had been added to the original ute. Along with those other service vehicles, Jarred had picked up his first truck – the stunning W-model you see in the photos, which was purchased to assist with moving material for Sacca Heavy Repairs.
This helped sway Jarred and Cassy's thinking when the idea to start their heavy haulage business first arose. They already had a truck; the opportunity was there once again and the same attitude prevailed. No harm in having a crack.
Big becomes bigger
With the purchase of a second-hand Drake 4X4 and 2X4 dolly to go behind the W-model, S&S Heavy Haulage was born. For a couple of years their 50 tonne trailer was put to good use, then in 2015 Jarred went to an auction in Brisbane and came away with a second-hand Kenworth T908, a Drake 8X8 platform and 2X8 Dolly. From there the loads just got bigger and wider and the company never looked back.
A couple of years after the T908, Jarred added his first C509, the aforementioned 2013 model, which was rebuilt, including putting a whole new hub reduction rear end on it. Another couple of years leter he specced out his first brand new truck – a purpose-built Kenworth T909. His fleet now consists of three C509s, two T909s and one K200 King Cab
"They do the job," Jarred says of his Kenworths. When you are doing the kind of moves that S&S Heavy Haulage undertake, reliability and performance are key factors. When you are asking a truck to pull in excess of 100 tonnes then you want to know it can handle it, and Jarred's Kenworths do exactly what they are required to do.
That same dependability and expectation of performance is why you'll see the Drake name attached to the wide variety of trailers in the S&S yard.
Jarred's first brand new trailer was a 4X8 bucket well trailer, designed and built in Drake's Brisbane yard specifically for hauling drag line buckets around. All Jarred's platforms, drop decks and modular trailers carry Drake's years of experiences as well.
You'll find that's a key trait of Jarred – loyalty. When he's looked after, and the jobs done right, he sticks with it. Kenworth for his trucks, Drake for his trailers, and the team at SLS Custom Stainless for all his fit outs.
Dream team
The drivers that work for S&S Heavy Haulage not only move big stuff, but they also move it a long way. There isn't any area of Australia that the stunning S&S trucks haven't seen.
With that in mind, Jared has set up all his rigs to be a home away from home. Everything they need is added to the truck. It really is a necessity for heavy haulage teams. Whether it's got a 50 tonne dumpy or a 180 tonne excavator on, it's very rare for heavy haulage trucks to get ample parking at a local roadhouse, so they need to cart all their own creature comforts. So yes, the trucks do have their own showers, as well as cooking facilities and your regular fridges, TVs and more. All that and SLS Custom Stainless also manage to make them look sharper than a national spelling
bee champion.
Having the right trailers, the right trucks, the right setups and the right knowledge has helped get S&S Heavy Haulage where they are today, however Jarred is continually pointing out that he wouldn't be anywhere without the right people.
From watching Peter 'Reggy' Reggardo in the operations manager seat doing all the behind the scenes stuff, to admiring Jordy, Gibbo and Jarred work as one hauling the load out. It's all about the team.
The loads don't get moved without the real hard work getting done by the S&S admin team who have to navigate their way through an over-complicated permit system. How the office-bound Danielle Jack, who handles the permits, still has any hair left is a testament to her composure and poise. It must be as frustrating for her as it is for the boys dealing with camper vanners who refuse to move aside for all the flashing lights. There is no easy path when it comes to heavy haulage.
S&S Heavy Haulage is company that works best because everyone works together. Heavy Haulage is a tough game to be in and a game where you have to be on the mark all the time. Every aspect of the process requires attention to detail. When it comes to the driving I think Jordy in the C509 summed it up best: "You have to drive forwards while looking backwards."
Subscribe to our newsletter
Sign up to receive the Trade Trucks e-newsletter, digital magazine and other offers we choose to share with you straight to your inbox
You can also follow our updates by liking us on Facebook. 

Trucks For Hire | Forklifts For Hire | Cranes For Hire | Generators For Hire | Transportable Buildings For Hire