The second coming
---
This extremely rare, 54-year old F-609RT cabover Mack has been given a second makeover by classic tractor nut George Proctor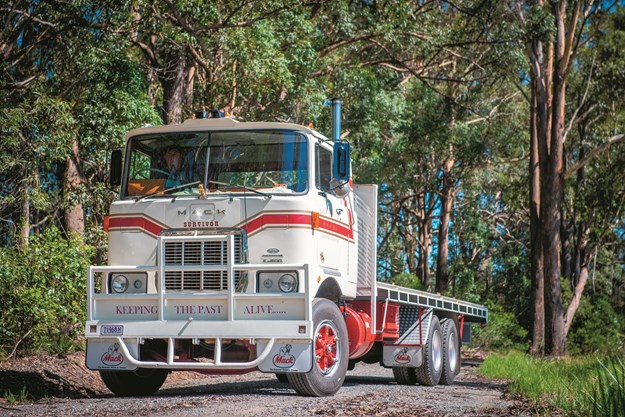 Let's start with a bit of an admission here. I've been really excited about doing this story. I first spotted this awesome-looking F600 at the Gatton Mack Muster back in the day. For those unaware, there used to be a time when we were able to have things called 'Truck Shows' – glorious events where people would bring their pride and joy to display. Fans from far and wide would come to appreciate some exquisite machinery. Sharing laughs, taking photos, spilling half the sauce from their dagwood dogs down the front of their Kenworth shirts. It was a simpler time. A happy pre-Covid time.
One of these long forgotten 'Truck Show' events was a Mack Muster up in Queensland. For a Bulldog fan like me it was heaven. From all around Australia Macks mustered, filling the Gatton showgrounds with Bulldogs galore. Amongst the big-bonneted Bs and sharp Superliners was a hard-to-find and immaculately presented cabover Mack, the old F-600. I grew up with my uncle driving a cabover Mack back in NZ and they are a bit of a rare sight over here in Australia.
So yes, I got a bit stalkerish, eventually tracking down its owner, George Proctor, and lining him up for a photo shoot and story. I was super keen, then the world went Covid crazy and everything got stalled. It took a long wait, some prayers to the weather gods and some perfect timing between border closures but I finally made it to Eungai Creek down in NSW to catch up with the man behind the wheel of the 'Survivor'.
THE 'SURVIVOR'
George is the man who painted the name 'Survivor' onto the front of this very special F-609RT and with justifiable reason. The truck is now over 50-years-old and without the effort of several folk it would most likely have ended up a rusted-out shell in the back corner of a scrap yard well before now. Instead, it has survived.
What makes it extra special is that there were very few 609Rs in Australia, only 20 in fact. They were right-hand drive F models, built in the States and imported directly over here. This one was the second in the country, though technically it was the first to hit the road over here.
When it landed in Australia, the single-drive tractor unit, sporting a lovely red paint job, was factory fitted with the infamous END711 engine. When you consider the Mack had a 6.36 ratio diff and a double-over-drive quad box, pairing it with the 711's 211hp (157kW) would be like tying Usain Bolt's shoelaces together before a race. Though on a single-drive cabover maybe that's a safe idea, reel those long legs in.
If I had more time, or slightly better investigative journalism skills, I might be able to fill in the truck's history a bit more. There's speculation it may have started its life working for Brambles but nothing to prove that. Rumours also have it working around Tamworth, as well as stories about it operating as a road-train unit on some pretty rough roads. The best I could do was track down the man who managed to pick up the old Mack in 1988, for just $5,000, at a repo auction up in Brisbane.
That man, who was the first responsible for keeping 'Survivor' surviving, is a Raglan farmer named Andrew Creed. The name is well known around the central Queensland area as his family has been farming there since the first day someone looked at a cow and thought 'yup, I'm going to squeeze those and drink whatever comes out'. The family farm is in its sixth generation.
The Creed family is also well known for their charity work in the local area, having been a huge part of the successful Old Station Fly-In and Heritage Show (another Covid victim, but the show's back in 2022, so don't miss it).
Sorry, I'm waffling again. Let's go back to 1988 when Creed was just a teenager. Back then, the farming family had a few old Macks working for them. The good old Flintstones were a farm favourite for the Creeds. There was need for an extra truck though and Andrew was bustled off to Brisbane to a repossession auction to look at an F-model up for grabs.
It wasn't pleasant. I'm no mechanic but even I know the flywheel is meant to be attached, not loose. I'm aware brakes are encouraged to be working, chassis rails aren't meant to include cracks and the radiator is designed to hold fluid and cool the engine, not the opposite. Despite all this and several other issues, young Andrew could see the potential.
"It was very sad," he admits but adds: "I could see past that, I could see it was a good truck."
He also freely admits it was cheap, five grand was all it cost him. Well that and the expense of floating it up to Raglan because there was no way it was driveable.
BUSH RESTO
Years of bush mechanics on the family farm qualified Andrew for the task of bringing life back into the old Mack and his teenage enthusiasm took over, taking up the challenge straight away.
"The flywheel housing had been loose on the block, so I had to do a lot of welding, the back of the block had cracked," says Andrew as he recalls the first job needed to resurrect the Mack.
"So I welded the back of the block and filed it back to shape, by hand."
With the brakes and radiator fixed, the single-drive tractor unit was put to work on the farm, towing a bogie axle stock trailer. Andrew always had plans to modify and completely makeover the old Mack and it wasn't long before the old girl was parked up, stripped back and new life added to it. Actually, to be accurate, new chassis rails, new heavier front axle, new bogie drive rear end and new extra-long body was added in order to give it new life. All this was done by a very young Andrew and his mates. The bogie drive came out of an old Flintstone.
"I had to get a new tail shaft and centre bearing out of Truckline, which cost me nearly $2,000, which I thought was a hell of a lot of money," Andrew recalls.
When you factor in that's nearly 50 per cent of what he paid for the truck, he's right. But the Mack needed the bogie drive, much like it needed the heavier front end.
"The lightweight front axle just wasn't enough," he tells me. The cracked chassis rails indicate previous owners may not have worried so much about front axle weights.
The next goal was a few cosmetic repairs.
"The cab had a little bit of rust in it. A mate and I collected local sand and sand blasted the cab," he says. Yes, you read that right. After drying the sand on some tin and using a sieve to get rid of the larger grains, young Andrew and his mate borrowed a compressor and sand blasting unit in order to do the job themselves. That's inside and out mind you.
"The interior was painted that Hammertone Green, it looked bloody awful," says Andrew. "It was all falling off it."
With the exception of the hood lining the whole interior was metal so it just got blasted and repainted. The sand blasting removed the dark green exterior colour that it was when Andrew got it, as well as several other coats – all the way back to the base red that the truck had come out in. He then had a friend remove the rust and, using two-pack paint, he resprayed it Polar White.
All up, the transformation of the F-609 took Andrew around four to five years. Once completed, the Mack spent another 20-plus years earning it's keep on the family farm before being sold to another gentleman just a few hundred kilometres down the road. Which is where George would eventually find it just a few years ago, when he was on the hunt for something to cart his restored tractors around.
SECOND COMING
A little history on George first; George is one of those guys that everyone would love to have as a grandad. Because there isn't a damn thing that George couldn't fix. Honestly, I'm thinking they may have based the 'Macgyver' TV show on him.
He grew up on a banana farm but left home early to go working in sawmills. He got into trucks well before he was licensed to do so, driving Diamond Ts and old White tippers on the Clybucca flood mitigation. When he was close to 18 he did get his license and next thing you know he's living in Wagga Wagga managing a fleet of trucks, as well as the drivers and still getting behind the wheel himself. He's spent time as an owner-driver as well, covering a lot of the east coast in his own 1418 Merc.
George even got into the modification game early when he purchased his second 1418 and proceeded to mount a Cummins sleeper box to it. Apparently the old 'board between the seats' trick just wasn't cutting it anymore.
Throughout his years George took a very hands-on approach to everything. In between sourcing loads and customers when he was a paid driver, he read countless mechanical books and manuals, which enabled him to repair, maintain and rebuild numerous machines. When the time on the road started to take its toll he shifted into the earthmoving arena, dealing with land clearing and logging, which spawned his real passion: tractors.
It was this passion that would lead George to the Mack. The work George was doing repairing, restoring and servicing his own equipment soon built him a reputation. His skills saw him taking on restoration and repair work for other tractor fans. Ironically I'm sure he also would have rebuilt many a tractor fan.
Sorry, I digress. It got to the point where George had a full workshop at home where he could rebuild and restore most parts of a tractor just a few steps from his back door. Whilst his services were sought Australia-wide, he was still managing to resto his own for an impressive personal collection. The issue now was how to get his tractors out to all the shows. Enter the F-model.
"To put two tractors on a truck I needed a bogie drive," George admits, adding in cheekily "putting 10 tonne on a single axle is not real good, they don't tend to like that."
So, he went on the hunt for a flattop. He wanted an F-model Mack as he'd spent some time in one many years ago and loved it. Finding one wasn't easy. Eventually he found this one on Facebook of all places. He drove the 1,000km up to Miriam Vale in Queensland to check it out and after being assured there's no issue with it, he snapped it up and headed back down south.
The maiden journey lasted less than 100km. She was boiling her head off. George and his mate Mal, who'd travelled with him, let it cool down. They topped up the water, fired it up again and found it was still pushing water out the radiator. Not a great start. The boys got help from a local sawmill in the form of 25-litre containers of water. Every 30-odd kilometres they were stopping to top the water up.
Eventually, George found if he kept it below 1,500rpm he could get closer to a hundred kilometres before stopping. A 24-hour return trip left George ready to cut his losses when he got home, and he considered selling the Mack. Thankfully, his travel colleague Mal convinced him not to. Instead they decided to replace the old 711 engine.
George got onto the team at Gleeman Truck Parts in Sydney who had a Maxidyne engine out of an old Army water truck and were more than happy to sell it to George. The truck had been taken to George's mate Mal's place. George's place was perfect for building and restoring tractors but Mal had a much bigger crane for a much bigger project.
When the boys took the END711 out they also took the time to redo all the airlines, painted the chassis, upgraded the brake boosters, checked valves and fuel lines, changed the cross-over fuel system and made sure it all got a revamp. It had been a good 20 years since Andrew's spruce up. While the deck was off, it got a new lease on life as well. The old timber floor was removed, and a new chequer plate deck was fitted.
There were a few modifications needed to fit the 285hp (213kW) Maxidyne engine into the 711's comfy position, including having to reposition the turbo, replace the oil bath air filter with a whole different setup and replace the flywheel system in order for it all to work perfectly. None of this phased George and Mal though. George's ability to read and understand manufacturers' manuals means it just seems to make sense easily for him. He does admit to a few nerves though when he chose to pull apart the quad box.
"I'd never done a quad box before; it was a big job," he says.
It was a successful job though. Within a year of its purchase George had the old girl celebrating her fifth decade with a new lease on life.
The big Mack got its second resurrection when it landed with George and he's loving the rewards that come with it. It's a joy to drive and holds many fond memories. George is the first to admit he's not finished though. Mechanically the truck is better than new but there are now plans to start rejuvenating the exterior, including a new paint job as well as a bit of a spruce up of the 54-year-old interior.
For now though George is just looking forward to the day when he can put a couple of his beautifully restored tractors on the deck, hook up to his caravan and head of to a vintage machinery show. Aren't we all!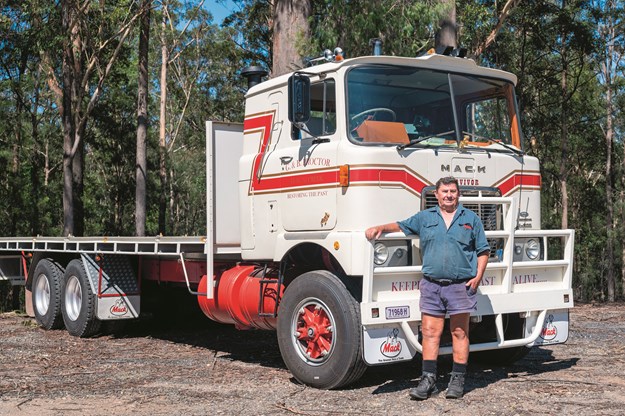 Subscribe to our newsletter
Sign up to receive the Trade Trucks e-newsletter, digital magazine and other offers we choose to share with you straight to your inbox
You can also follow our updates by liking us on Facebook. 

Trucks For Hire | Forklifts For Hire | Cranes For Hire | Generators For Hire | Transportable Buildings For Hire