Aftermarket extravaganza - BTS21 parts and accessories
---
Parts and accessories stands were spread across three floors at the Brisbane Truck Show. Here's a snapshot of some of the standouts
Garrett's light duty credentials
Garrett Motion Australia GM Paul Carlsson highlights the many ways to gain from the BTS. The local arm of the global US firm that helped boost engine output through turbochargers, Garrett had a range of both heavy and light machinery options, including those for trucks.
But, as Carlsson notes, fleet owners and their managers are also performance and leisure machine fans. Thus the Garrett stand accommodated both.
Whereas Garrett used to do heavier-duty truck turbos, it is now more focused on fitting lighter rigids, such as Isuzu, Hino and Fuso.
"In most cases, you'll get guys come up and say 'I don't have your turbocharger in my truck but, I've got a twin-turbo ski-boat that I want to do up – and that's why we have the performance stuff here," Carlsson says, noting that they might also have company utes or private performance cars as part of their lives.
They can be "truck drivers, fleet owners, managers that are successful as far as their work-life goes" who may have little opportunity otherwise to see the performance range, which, interestingly, is where the most BTS enquiries are focused.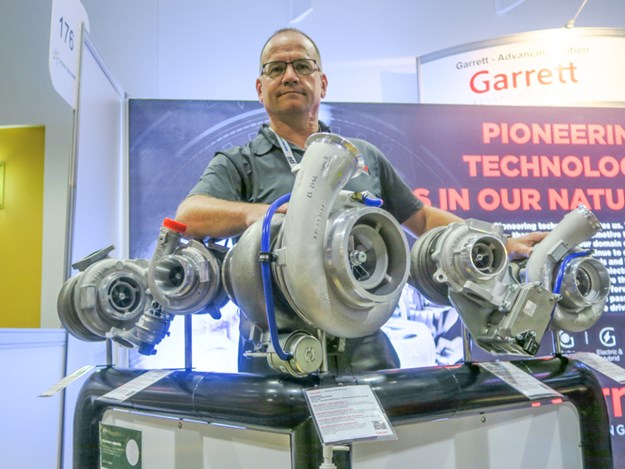 Carlsson's 2021 is chequered with similar events planned at least as far back as before November. He insists there was little concern about the BTS going ahead. And the value of it and other such events is broad.
"It's a way of getting in front of the customers out there – the end-users, the installers – and talking to them – it works well," he says, not to mention the opportunity for education and advice nights Garrett can provide to the likes of diesel mechanics.
Carlsson estimates that perhaps half of turbo problems can be put down to device failure and the rest are entirely fixable, saving replacement cash.
"It could be an oil drain line that's blocked [meaning] that oil's got to go somewhere so it goes through the seal," he says.
---
Didn't get to the show? Take a virtual walk around the 2021 Brisbane Truck Show, here

---
"Fix the drain line and the oil can drain away again and it's not pressurising the internal part of the turbo charger and the oil stops.
"Or, the opposite. They think it's the turbocharger, they replace the turbocharger and the leak's still there.
"It's what I call 'diagnostics by replacement' – it's very expensive. It's not a good thing to do."
Carlsson insists developments come constantly, reducing device size while increasing power, at a ratio of 15-20 per cent a time and informed by Formula 1 turbo technology.
And it wouldn't be the 2020s without an electric aspect here too.
"This year we are launching with AMG the world's first mass-produced e-turbo vehicle," he says.
"It's like a normal turbo-charger but in the centre of it, instead of having the bearing where the oil and water goes into it for cooling, it has an electric motor as well.
"Through the rpm range, from the 800rpm at idle to 1,500 to 2,000, the electric motor does the work.
"As soon as it's going fast enough that the exhaust gas takes over, the normal turbocharger kicks in. And then, when it goes past that point, it then reverts the electric motor to an alternator and the power goes back into the battery.
"So, what that gives you, via ECU control, is infinite power whenever you want."
The e-turbo move from performance use to heavy vehicles is seen as only a matter of time.
Hella shines with DuraLED range
Hella Australia's stand lit up the surrounds with its array of heavy commercial lights, lamps and other electrical accessories.
The company promotes a 'fit and forget' mantra for fleet owners with maintenance-free lighting solutions – particularly its DuraLED range of signal, marker, heavy duty and combination lamps that comes with a lifetime warranty.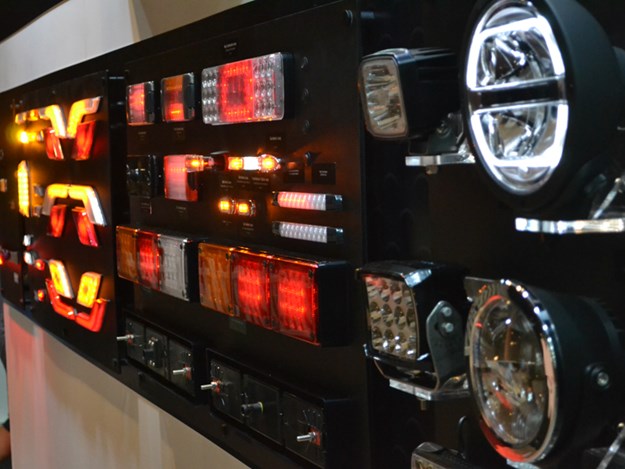 The company notes the DuraLED collection is tried and tested over two decades, hence its confidence in the range.
Further offerings include its Grilamid lenses that provide UV and chemical resistance to avoid fading and embrittling, Jumbo-S Series signal lamps, Rallye 4000 driving lamps, and wider catalogue of warning beacons, safety daylights, light bars and work lamps.
Hella specialist Kevin Betty notes an innovative product development involves forklift-mounted bar lights that shine a 'guided' area around the vehicle, providing a safety zone for others to keep clear of.
He also emphasises the importance of Australian Design Rule (ADR)-spec lights as non-compliant products that are not optimised for human eyes can contribute to an accident and lead to later legal headaches for the user.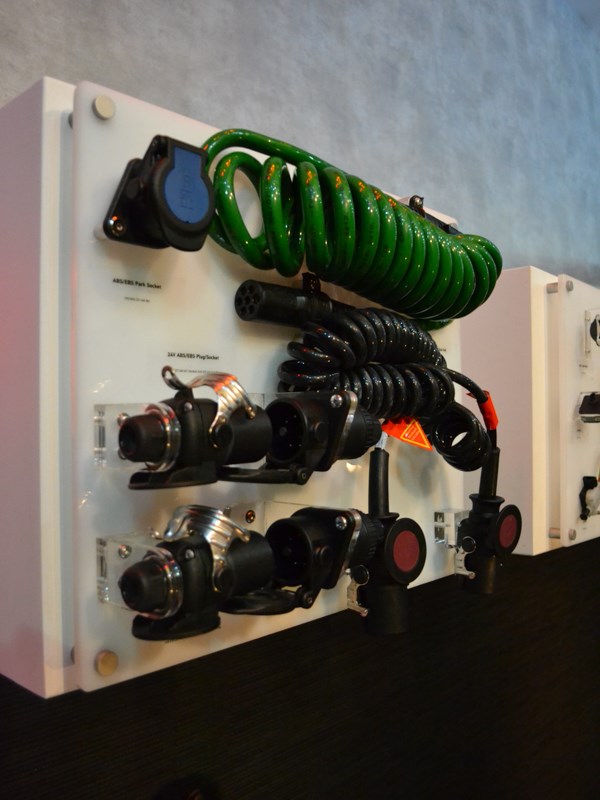 In an interesting sidebar, suzi coils have been a recent point of conjecture in the industry and Hella sees its heavy-duty trailer connectors as future-relevant.
"It's a changing scene for manufacturers – the old common metal one no longer be allowed to fit at manufacturing level.
"Six months away this will be the standard – you'll have no choice."
Loadman aims high
On-board weighing is growing in importance as road access arrangements increasingly require availability of mass data collected through Smart on-board mass (OBM) systems.
In one example, by late 2021, Victoria's higher-mass limits access system will require vehicles to be fitted with Smart OBM.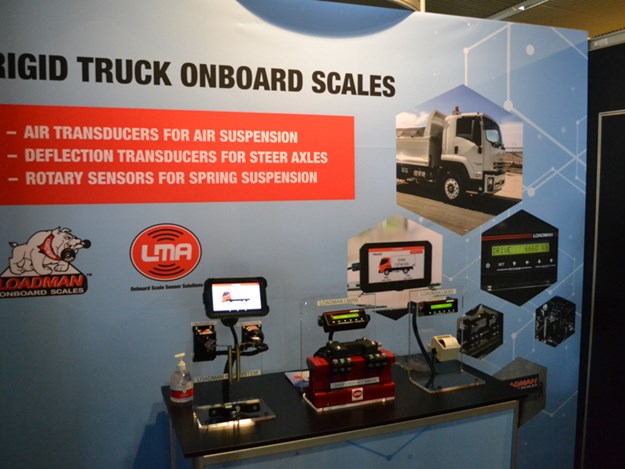 Hence, scale system distributor Loadmass Australia was spotlighting its credentials at the BTS.
It notes it was the first supplier to be Category-A type-approved by transport technology assurance organisation Transport Certification Australia (TCA), and, importantly now boasts two brands, Loadman and Airtec, type-approved for Category B higher mass applications.
Those seeking higher mass limits access are offered scale systems digitally connected to Smart OBM systems, allowing not only the recording of the load, but other safety and regulatory information for compliance purposes, Loadmass notes.
At the other end of the spectrum, the BTS saw a release of Loadmass's light commercial range – its LMA Series 3030 sensor, developed in Australia for utilities and vans.
Loadmass director Ralph Rossteuscher explains its air bag or spring systems can accommodate the full range of rigid trucks and commercial vehicles.
"Air bag system measures movement in the air pressure in the air bags of the suspension, so, as the truck gets a load on it, the air bags compensate and pump up and we measure the pressure in the airline.
"In the spring suspension one, we measure the movement in the suspension – it will display an overload situation when it happens."
Similarly, for heavier-duty applications, "we measure the air pressure in air lines through a transducer which sends a signal back to a converter."
Meritor looks to Blue Horizon
Helpfully placed diagonally opposite SEA Electric's space, it was by happy coincidence that axle provider Meritor's flagging of its Blue Horizon EV option came as the show put on its most electric face yet.
Meritor was able to explain to visitors curious and fascinated by the EV impact there that Blue Horizon would be coming the Australian market's way soon, in 12Xe, 14Xe and 17Xe e-powertrains capable of 180kW and 250kW, 250kW, and up to 450kW ratings respectively.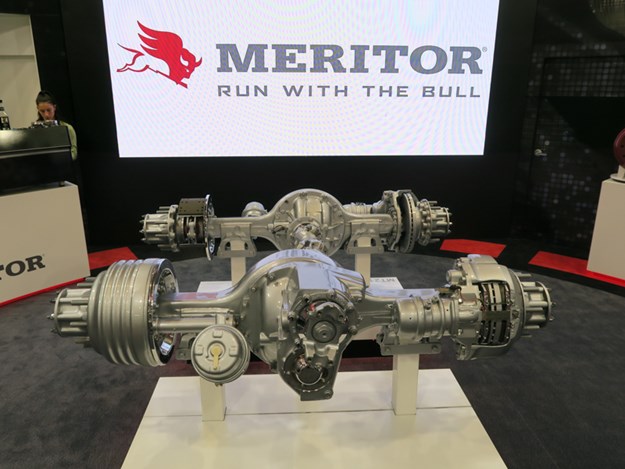 Some two decades in the planning, these are to be aimed at battery electric (BEVs), plug-in hybrid electric (PHEV) hydrogen fuel cell hybrid and compressed natural gas hybrid electric vehicles.
This time around trailer and line-haul axles took centre stage, with aftermarket parts acting as a chorus led by its red drums.
"This is a product we've had for a while but it's a new version without a pump," product and marketing manager Adam Carroll says.
"It's basically a high-efficiency version for linehaul work.
"The trailer axle is the main focus for us because we've not done that before. It's available in North America but it's not been available here."
The key to getting traction with it is fleet attraction.
"What we're looking for are partners, so fleets that are interested to trial. We have one fleet that has it on trial at the moment," Carroll says.
"We need the fleets to have it on trial, then we need the trailer-makers interested as well."
Carroll admits that uncertainty was an issue his side had to deal with pre-show.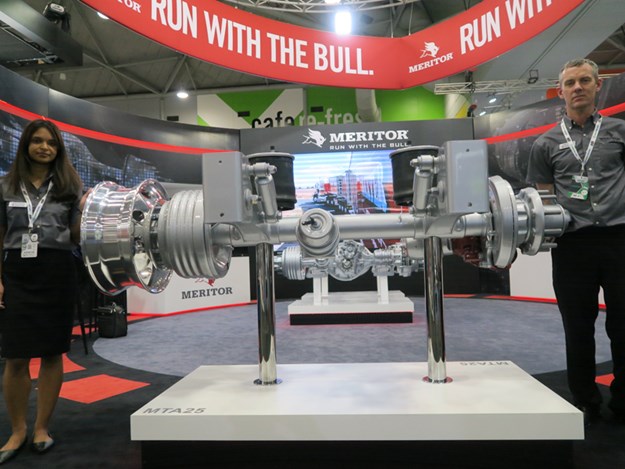 "We 'um'ed and 'ah'ed quite a bit and also about the numbers and whether it was worth bringing everybody up here with lockdowns…but ultimately we decided to go to the show," he says, adding that it was worth doing even if his mob was somewhat overstaffed.
"Because it's a networking thing as well."
Superchrome's fine finish
Sydney-based Superchrome has been in the wheel chroming business for 25-years with the last 20 of those years offering a chromed alloy wheel to the industry and owner drivers alike.
"We are the only ones in Australia who chrome alloy rims," says Superchrome general manager Greg Druitt.
"We have a special way we do the chroming and we offer a seven-year warranty."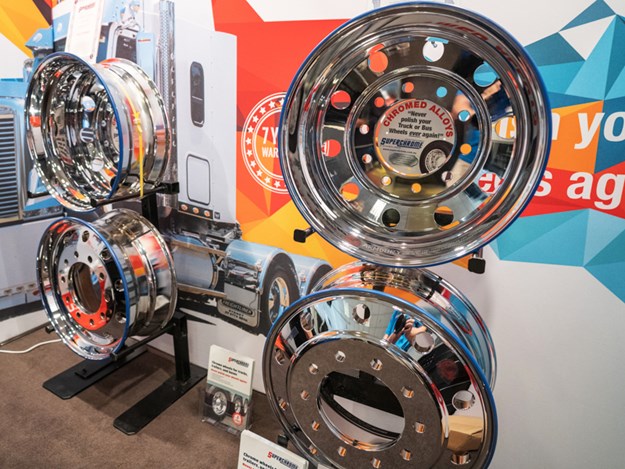 The appeal of Superchrome's seven-year warranty and the low maintenance aspect are some of the reasons why people are choosing to go with a chromed alloy over the standard wheel, according to Druitt.
"The main complaint we hear all the time is people are sick of polishing," Druitt says.
"The work of polishing an alloy wheel for an hour and you can't get between the nuts etc. and with our wheels all you do is give them wash with a soapy brush and a pressure washer and away you go."
But it's not just all for aesthetics with Druitt noting the protective nature of chrome on an alloy wheel.
"One of the big advantages of chrome on an alloy wheel is that alloy is soft and chroming puts a hard coating on it so all the little stones that hit alloy wheels and leave marks that need to be polished out, that and the continual need to polish alloy wheels to keep them looking good, make our chromed alloy a good choice.
"We've always used Alcoa but now Armoury out of Taiwan have a very good wheel with a good finish to chrome so we have them at the Truck Show. We only do the two brands because we know these are really good quality so that's all we use," says Druitt.
The Brisbane Truck Show has also given Superchrome a chance to come and interact with its customers and meet people who may not have heard of the company before.
"Our wheels are not cheap, but they last. We've got guys coming up to us here at the show with wheels that are 15-years-old and still going and quite often they sell their truck, keep the wheels and put them on their next truck," Druitt says.
As with many industries the global pandemic has affected Superchrome.
"Originally, with COVID, things slowed things down, but in the last 10 months we've had all-time record months in sales and we currently going through our third upgrade to our production facility," says Druitt.
"It just keeps getting bigger and bigger because most guys when they buy a new truck they don't go back to alloy wheels. You just can't beat chrome for a great shine," says Druitt.
Better shoe from Tru-Shu
Adelaide-based company Tru-Shu say it has made a 'better mouse trap' with its innovative brake shoe and drum design for S-cam braking systems based on the firm's years of maintaining trucks and trailers teamed with the availability of supply chain manufacturers left behind from Holden's departure from the Adelaide manufacturing landscape.
"I'm a transport operator and in my journey, I guess we've had to put up with a lot of not-very-well-made parts," says Tru-Shu managing director Ken Pitt.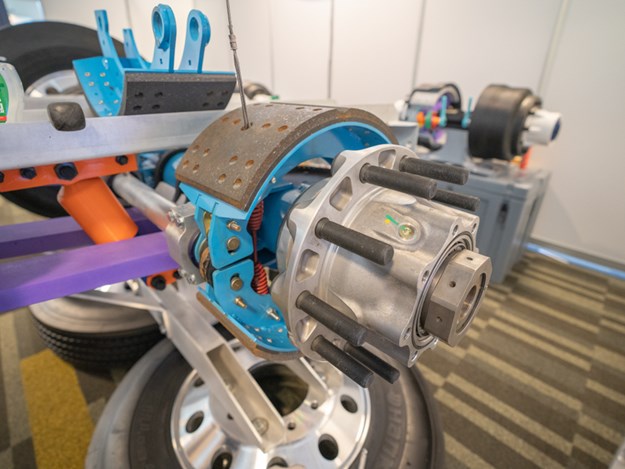 "The S-cam brake drum overall is quite good but it had some failings; the brake shoes would walk out the side of the drums, especially in rough conditions. So I had a good look at the system and we came up with a way to stop shoes coming out. We trialled it and it worked well so we started manufacturing."
But it wasn't enough to just make a better shoe. From years of pulling braking systems apart for  maintenance and repair, Pitt wanted to make it easier to repair and maintain as well as more effective.
"When 10-stud rims started coming in it seemed stupid to pull the hubs off just to do brake maintenance so we've made our brake shoe with an extra hole in it to put a cable or a zip-tie through to pull the return spring up and put a clip in to hold everything in place so now we don't have to pull hubs off to replace brake shoes," Pitt says.
Along with the hole to access the return spring, the system relies on no backing plate as well with a drum with various holes and slots to release braking gasses, dust and general debris, which can cause overheating and pose a potential fire risk in a traditional trailer braking system.
"We're not running backing plates, we aren't trying to hide anything, we want to do our maintenance and we want to look in there," Pitt says.
"We've perforated the drum with different sized holes to help clear the drum of rubbish and dust and things like that.
"Our trailer axles we're making actually use drive hubs, bearings and seals. We've made a collar to go over the drive hub so we run two wheel seals because we want to run oil rather than grease as a lubricant because it does a better job. Now we are starting to build our own suspension which is based being easy to maintain, being very stable, so one thing is leading to another," says Pitt.
"We fell like we've got the drum brake working as good as it can. We've got it to a stage where the maintenance and performance and cost saving from having something work really well is there. We think we've helped out a fair bit."
Pitt says his company runs around 30 trucks and 45 trailers moving machinery around Australia and has trialled their braking system over 100,000km with good results so far.
With plans to sell the shoes on a return basis and an eye toward engineering better suspension and axle components, Pitt is optimistic about the future of the company especially with the support of local manufacturers.
Double the range with TyreMax
Independently owned and operated tyre wholesaler TyreMax had an impressive array on show, with a particular focus on its Maxxis and Continental commercial vehicle tyre ranges.
First cabs off the rank were the Maxxis steer and all-position tyres, which TyreMax notes is the perfect mid-range offering for regional and long-haul highway applications.
"We've developed a new steer tyre, which we have tested at length in Australia and have found better results than both the Michelin and Bridgestone," says TyreMax technical product specialist Neil Jonsson.
"It was only a smallish test but it was a really promising result so we're bringing that out in bulk from about June onwards and hoping for a good result and good sales."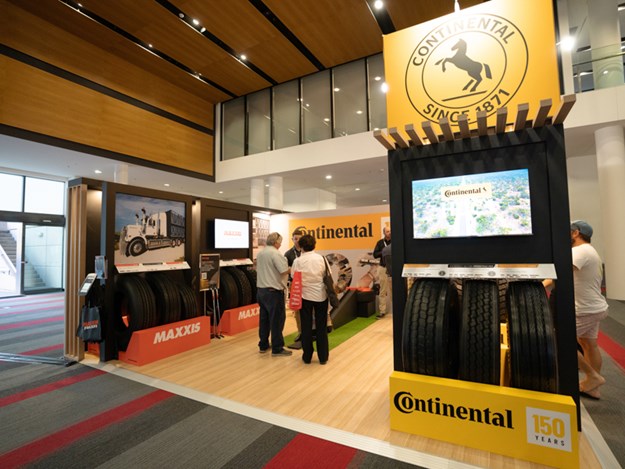 Vital to Maxxis' product development is its proving ground in Kunshan near Shanghai, one of only a select few privately-owned in China, notes TyreMax product manager Jeff Moorhead.
The US$150 million rigorous testing operation, which took several years to plan and construct, opened in 2012 and is the basis for the company's evolving tyre technology.
Meanwhile, Continental's research and development department has devised a range of Conti CrossTrac tyres, which "lead the way for a new generation of on- and off-road truck tyres", the company notes.
The story of Continental's heavy-duty range is characterised by a "dedication" to the Australian market, with Jonsson noting, pre-COVID, engineers would regularly fly out from Germany to Australia to check test tyres and examine how they wear here, what influences that wear, and much more.
"It's a massive investment in a market that isn't huge globally, but because it's such a difficult market to make tyres for, their ideology is if you can make tyres for the difficult market…that can come together to build better tyres for the world."
Another recent development for Continental sees it team up with Pacific Telematics to offer a digital transport monitoring system.
The new ContiPressureCheck system, launched at the show, uses sensors fitted inside each tyre to provide drivers with real-time information on the tyre status.
The continuous, automatic tyre pressure monitoring system is designed to reduce overall operating costs and results in lower fuel consumption, reduced risk of tyre-related breakdowns and extended tyre life.
Innovative Exhibitors
The Brisbane Truck Show's technology and innovation centre showcased the latest and greatest ways to digitally enhance many facets of a transport business – from fleet, job and repair management software to thermal imaging and remote controlling.
Avantgarde's eastern excursion
It is a long way from Perth to Brisbane, so the appearance of FLIR Thermal Imaging provider Avantgarde Distribution at the show was welcome.
Avantgarde's Pete Hellemons gained more of a public profile four years ago when the safety technology was making a splash and he says the desire to be at the BTS has been around since then.
The trouble being how to successfully find an opening. As with other exhibitors, this year saw that opportunity open up.
"We've had this business going for nearly 10 years now and we've been getting pretty big in the west but we wanted to diversify, so we thought 'we've got to come over to Brisbane'.
"Had wanted to come here for a couple of years but getting into the show has not been easy."
So, with some exhibitors forced to withdraw due to pandemic disruption, he was never going to let the opportunity slide.
"We're just hoping we get an invitation to come back in 2023 – that's the plan."
Hellemons was buoyed at the opportunity to get in front of eastern-state faces, in the same way he did early on in WA, saying he gained serious interest even on the show's last day.
After all, there is at least as much need in the east to know, at night when the sun is low on the horizon, what might be about to damage crucial expensive trucks when seeing danger is difficult.
The other opportunity the show provides is networking and Hellemon found that particularly valuable, providing "as much, if not more" interest than interaction with visitors.
"We are keen to integrate our products," he says
"Telematics organisations here have shown a lot of interest in our products. Trucks already have a lot of cameras on them these days and they are recording that footage into their DVR unit, so it makes sense to have this as a bolt-on item and then marry that information.
"So you're putting that image on the dashboard for your operator to see but why not feed that into the recorder so that, if an event does happen, you can see what occurred and what the driver could see before it happened."
Keeping track with Sensium
Sensium is a Brisbane-based vehicle telemetry and fleet tracking firm whose point of difference is its local focus.
As CEO Jeremy McLean tells us, it designs and manufactures all its hardware – its platforms, developments, firmware, communications protocols, end-to-end, are all its own, and "very few others are doing that, so it's unique".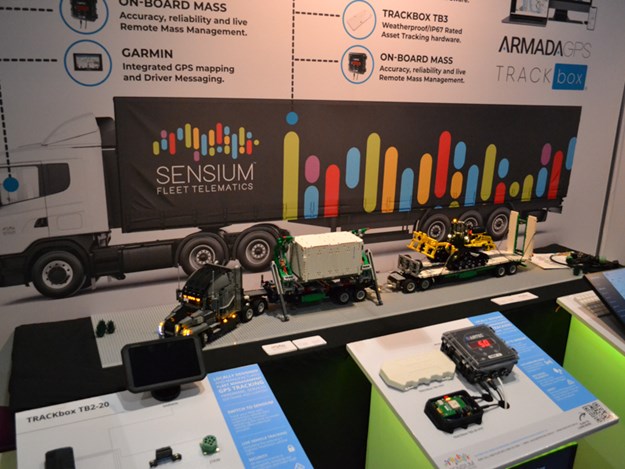 Another selling point is that the product suits the majority of companies – it's web-based, not over the top, and claims to provide the highest resolution and quality data in the industry.
Starting with trades and moving into the transport industry, registered as a provider for TCA schemes – for example, on show it was demonstrating how the system integrates with other products like Airtec on-board mass.
One stop iBodyshop
iBodyshop offers a one-stop maintenance suite for smash repairers and workshops.
Director Stephen O'Brien notes that, unlike desktop packages that traditionally need two or three pieces of software for the whole task, iBodyshop's system is cloud-based and integrated within one package, making it faster and smarter.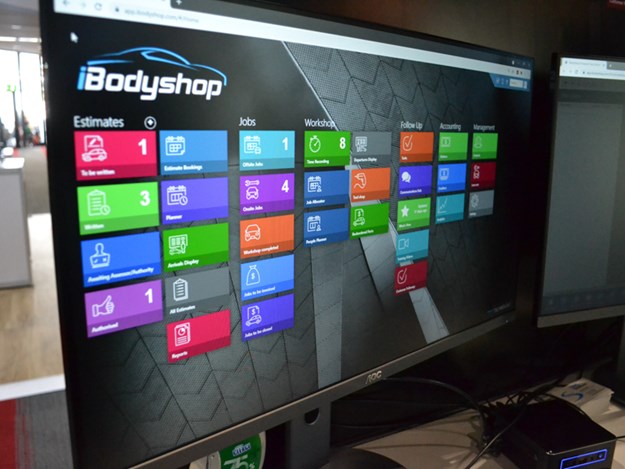 This allows a repairer to write a quote, manage a job, lodge with insurance, do labels, time recording and accounting all in the one place, making the product popular with large truck and smash-repair groups.
VWork on schedule
VWork is an electronic job scheduling and dispatch software package for any transport operation.
It claims to reduce paperwork processes, increase responsiveness to customers through automated electronic notifications for proof of service or impending arrival of drivers, bill more accurately for time or distance travelled and reduces the need to chase drivers for paperwork.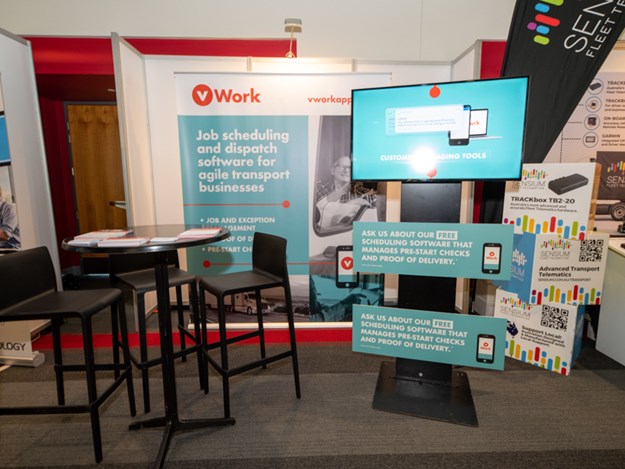 Business development manager Paul Blackwell says the software is easier to deploy as it's up and running in matter of weeks and is adaptable to different types of operations – courier, linehaul, spare sparts, etc. – and configured for individual business.
Plus it's free for 12-months – the longest trial period on the market, more than enough for an operator to become accustomed to the tech.
Tiger Spider's 3D view
Tiger Spider is a transport engineering and software consultancy for heavy commercial and performance-based standards (PBS) vehicles.
Managing director Marcus Coleman runs through its suite of services, including PBS design and approval work, testing, certification and compliance tasks for truck and trailer manufacturers, transport companies, road and traffic managers and engineers.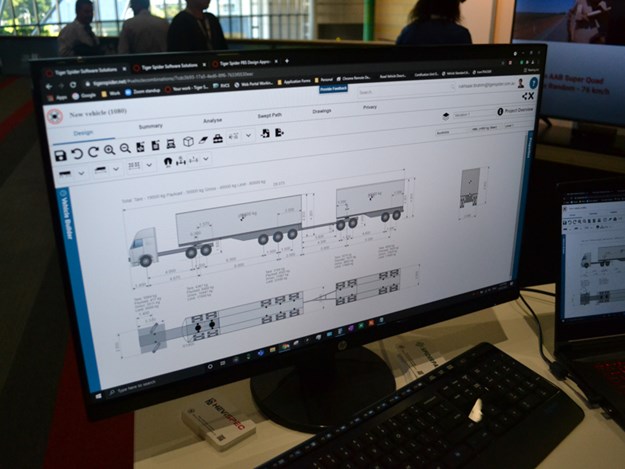 Hevi Spec is the firm's flagship product: software for truck and trailer design.
It incorporates any vehicle combinations, taking into consideration weight distribution, payload  optimisation, PBS assessment and more. It presents a 2D vision with a 3D model in the backend.
Another key product, Spider Path, provides 'swept path' diagrams of vehicles, meaning it can build any vehicle configuration and check if it fits over a satellite image map – critical for access assessments.
Future Fleet's artificial intelligence
Future Fleet is an Australian telematics provider specialising in internet of things (IoT), artificial intelligence (AI) powered, satellite and 4G/5G asset and fleet tracking solutions.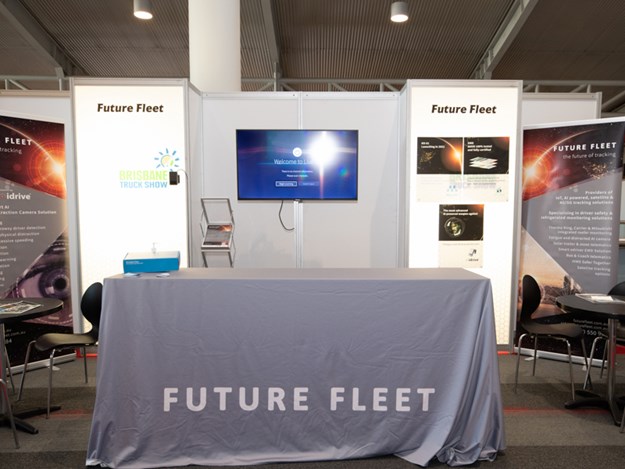 General manager Richard Saad says the company's three pillars are efficiency, compliance and safety.
One of its highlights is Australia's first IoT direct-to-orbit tracker developed in conjunction with satellite connectivity firm Myriota, a fellow Australian company.
It also offers an AI-driven front-facing and road-facing camera that warns of distraction or fatigue, electronic work diaries (EWDs), solar and non-solar asset trackers.
Scanreco's remote solution
Hace Industries is the distributor of wireless industrial control products from Swedish firm Scanreco. In a nutshell, it's like playing with remote controlled vehicles in the real world.
From pocket remotes to whole consoles complete with joysticks and screens, Scanreco is able to reduce the risk of human involvement in hazardous applications.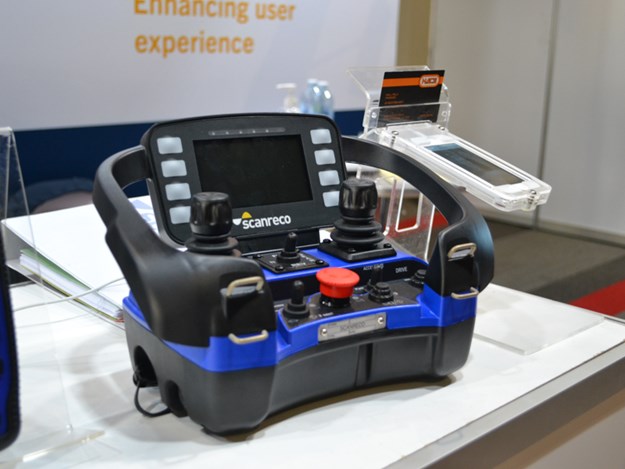 Its systems are suitable for materials handling, mining, agriculture, transport, and shipping equipment such as cranes, winches, concrete pumps, tilt slides, forklifts and others.
Pertinent to trucking, Hace manager Niall Field points to Scanreco's capability to remote control a truck – stop and start an engine, command steering and drive, activate brakes and lights, and more.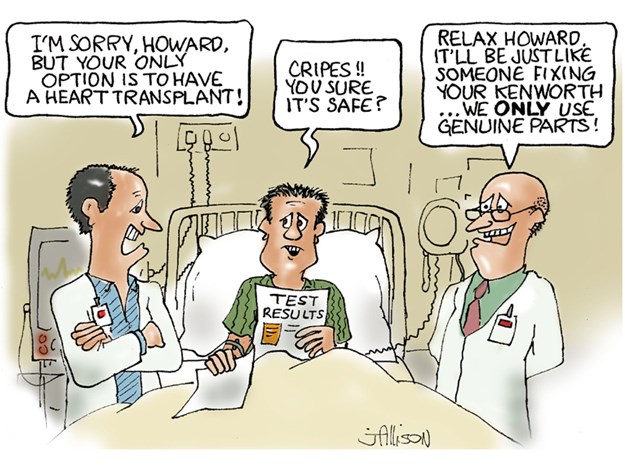 Subscribe to our newsletter
Sign up to receive the Trade Trucks e-newsletter, digital magazine and other offers we choose to share with you straight to your inbox
You can also follow our updates by liking us on Facebook. 

Trucks For Hire | Forklifts For Hire | Cranes For Hire | Generators For Hire | Transportable Buildings For Hire