Mighty Miniatures - Brisbane Metro RC truck club
---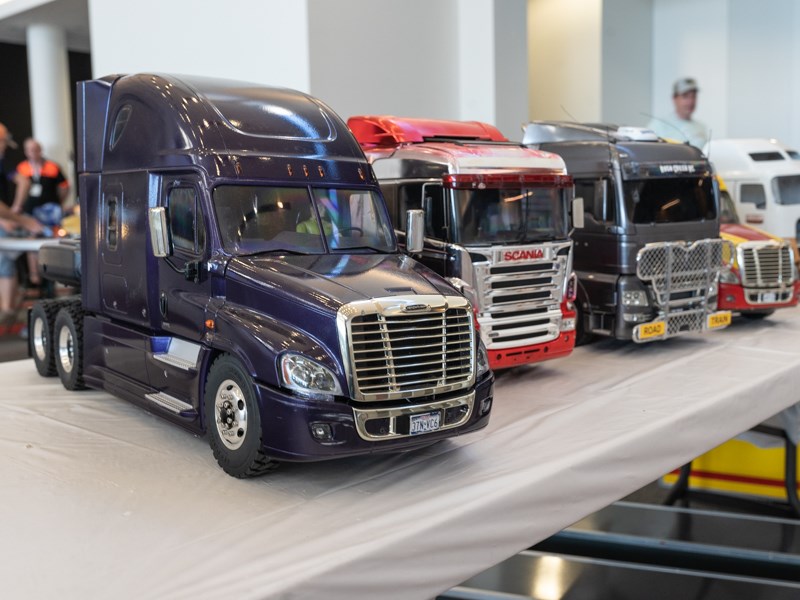 Sweet line up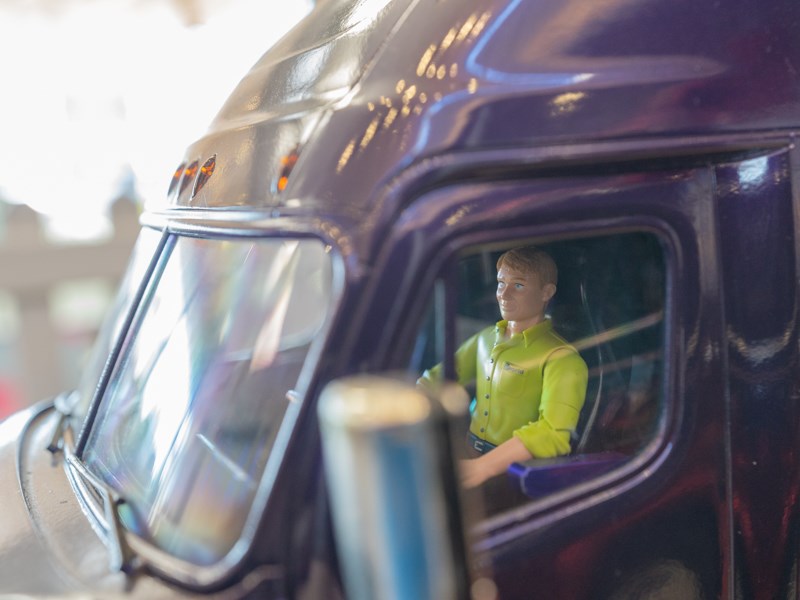 Little man in the truck is super-detailed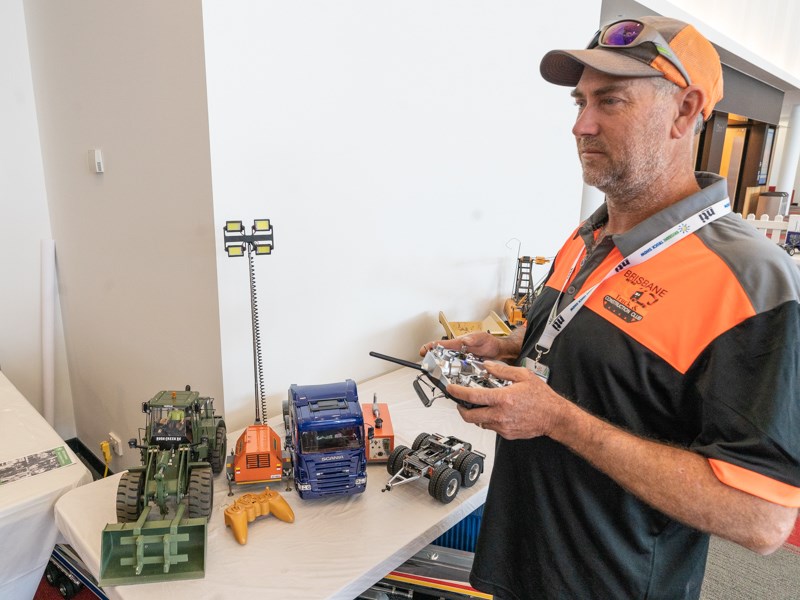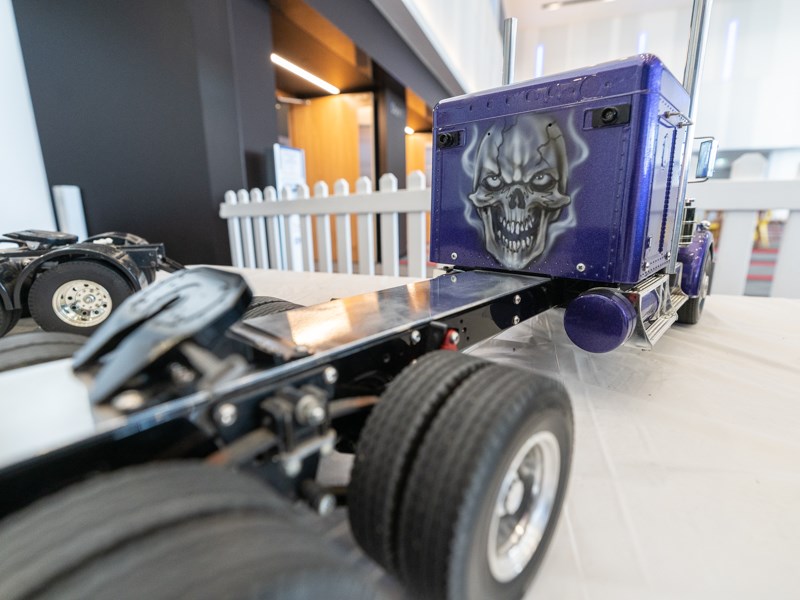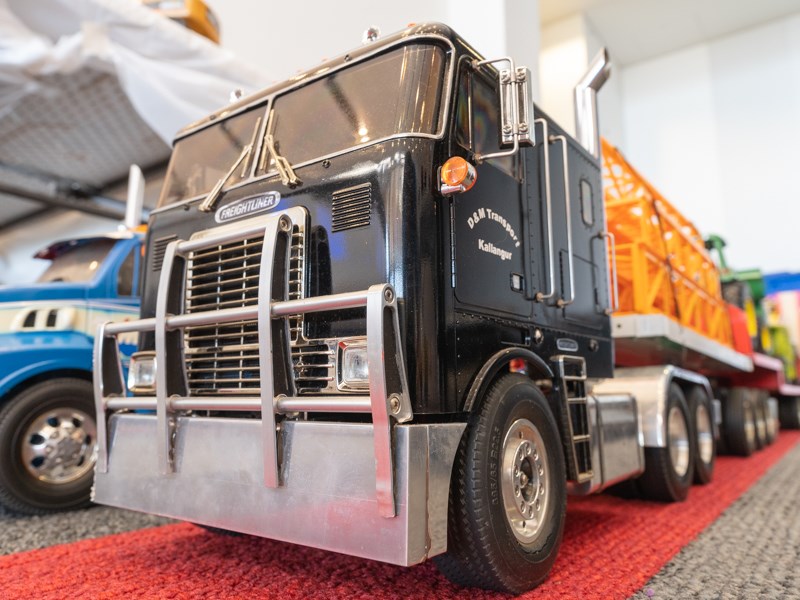 Tougher than Tonka, and about the same size!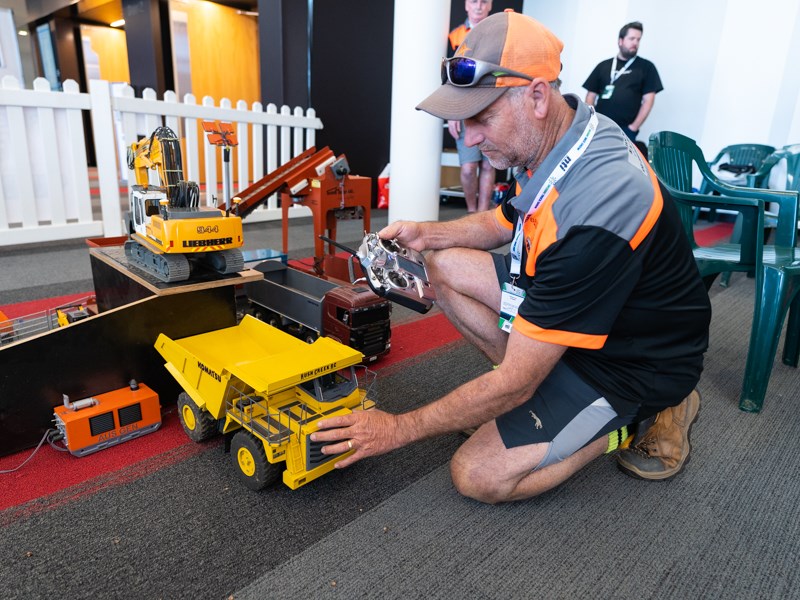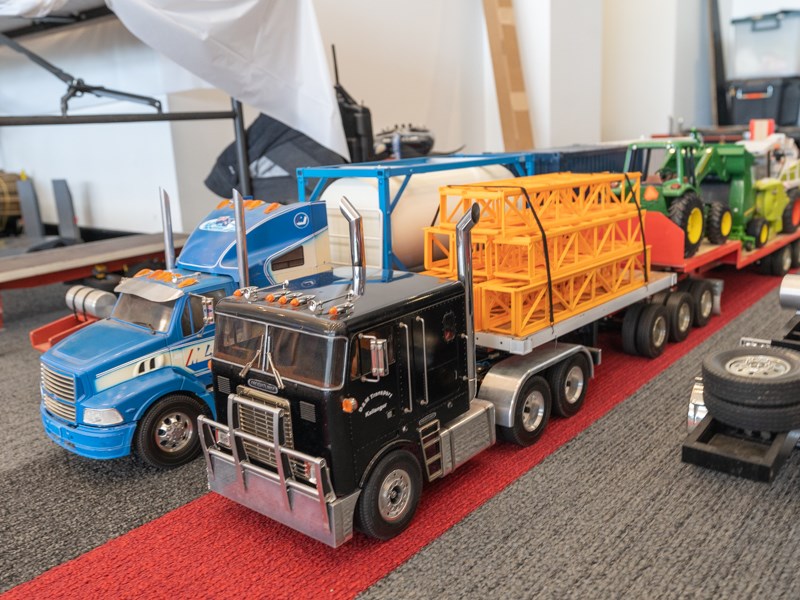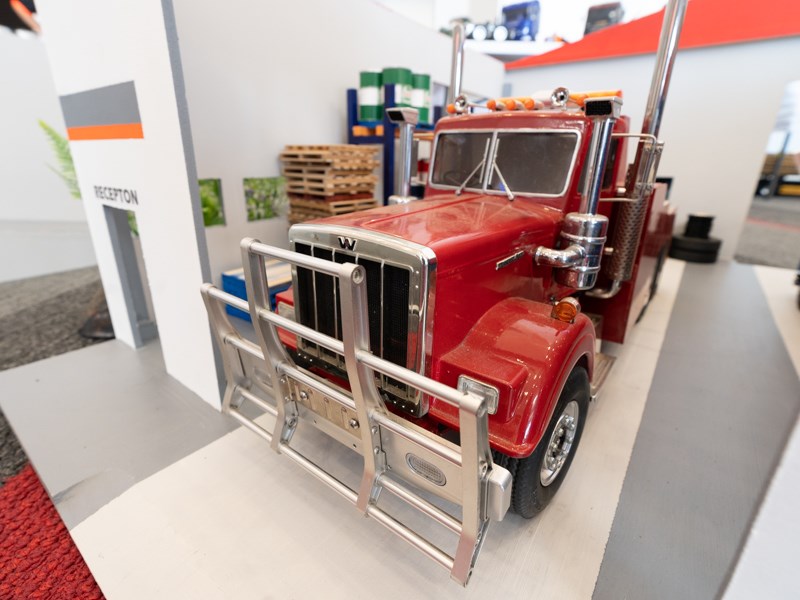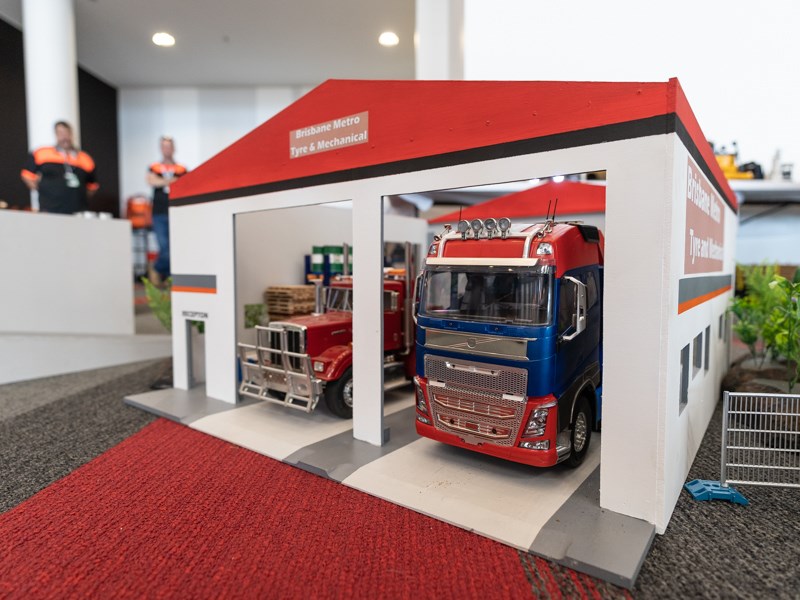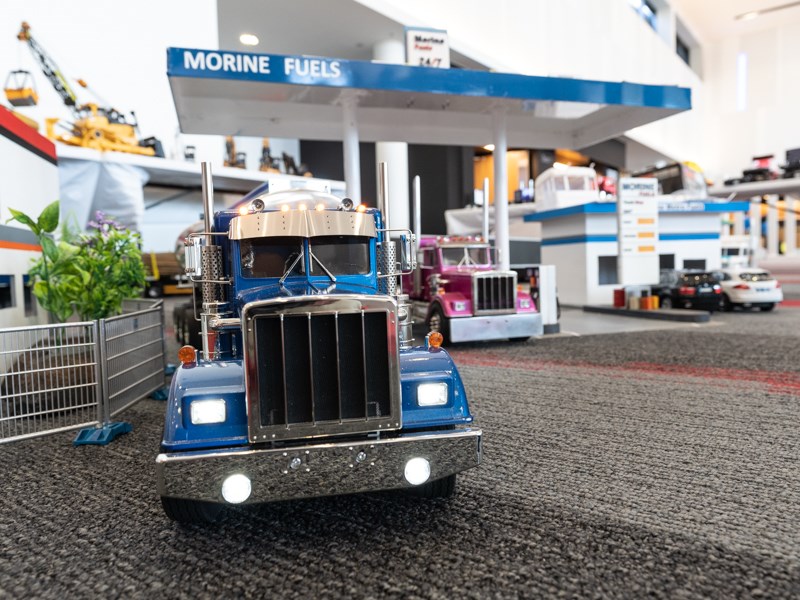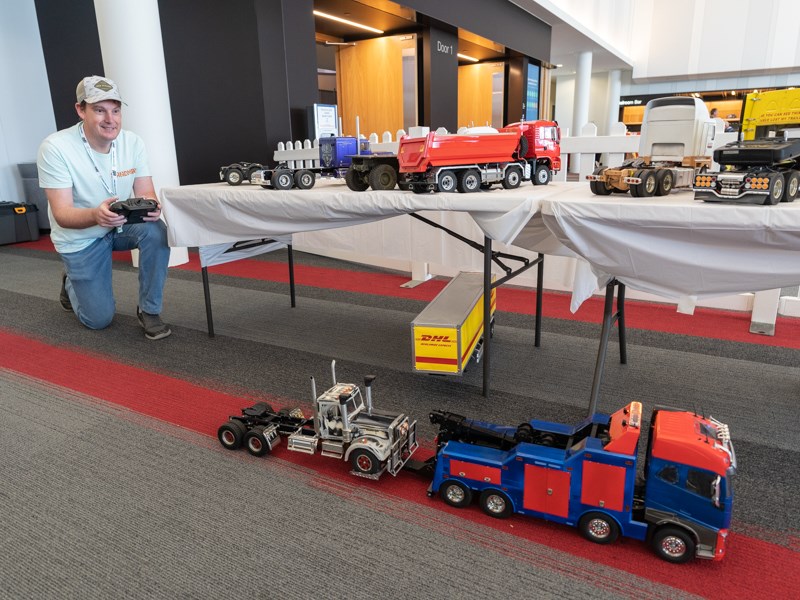 Electric truck pulling an electric truck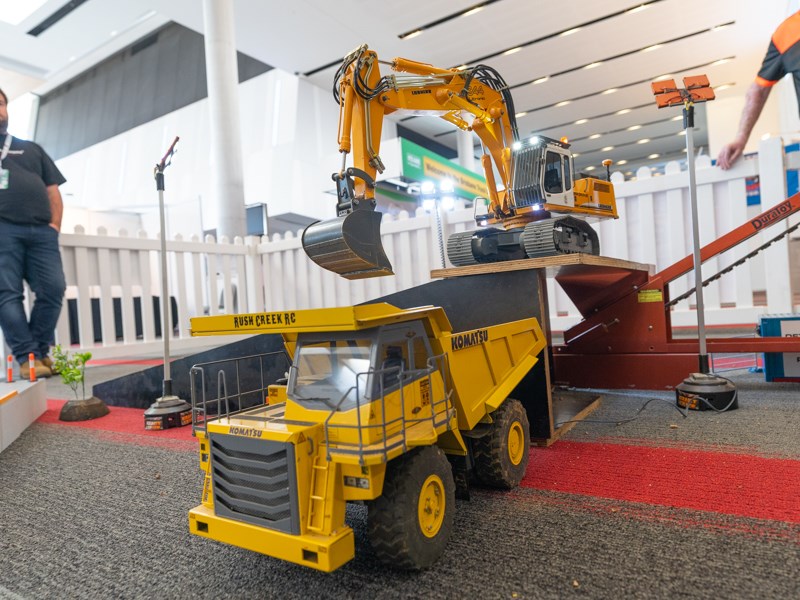 Construction is all in a day's work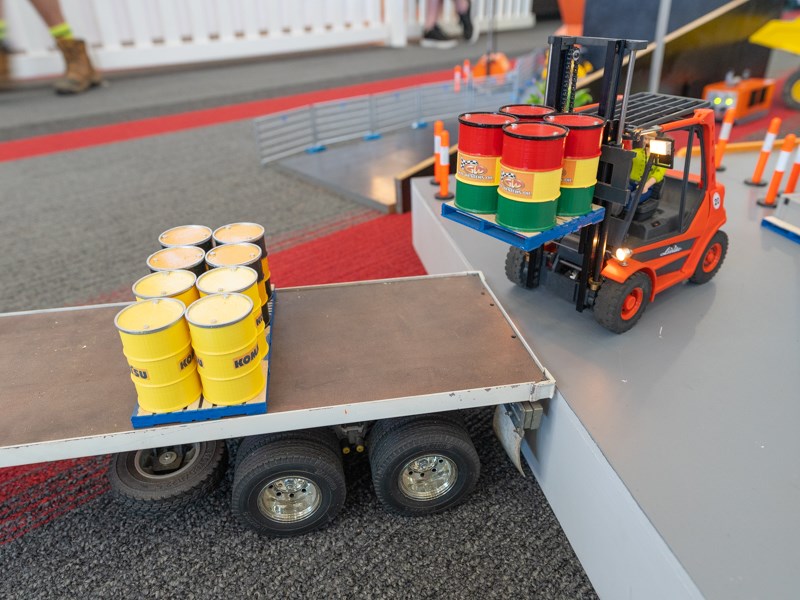 Loading up for a run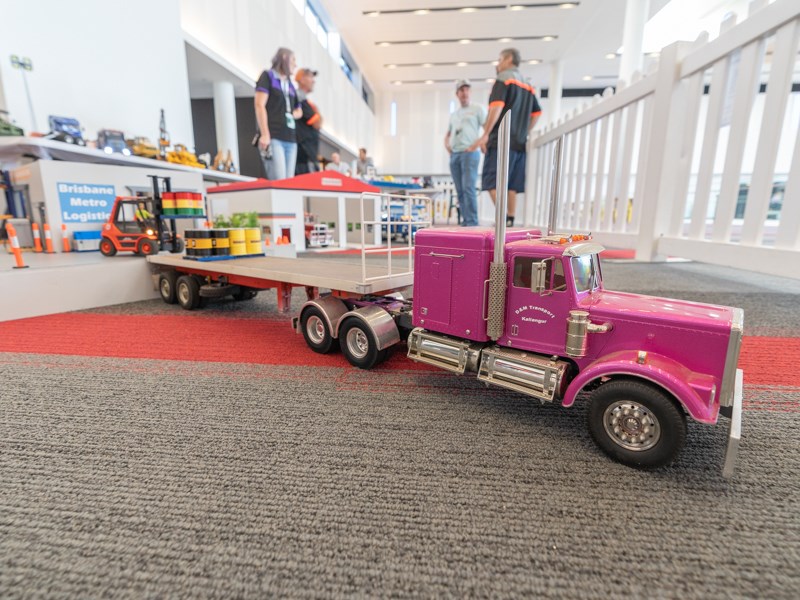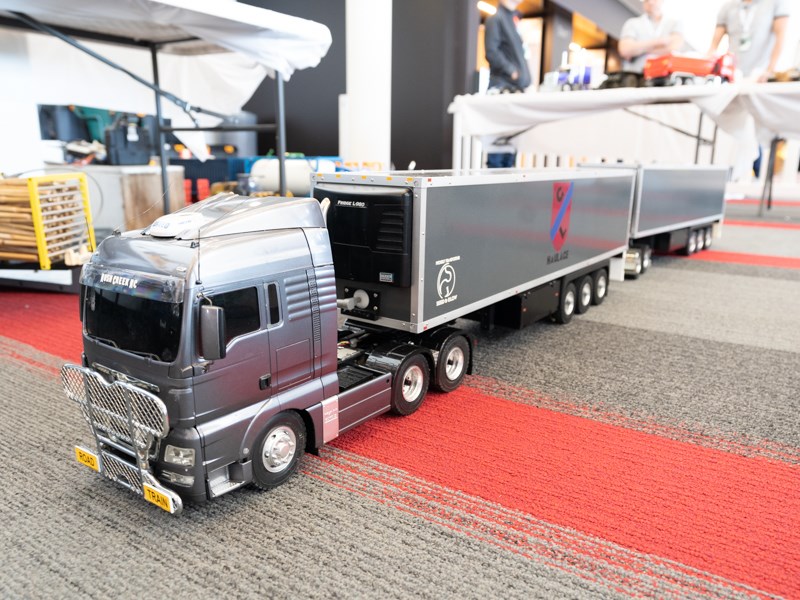 Sweet-looking rig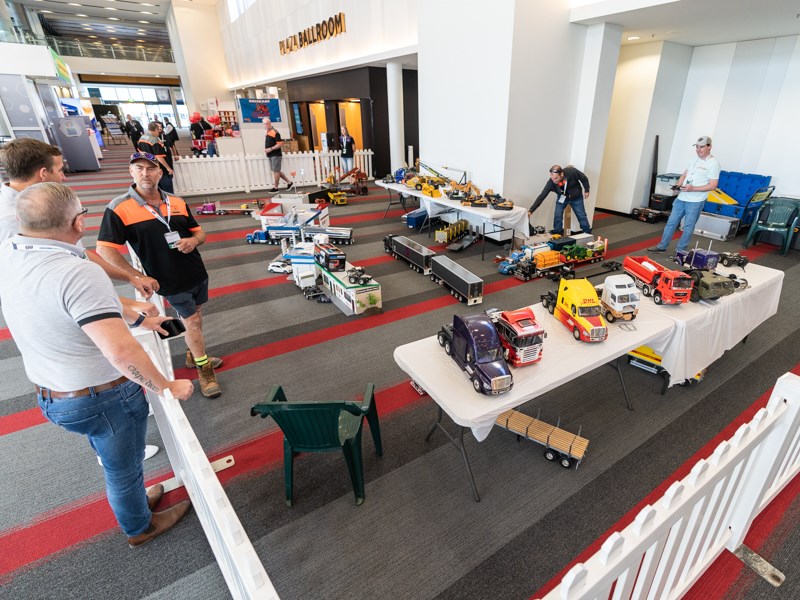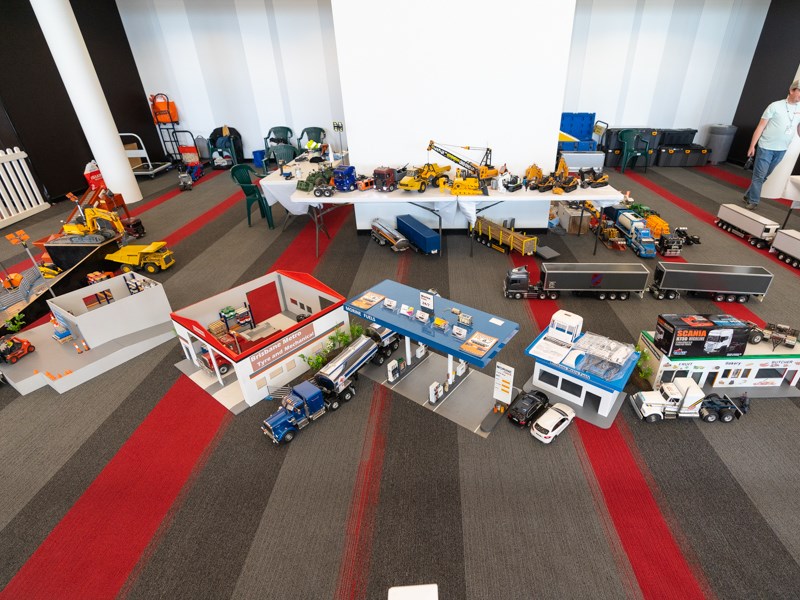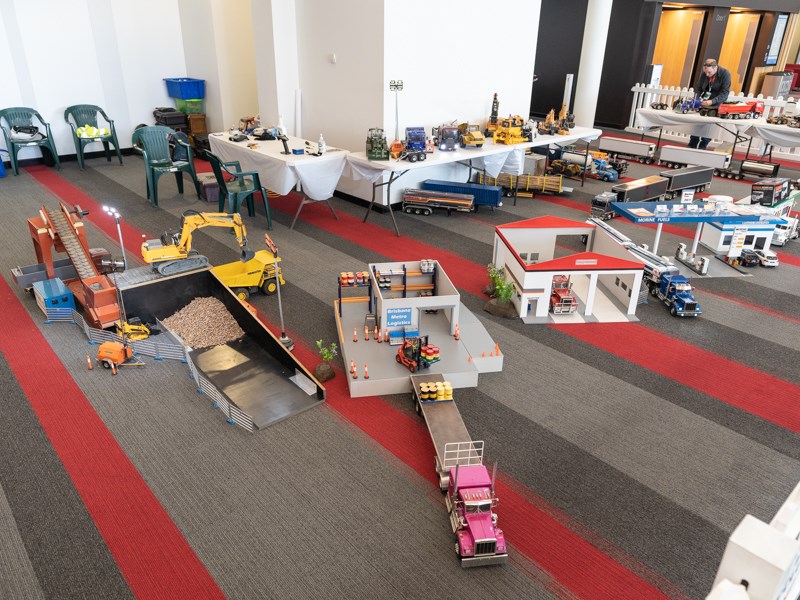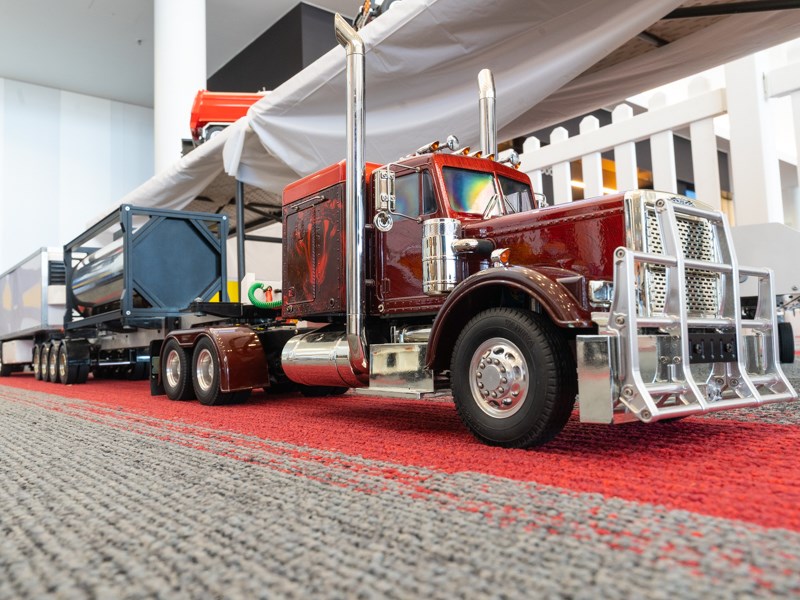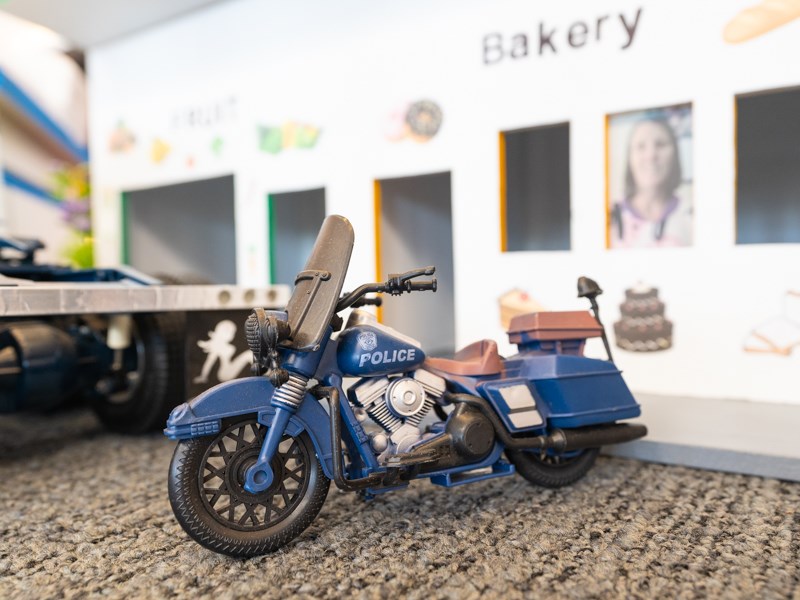 Cops at the doughnut shop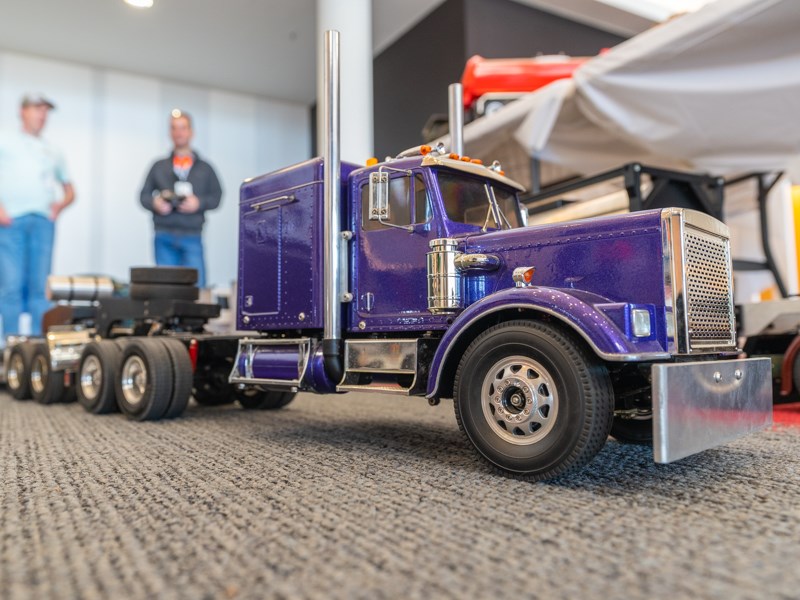 Customisation a big part of RC trucks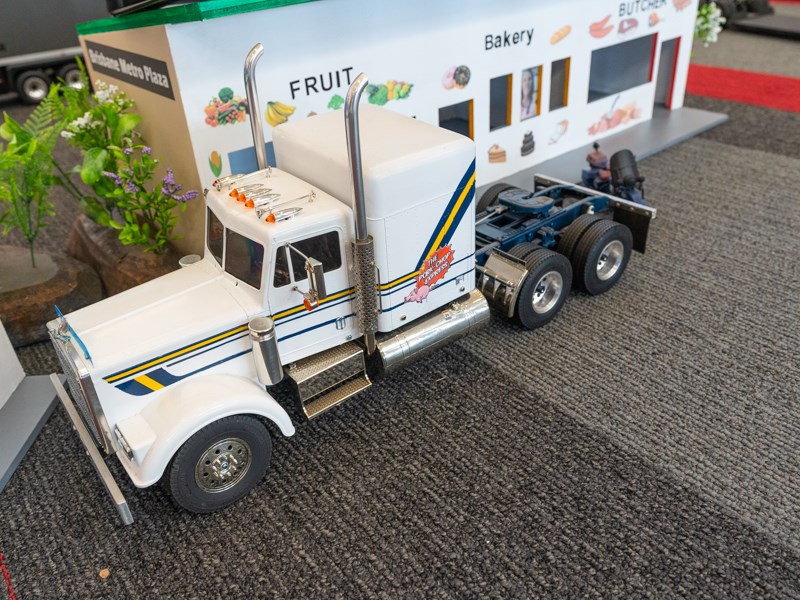 The Pork Chop Express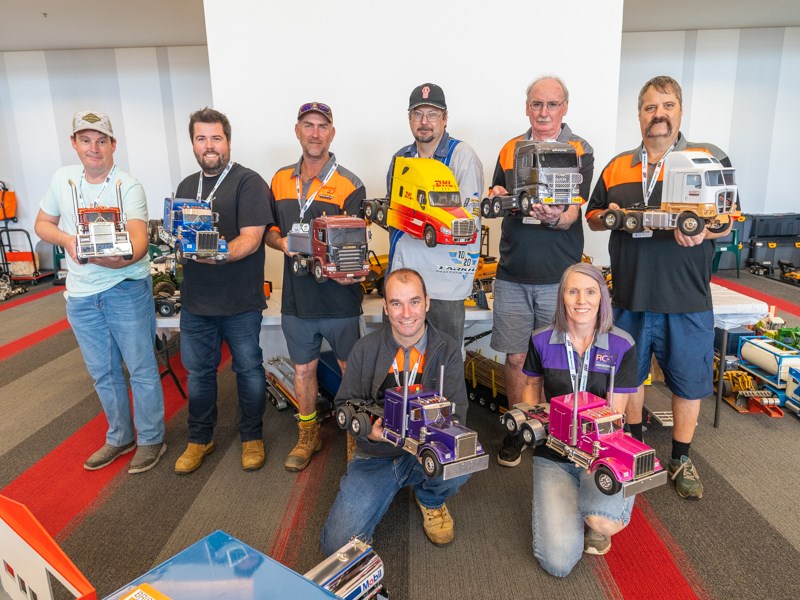 The club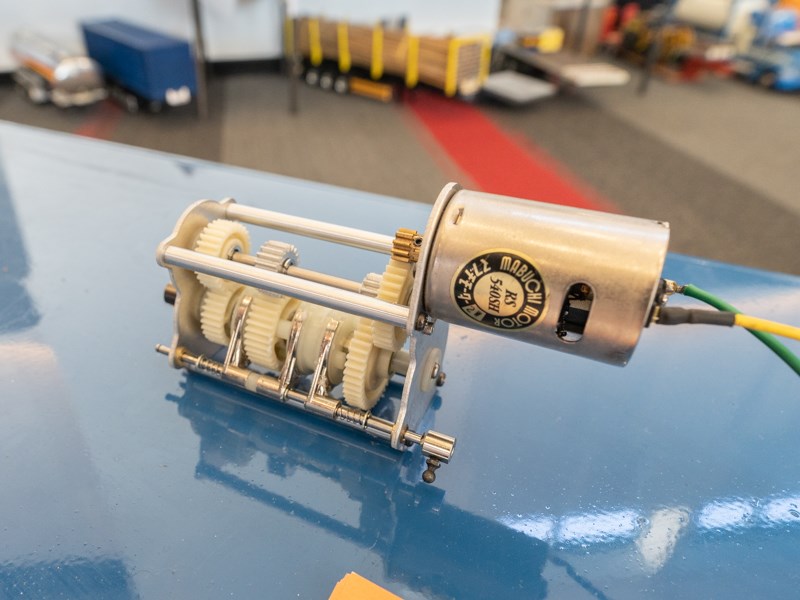 A reduction gear is used on the three-speed gearbox to keep pace leisurely but the trucks can still get up and boogie when pushed

Away from the slick, million-dollar truck stands at the 2021 Brisbane Truck Show, a small corner of the transport world is represented in 1:14 scale, built with such precision and detail that if you squinted you'd swear it was the real deal.
With poor mental and physical health of truck drivers one of the big issues facing the industry, small respite from the road can be found in the form of radio controlled trucks, and they aren't just for kids anymore.
The Brisbane Metro RC Truck and Construction Club is a collection of individuals who share the passion of building, modifying and creating in 1:14 scale. And it's not just trucks either, with the club boasting a 'mini city' display at the 2021 Brisbane Truck Show with trucks, cars, machinery and buildings all conforming to the scale with the usual transport-centred sprawl of depot, quarry and petrol station giving the display a life-like feel. There's even a doughnut shop for the cops to hang out at.
"People who've come up to us here at the truck show are all impressed by the scale of everything, the detail, the lights on the trucks and the sounds they make, it's all pretty realistic," says club owner Chris Leech.
Looking at the display it really is like a world in miniature with a loading dock complete with pallets of oil drums being loaded with a remote controlled forklift onto a trailer which then takes the load to another destination. But it's the light and sound element that bring it to life, the beep of the truck reversing, the simulated pneumatic hiss of air brakes, even the blare of a truck air horn is replicated.
It's easy to see why the hobby is massive overseas especially in Northern European countries like Sweden and Norway where the weather doesn't allow a lot of outside activity, as those countries enjoy large RC truck shows (pre-COVID anyway) and big membership numbers in clubs. While Australia has hundreds of RC clubs catering to cars and off-road buggies, RC truck clubs are not as supported but that is something the Brisbane Metro club wants to see change with BTS21 a great opportunity to recruit new members.
"We've been running as a club for a few years," Chris says. "It's a huge thing running trucks and scale machinery overseas, with groups of people getting together and building 1:14 scale trucks and machinery and all associated paraphernalia but we want to expand our club and show people that it's not just an indoor hobby.
"Our course is outdoors and it's an ongoing build that we are adding to, but we have roadways, quarries, it's really limitless what you can do. For example to construct the roads we actually use the machines to dig the dirt, the trucks to cart the dirt, even roll the roads with remote controlled rollers," he explains.
"We are a club who involve everyone, young, old, male female it doesn't matter. It gets people out of the house and it's like a get-together with friends."
Besides the enjoyment of trucking on a smaller and more affordable scale (models from the likes of Tamiya start at around $500), the health benefits from the hobby are tangible, with fine motor skills and co-ordination being the big physical gains on offer from having to build objects in a scale situation, but also the mental benefits and anti-depression element of problem solving during the build and having a like-minded group of people ready to help out if your build goes awry.
"Injury is one we see a lot of with people who can't drive anymore due to injury or who've suffered an accident, because building and customising a model improves their fine motor skills. Also mental health benefits are a big one too especially because of the club environment, we're all here to help each other.
"It might also be some people who've retired from the industry and need an outlet, and to do something connected to what they've done for the last 50-odd years of their life is great and keeps them interested, and it's something that they're still able to do it even though they may have a disability or injury," Chris says.
Transport connection
While some of the club members are ex-drivers, the entire club has a connection to the road-transport industry in one way or another with mechanics, drivers, logistics personnel and family members related to all of the above filling the club ranks with Chris saying that even those without a trucking background but who are interested in the models are more than welcome in the club.
"At least half of our club are current or ex-truckies and others have an interest in trucks or they work on trucks as a mechanic etc. everyone is in the trucking industry one way or another but we are always looking for more members and people from any background are welcome as are kids 14-years-old and over especially as it's a great thing for a parent and child to get into together," Chris says.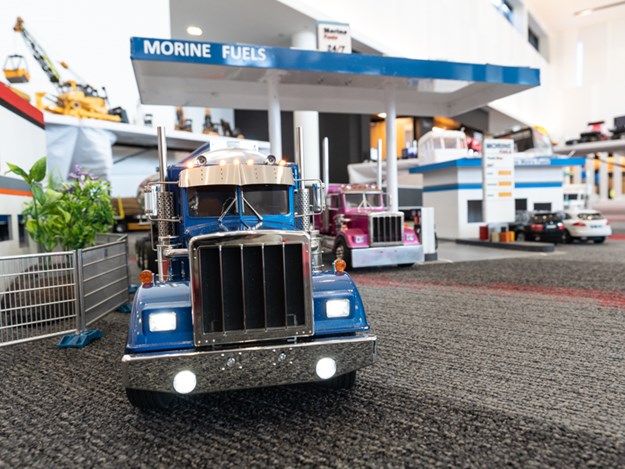 "Whether it's a mother and son or father and daughter we are more than happy to have families come and join the club and it's a great hobby for families to get into."
New members who are keen to join the club or even those who'd just like to build their own truck and need some advice or a helping hand are welcome too.
"We're on the north side of Brisbane and our track is all privately funded so we're just a small club with 20-odd members, but we have plans to expand and do more things in the club," Chris continues.
"For example, we're implementing job cards for the club where you'll get a card with a job on it, so you might have to fuel your truck up at one end of the track, go to another end and pick up a load of oil drums and deliver them to the mine site, things like that. It keeps it interesting and engaging."
The real thing
The club sees the mental stimulation benefits of the job cards as clear; you have a logistics problem you need to overcome and a deadline to meet. It's a simulation of real life situations which drivers are familiar with and serves as a way for people to keep a connection to the industry as well as for engaging the mind without the stress of doing it in a full-size situation.
"It's all about having fun, you might have to drop your fuel trailer and pick up someone's flat bed and take is somewhere, it's all the enjoyment of the real thing without all the hassles," Chris says.
With clubs around Australia there is plenty of scope for new members to join but it is limited to capital cities at the moment which is something Chris is keen to see change in the future.
"There's pretty much one club in each capital city so people can join if they want to get into it. We're hoping to have a national gathering at some point in the future with all the clubs together but it might be a way off with COVID and everything going on," he says
"But we've had more people join us while the COVID lockdowns were in place because it's a great hobby to do if you're stuck inside."
Surely there's no better way to indulge your love of road transport than to build and customise your all-time ultimate rig in 1:14 scale. Not only is it infinitely less expensive than doing the same to a full-size truck but the mental and physical health outcomes gained from a relaxing hobby like this are benefits you just can't buy elsewhere.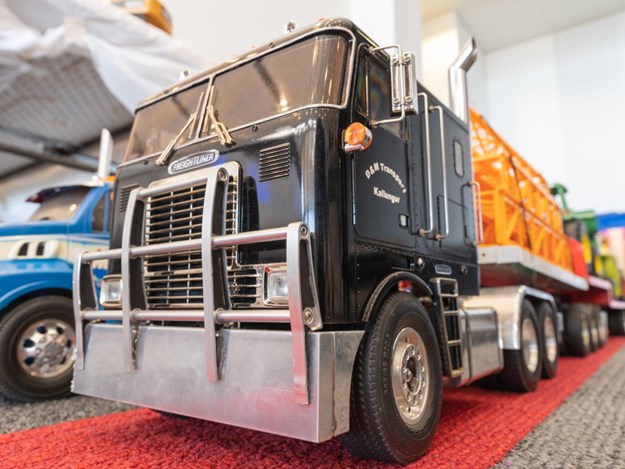 Subscribe to our newsletter
Sign up to receive the Trade Trucks e-newsletter, digital magazine and other offers we choose to share with you straight to your inbox
You can also follow our updates by liking us on Facebook. 

Trucks For Hire | Forklifts For Hire | Cranes For Hire | Generators For Hire | Transportable Buildings For Hire