Truck journalist Steve Brooks took to the highway in a Kenworth K220 and he has plenty to say about how it handles on the road
It was almost certainly the most lavish new model launch ever held by Paccar Australia. And fair enough! After all, K220 may be more evolution than revolution, building on the platform carved by its prodigiously popular K200 predecessor, but it nonetheless introduces levels of technology and digitisation which take Kenworth's evergreen cab-over into a new and arguably overdue sphere of sophistication.
And sure enough, we were keen as fleas in a foxhole to climb aboard for a long run. First, however, it's worth recalling the factors and features which make this latest rendition so decidedly different and overall, so markedly more modern.
K220 is, as Kenworth bills it, 'The Next Level'. Certainly not the highest level in the business, but definitely the next level in the continuing saga of a truck model which for more than 50 years has been at the core of Kenworth's business. Simply stated, K220 starts a new page in the history of an enduring icon of the Australian truck industry.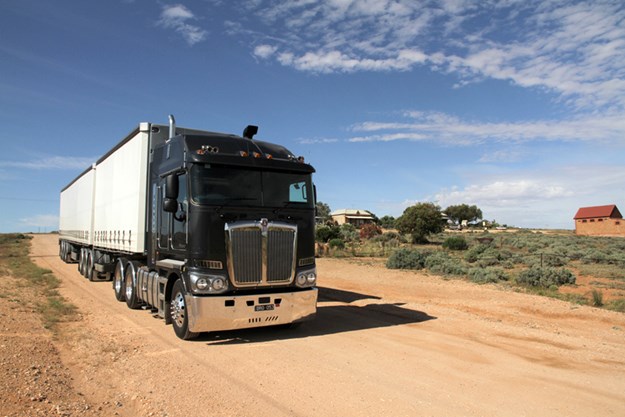 There are, of course, many reasons why Kenworth's cab-over has stayed so strong for so long. Obviously, there's the aspirational aspect of the brand with many drivers and buyers, but there's more to it than that. Much more!
Even so, K-series has definitely had its issues. Big time, with a long list of earlier models making the driver's existence, well, awkward at best, awful at worst. Yet despite the drawbacks, the model's reputation for reliability and home grown engineering tailored to Australia's various length and weight tolerances have kept it at the forefront of the bristling heavy-duty cab-over market, specifically for linehaul B-double duties. Indeed, it's no idle assertion to state that B-doubles are the prime reason K-series, in even its most archaic forms, has kept on keeping on.
However, the arrival of K200 in 2010 put Kenworth's cab-over on a new footing, one which enhanced all the operational positives yet gratefully dispensed with the woeful ergonomics of predecessors. As we've said before, given the incredibly long existence of the K-series cab, the achievements made by Paccar Australia engineers and product development personnel in creating K200 were nothing short of remarkable. In some estimations, perhaps the company's greatest engineering achievement.
So, enter K220 mid-way through 2022. In some ways, it seemed Paccar Australia might have gone too early with the new model's introduction. In a booming market, K200 was still selling extremely well and along with record demand for most other models in the Kenworth cache, production at the Bayswater (Vic) factory was stretched like never before.
But then, as a senior Paccar executive mentioned at the model's launch, K220 would place Kenworth on a new pedestal in the premium cab-over market and for that, he insisted, the timing is always right.
In effect, it all boils down to a model which is both obviously and subtly different, and undeniably more relevant to a modern market where technology and digitisation are common themes. Still, K220 retains the design diversity to be many things to many people, able to be configured in three, four and five-axle layouts from 6×4 to 10×6, and gross weight ratings from a nominal 97 tonnes to around 250 tonnes.
Typically Kenworth, options are prolific, starting with a 1.7 metre day cab to a 2.3 metre sleeper in flat-roof or high-rise form, and a 2.8 metre aero 'big cab', all available with side extenders and on sleeper sheds, heaps of storage and bunk options as well as roof fairings. And important to many, the choice of a single-piece or two-piece windscreen.
Critically though, K220 also provides an upgraded electrical platform with the capacity to better integrate systems from Europe and the US in areas such as safety, telematics and powertrains. It may not seem particularly exciting but talk to boffins at Kenworth and several key suppliers – notably Cummins and Eaton – and the importance of substantially advanced electrical architecture hits home with absolute authority.
Yet despite this electrical leap, Kenworth strangely decided to keep a high-level safety package optional rather than standard. It appears an odd decision, particularly after Kenworth trumpeting that K220 has the largest range of active and passive safety systems ever offered by the brand, and the increasingly widespread view that advanced safety is more a prerequisite than a prerogative.
Anyway, the biggest outward change is obviously the grille. Gone is the dunny seat design of the K200, replaced with a new 'face' more in keeping with the look of the T610 and T410 conventionals. Less obvious yet more useful are a more efficient engine fan and new wheel-well shield to reduce spray and road debris reaching the engine bay and electrical connections.
There are also new LED headlamps with integrated indicators and daytime running lights but, according to Kenworth, the most significant shift in exterior design is a more aerodynamic roof profile which also improves headroom and substantially increases overhead storage space. Similarly, the deletion of vista windows on the top of high-rise cabs is a move aimed squarely at improving sleeper insulation and maximising performance of a new climate-controlled air-con system.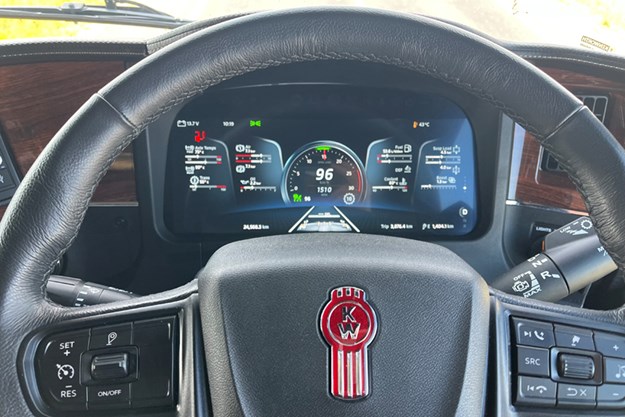 From the driver's seat, the most dramatic change is a 38cm (15-inch) digital instrument panel which is, to state the obvious, a complete departure from Kenworth's typical array of gauges. Purists might poo‑poo the progress but seriously, Kenworth designers appear to have done a superb job with the brand's first full foray into digital instrumentation. Excellent, in fact, with probably the most logical and likeable digital display on the heavy-duty market.
Moreover, switchgear and control functions have been heavily reworked with a long bank of easily identified switches across the lower edge of the fascia, easily understood switches on a revised steering wheel layout, and stalk-mounted indicator and retarder controls. Initially, there appears to be much for a driver to comprehend because K220 is so different from any of its kin but that said, it's apparent a great deal of thought went into making the new systems as practicable as possible. Consequently, familiarity comes quickly and one of the most appealing features is a comprehensive 'Systems Check' delivered by the press of a button to reveal a swag of maintenance detail, including the operation of truck and trailer lights.
Also, there's a 20cm Audio Visual Navigation unit on the left of the dash with what Kenworth describes as intuitive controls on the dash and steering wheel for navigation, the audio system and phone pairing. Further left, there's space for up to six optional 'traditional' gauges.
Meanwhile, the revised interior has seen brake and throttle pedals moved further forward to make more space in the footwell but perhaps even more critically for some, Kenworth's interior image is retained with soft upholstery in traditional studded trim with updated colour choices.
And clearly, providing the punch for all this transformation is a Cummins X15 in either Euro 5 or Euro 6 form. The big difference here, however, is the coupling of Eaton's all-new Endurant XD Pro 18-speed automated transmission. Of course, there's also an 18-speed manual 'box for the stirrers but the XD Pro is the big news, with 'extreme duty' clutches and components designed to make this latest generation of Eaton automation better in every way.
But that's enough of the detail. Let's drive.
On the move
For a number or reasons, this trip was many months in the making, not least because most of the pre-production trucks built for the launch event were for a good while busy doing demos with dealers around the country. Plus, our idea was to do something more than just another run along the Hume or the Newell, even if it meant waiting considerably longer for a truck to become available.
Why not, we proposed, take a K220 B-double from Melbourne to Mildura, across the border to Wentworth then up to Broken Hill, do a spot of dirt work around Silverton's stark saltbush country, and head back the same way? All up, a round trip just shy of 1800km.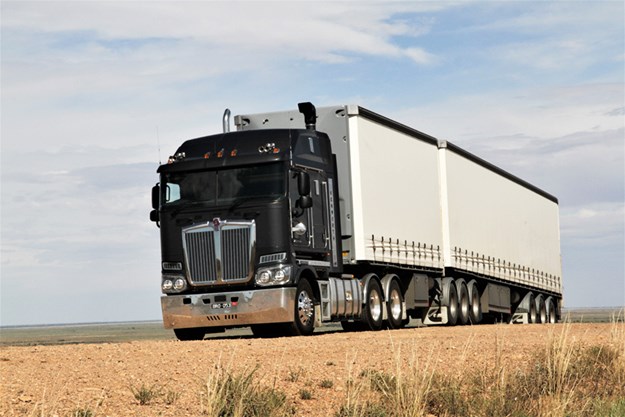 Gratefully, Paccar's people liked the idea, including chief engineer Brad May who wrangled a busy diary to ride shotgun for a few days. 'Busy' would, in fact, be something of an understatement these days given projects on Paccar's engineering agenda, not least a major Cummins-powered DAF exercise with the potential to propel Paccar even deeper into the premium cab-over class. Maybe, even, at the expense of an increasingly expensive K-series but that's a story, a very big story, for another day.
Nonetheless, K220 is a critical foundation of Kenworth's commerce and any delusionary thought that a few days in the cab with the chief engineer may divulge some secret insight on current projects proved to be exactly that – delusionary! As anyone who knows him may attest, Brad is part of the Paccar faithful with KW etched deep into the May family history. His exterior can sometimes seem abrupt, even brash, other times deeply thoughtful, but at all times resolutely confident and passionate of Paccar Australia's abilities and achievements. Simply put, it was good to have him in the cab and for a few hours at least, share the driving as he, too, took stock of the new model's road manners.
With Christmas just a few weeks away, we left late one weekday morning after hooking up a B-double set at the Kenworth and DAF dealership in Laverton on Melbourne's manic western rim. At 55 tonnes, gross weight was lighter than expected but still enough to gain some real world indication of the K220's on-road character and likewise, an impression of a 565hp Euro 6 X15's performance and fuel efficiency, particularly with Eaton's new double overdrive Endurant box doing the shift work.
As for the truck, it was a high-roof 2.3 metre cab model which had notched a whisker over 23,000km on demo duties since first appearing six months earlier at the K220 launch event in Brisbane. Built on a 4.28 metre wheelbase and said to tare a tickle under 9.14 tonnes, the truck was equipped with 750 litre rectangular fuel tanks each side and a 180 litre plastic AdBlue tank behind the driver's side step. At the back, mounted on Kenworth's Airglide rear suspension, Meritor diffs ran a 4.3:1 ratio while stopping power came from the same maker's disc brakes front and rear.
Optional items were the immensely worthwhile 'Hill Hold' function along with the Bendix Wingman Fusion safety package consisting of an electronic braking system, electronic stability program, auto traction control and active cruise control braking. The demo truck's inventory also had Paccar Connect, a GPS telematics information system tracking the vehicle and monitoring performance and driver behaviour.
Predictably perhaps, the run north on the Calder Highway was uneventful in some respects, revealing in others.
Uneventful, for example, because the Cummins with the new Eaton 'box simply reaffirmed the opinion that the integration and synergy between the US engine and transmission specialists has evolved considerably since the 2017 formation of an Eaton Cummins joint venture and subsequent creation of the ADEPT (Advanced Dynamic Efficient Powertrain Technology) driving program. Mind you, they're not yet in the same league as the fully integrated Europeans but definitely playing in the same ball park and over the next few days, the Endurant transmission would steadily reveal far smoother and more intuitive qualities than its Ultrashift-Plus predecessor.
On the other hand, and despite respectably strong pulling power, the Euro 6 X15 has a strange engine note under heavy lugging. For whatever reason, it is simply a significantly different and at first unsettling sound compared to the Euro 5 version.
Predictably, the Kenworth delivered what was expected of it with superb steering, good road manners, and a sleeper layout justifiably considered by many to be the best in the cab-over class. But then, lumpy ride quality wasn't altogether unexpected either due to the absence of air suspension under the rear of the cab.
The first few hours also revealed the usual quirks of a pre-production model. There was, for instance, a squeak in the passenger side of the dash which had a determined Brad May pressing and poking panels until the offending item was discovered and squished into silence. Not so easily poked into submission were areas of fit and finish untypical of Kenworth's high standards of build quality.
But, as a definite Brad May pointed out, that's one of the prime functions of pre-production units; to find those points requiring adjustment and fine-tuning prior to full production, and as the day rolled on it was obvious the engineer's ear was eager for anything even remotely resembling something less than ideal.
Recent heavy rains had chopped the Calder badly in some parts, yet the distance ticked away easily with the Cummins running at 1570rpm at 100km/h through the tall 0.7:1 ratio of Endurant's top gear. In an age where most brands seek the lowest possible engine speeds in the hunt for fuel efficiency, it seemed an unusually high rev count but the ADEPT program is purposefully designed to deliver the best compromise in both performance and fuel consumption.
Consequently, a fuel burn of 2.0km/litre (5.68mpg) from a responsive powertrain seemed entirely reasonable after almost 600km as the combination crossed into NSW over a heavily flooded Murray River and soon after, pulled up for the night at Wentworth along the equally deluged banks of the Darling River. 
Out and back
The night had passed quickly and we were keen to make a mile, checking tyres and turntables by the light of mobile phones before stowing bags and making the spider-like stretch into the high cab. Key on, let the electronic systems run their checks and calibrations, fire the Cummins into life and fill in the log book.
Familiarity had come quickly and there was already an appreciable liking for the neat and logical layouts of the digital dash and surrounding switchgear. Again, Kenworth designers have done their work well.
Still, it struck me – not for the first time – that climbing into and out of a K-series cab has never been the best, due largely to the model's set-forward front axle. That said, a swing-out driver's side step has been available for a number of years but it's said to be an expensive option with relatively few takers, so in the great majority of cases, cab access remains a consistent bugbear of the K-series cab.
Anyway, dawn was still a hint of soft colour on the fringe of a star-sprinkled sky as the outfit ambled through town with Brad May at the wheel for the 300 or so kilometres north to Broken Hill and the quirky surrounds of Silverton.
Cruising across the open expanse, it was easy to just sit back and talk about the finer details of a model which will account for as much as 30 per cent of production at the Bayswater plant. K220 is, of course, the only cab-over of North American origin on the market and displays its cultural differences with European rivals in many ways. It is, for instance, not as whisper quiet as the continental contingent but that's not to suggest in-cab noise levels are obtrusive or annoying. Not at all.
Likewise, convenience is a big factor and while detractors will rightly refer to K-series' veteran status, there's no question the Australian market is the sole inheritor of decades of local development which altogether make the model so consistently popular with owners and drivers alike. Behind the wheel, there's more than an inkling that many years of operator input have gone into making this truck more convenient and practical than any predecessors and indeed, even one or two contemporaries.
Still, like most cab-over competitors in this class, K220's big mirrors provide excellent rear vision down the sides but at roundabouts particularly, the large housings impede the driver's right-side view. All brands should perhaps take a look at Volvo's mirrors for a better view.
And again, airbags under the back of the cab would be beneficial to take the lumps out on poorer roads, sealed or otherwise, rather than largely leaving ride quality to an excellent Isri suspension seat. And on driving position, while there's ample adjustment on the seat and steering column for a bevy of body types, Kenworth's assertion about K220 offering more room in the driver's footwell is perhaps overstated. There's limited room for the left foot but the re-sited brake and accelerator pedals don't deliver the gains suggested. At the helm, even the chief engineer nodded in agreement.
Anyway, after a day of different conditions, late afternoon saw the truck back in Wentworth and heading south with the overall thought that the modern and largely practical changes which make K220 different are accompanied by less apparent aspects, some which still need refinement, yet all designed to take Kenworth's seemingly ageless cab-over further into the future. The big shifts, of course, are a significantly more capable electrical package and the move to a digital dash and gauge layout. In both areas, and to again push the point, Paccar Australia engineers and product designers appear to have done their work extremely well.
Meantime, the powertrain has been undeniably enhanced with the deployment of the Endurant XD Pro automated transmission, even though Eaton's latest box of tricks initially seemed little different to its Ultrashift-Plus predecessor. After all, Ultrashift-Plus had evolved considerably over the years and was almost certainly at the peak of its capabilities by the time Endurant arrived.
But as the K220 pushed on and conditions over several days varied from quick freeway to questionable highways, 'round-town teetering and secondary country roads, the new transmission's affinity with the performance traits of the Euro 6 X15 became ever more apparent, through seamless and highly intuitive shifts, and a superbly stepped ratio spread from a 14.32:1 bog cog to 0.83 and 0.7 top slots.
It is, in short, simply a smoother, smarter powertrain but it, too, showed the need for further refinement, specifically to cancel what can only be described as an occasional and somewhat hefty 'thump' when coming out of cruise control. Odd!
Back at Laverton, fuel consumption for the overall trip of 1790km according to the K220's on-board trip computer (there are literally dozens of trip meters available through the updated electrical system) was more than respectable at 1.92km/litre, or 5.42mpg for us older folk. It's worth remembering though, the Euro 6 X15 is totally reliant on SCR for emissions compliance and subsequently uses higher levels of AdBlue than its Euro 5 counterpart, so fuel efficiency needs to be considered with this in mind.
All up, perhaps the most appropriate conclusion is to repeat our opinion after the launch event mid-way through last year: 'It would take a fountain of foolishness to suggest the K220 will be anything less than a continuation of the incredible acceptance which keeps K-series the dominant model in Paccar Australia's product portfolio.'
Even so, as a certain Paccar Australia engineer remarked some years back at an upbeat DAF function in Queensland when asked about the future of K-series: "Nothing lasts forever."
Too true, but in our estimation the greatest challenge to the future of Kenworth's iconic yet increasingly expensive cab-over will not come from aggressive competitors. It will come from within in the form of a model currently being developed by Paccar resources in Europe and Australia, specifically for the Australian and New Zealand markets, powered by an entirely new Cummins engine.
In the meantime, K220 will keep on keeping on. Simple as that.
Photography: Steve Brooks