The appearance of Mack's Anthem may split opinions but what really matters is how it performs on the road. An impressive run down the New England Highway from Brisbane to Sydney proved that looks aren't everything
When a brand with such an iconic identity as Mack comes up with a hood design as brazenly, even fearlessly distinctive as Anthem, it's as certain as a dog licking its chops – or any other part of its anatomy for that matter – that opinions will vary wildly, from politely positive to downright demeaning.
Like it or loathe it though, Anthem is far more than just a radical new hood and critically, vastly more than just a replacement for the superseded Granite model.
It is, in fact, a vital and certainly overdue platform for a Mack resurgence centred on the ability to provide a stand-up cab; not just for Anthem but also its more established Trident and Super-Liner siblings. And make no mistake, Mack needed a stand-up cab to put it in the ballpark where its conventional competitors have long had an edge.
Anthem is, however, also a vital conduit for a Mack future which is likely to have little in common with its past pedigree other than the classic dog on the snout. Controlling Anthem's core functions, for instance, is significantly enhanced electrical architecture known within the kennel club as the 'Tier II bridge'.
It is, in effect, an electrical system adapted from Volvo Group's network to 'bridge' the technological gap between Mack and its cab-over kin, thus providing Anthem and its siblings – except for the Cummins-powered Metro-Liner – with the advanced operational and efficiency functions already existing in Volvo models. Like, functions designed to utilise crawler gears in Mack's mDrive automated transmission, to streamline MP8 13 litre engine efficiencies with more refined fuel delivery and injection processes, and provide for the implementation of modern-day innovations such as predictive cruise control and eco-roll.
All up, simply a smarter electrical package which also allows Mack to make the most of critical hardware updates on the MP8 Euro 5 engine, designed to improve performance and efficiency through the use of a new turbocharger and redesigned injectors, cylinder liners and pistons. Updates which were introduced in Volvo's equivalent D13 engine more than a year ago.
Have no doubt though, all these notable and worthwhile enhancements are just a stepping stone to a wide-ranging development program being undertaken to ultimately take Mack to an entirely new level. Or at least, that's the message coming through loud and clear from Volvo Group Australia (VGA) and its senior Mack operatives.
As VGA chief Martin Merrick confidently expressed in our exclusive interview earlier this year, "We're investing over a hundred million dollars over the next three years in the Mack product," then eagerly adding, "I met with Martin Weissburg (Mack Trucks president) … and the commitment to Mack in Australia is unwavering.
"Mack Trucks Australia is absolutely a key market," Martin Merrick emphasised, insisting that a new day is dawning for Mack.
Just when that day will dawn Down Under remains to be seen but it's perhaps reasonable to assume that if $100 million is to be spent on Mack development "over the next three years", 2025 is a fair guesstimate when an entirely new bulldog might hit the Australian market. Time will tell!
While questions about new product plans were politely and predictably deflected during the interview, Martin Merrick nonetheless offered a surprising concession on the creation of what will be almost certainly an entirely new generation of Mack trucks: "I can't share with you the timeline or exact details but it will not be a makeover. It will be a completely new product. A new platform," he said with absolute assurance.
On the assertion that any completely new Mack will be largely based on Volvo's North American VN conventional range, Martin Merrick paused for a moment before candidly commenting, "If you look at our products – Volvo, Mack and UD – we have common architecture and shared technology. That's the way it is.
"But the Mack brand will remain very strong in Australia, so there's no plan to simply bring in a Volvo platform from the US and use that as a conventional truck here."
In other words, don't expect any new Mack to be simply a right-hand drive version of a Volvo US conventional with a bulldog bolted on the beak, but certainly expect a powertrain and driveline utilising the deep technological resources of Volvo Group, tucked under a bold cab and hood designed to be unmistakeably Mack.
At least, that's the vibe coming through from the top of the executive tree.
Between now and then though, the task for Anthem and its home-grown Trident and Super-Liner brothers – operationally emboldened with smarter electronics and extensive software and hardware updates, improved efficiency and, of course, the availability of a stand-up cab with a 36-inch hi-rise sleeper – will be to keep the dog barking loud and proud, and in the process build a solid launch pad for the eventual emergence of an entirely new breed of bulldog.
Meantime, while Anthem's external appearance may be still an acquired taste for some, a B-double run from Brisbane to Sydney down the arduous New England Highway at least confirmed the old adage that a book should never be judged by its cover.
Quite simply, Anthem's handling and overall road manners were arguably the best this commentator has ever experienced in a Mack while underneath, hardware and software changes to the MP8 engine have created a notably more determined and willing workhorse with the capacity to surprise and impress in equal parts.
Dogged performance
The test truck was the same pre-production sleeper cab unit driven on its maiden run around 18 months earlier in a short, unofficial leg of the Pacific Highway with a single trailer in tow.
Specified for a range of regional and linehaul roles, and undoubtedly the flagship of the Anthem entourage, the demonstrator carried a gross combination mass rating of 64 tonnes and on a 4485mm wheelbase, sported fuel capacity of over 1400 litres and 150 litres of AdBlue. And like its Trident and Super-Liner siblings, Anthem comes with the full Bendix Wingman safety system as a standard item.
Since then, the truck had accumulated almost 35,000km on various promotional and test drive events, the latest as a race transporter for the high profile Patriot Campers company. Yet while it's unlikely the wrapping of the underlying red paintwork in the darkly austere 'Patriot – Get Lost' livery did much to enhance Anthem's visual appeal, it wasn't long after leaving Volvo's Wacol precinct that the truck started to show qualities far more vital than the visual.
Hooked to a B-double set and grossing close to 59 tonnes, the intention was to head over the demanding climb of the new Toowoomba Bypass to pick up the Newell Highway and head south to Gilgandra, then hooking east to Newcastle along the fluctuating conditions of the Golden Highway.
However, it became apparent soon after leaving Toowoomba's outskirts that flooded Queensland roads and extensive delays required a change of plans to take the less travelled and considerably more challenging New England Highway. On the fierce grades and often poor road and weather conditions of the New England, the Anthem would need to be doing its best work.
Still, the drag over the Toowoomba Range had already signalled a powertrain with plenty of punch. It had been two years or more since last driving either a Volvo or Mack 13 litre engine at B-double weights but even so, there was soon no doubt the recent software and hardware updates had made the 535 hp MP8 a distinctly more determined performer.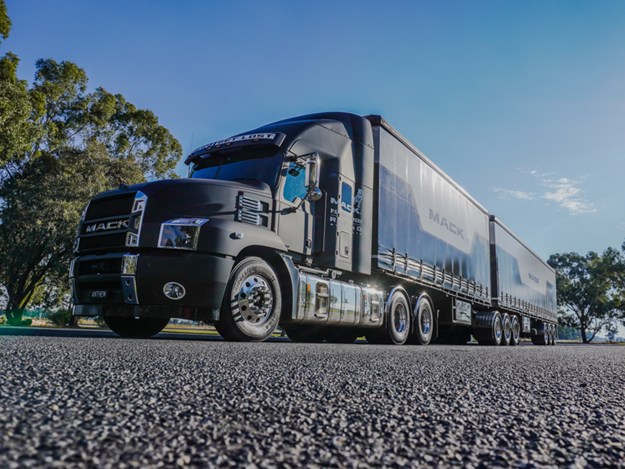 On the steepest pinches of the Toowoomba climb, for example, with 8th gear locked in manual mode on the steepest grade, the engine displayed a tenacious trait to fight hard for every rev, at no stage dropping any lower than 1200rpm.
A quick look at the engine's performance chart reveals why there's such a strong propensity for dogged performance. Top torque of 2600Nm (1920lb-ft) is consistent from 1050 to 1450rpm while peak power (393kW/535hp) is on stream from 1450 to 1900rpm, providing the MP8 with formidable pulling power and quick throttle response through a broad and efficient span of the rev range.
Obviously enough, the MP8 feeds into Mack's mDrive automated shifter but nowadays, it's more than simply the standard 12-speed transmission derived from Volvo's super-smooth I-shift box. It took a while and needed the integration of the Tier II electrical platform to become a reality and finally catch up with its Volvo counterpart, but mDrive is now also available in 13-speed HD and 14-speed XHD form with one and two crawler gears respectively, and each version able to be specified with a direct-drive or overdrive (0.78:1) top gear.
Wisely perhaps, the Anthem test truck was fitted with the direct-drive HD box which provides a deep reduction crawler cog of 19.38:1 and the availability of six reverse gear ratios including a wall-climbing bog cog of 37.49:1. For interest's sake, bottom forward gear in the 14-speed XHD is a stump-pullin' 32.04:1 and again, 37.49:1 in reverse.
With the direct-drive box feeding into a relatively tall 3.09:1 rear axle ratio, the Anthem clocked 100km/h at a tick over 1500rpm. While some might argue it's a cruise speed a tad high to maximise fuel efficiency, it's worth pointing out the revamped MP8 has a new-found fondness for digging deep into the rev range and fighting hard to hold higher gears rather than quickly dropping to a lower ratio. In fact, it was at times astonishing to see how the engine would hold onto the top two gears, regularly digging down to 1100rpm to pull over a hill.
Likewise, it was revealing to see how the powertrain performed on the formidably sharp and remarkably similar grades of Bolivia Hill and Ben Lomond in increasingly treacherous weather. The first was crested in manual mode in 7th gear, dropping down to 1400rpm while soon after on Ben Lomond, mDrive was kept in auto and dropped to 7th gear at 1600rpm. In both cases, the MP8's lively response and gritty determination simply reinforced the opinion that the software and hardware changes have created a dog with far more bite.
An equally absorbing exercise was watching the variations in average fuel consumption throughout the run. According to Anthem's on-board trip computer, the run from Wacol to the base of Toowoomba Range consumed fuel at the rate of 1.8 km/litre. After the long haul to the top of the range, the average fell to a reasonable 1.4 km/litre but recovered in surprisingly short time back to 1.8 km/litre.
After a few delays and detours, the figure had fallen to 1.6km/litre as the truck headed down the New England from Warwick, and despite difficult weather and the highway's many hardships, stayed there until the flatter country of the Hunter Valley saw the trip average settle on 1.8km/litre (5.37mpg) by the end of the exercise near Newcastle.
Positive handling
All things considered, Anthem's fuel economy on this run was at the very least admirable and perhaps more accurately, impressive given the New England's considerable demands.
Perhaps even more admirable and undeniably appreciable were Anthem's handling and road manners. To be blunt, I've rarely been a fan of Mack's steering characteristics compared to its conventional competitors, particularly in linehaul applications where, to my mind, the dog has a tendency to wander a tad too much.
Yet, whatever engineers did in development of Anthem's steering mechanism or geometry, it has resulted in a notably more direct and positive handling performance than any of its kin, and perhaps nowhere more evident or valued than on a New England Highway pocked with potholes and ribbed with rough edges.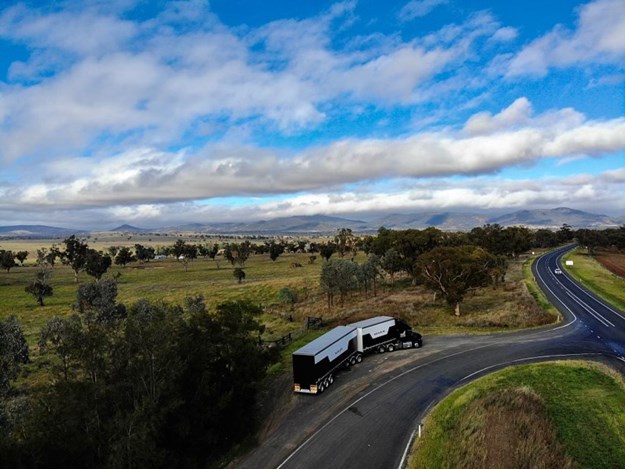 The big advance, however, is the stand-up cab attached to a 36-inch hi-rise sleeper and a wild night in the mountains at a cold, wet and windswept Guyra provided the ideal opportunity to put Anthem's sleeping arrangements to good use.
Before venturing comfortably into the Land of Nod though, the time was right to take stock of Anthem's general features. For starters, ride comfort is extremely good with a premium Isri driver's seat and ample seat and steering wheel adjustment for all shapes and sizes. And for those with a particularly broad girth, a flat-bottomed steering wheel provides even more belly room.
Riding on an airbag rear suspension and parabolic springs up front, Anthem's overall ride quality left nothing to be desired on the highway's many lumps and bumps. Likewise, forward vision through a two-piece windscreen over a drooping snout is extremely good, as is rear vision through ideally sized and placed mirrors.
It's worth noting at this point that one of Anthem's peculiar characteristics is a single latch behind the grille for opening the hood. However, if the cable connecting the latch to the locking points on the rear extremities of the hood isn't equally tensioned to release both sides at the same time, raising the dog's snout can become a fiercely frustrating exercise.
Moreover, and squeaking for much of the run down the New England, the driver's side hood latch failed to lock completely. The test truck did, in fact, have a few minor squeaks and rattles but it's worth remembering this was a pre-production unit which possibly had not undergone all the strict quality control processes that typify production trucks rolling out of VGA's Wacol factory.
Back inside, there's no shortage of driver comfort and convenience features, and for the most part, the gauge layout and control and switchgear functions are practical and neat. But much like Anthem's unique exterior appearance, there's no doubt some operators will like the interior cab layout and others won't.
There's no escaping the fact that the cab shell has been around for a long time and with Anthem, Mack has strived to bring some modernity to its newest model. One area, however, that could've done with more detailed attention is the push-button transmission control panel on the left of the dash fascia. Compared to the shift levers in its Volvo and UD counterparts and certainly a number of competitors with transmission control wands conveniently mounted on the steering column, mDrive's shift panel is archaic.
On the positives though, there's ample locker space in both the cab and sleeper for a linehaul driver's many odds and sods but best of all is the ability to stand fully upright – up to 1.828 metres – and retreat easily into an entirely comfortable and well-appointed sleeper. And on the other side of the coin when Nature calls in the wee hours, swing out of bed without bending like a broken broom.
An entirely comfortable sleep and early start soon enough saw the Mack running off Black Mountain as another day of dismal weather set in, making good use of the 500 hp braking output of Mack's multi-stage Powerleash retarder. Soon after, the notorious descent of the Moonbi Range was taken easily in 6th gear.
From here on, the Mack simply continued to do its job with complete and efficient ease, leading to the plain conclusion that whatever the opinion of Anthem's distinctive image, there is more to this truck than meets the eye.
Much more, and it would be a big mistake to underestimate what churns underneath.