Reach Stacker Review: Kalmar DRF450
---
Container handlers are a growth industry as imports continue to grow. Matt Wood takes a closer look at the Kalmar DRF450 reach stacker, the latest Swedish arrival in Australia
Swedish materials handling equipment manufacturer Cargotec may not immediately spring to mind as a leading supplier of equipment. Cargotec may be better known to some in this country as the parent company of Hiab cranes; however the Kalmar brand of heavy forklifts and container handlers also comes under the Cargotec banner.
While the Kalmar brand is not exactly a household name in Australia, the Swedish brand has carved out a formidable reputation for innovation and durability for itself on the European continent.
The company started out serving local industry in the south western Victorian town of Warrnambool but has grown to become a nationwide provider of heavy materials handling equipment from attachments and grabs to cranes and container handlers.
It was at Pacific's Laverton branch I got to have an up close look at the Kalmar DRF450 reach stacker.
The F series stackers have a service weight that can range from 65 to 85 tonnes; clearly this is not something that is delivered on the back of a tilt tray for a demonstration. Given the logistics involved you'd want to be pretty confident that you'd chosen the right machine.
Pacific is keen to point out the durability of the Kalmar machine, the huge weights involved can take a gruelling toll on components like axles and steering componentry. But looking at the big red truck up close you can see some elements that make this stacker seem like a rugged choice for container operations.
The steer axle tucked under the counterweight has been cast from a single piece of steel and moving parts that require maintenance have been kept to a minimum, the axle components have also been nickel plated to fight corrosion.
A central auto greasing system is mounted on the side of the truck body to make sure that all moving parts are kept healthy with a diet of fresh grease, while a large cyclonic air cleaner makes sure that the air going into the engine is free of dust and grit.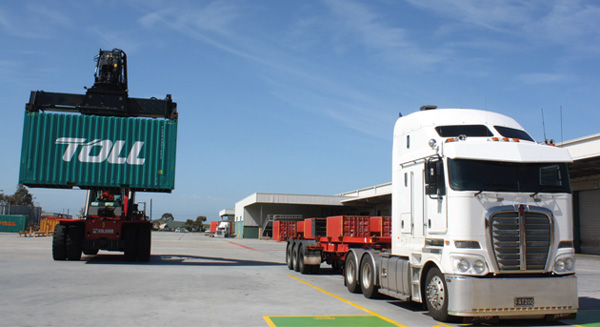 Engine
Australian spec DRFs use an 11-litre Cummins QSM11 for power rather than the standard 12-litre Volvo Penta powerplant used in Europe.
The Volvo engine is available if required, while in Europe, customers can also opt for Scania motive power.
The reasoning for using Cummins power is pretty clear in a country like Australia, the spread of service personnel and parts availability is pretty hard to match.
The QSM is rated at 261kW at 2,000rpm and develops its peak 1,830Nm of torque at 1,100 to 1,400rpm.
This power is fed into a Dana 15 automatic transmission which then feeds power to the Kalmar drive axle.
A combination of diff ratio gearing and hub reduction maximises the amount of torque available to get the machine moving under load.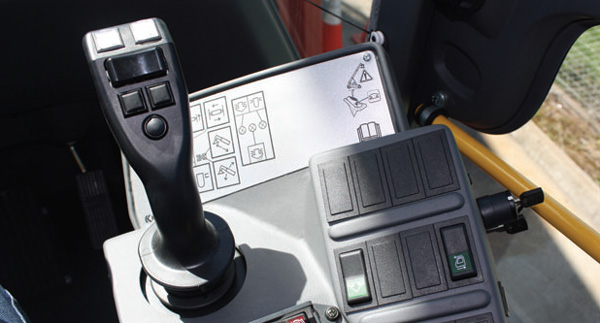 Cab and Controls
Climbing aboard the DRF is a simple stroll up the access stairs, while cab entry and exit is an easy sure-footed affair.
The climate controlled cabin is well laid out and as with most heavy trucks on the market all functions are operated by a single joystick controller. Block style switches are laid out neatly and a digital readout relays vital information to the driver.
Engine and transmission access is via removable deck plates in the top of the chassis.
This does make access for daily checks a pain rather than having side access through a side door in the chassis which could be accessed from ground level. By sliding the cab all of the way forward, it's easy to access the bulk of the drivetrain.
The Dana transmission also feeds power to the hydraulic system of the truck. The DRF uses a single hydraulic valve for all functions to minimise lag and complexity. The entire system relies on constant pressure to reduce the need for the system to pump oil when hydraulic functions aren't in use.
While the nuts and bolts side of things may seem like standard fare, on the electronic side of things The DRF uses a CAN-bus system to transmit signals around the truck. CAN systems are now widely used on anything from trucks and tractors to buses.
CAN systems are generally more durable than traditional wiring harnesses as they are a completely closed system, usually without relays or any other potentially fragile moving parts. Another advantage of CAN systems is that there's very little chance of voltage drop across the entire system.
On the Kalmar the CAN system talks through eight different control modules making sure that the engine, transmission and hydraulic control unit are always in sync.
Performance
The DRF is available as a 420 (42-tonne capacity) and as a 450 (45-tonne capacity).
Wheelbases range from 6m to 7.75m for a rail spec machine. Depending on specification the DRF450 can stack 45,000kg 9-foot 6-inch (2.89m) containers five-high and with rail spec stabiliser legs can reach a second row at a load of 41,000kg.
For rail loading the 450 can potentially reach two trucks deep at 41,000kg, again depending on model specification. Kalmar also assemble a range of reach stackers in China. These DRT machines are available in similar specifications to their European manufactured stalemates.
The Australian machines use a Bromma 20-40 spreader attachment, which is in common use throughout the industry regardless of the brand of stacker; this no doubt helps in regards to parts and service.
The DRF stackers are also equipped with sliding cabs which allow the operator to adjust their vantage point while loading trucks and rail wagons or stacking containers.
It's one thing to look at the big machine at rest, and yet another to see one at work in the hands of an experienced operator.
There are two DRF450 machines at work at the Victorian Toll Intermodal depot in Laverton North. It was here that I witnessed the two machines working in tandem among the neat rows of stacked containers.
In the hands of experienced operators the two stackers glided around the yard in a synchronised dance as containers were picked up loaded and unloaded.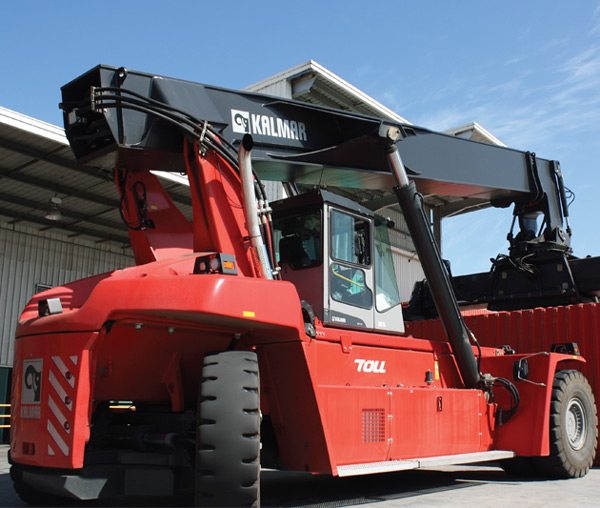 Verdict
As manufacturing continues to decline in Australia the demand for warehousing and container handling equipment will only continue to increase. While there may be a bleak outlook for local manufacturing, the future's looking bright for machines like those in the Kalmar range.
Specifications
Make/Model: Kalmar DRF450 Reach Stacker
Engine: Cummins QSM11 Turbo-Diesel
Power: 261kW @ 2,000rpm
Torque: 1,830Nm @ 1,100-1,400rpm
Transmission: Dana 15.7TE32418
Drive Axle: Kalmar WDB
Maximum Lifting Capacity: 45,000kg / 5 x 9'6" (2.89m) containers high
Wheelbase: 6,000mm to 7,750mm depending on spec
Service Weight: 65,500kg to 82,100kg depending on spec
Subscribe to our newsletter
Sign up to receive the Trade Trucks e-newsletter, digital magazine and other offers we choose to share with you straight to your inbox
You can also follow our updates by liking us on Facebook. 

Trucks For Hire | Forklifts For Hire | Cranes For Hire | Generators For Hire | Transportable Buildings For Hire