Kenworth and Volvo clash: Titans take shape
---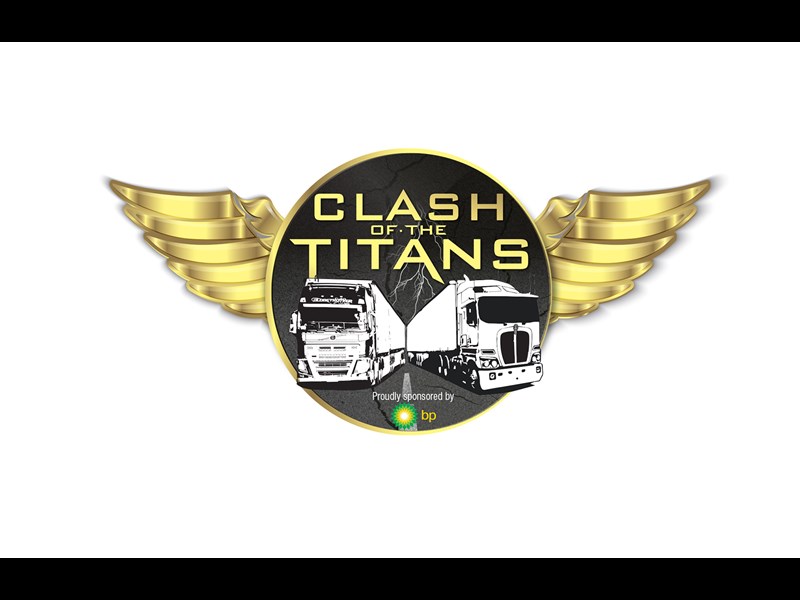 The Clash of the Titans is a head-to-head shootout between the two biggest selling heavy duty trucks on the Australian market: the Volvo FH and the Kenworth K200.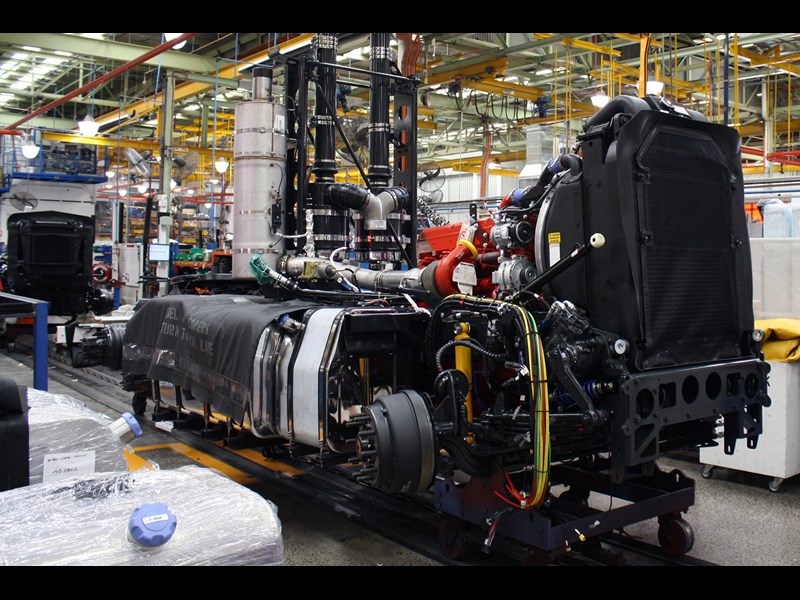 My K200 chassis waits for its cab.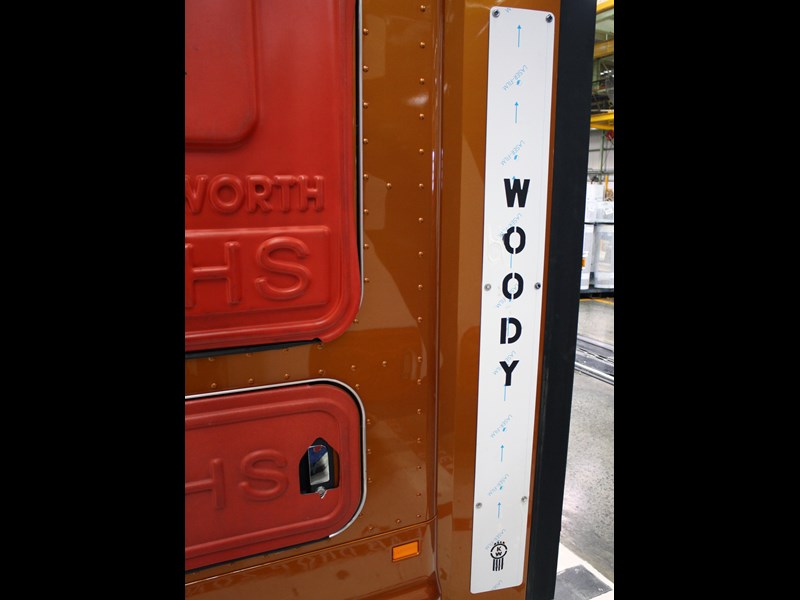 It must be mine, it has my name on it.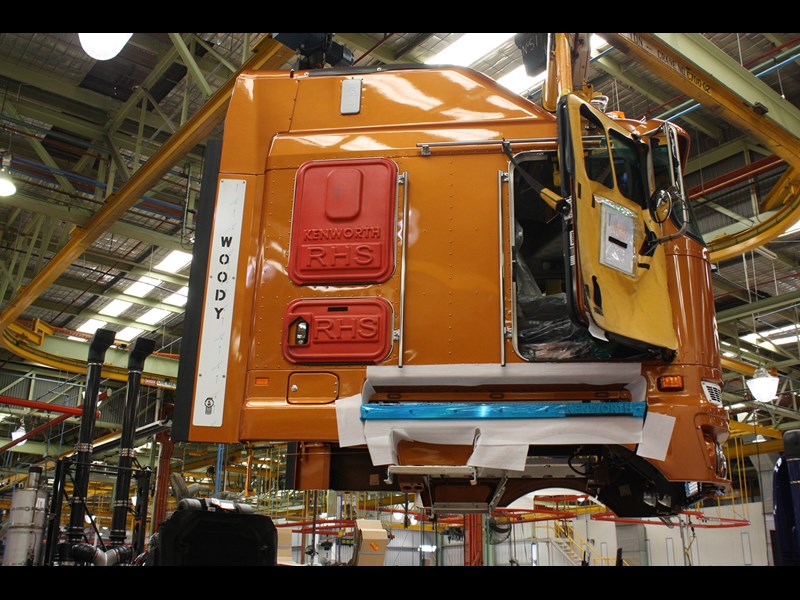 The K200 cab makes its way towards its final destination.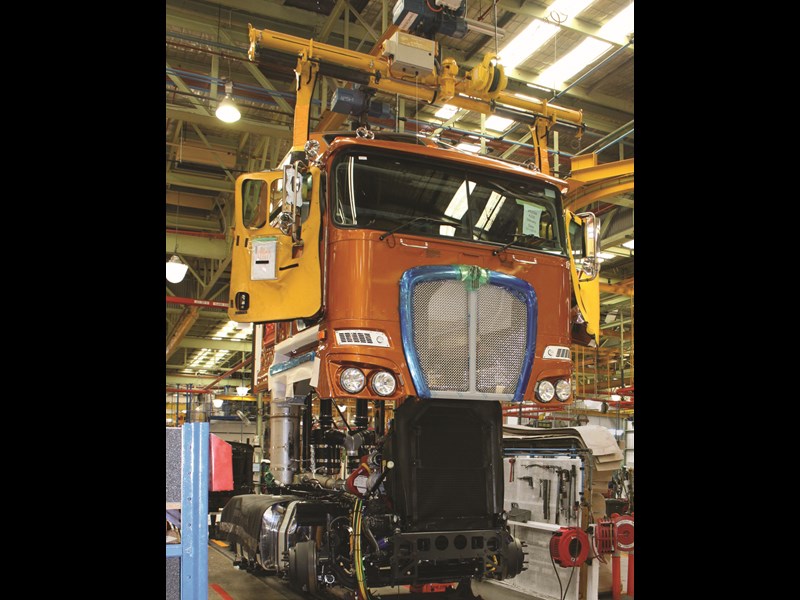 Time for the K2 to come together.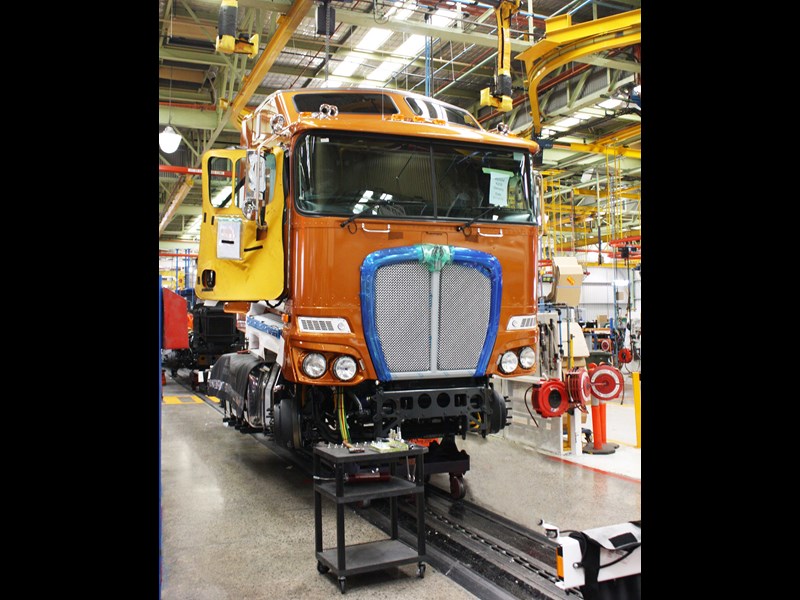 My stretch cab K2 now looks like the real deal.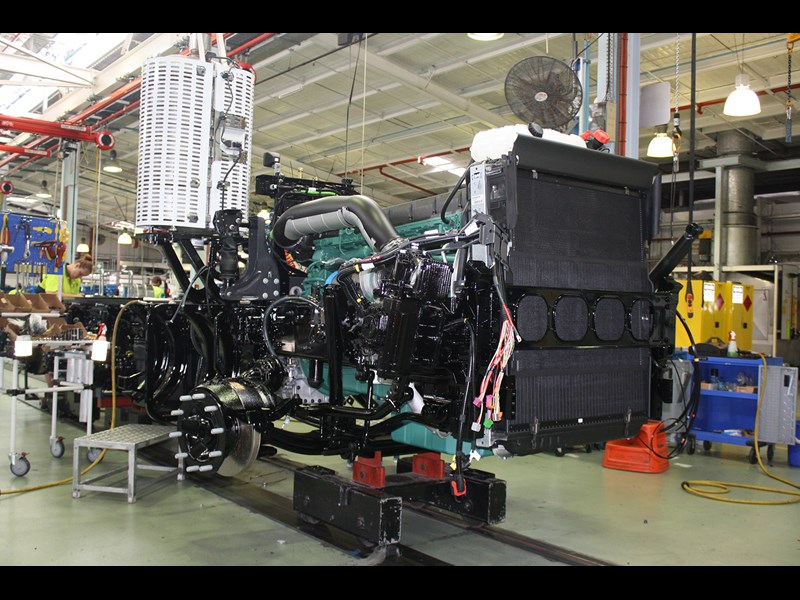 Our FH16 chassis with the driveline installed.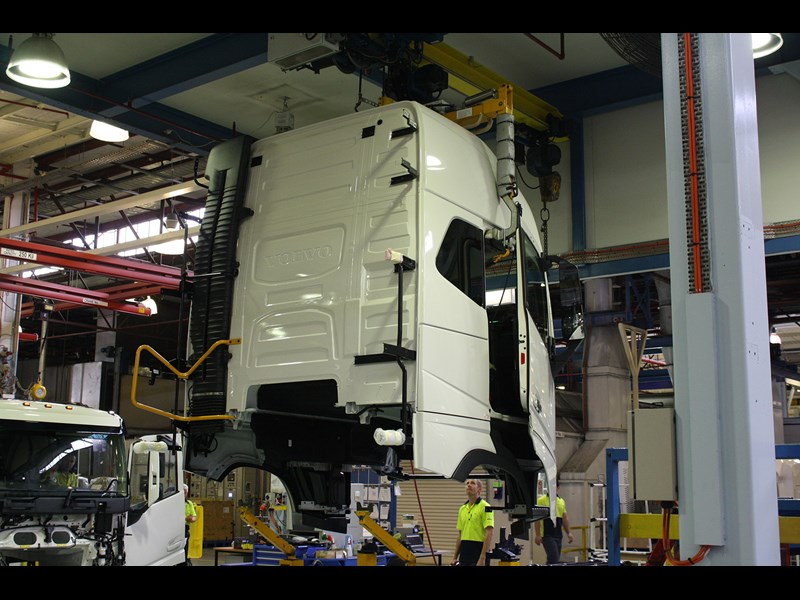 My Globetrotter XL cab is readied for fitting.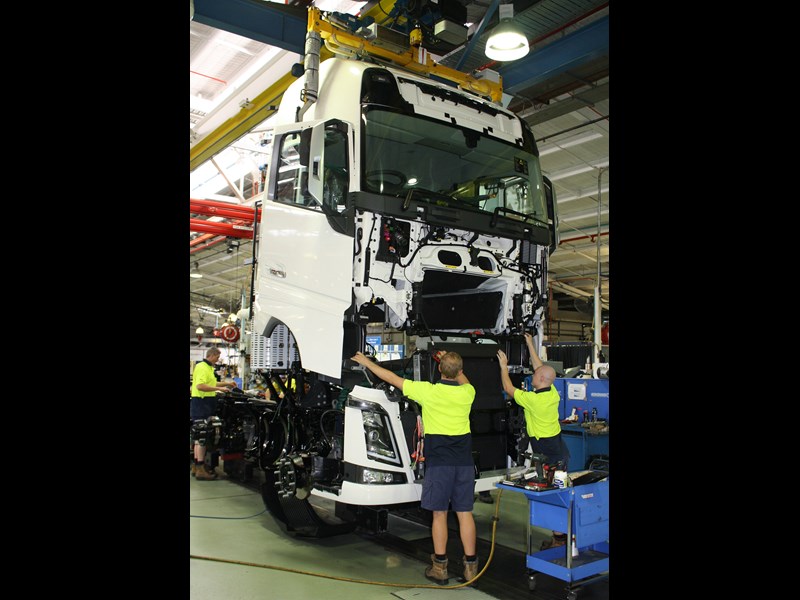 The FH cab drops into place.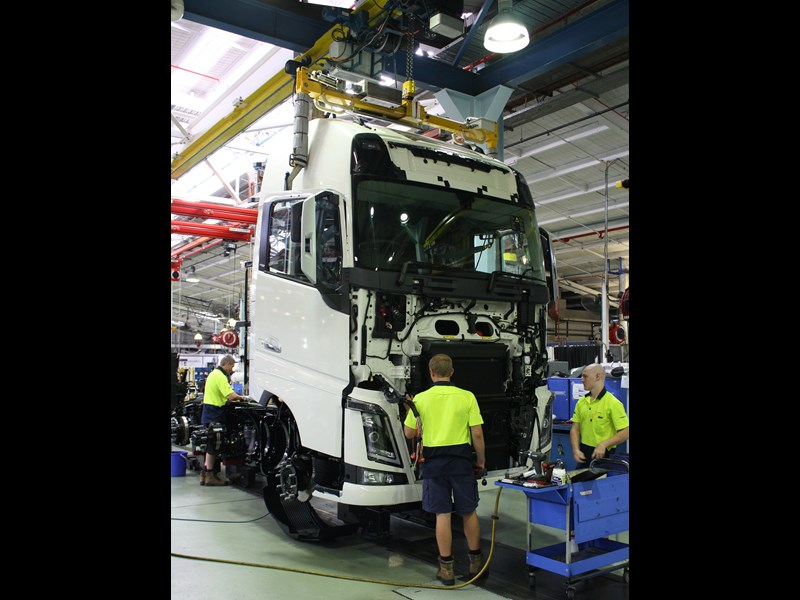 And…done.

The prime movers for our Clash of the Titans comparison roll off the production line.
While nursing a beer after the local launch of Volvo dynamic steering (VDS), I first contemplated a head-to-head shootout between the two biggest selling heavy-duty trucks on the Australian market: the Volvo FH and the Kenworth K200.
I bounced the idea off both manufacturers and much to my surprise they both said 'yes'.
Both Paccar Australia and Volvo raised the stakes even more by offering to build the trucks to my requirements. Not only that, we were able to sit down and spec up both trucks to get as even a match as possible.
The end result is two comparable east coast highway haulers packed with technology from opposite ends of the globe.
We'll be running our Kenworth K200 and Volvo FH16 Globetrotter simultaneously as equally weighted B-doubles on an east coast comparison run from Melbourne to Sydney, Sydney to Brisbane and Brisbane back to Melbourne covering nearly 4,000km.
This is just a little short of a typical line-haul working week on the eastern seaboard.
Along the way we'll be monitoring fuel economy, performance and liveability.
We'll be trying to get under the skin of these two trucks and find out what they're like to live with on a day-to-day basis.
To keep things official we'll have telematics on board monitoring fuel and performance.
WATCH THE LIVE FEED OF THE CLASH OF THE TITANS
These two trucks have almost nothing in common aside from the fact they run on diesel and have wheels and tyres.
The FH possesses the latest in technological safety systems and driver aids where the K200 is a tough, tried and true work horse; a simple transport solution in an increasingly complex world.
I've had a hand in speccing up both trucks which has resulted in both these trucks being more of an owner-driver spec than your typical fleet banger.
The FH will be running a 16-litre at 600hp (447.5kW) while the K2 will be sporting a 600hp 15-litre Cummins Signature ISXe5.
Both will be using automated gearboxes – Eaton's UltraShift Plus for Kenworth and Volvo's I-Shift, and both have the highest spec of cab and trim.
Both trucks have been specced with Bridgestone Ecopia low-rolling resistance tyres to give both trucks a chance to put their most economical foot forward.
KENWORTH SURPRISES
While the Kenworth may look like the old-school-low tech choice, the K2 has been specced with some clever tech of its own.
Our K2 will use Kenworth's electronic brake safety system (EBSS) as well as an active cruise braking system that helps pre-empt emergency braking.
Just to make sure I don't fall on my head while hopping in or out I've also opted for the slide-out active cab entry steps.
With the big K-dub built it was time to head to Brisbane to see our FH16 Globetrotter take shape on the Wacol assembly line.
FEATURE-PACKED VOLVO
The big Swede is literally bristling with the latest in acronyms and has more connectivity than the average smartphone.
This means passive and active collision avoidance features as well as I-See, Volvo's GPS terrain mapping function and VDS.
The FH is dressed for business in fleet white but sporting the locally developed Wild Bar out front to protect anything sensitive from slow-moving marsupials.
To emphasise the differing approaches of both manufacturers, we've also loaded the big Volvo flagship up with cutting edge tech features such as I-See, a GPS terrain mapping system that can store route data and optimise the driveline accordingly, I-Roll, a freewheeling function that lets the truck coast in undulating country and save fuel.
Then there's VDS, an electronically assisted power steering system that takes the effort out of spinning the wheel as well as reducing shock through the wheel on rough surfaces.
There is also the usual suite of safety features, including adaptive cruise, forward collision warning, and lane departure warning and lane change support. In short, there's not really much excuse for crashing it.
Underneath the skin, our Aussie-built Swede gets Volvo's D16G engine with 600hp underfoot and 2,065ft-lb (2,799Nm) of torque.
Both the K200 and the FH16 are cranking out equivalent horsepower but the FH has a marginal torque advantage with peak torque from 1,000 to 1,500rpm.
Now that these trucks have been built, it's time for us to begin our B-double face off. The wide open road awaits these two trucking titans.
RELATED ARTICLES:
Subscribe to our newsletter
Sign up to receive the Trade Trucks e-newsletter, digital magazine and other offers we choose to share with you straight to your inbox
You can also follow our updates by liking us on Facebook. 

Trucks For Hire | Forklifts For Hire | Cranes For Hire | Generators For Hire | Transportable Buildings For Hire