Gaining traction: Power dividers versus diff locks
---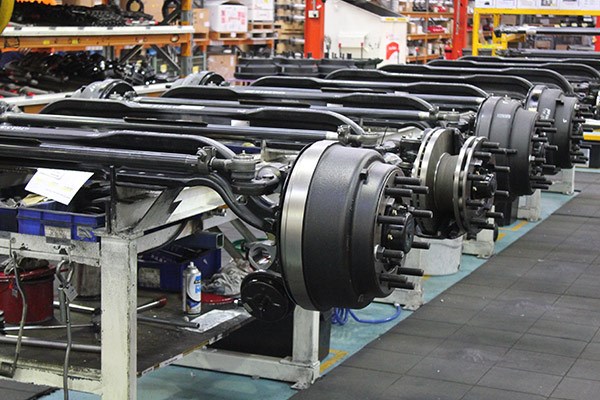 Steer axles all in a row, with both drum and disc brakes.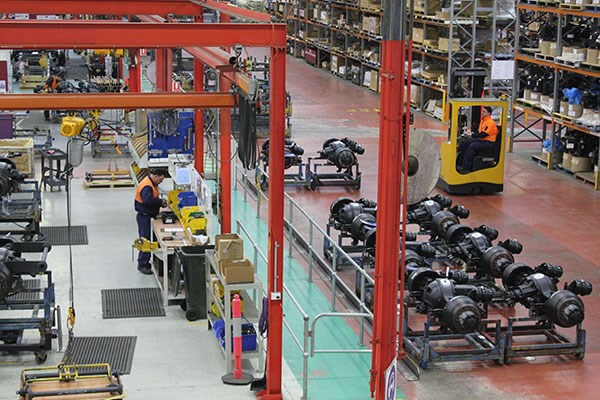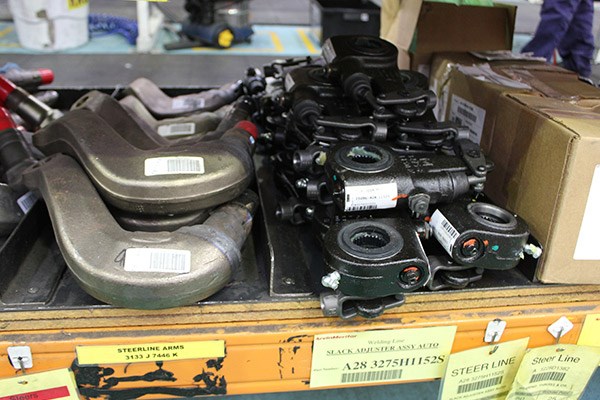 Steer arms and brake slack adjusters on the shelf.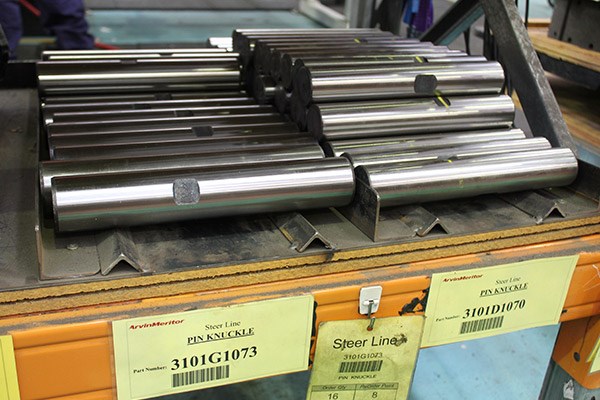 Nice shiny steering pin knuckles.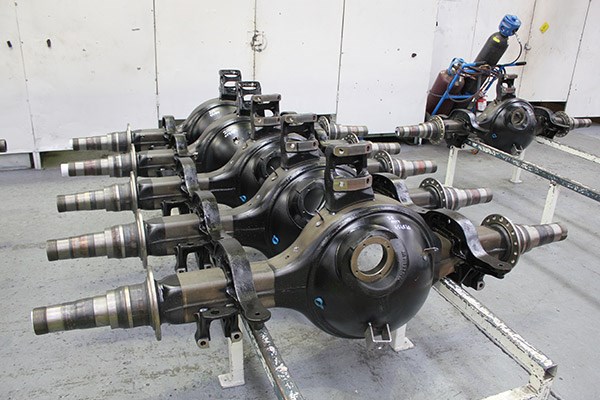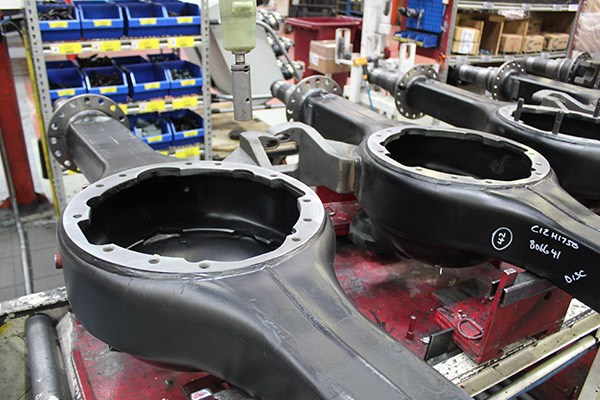 Empty diff housings after the suspension brackets have been welded onto the axles.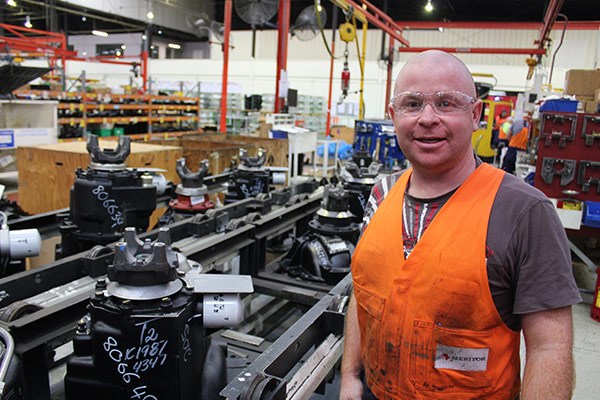 Meritor worker Michael Cochrane on the diff head (or diff 'carrier') line.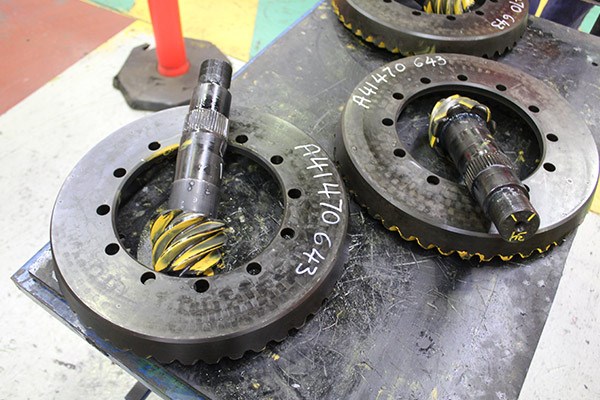 Diff gear sets: When you divide the number of teeth on the underside of these crown wheels by the number of teeth on the pinions resting on top of them, you get the final drive ratio. For example 41 crown teeth divided by 10 pinion teeth equals a diff ratio of 4.1.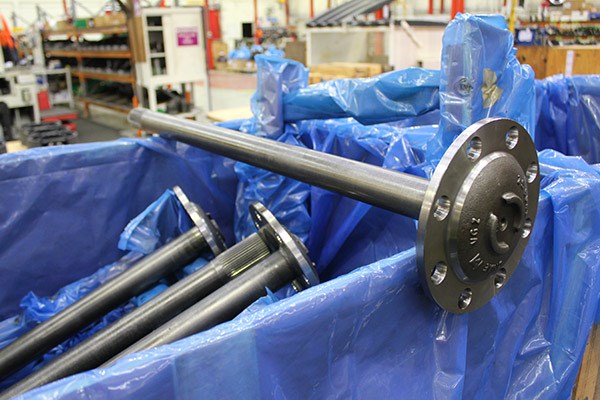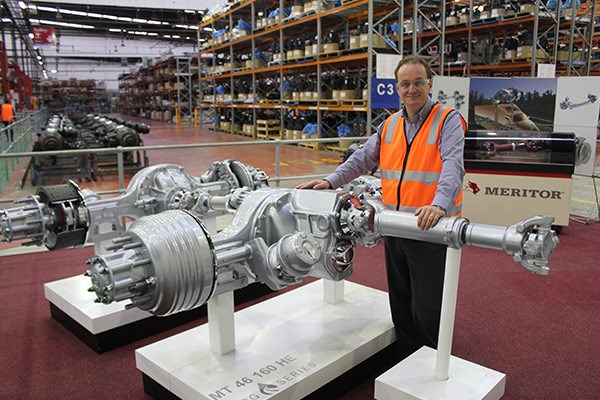 Final product: Meritor's Michael Snell stands with a show version of the well-known Meritor 46 160 drive axle set.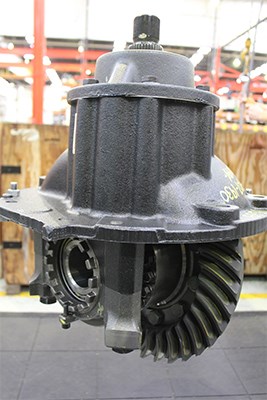 A diff head, containing the differential gearing, ready to be lowered into the diff housing.

We visit Meritor's assembly plant in Australia, and pass on advice from the American axle giant on how to maintain traction in slippery conditions without damaging the truck
Here's a question that will be a bit tricky for a lot of fleet managers and truck drivers.
What's the difference between a power divider and a diff lock?
The answer is that the power divider locks the front axle to the rear axle on a tandem axle set; and the differential lock locks both wheels on the same axle, ensuring that they spin at the same speed.
In the cab of a truck you might have three switches for extra traction in the rough stuff: one for the power divider — which is also called an 'inter-axle differential'; and two for the diff locks on each drive axle.
Knowing when to use each of them properly could prevent a driver getting bogged in a paddock or on the dirt; or prevent you slipping off the bitumen in ice or snow.
And a bit of knowledge could also avoid doing big damage to the axles.
Keeping it on road
Here is the official advice from Meritor on all this. It comes from a technical bulletin titled Driver Instruction Kit TP-95790, and it's for the 'Inter-Axle Differential' (IAD, or power divider) and 'Driver-Controlled Main Differential' (DCDL, or diff lock).
What Meritor calls 'tandem axles' in Australia we usually call 'bogey drives' or '6x4s'.
All Meritor tandems have a power divider.
"Drivers may lock the IAD to improve traction when encountering adverse conditions where loss of traction may be possible," the technical bulletin says.
"The IAD lock may be used at all speeds and for long time periods depending on the road conditions such as rain, snow or gravel/dirt roads."
That's a very different situation to the diff locks, which come as an option for the forward drive axle, the rear drive axle, or both.
They should only be used at very low speeds because steering can be badly affected.
"The DCDL is used during on and off highway operations that encounter slippery road conditions and/or uneven terrain," the bulletin says.
"It is used only at low speeds while travelling through an area with poor traction conditions and should be deactivated as soon as the vehicle is through the area.
"Drivers may lock both the IAD and the DCDL for maximum traction under icy, snowy or poor road conditions.
"However, when using both of these traction-enhancement devices or the DCDL alone, vehicle speed must remain at 25mph [40km/h] or less."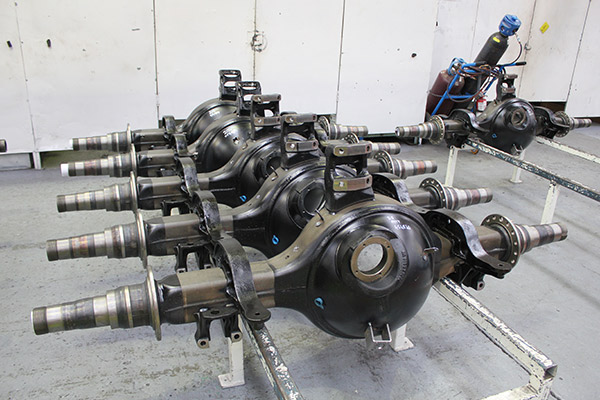 Using both
"When approaching poor traction conditions, first engage the IAD switch," the bulletin says.
"As conditions worsen and when vehicle travel speed is 25mph [40km/h] or less, the DCDL lock can then be engaged.
"When the DCDL is locked, the vehicle's turning radius will increase. This condition is called 'understeer'.
"The driver must use caution, good judgement and drive at low speeds.
"Do not lock the DCDL when the vehicle is travelling down steep grades, or potential loss of vehicle stability could result in a jackknife of tractor and trailer."
The other key thing in all this is to not to engage either the power divider or the diff lock when there is already wheel spin out or the wheels are slipping.
The trick prior to travelling on adverse road surfaces is to flick the switch while keeping a constant speed, and then take your foot off the accelerator momentarily to relieve torque on the gearing and let the locks engage.
With Meritor axles, an indicator light should come on for the diff locks.
It's the same procedure for unlocking, with the diff locks going first while still at slow speed.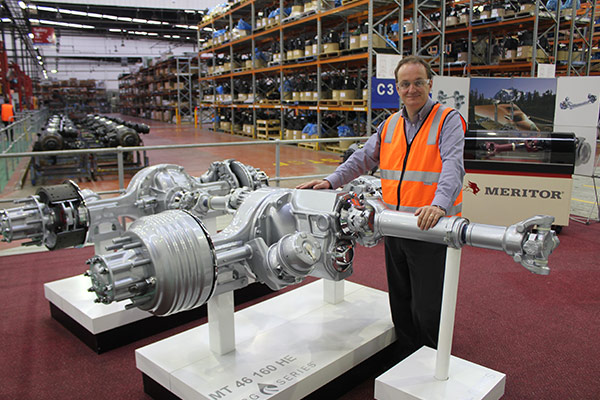 Familiar name
Meritor is a big name in trucking, and says its RT46160 tandem drive axle is the most popular tandem axle in line-haul and vocational applications in Australia.
Meritor's lineage goes back more than a century to Detroit in the United States, but the name only became prominent after 1997.
That's when big manufacturing conglomerate Rockwell International listed its automotive business separately on the New York Stock Exchange, calling it 'Meritor'. That explains why 'Rockwell diffs' are so common in older trucks.
Meritor has an assembly plant at Sunshine in Melbourne's west, and an aftermarket part distribution centre (DC) at nearby Derrimut.
TradeTrucks recently had a tour of the Sunshine plant with Australian sales and marketing manager Michael Snell.
A truck a day leaves Sunshine for the Kenworth and Iveco factories in Melbourne, and axles are also supplied to Volvo Group's Brisbane plant for Mack trucks.
This 'just in time' system means the truck manufacturers don't have to store axles themselves.
"We take global product platforms and tailor them for the Australian market," Snell says.
"It gives flexibility to the manufacturers, who can tailor the trucks to the customers' specific applications."
That means a huge variety of combinations can be put together at Sunshine when you take into account drum or disc brakes; types of wheel end; and choice of diff ratio.
There's even greater choice when you add different types of suspension options to the axle equation, but Meritor doesn't supply these in Australia.
Its trailer products in Australia are handled by MaxiTrans.
Meanwhile, for some uniquely tough Australian conditions, the Sunshine plant adds housing reinforcement to some of the bigger axles to give greater rigidity in arduous operation.
Subscribe to our newsletter
Sign up to receive the Trade Trucks e-newsletter, digital magazine and other offers we choose to share with you straight to your inbox
You can also follow our updates by liking us on Facebook. 

Trucks For Hire | Forklifts For Hire | Cranes For Hire | Generators For Hire | Transportable Buildings For Hire