Top five Mercedes-Benz Trucks from the last decade
---
We trawled back through the last 10 years and have counted down our five top Benz trucks. Which came in at number one?
Part of Daimler's diverse brand range, Mercedes-Benz has truck models for all facets of transport, from delivering groceries all the way up to heavy haulage powerhouses.
While the majority of our interactions with the German giant have been in an Actros, there is more to the Benz range than the ever-evolving highway hauler and they feature below.
As with the Kenworth, Scania, and Mack countdowns, we are taking a look back over the last 10 years to pick the top five Mercedes-Benz vehicles tested by our team.
These are the trucks that really struck a chord with our reviewers, be it for innovation, inspired design, hauling performance, or that elusive X-factor.
Whether you agree with our verdict or not, choose your favourite in the poll at the bottom for it to go into the running for the Favourite Truck of the Last Decade, as decided by our readers.
5. Mercedes-Benz Econic 2629LL
The Mercedes-Benz Econic is a medium-duty urban vehicle that looks like the child of a truck and a bus.
The vehicle doesn't come with a dual-control option but the garbage variant we trialled had ample stand up and walk room; rear cupboard space; and ease of entry.
Plus the truck had a reassurance from windscreen and reversing cameras; and the addition of steel bumper to protect the lights from pesky cars and bins.
For a waste compacter, the Econic might look a bit funny but it's not a unique creature.
4. Mercedes-Benz Arocs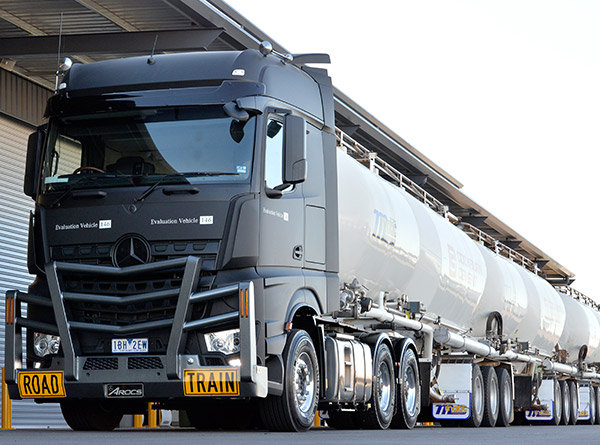 The all new Mercedes-Benz truck range hadn't officially been released in Australia when we reviewed the new Arocs, however an equation unit gave us a first glimpse at the heavyweight before the local testing program fired up.
Behind the wheel of Evaluation Unit 146, a 6x4 Arocs prime mover, with a Euro 6 16-litre 630hp in-line 6 cylinder HDEP engine, Matt Wood said "within minutes of rolling out of Mercedes-Benz's Mulgrave headquarters, one thing was very clear: this was the most un-Benz like Benz I'd ever sat in."
Why? Because it had a harder edge and urgency that its bigger forebears never had.
3. Mercedes-Benz Actros 2644 LS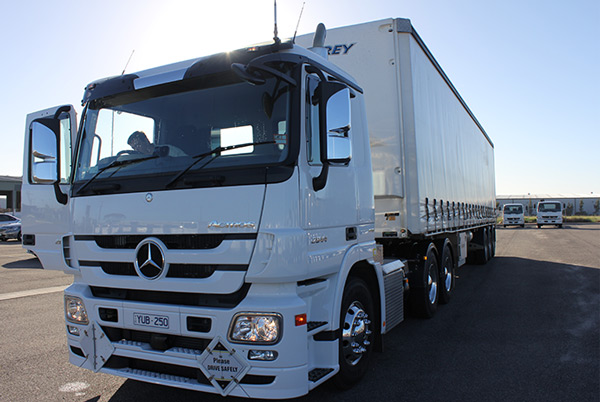 Tested in 2013, the Actros 2644 LS FleetStar came with a suite of safety systems, including Telligent Stability Control; Telligent Brake System with ABS and ASR (anti-skid); Active Brake Assist, which applies full brake force in an emergency situation; Telligent Proximity Control; and Lane Assistant.
While the new European cab didn't ship down under, the FleetStar's new engine, with 320kW and 2,100Nm of torque, showed it had more than enough grunt to handle single trailer applications.
Good all-round vision, comfortable ride, quality fuel consumption and safety options ensured the 2644 LS was considered an excellent performer in a variety of configurations.
2. Mercedes-Benz Actros 2660 LS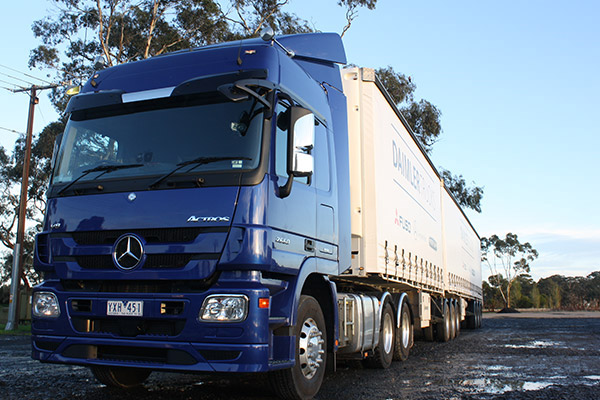 There's a certain character that emanates from the big 15.9-litre V8 engine and the 600hp 2660 LS donk has character in spades.
While the 2013 model did not have the same power as the Actros SLT, the driveline, the engine and transmission communicated performed beautifully during our test drive.
But what really made the Actros more attractive, from a long-haul perspective, was the introduction of hypoid drive axles, rather than the traditional hub reduction drive, Benz had been using across the board.
The change meant fuel reductions could be felt up to 14 per cent; a big saving for transport operators.
1. Mercedes-Benz Actros SLT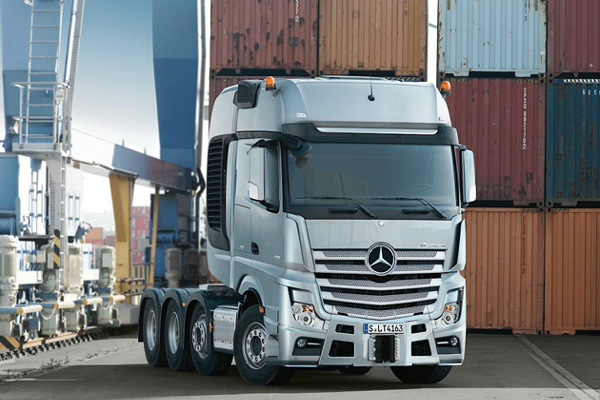 Early in 2014, Matt Wood had the chance to get behind the purpose-built Actros SLT 8x8 to see whether its 15.9-litre V8 turbo diesel engine, with 653hp and 2212ft-lb (3,000Nm) of torque at 1,080rpm, could shake off Benz's association with grocery deliveries.
And … After a few hours with the heavy hauler he walked away feeling mighty impressed, describing it as the "the most well rounded Actros variant I've driven."
For that reason, the Actros SLT finishes in first place.
Click here to subscribe to TradeTruck's weekly newsletter and receive all the news directly in your inbox.
Subscribe to our newsletter
Sign up to receive the Trade Trucks e-newsletter, digital magazine and other offers we choose to share with you straight to your inbox
You can also follow our updates by liking us on Facebook. 

Trucks For Hire | Forklifts For Hire | Cranes For Hire | Generators For Hire | Transportable Buildings For Hire