Going to the heart of Volvo's approach
---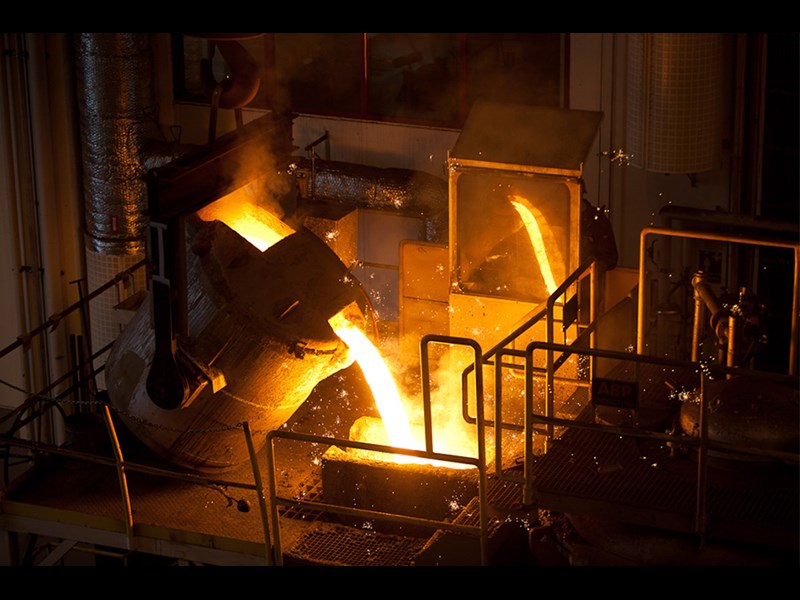 This molten metal ends up in a Volvo engine.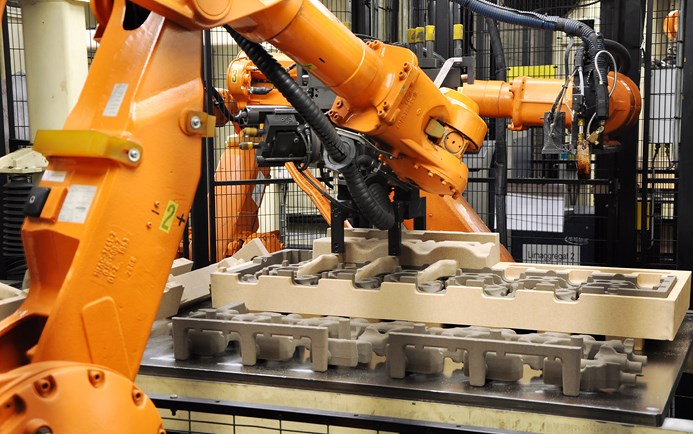 Robots do a lot of the work at the Volvo engine plant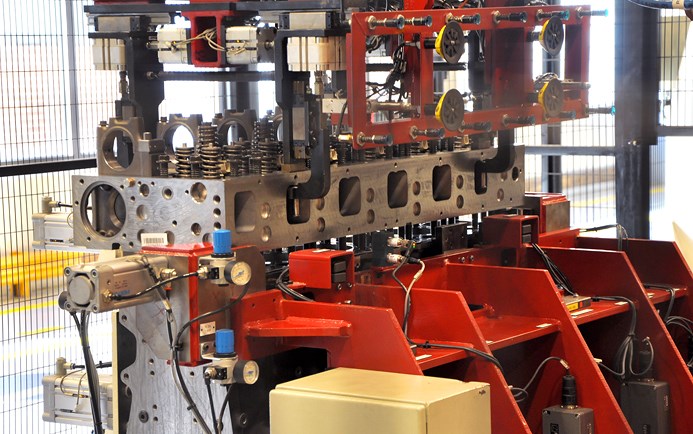 A heavy duty engine coming together.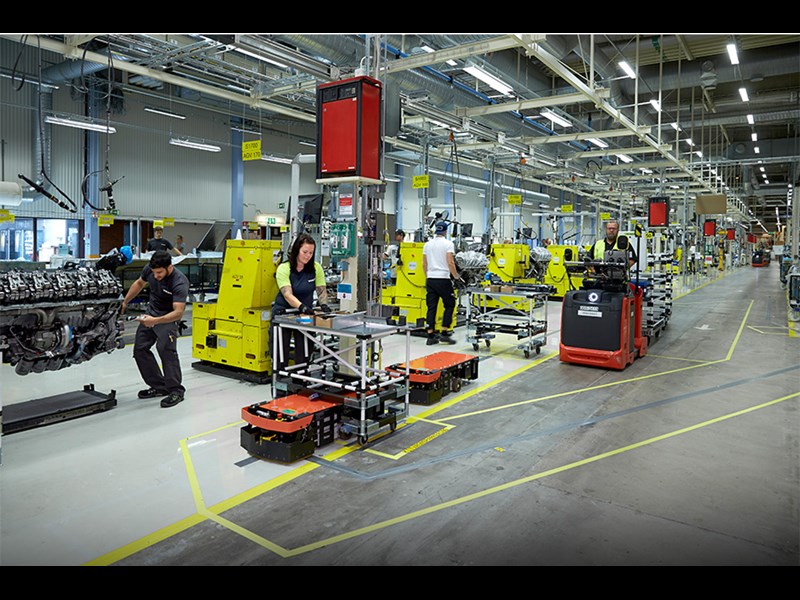 Workers on the engine assembly line.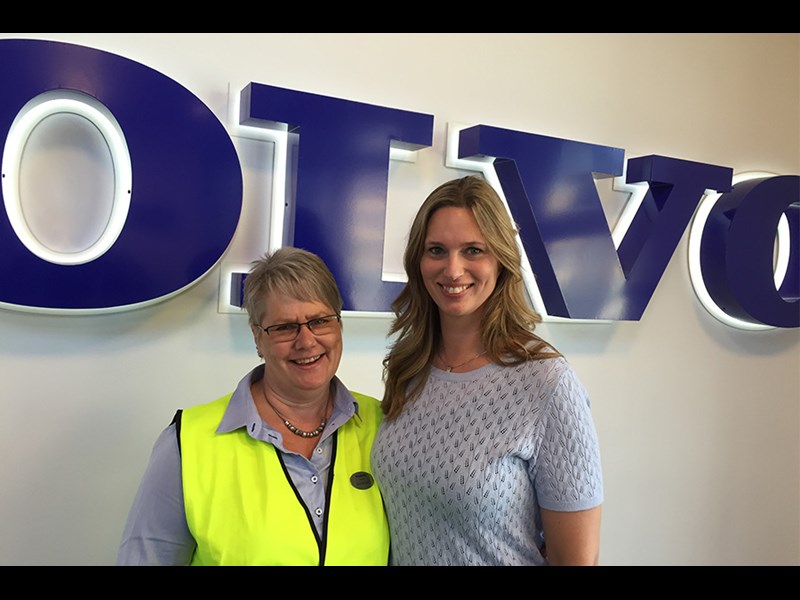 Engine plant tour guides Gunnel Galle and Maria Salomonsson.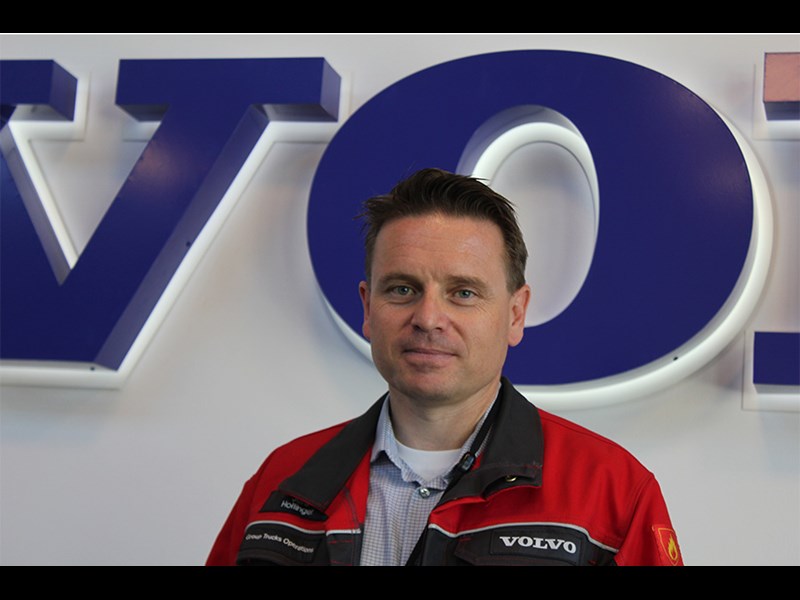 Informal engine plant team captain Jens Holtinger.
A visit to Volvo's main global engine factory reveals some interesting insights into the successful Swedish psyche
You wouldn't expect that such a huge factory could be based in such a small city.
Volvo's main global engine plant is at a small city called Skovde (pronounced Swevder), population 54,000, on the main rail line halfway between Gothenburg and Stockholm on the opposite coasts of Sweden.
It's also near the same lake sand deposits the Swedes used for molten manufacturing at Skovde as far back as the 1860s.
Sand is essential for making the moulds that molten metal is poured into to make engine castings.
Our touring party watched this process going on at Volvo's relatively new foundry, built in 2010, which is five storeys high and uses nearly all scrap steel. Here blocks and cylinder heads for all Volvo group heavy duty engines including Mack, Renault and UD are made.
That was interesting enough, but in a separate part of the massive complex we saw 13 and 16 litre engines being completely put together stage by stage. This is the Volvo group's biggest engine assembly plant, and caters for Euro 3 to Euro 6 emissions standards.
Last year it produced more than 80,000 engines, 90 per cent of them 13 litre.
The workers don't all wear the same uniform, and yes amongst the more than 20 nationalities were  a few Agnetha, Frida, Bjorn and Benny look-alikes.
However there are also a lot of robots, built by Swiss-Swedish manufacturer ABB. They are even used for transporting parts between stations.
Volvo says without robots, it can't compete in the global truck industry, and the company is actually testing robots that can work together with humans.
In the boat together
After the factory tour for truck journalists hosted to Sweden by Volvo, we transferred to the board room for a presentation from the plant manager.
Jens Holtinger almost looks too young to have been in charge of nearly 3,000 people for the past five years. And rather than the expected suit and tie he was wearing an open-necked shirt with a T-shirt visible underneath.
It soon became clear that Holtinger – who worked for two years at the Volvo plant in Brisbane - has a humble passion for his job.
His standout comment was that the management and workers get along so well together that he can't remember the last time there was a strike.
An incredible 70 per cent of the Swedish workforce is in a union, and Volvo's staff are unionised too. But the company and union bosses work as a team.
"We have the same view. Their view is the only way to safeguard jobs is to be efficient," Holtinger says.
"We say if you want a 2 per cent salary increase, then we need 2 per cent-plus productivity next year. We cannot increase prices."
People power
Like ABBA and everyone else I encountered from Volvo in Sweden, Holtinger has a perfect command of the English language.
English is compulsory in school, and demonstrates the strong emphasis on education that the Swedes invest in.
"Knowledge and skill, that's where the battle is won or lost," Holtinger says. Volvo even has its own secondary school and university at Skovde, co-funded with the government.
Such a value is placed on education that the plant had planned for shortstaffing on the day we visited, with lots of parents away for the school graduation and ensuing party.
"My biggest concern is people, always," Holtinger adds. "How do we have the best qualified people over time?  A machine I can buy everywhere.
"And you should not develop yourself for your next job, you should develop yourself to keep your job, because we have a surrounding world that's moving very quickly, and I expect every employee to train and learn new things."
Of course that includes stuff to do with computers: "Software today is a huge part of the value-added of an engine."
The Skovde engines go mostly to Europe but all over the world, including the Volvo factory in Brisbane (2 per cent). There's another big engine assembly plant in Hagerstown, USA.
Most of the engines go to the Volvo truck assembly factory at Tuve in Gothenburg.
Subscribe to our newsletter
Sign up to receive the Trade Trucks e-newsletter, digital magazine and other offers we choose to share with you straight to your inbox
You can also follow our updates by liking us on Facebook. 

Trucks For Hire | Forklifts For Hire | Cranes For Hire | Generators For Hire | Transportable Buildings For Hire