A Benz for the 'burbs and beyond
---
Given the scale and scope of Mercedes-Benz's bold new range of trucks and the broad coverage already applied to its big bore models, it's perhaps easy to overlook the potential impact of shorthaul and regional specialists such as the 2643.
Yet just a day behind the wheel leaves little doubt this quiet, comfortable 11 litre livewire will play a major role in the resurrection of the Benz brand in a vast array of single trailer distribution roles.
Punched by the relatively modest displacement of an OM470 10.7 litre in-line six cylinder engine, the tandem-drive 2643 offers peak figures of 315 kW (428 hp) at 1600 rpm and 2100 Nm (1549 lb ft) of torque from 1100 to 1400 rpm.
Its bigger brother is the 2646, with the same engine producing 335 kW (455 hp) and 2200 Nm (1623 lb ft) at the same engine speeds.
The OM470 is, however, an engine also powering three 4x2 prime mover models (1840, 1843 and 1846) as well as a 6x2 derivative called the 2543, making it the most widely used engine in the entire range of new Benz trucks.
Even so, the 10.7 litre displacement is one point of a four-pronged Daimler engine family (7.7, 10.7, 12.8 and 15.6 litres) powering the new line-up. All engines are in-line six cylinder designs employing a combination of SCR, EGR and a diesel particulate filter to achieve the Euro 6 emissions standard deemed so desirable by those major freight customers keen to be green in the eyes of consumers. Giant supermarket chains, for instance, which are an obvious and potentially lucrative target market for the 2643 and its close kin. 
Meantime, there's not much separating the 2643 and the 2646 other than different performance figures and the fact that the '43 has a gross combination mass (GCM) rating of 45 tonnes whereas the '46 is rated up to B-double weights of 62.5 tonnes.
Each drives through a 12-speed PowerShift automated transmission into a hypoid drive tandem with diff locks, mounted on an eight-bag air suspension, running a tall 2.846:1 rear axle ratio.
Built on a 3250 mm wheelbase, they come with a typically high level of standard features starting with electronic disc brakes, ABS anti-lock and ASR anti-skid functions, and the incredibly handy hill-hold feature which does so much to ease stress on sharp lift-offs for driver and driveline alike. Gratefully, an effective engine brake is also part of the package.
In standard format, diesel capacity is 290 litres in a single tank mounted on the passenger side, with a second tank of the same size optionally available for the driver's side. AdBlue capacity is 60 litres on the passenger side.
In both models the 2.3 metre wide cab has the floor raised 320 mm above the engine tunnel, making it the lowest profile cab in the range.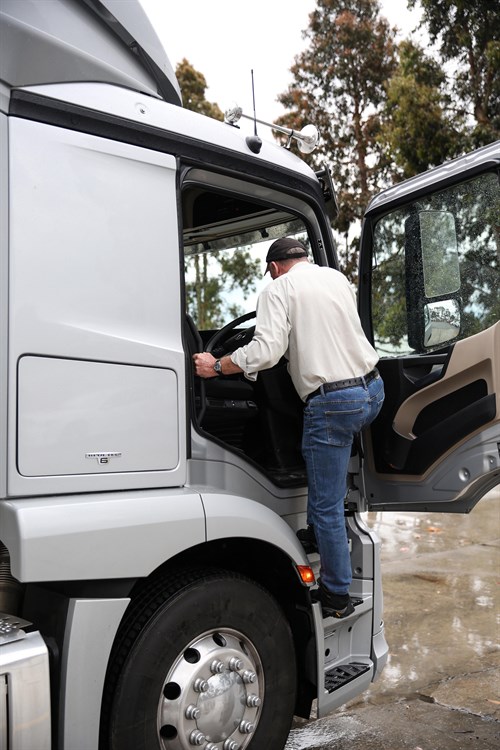 There's the choice of a day cab layout or a sleeper version with a 750 mm wide inner-spring mattress and a respectable sleeping area for overnight stops. Importantly, floor height over the engine tunnel is a surprisingly small impediment to sleeper access.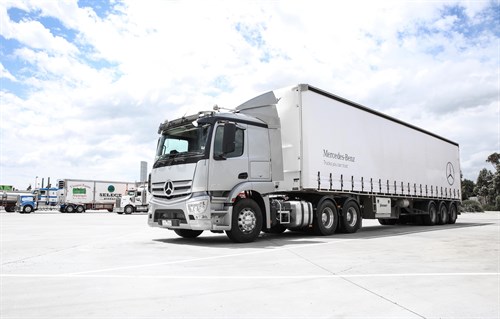 At the launch of the new Mercedes-Benz family several months ago, the 2643 was a real surprise packet during relatively short stints behind the wheel between Cairns and Townsville in Far North Queensland. Asked if the model could be made available for a test run in the more likely environs of country and suburban roads around Melbourne, confident Benz executives were quick to agree.
Consequently, the same sleeper model used at the launch program was provided for this exercise, hooked to a curtain-sided trailer and with a further 12,000 km on the clock following trials with fleet operators.
Gross weight wasn't great at just 30 tonnes but then, it's not uncommon for trucks pulling single trailers around the 'burbs to spend much of the day at weights significantly less than max anyway.
Looking for a mix of roads and traffic conditions, the truck was pointed south-east towards Leongatha from the Whitehorse Trucks dealership in Dandenong, then across secondary roads to Gippsland's Warragul before heading back through snarling suburbs to Dandenong. All up, 210 km of vastly different conditions starting with sodden freeways and fierce winds, and ending with a still, hot afternoon in congested traffic.
Yet just as it had done in Cairns, there was much to like about this truck from the get-go. For starters, it's a short, easy climb into a cab that's extremely practical and entirely comfortable. In fact, if there's one thing that stands out in all the new Benz cabs, it's the ease of familiarity. Switchgear and control functions are quickly understood and generally well placed, enhancing an internal cab design which is smart, neat, well-appointed and definitely driver friendly.
In performance terms, the '43 certainly has the ability to surprise. Even taking into consideration the modest gross weight of the test unit, the sharp throttle response typical of a relatively small displacement engine is matched by an unexpected willingness to dig deep into the rev range and hold onto a gear with appreciable determination.
Sure, it's not a potent powerhouse in hilly terrain but with the inherent perseverance to pull down to 1100 rpm before swapping to a lower cog, there's a tenacity about this model which at times can seem quite remarkable.
Add to this an intuitive and smooth automated transmission obviously programmed to maintain the most efficient operating range – cruising at 100 km/h around 1450 rpm – it's easy to accept reports of exceptional fuel economy being proffered by Mercedes-Benz representatives as fleet trials continue.
In this exercise, the 2643 returned 2.6 km/litre (7.3 mpg). Admittedly, gross weight was relatively light but at the other end of the scale, the truck was hammered by fierce winds earlier in the day and copped plenty of interruptions from roadworks and heavy traffic. So all up, it's hard to view the final fuel figure as anything other than positive.
As for on-road manners, the 2643 is an absolute pleasure to drive. Smooth, comfortable, quiet, good steering and handling on all road surfaces, and excellent manoeuvrability are all appealing qualities for its likely applications.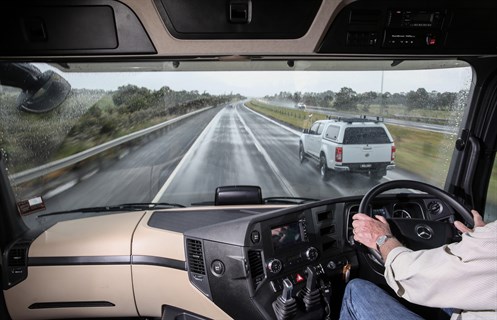 Still, there's room for improvement. Vision through a deep windscreen and large, electrically operated side mirrors wins high marks except for the fact that like so many trucks nowadays, broad mirrors significantly impede vision through the front quarters, particularly on the approach to roundabouts.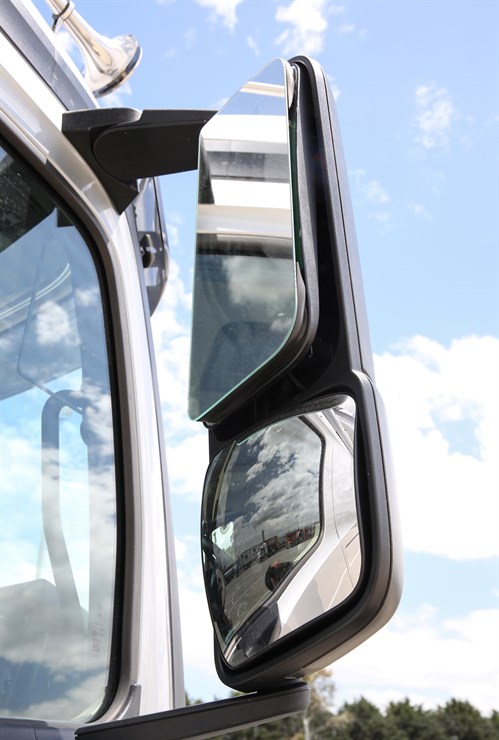 That aside though, the Mercedes-Benz 2643 is a high quality truck with plenty of positives for pulling a single trailer in shorthaul and regional roles, providing the hills aren't too tall and too constant. If they are, it'd be wise to consider its 2646 brother.
Either way, it's another tick for the new range of Mercedes-Benz trucks.
For the full story, see the February edition of Owner//Driver.
Subscribe to our newsletter
Sign up to receive the Trade Trucks e-newsletter, digital magazine and other offers we choose to share with you straight to your inbox
You can also follow our updates by liking us on Facebook. 

Trucks For Hire | Forklifts For Hire | Cranes For Hire | Generators For Hire | Transportable Buildings For Hire