Snapshots of 2017 Brisbane Truck Show
---
Fifty years after the first Brisbane Truck Show kicked off as a modest collection of truck and trailer brands looking to take their message to the masses, 2017 revealed yet again why this biennial showcase has evolved to become the biggest and brightest trucking event in the Southern Hemisphere. Bar none!
BORN AGAIN
Previewed in Australia for the first time at the 2015 Brisbane Truck Show where it won the Truck of the Show award, International ProStar has finally found a home Down Under.
After long-winded negotiations with Navistar in the US, Iveco is now the distributor of the versatile American truck which was showcased alongside Iveco's Stralis flagship.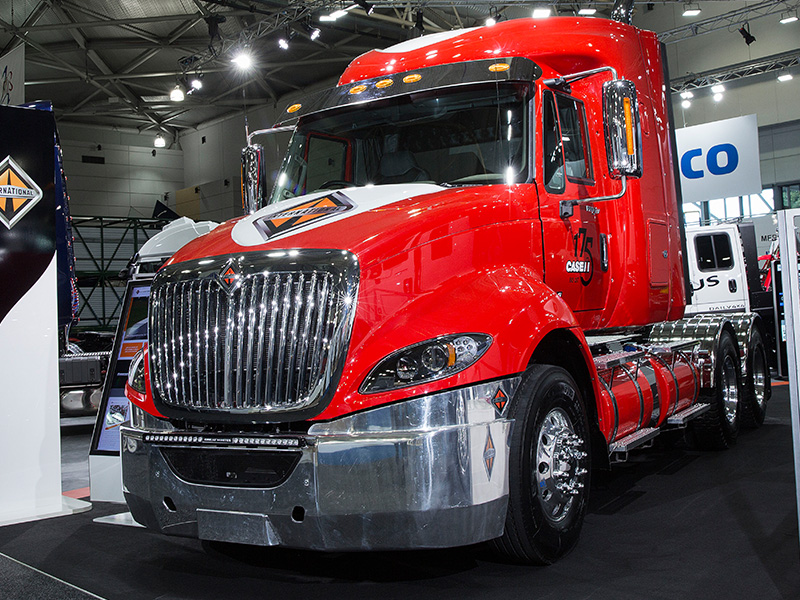 Under ProStar's sloping snout is an industry-standard driveline punched by a 15 litre X15 Cummins coupled to manual or automated versions of Eaton's ever-reliable 18-speeder, feeding through a Dana driveline into Meritor diffs mounted on Hendrickson Primaax air suspension. Cabs come in three forms – day cab, extended cab and full-size integrated sleeper.
Word has it that Iveco dealers are excited to again have International on the books but the big hope is that this relationship between the two entities survives longer than the last.
From what we've found after several stints behind the wheel of ProStar – admittedly, some time back – the truck has what it takes to forge a sound future in our part of the world.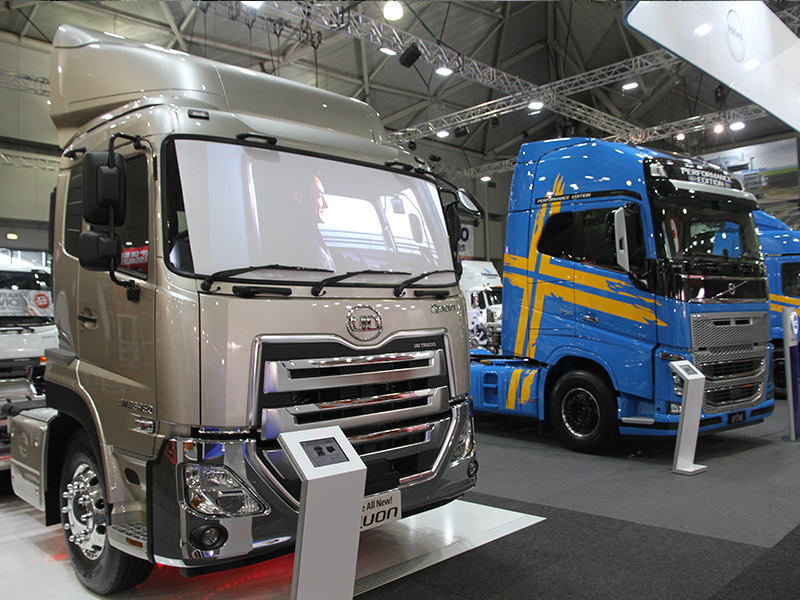 GROUP TACTICS
UD may be the baby of the Volvo Group triumvirate but it certainly had the biggest news at Brisbane with its vastly revamped Quon flagship.
Even a quick squiz reveals a strong Volvo influence inside and out but there are significant changes underneath as well. For starters, the Volvo-designed GH11 engine has been pushed up to 460 hp to cope with a gross mass increase to 60 tonnes.
The standard shifter is what UD strangely calls 'Escot VI', essentially Volvo's slick I-shift automated 12-speeder. We hear it'll soon be rebranded 'U-drive' but the important thing is that it's just as advanced and intuitive as its Swedish counterpart.
Many opinions – including this one – rate Quon the best Japanese prime mover on the market and from what we've already seen, it's an opinion set to grow even stronger.
Standing alongside the new UD, an upbeat Volvo was obviously intent on reminding everyone of its Swedish heritage with 'Performance Edition' versions of its supremely popular FH and FM models dressed in national colours.
Whatever the colour though, there's no question Volvo is enjoying the most successful era in its Australian history. And it's an era likely to grow even stronger with news at the truck show of the overdue return of the significantly larger XXL sleeper cab for the flagship FH.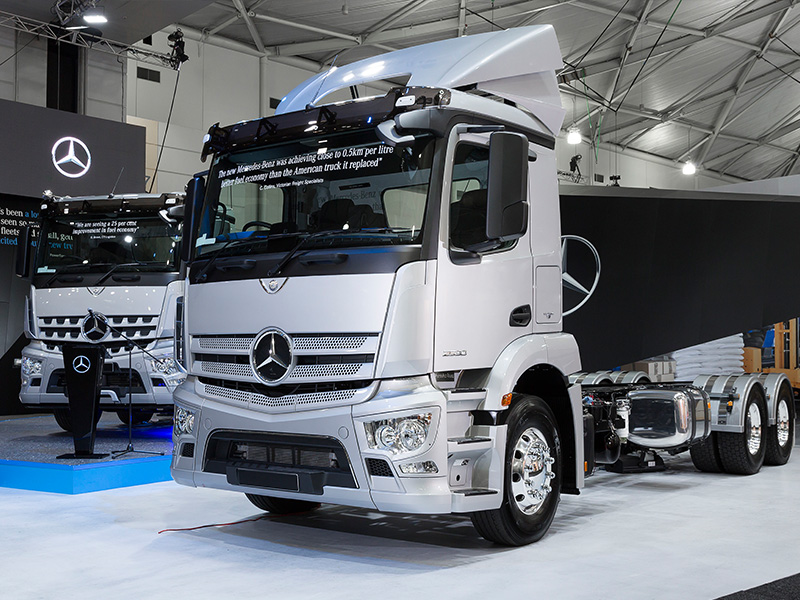 BABY BENZ
Following on from the successful introduction of its new generation prime mover range, Mercedes-Benz unveiled the second phase of its complete model makeover with the launch of a dedicated rigid line-up.
The newcomers will go on sale within the next few months and predictably, come in 4x2, 6x2, 6x4 and eight-wheeler configurations for both distribution and specialist vocational work.
There's a mix of cab sizes in slimline and sleeper layout while power comes from either a lively 7.7 litre in-line six rated at 299 or 354 hp, or an 11 litre six available at 394, 428 or 455 hp.
All models stir through Mercedes-Benz's PowerShift automated transmission, an eight-speed in 4x2 and 6x2 models, and 12-speed in 6x4 and 8x4 versions.
The third and final phase of the new Benz breed will come towards the end of this year with the introduction of purpose-designed construction and all-wheel-drive rigids.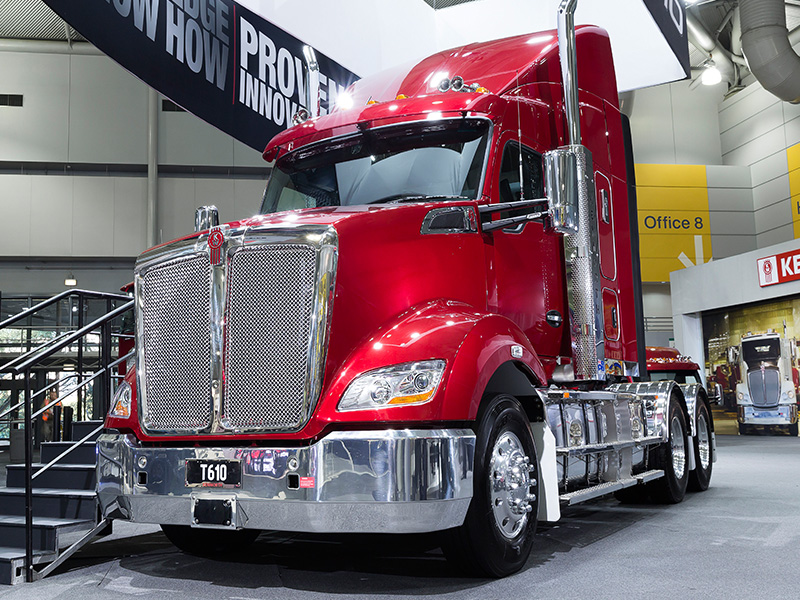 BEST YET
So what's there left to say about Kenworth's new T610 and T610 SAR models that hasn't been already said?
With a completely new and wider cab, these are without doubt the most exciting new conventionals to come out of the Kenworth camp in decades and after more than $20 million spent on development, there's little wonder Kenworth Australia is hailing the new models 'Our Best Truck Yet'.
This year's Brisbane show was the first public appearance of these classy conventionals and for the vast majority of the show crowd, this was their first close-up look at Kenworth's latest and potentially greatest trucks.
"Like bees to honey," was how one observer put the constant stream of visitors to the Kenworth stand.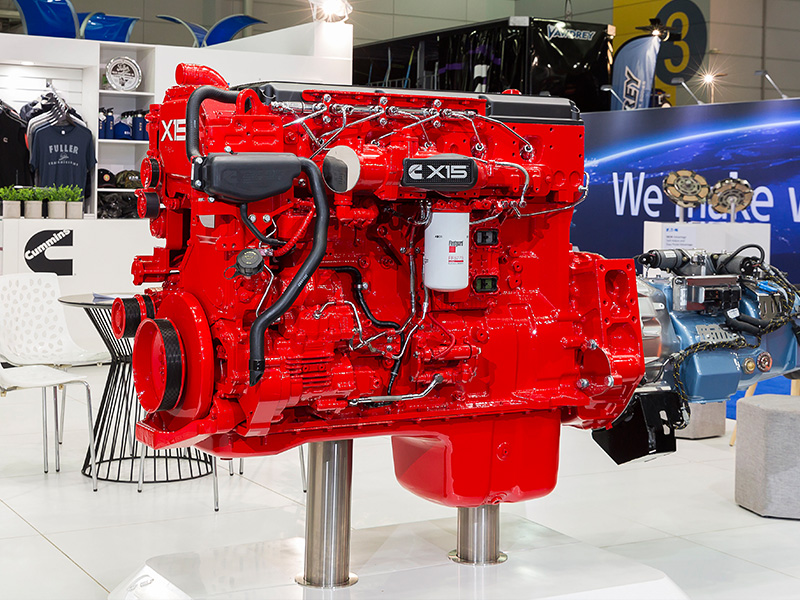 X FACTOR
On the engine front, none had bigger news than Cummins and there were plenty of willing listeners when Mike Fowler, Cummins South Pacific director of engine business, announced that both the 15 litre X15 and 12 litre X12 engines will meet the proposed Euro 6 emissions standard WITHOUT any EGR input.
While the Euro 6 standard may be still several years away from being mandated in Australia, Cummins used the Brisbane show to ease customer fears of increased complexity.
"We are giving customers confidence that the X15 they have now will be very similar to the X15 they will have for Euro 6," Mike Fowler explained, citing SCR (AdBlue) technology and a new single module after-treatment system as the keys to Cummins' strategy for Euro 6.
As for the X12, formerly known as the ISG12 and said by Cummins to have the best power-to-weight ratio of any engine in the 10 to 16 litre class, it will also rely on SCR and advanced after-treatment to counter the need for any EGR input.
Rated up to 500 hp and 1700 lb ft, the X12 is a highly promising engine which has yet to find a chassis to call home in Australia. However, the quiet word at Brisbane was that one truck brand is close to signing up.
Meantime, there's much to be gained by the announcement of closer technological ties between Cummins and transmission giant Eaton. In a smart move for the two brands, it's an arrangement which mirrors the successful European strategy of looking at engine and automated transmission development as a collective exercise rather than separate functions.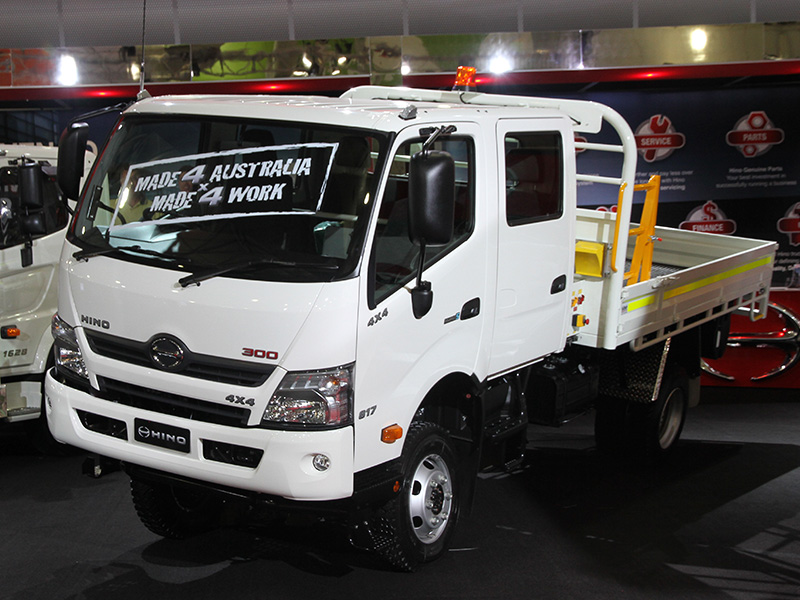 FIRST PEEK
It won't officially join Hino's ranks until later this year but the 'world first' preview of a 300-series 817 4x4 model at the Brisbane Truck Show left no doubt that much will be expected of this off-road specialist.
For the moment, Hino is keeping the full specification close to the chest but the 817 numerals at least indicate that gross vehicle weight will be around eight tonnes and maximum power up to 170 hp.
According to a statement issued immediately prior to the show, selected Hino customers have been evaluating prototype versions on and off-road since 2014, from Australia's interior to Cape York.
"It's a model customers and dealers have been asking for," said Hino product manager Daniel Petrovski, indicating the truck's potential to tackle the success of Isuzu and Fuso in a wide range of off-road applications.
The new model will follow in the wake of Hino's impressively revamped 500-series wide cab range launched earlier this year and will similarly offer a formidable array of standard features including vehicle stability control and reversing camera.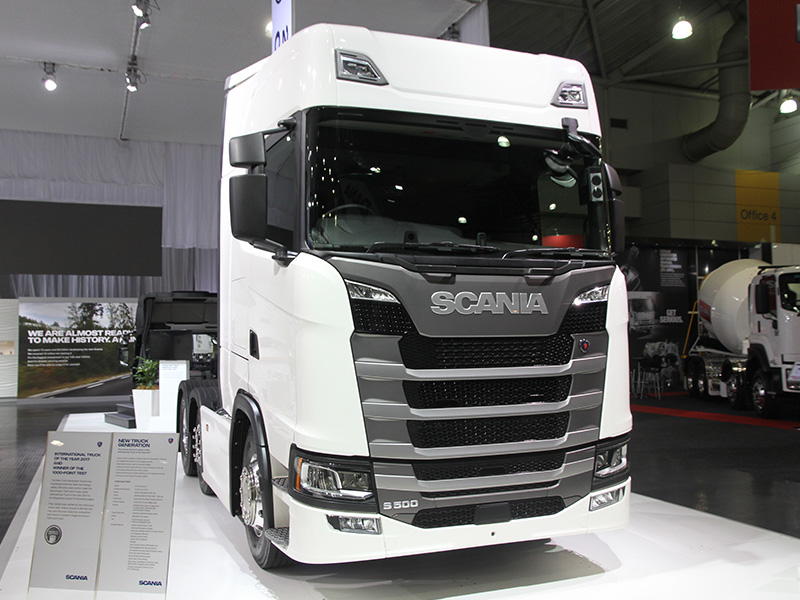 HELLO GOODBYE
In truck terms, the standout attraction on the Scania stand was the first Australian preview of the Swedish brand's 'New Truck Generation', recently crowned Europe's 'International Truck of the Year'.
Known as the S 500 model, the righthand-drive Pommie spec 6x2 was shipped from the UK to Australia specifically for the Brisbane Truck Show and according to Scania, was headed straight back to the UK after the show.
Also heading back to the UK, however, is Scania Australia managing director Roger McCarthy (pictured).
After an eight-year stint guiding Scania to its best performances in the brand's history here, it will be imperative for his (Swedish) successor to maintain the considerable momentum produced by McCarthy's extensive experience and commercial initiatives.
As for the new truck, even Roger McCarthy concedes its Australian introduction is "still some considerable way off" but of all the attributes that separate it from Scania's current range there are possibly none more positive than the driver's layout. A cut-way cab highlighted a vastly improved and far more stylish interior design.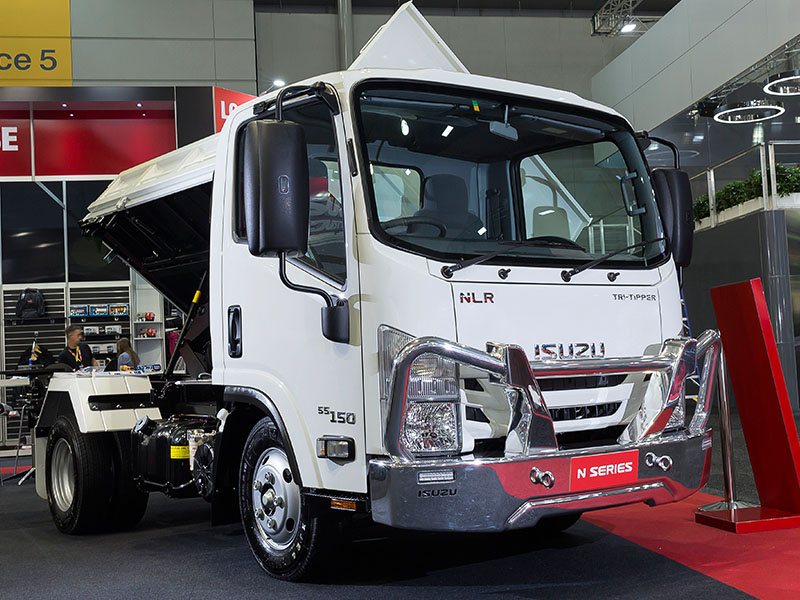 PACK 'n' GO
With Penske Commercial Vehicles (Western Star, MAN and Dennis Eagle) strangely opting out of this year's truck show, market leader Isuzu wasted no time securing the site and filling it with examples of its hugely diverse model range.
In fact, if anyone ever wanted visual proof of why Isuzu has commanded leadership of the total Australian truck market for almost three decades on the trot, they wouldn't need to have looked any further than the Brisbane Truck Show where there seemed to be something for almost everyone.
Isuzu's inherent ability to fill almost every niche with a purpose-built truck is no more evident than in the much publicised 'Ready to Work' range which continues to carve an extraordinary following. From the Traypack to the Tradepack, Servicepack and now Vanpack, it seems there's no end to Isuzu's determination to fill every void.
Continuing the theme is a new tri-tipper NLR model fitted with a factory-built three-way tipper body. And it's not as if it's a basic spec, either. Standard features include electronic stability control, ABS anti-lock braking, ASR anti-skid function and hill-start assist.
Meanwhile, at the heavier end of the Isuzu stable, the F-series eight-wheeler agitator continues to win business from more traditional brands. Even so, it's the heavy end where Isuzu seems to suffer its only void with the lack of an acceptable and efficient prime mover model. In our estimation it won't happen anytime soon, but there's little doubt it WILL happen, eventually!
As for Isuzu giving up its newfound premier position if and when Penske chooses to come back to the Brisbane show, one Isuzu insider summed it up succinctly. "No chance!"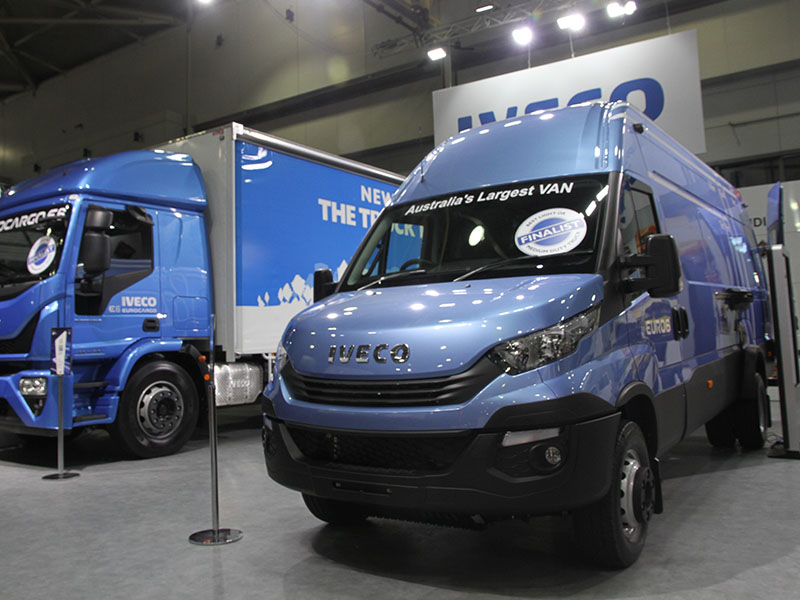 CLEANIN' UP
Arguably the biggest revelation from Iveco was the surprisingly brief mention of plans to later this year start building some Stralis models at Iveco's Dandenong (Vic) plant. Strangely, that's as much as Iveco had to say on a crucial development concerning the factory's ongoing viability.
There was, however, certainly no lack of diversity on the stand, from the flagship Stralis cab-over to the evergreen ACCO and of course, the arrival of International ProStar as part of the Iveco stable.
Down the weight scale, there were new Euro 6 versions of its medium-duty EuroCargo 4x2 and a high-volume Daily van making their first public appearance.
The van is particularly interesting, not least because it comes with a gross vehicle mass (GVM) rating of seven tonnes on a long 4100 mm wheelbase, and is available with load volumes ranging from 16 to 18 and a cavernous 19.6 cubic metres. With such expansive credentials, Iveco is in no doubt the van provides a viable alternative to pantech-bodied light trucks.
On the completely restyled Euro 6 version of EuroCargo, it's a truck which comes with GVM ratings from 12 to 18 tonnes and cabs in slimline, low and hi-roof sleeper, and crew cab forms.
Underneath is Iveco's responsive 'Tector 7' engine in outputs ranging from 185 kW (250 hp) to 206 kW (280 hp) coupled to the choice of either a nine-speed ZF manual transmission or a five-speed Allison automatic.
As Iveco likes to point out though, the Tector achieves Euro 6 compliance without any EGR input, relying instead on a system comprising what it calls Hi-SCR and a single diesel particulate filter.
No matter where you look these days, EGR seems to be increasingly on the nose with suppliers and customers alike.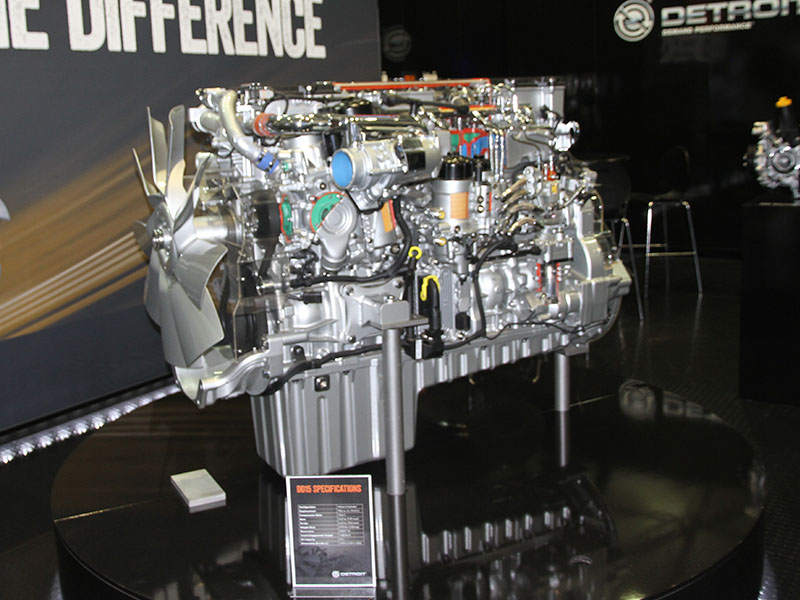 LONE VOICE
With most truck and engine suppliers these days distancing themselves from EGR technology for one reason or another, Detroit seems to be something of a lone voice as it continues to promote the efficiency and reliability credentials of its DD15 EGR engine.
The time is sure to come, however, when Detroit's Australian distributor Penske Power Systems will employ the same BlueTec SCR technology used by its US counterparts. In the meantime, DD15 continues to be the only Detroit engine making headway in Australia as its smaller and larger siblings continue to sit in the shadows.
On a brighter note, at least Penske Power Systems chose to be at Brisbane, unlike its Penske Commercial Vehicles partner, and enjoyed the patronage of what seemed a small army of Detroit devotees.
Equally bright, Penske Power Systems is now headed by Sean McLean, the former Cummins executive widely regarded for both his technical and professional prowess.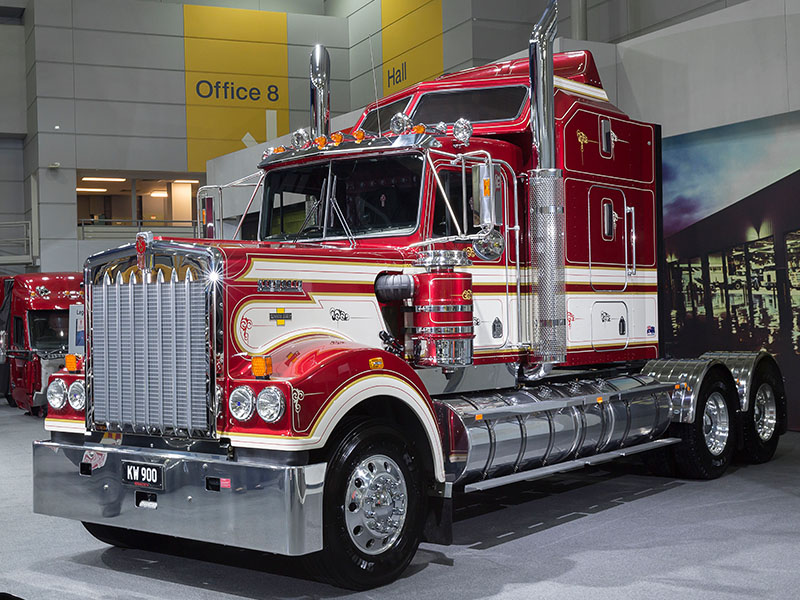 LEGENDS
Of all the displays at this year's Brisbane Truck Show, none drew greater passion or emotion than the first of Kenworth's T900 Legend series.
Scrolled on the back wall of the sleeper is the single word 'Steady', a simple yet fitting epitaph to Allan Stead, a mentor to many and true legend of Kenworth's Australian history.
Retired since 2004 and passing away recently, 'Steady' spent 39 years of relentless, indomitable devotion to Kenworth and its customers across the length and breadth of Australia and beyond.
Meantime, Kenworth announced it would open its books for just one day for operators to order a limited run of 'Legend' specials, marking the venerable T900's remarkable resilience and appeal since its launch in 1991.
Yet while there are perhaps many among the Kenworth faithful who would pay handsomely for this first T900 Legend, the likelihood is that the show truck will be put on permanent display in Kenworth's edifice at the National Road Transport Hall of Fame in Alice Springs.
A fitting tribute to man and machine.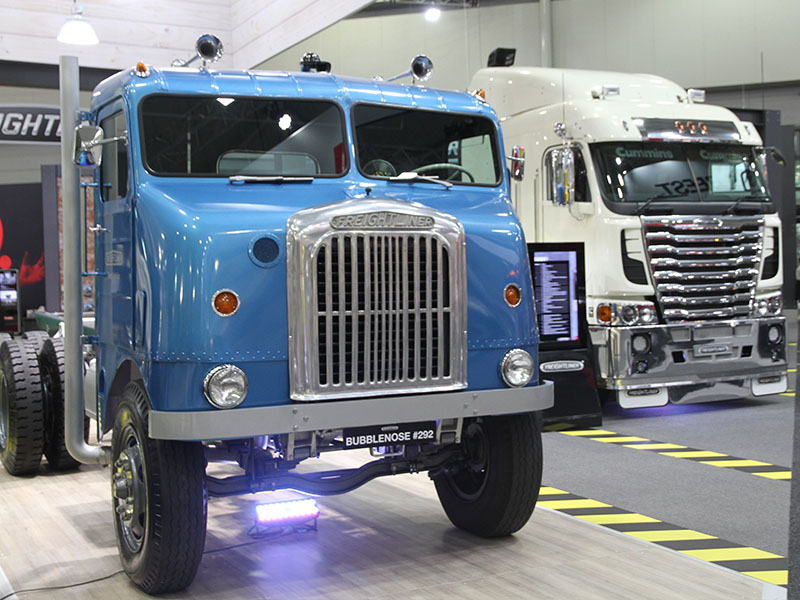 EVOLUTION on SHOW
Trucks have certainly come a long way since Freightliner founder Leland James first designed a cab-over model for the US market and nowhere was the evolution more starkly evident than Freightliner's stand where a rare 1950 'Bubblenose' model stood alongside the latest Argosy.
To mark Freightliner's 75th anniversary, the beautifully restored 'Bubblenose' was flown in from the US specifically for the Brisbane show. Yet as fascinating as this old classic was, it took only a quick look around the old and new to be grateful for the passage of time and engineering evolution.
Argosy has certainly come a long way since its first arrival on the Australian market and Freightliner was intent on showcasing the recent addition of the Cummins X15 engine as a powerful addition to the cab-over's list of assets.
The other notable player in the Freightliner family is the Coronado conventional and there appeared no shortage of interest in a 122 model built for gross weights up to 140 tonnes, and highlighting the addition of dual exhaust stacks as standard equipment on the long-nose Coronada.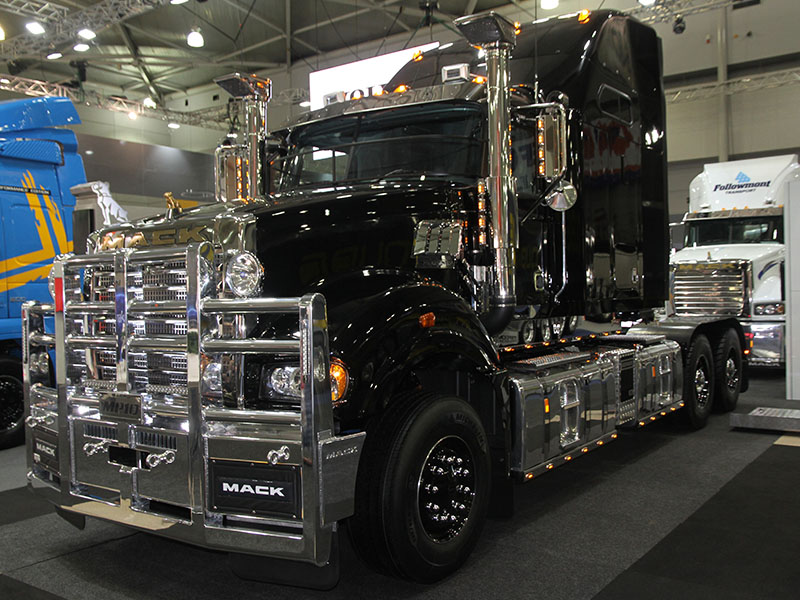 DOG BITES
In the modern history of Mack trucks in this country, there are two indisputable facts.
One, Mack has undergone a life-saving cultural revolution since Volvo rescued the famous bulldog from the edge of extinction.
And two, the resurgence of the iconic Super-Liner is the greatest success story of all Mack models.
Yet as Mack's display at the Brisbane show highlighted, it is Super-Liner's ability to be many things to many people which today consistently makes it one of the most popular models in the Mack range.
Pride of place, for instance, was given to a heavy-duty spec reflecting the model's heritage as a roadtrain and heavy haulage specialist. Right behind, however, was a slimline Super-Liner designed for 36-pallet B-double work with regular Mack buyer, Followmont Transport.
This is a dog which has walked the comeback trail better than most.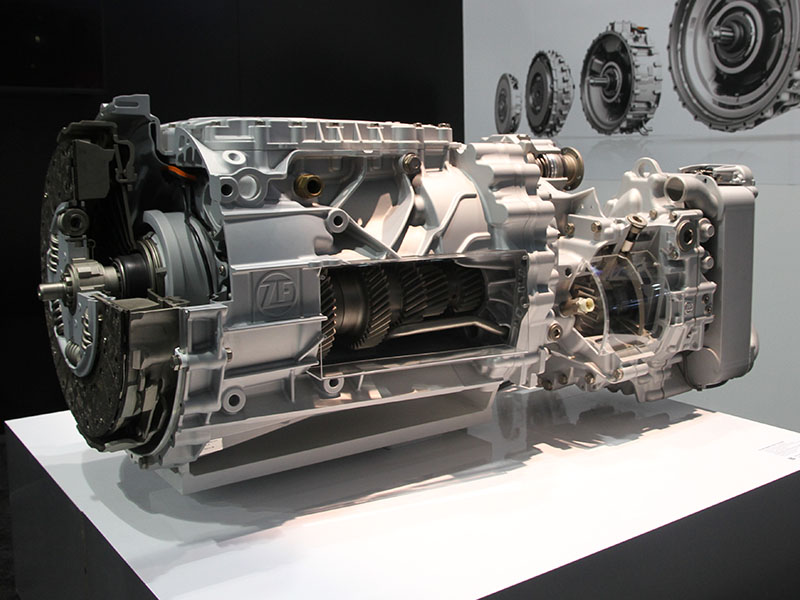 SMART SHIFTER
When it comes to automated transmission technology, ZF has been at the cutting edge from the outset and with its new Traxon transmission, the German giant appears to have taken a further step down the evolutionary path.
A cut-away display of the Traxon shifter certainly had some people wondering what it was all about but according to ZF it's simply lighter, stronger and more intelligent than anything that has gone before it.
The fundamentals are that it comes in 12 and 16-speed versions and will cope with input torque capacities up to 3400 Nm, or 2500 lb ft, which means it'll handle the outputs of the most powerful truck engines on the market today.
Along with a broad range of modern features and claims for being substantially quieter and smoother, one of the stand-out attractions is what ZF calls 'Prevision GPS'. Simply explained, Traxon has the capacity to use satellite information to track any changes in topography and continually determine the best operating mode for the truck.
Beam me up Scotty.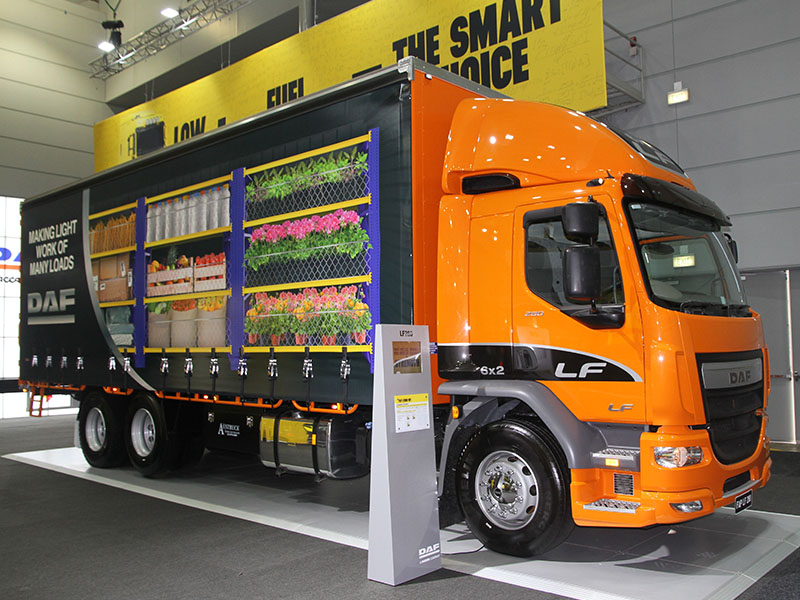 GOIN' DUTCH
Predictably, the centre-piece of DAF's display was the CF85 model now available with a 510 hp MX-13 engine.
We've spent some time in this truck recently and in our estimation, it's definitely the truck DAF needs to help raise awareness and lift the brand out of the doldrums. The star attraction was a six-wheeler sleeper version sitting alongside DAF's XF flagship but in the background was a CF eight-wheeler also available with the 510 rating.
Somewhat tucked away, however, was the newest member of DAF's expanding stable, a 6x2 version of the LF280 rigid.
Competing in a market where Japanese brands are fiercely dominant, the three-axle LF won't find it easy to crack big numbers but with reported benefits in tare weight and driver comfort, it at least provides another much needed string to the DAF bow.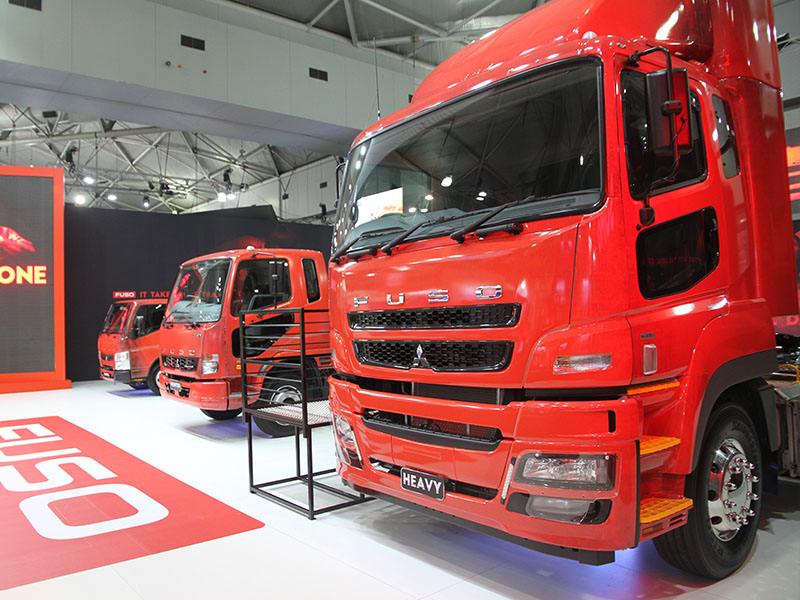 VIRTUALLY FUSO
Whether Daimler's local leaders like to admit it or not, Fuso continues to be the star performer in the group when it comes to overall sales.
The ever-popular Canter, for example, ranks second only to Isuzu in the light-duty category and recently underwent a significant update across the range.
Adding to Canter's coverage is a new low-roof model which made its debut at the Brisbane show. With an unladen height of just 2.01 metres, Fuso says it is the only Japanese truck in the Australian market that can safely move under a 2.1 metre ceiling. Clever!
Also clever was an innovative, high-tech Virtual Reality experience for show-goers. Much more than just another marketing gimmick, eight virtual reality booths allowed visitors to don the special goggles and as Fuso put it, 'immerse themselves in a virtual Fuso showroom, sit inside a range of virtual Fuso trucks, or experience a thrill-ride, all of which showcase the lifelike nature of cutting edge virtual reality technology.'
Fuso Australia chief Justin Whitford reckons virtual reality could well be part of truck showrooms of the future and after donning the goggles and being suitably awestruck by the 'virtual trip', it's hard to argue.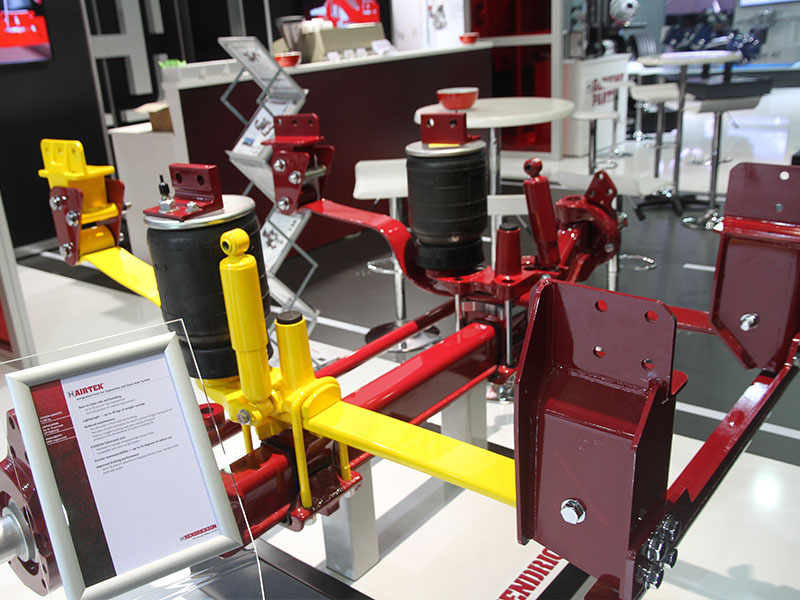 AIR CRAFT
Suspension specialist Hendrickson has been promoting the operational virtues of its Airtek steer axle air suspension for a long time but the stakes appeared to go up a notch in Brisbane with pride of place on the Hendrickon stand going to its Airtek HCS assembly.
Airtek HCS is, according to Hendrickson, the industry's first integrated front air suspension and steer axle system.
Quoting from the Hendrickson spec sheet, the superior design of the Airtek HCS layout improves roll stability over standard spring suspensions while the airbags provide notably better ride quality. It's also lighter, with Hendrickson saying the combination of the Airtek suspension and its Steertek fabricated axle saves up to 30 kg over a traditional forged axle and steel spring assembly.
Another thing about the fabricated (rather than forged) axle is a two-piece knuckle assembly allowing removal of the knuckle without having to remove the kingpin.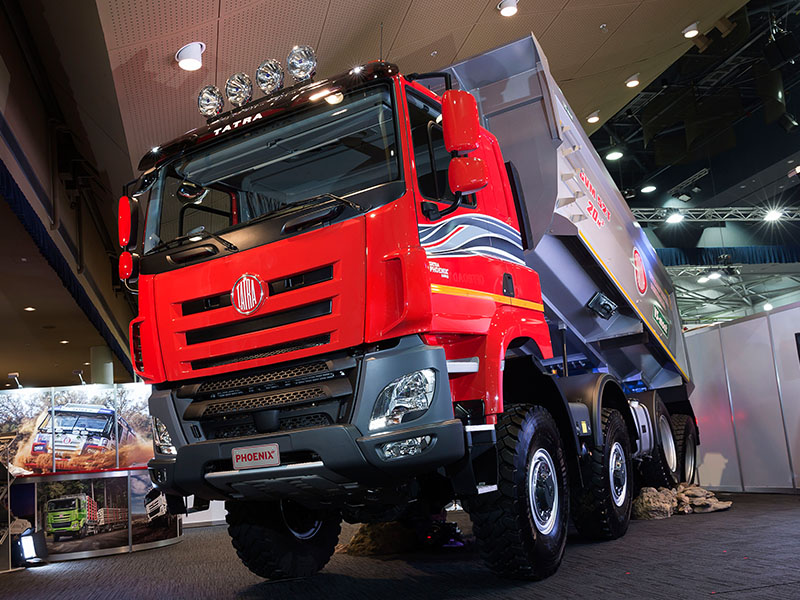 BIG RED
Tatra's eight-wheel-drive tipper was certainly an imposing exhibit and attracted plenty of wide-eyed visitors. But who is Tatra and what exactly was that truck at the Brisbane Truck Show?
Tatra hails from the Czech Republic, has been producing trucks in one form or another for over 100 years, and for the majority of those years has specialised in heavy-duty off-road models. At the core of the design is a unique single tube chassis from which sprout independently suspended, swinging driven half-axles.
The Australian distributor for 20 years is the family-owned Offroad Trucks Australia, based in Perth and which has obviously enough found plenty of opportunities for Tatra in the WA mining industry and beyond.
There are three distinct models in the range and as the flagship Phoenix model in Brisbane showed, the specification has a strong connection to Paccar. Power, for example, comes from an MX 13 engine rated up to 510 hp and the cab which comes in day, sleeper and crew-cab forms is derived from DAF.
The Phoenix ranges from 4x4 right up to 12x12 configurations driving through ZF or Allison transmissions. Impressive, from any angle.
Check out the full feature along with additional images in the July edition of ATN. Subscribe here.
Subscribe to our newsletter
Sign up to receive the Trade Trucks e-newsletter, digital magazine and other offers we choose to share with you straight to your inbox
You can also follow our updates by liking us on Facebook. 

Trucks For Hire | Forklifts For Hire | Cranes For Hire | Generators For Hire | Transportable Buildings For Hire