Scania launches all-new truck range locally
---
Trade Trucks was at the Australian launch of the new generation of Scania trucks yesterday, where the manufacturer walked us through the ground-up redesign of their range
Scania Australia unveiled the new generation of P, G and R series trucks in Sydney, which are being touted as the safest and most fuel efficient trucks in Australia.
The new truck range is offered in both Euro 5 and Euro 6 compliance, bringing aerodynamic advances, more efficient engines, and a host of advanced safety features.
Aimed at the long and medium haul markets as well as urban distribution, the range offers configuration for unique customer requirements, with a wide range of engine and gearbox options.
Scania confirmed the order books open immediately for customers, with the first trucks set for delivery in the third quarter of this year.
The manufacturer claims that with significant advances in aerodynamic design, the mechanical upgrades deliver at least 5% better fuel efficiency across the range.
A new 7.0-litre Euro 6 engine for P-series applications has been introduced, while the heavily revised and updated 9-litre 5-cylinder, 13-litre 6-cylinder and 16-litre V8 engines are all offered in Euro 5 and Euro 6 guise.
Scania's modular drivetrain components have been revised to deliver improved fuel economy and the in-house gearbox range is now fitted with a layshaft brake to speed up gear changes for improved performance.
The famed 730hp  (544kW) V8, the most powerful truck engine available in down under and the only V8 option, is offered across the R- and S-series ranges in Euro 6 compliance.
Scania will offer V8 power across several outputs: 520hp (388kW) and 620hp (462kW) with Euro 5 compliance, and 520hp, 580hp (432kW), 650hp (485kW) and 730hp outputs in Euro 6 guise.
In the 6-cylinder, 13-litre category, Scania offers its most powerful in-line engine yet, at 500hp (373kW) with 2550 Nm (1881 lb/ft) of torque. This will be available in the G-series prime mover cab, rated for medium duty B-double and single trailer interstate and intra-state work, as well as for urban tipper and dog applications.
The G-series 6-cylinder engines will be available in Euro 6 at 370hp (276kW), 410hp (306kW), 450hp (336kW) and 500hp (373kW), and identical outputs in Euro 5 with the exception of the 370hp engine which is offered at 380hp (283kW) for Euro 5.
In the urban distribution and vocational truck market, the new P-series will be offered from launch with a broad range of 5- and 6-cylinder engines, in both Euro 5 and Euro 6 compliance: starting with the 5-cylinder 280hp (209kW), 320hp (239kW) and 360hp (268kW) outputs, rising to 370hp — 380hp (283kW) for Euro 5 — to 450hp for the 13-litre 6-cylinder.
The P-series will also debut the new 6-cylinder lightweight 7-litre engine, in Euro 6 guise only, in 220hp (164kW), 250hp (168kW) and 280hp outputs, further assisting customers with additional payload.
On the safety front, a key feature is side curtain airbags fitted to both the driver and passenger doors to protect those onboard in the event of a rollover.
An improved braking system and all new front suspension with the axle moved forward 50mm, provide less dive during braking and assists in reducing stopping distances by up to two metres.
An all-steel cab improves impact resistance while also offering improved driver visibility and trucks operating in urban areas will also get the City Safe Window, which is inserted into the lower segment of the passenger door to provide pedestrian and cyclist visibility.
The new range also scores high-tech safety features such as Advanced Emergency Braking, Adaptive Cruise Control with Active Prediction, Electronic Stability Programme and Lane Departure Warning.
A safety feature that works more in the fatigue space, is an auxiliary cab cooler than runs on batter power, so when drivers are on a rest break the temperature is just right.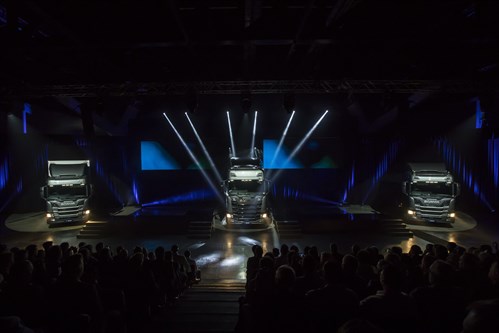 "The launch of the New Truck Generation range, the safest and most fuel-efficient in Australia, is an absolute milestone for the Scania here," said Scania Australia Managing Director Mikael Jansson.
"It is undoubtedly the biggest investment in our 127-year history.
"As a global truck company, we have spent 10 years and AUS$3 billion researching and developing the new range as well as covering more than 12 million km testing our new designs in all climates and on all types of roads.
"The most noticeable features are of course the new cabs, but the real innovation is the introduction of new technologies, safety feature, services and insights that will help our customers gain an accurate overview of some of their most significant operating costs.
"On average across the range, our new trucks will consume around 5% less fuel and emit fewer emissions, particularly those equipped with Euro 6 after-treatment.
"We're not only focused on the hardware. Our digitalised connected services provide further tools for enhanced optimisation of fleet and driver utilisation.
"We have unparalleled ability to tailor-make a specification to suit operators' needs across a very broad array of applications and coupled with our focus on driving down costs and eliminating waste for operators, we can demonstrate quite clearly how our New Truck Generation provides increased value to customers.
"Judging by the response from operators in Europe, who have ordered record numbers of the New Truck Generation, Scania has scored a direct hit. In test after test by media across Europe, in isolation or compared with direct rivals, the New Truck Generation has emerged as the best possible option in all of its formats; from long haulage to urban distribution and vocational applications.
"The new range is delivering improved business sustainability for our customers through lower running costs and higher uptime. Our aim is to improve their total operating economy, providing our customers with the tools for achieving sustainable profitability in the one business that really means something to them; their own."
Subscribe to our newsletter
Sign up to receive the Trade Trucks e-newsletter, digital magazine and other offers we choose to share with you straight to your inbox
You can also follow our updates by liking us on Facebook. 

Trucks For Hire | Forklifts For Hire | Cranes For Hire | Generators For Hire | Transportable Buildings For Hire