'Johnny's been good'
---
A humble "get the job done" attitude leads Harrison Hunkin south, to meet Tasmania's most fuel-efficient truck driver. Harrison Hunkin writes
It takes just a tick over 35 minutes to get to De Bruyn's Transport's depot (Burnie) from Devonport airport.
It's a scenic drive along the Great Ocean Roads spectacularly rugged twin - the Bass highway, a road undoubtedly travelled day-in-day-out by John Bowden, Tasmania's finalist in the 2018 Volvo Truck Driver's Fuel Challenge.
Hauling chemicals with his Volvo FM 500hp, Bowden humbly credits the achievement to his rig.
"When I first started (at De Bruyn's) I will admit that jumping into a truck with a fancy dash and screen was daunting," he says. "I'd never driven a truck like this before; I kept lifting my left leg to change gears for the first few weeks."
Bowden believes that the new technologies that come with his Volvo do make the world of difference, not only when it comes to fuel efficiency but also comfort.
"I've been driving for a while now, but this is the first truck I've had that's had cruise control," Bowden admits.
"My previous truck was an old Mitsubishi, and I did it tough," he jokes. "I definitely don't miss the old gear, maybe because I'm getting older.
"Coming out of that and into this (with armrests and cup holders) makes my day so much easier," he says. "Physically, it's just a lot better."
TOP DOG
De Bruyn's is one of Tasmania's largest trucking companies, servicing the Apple Isle thanks to its 130 strong fleet.
"We run about 60 Volvos which do well down here," De Bruyn's operational manager John Jr De Bruyn says. "Typically for a cab-over truck we buy Volvos, and for our bonneted trucks we buy Macks – we also use UD trucks for the smaller stuff."
Since transitioning to Volvo trucks and the use of its telematics system, Dynafleet, De Bruyn's Transport has seen huge improvements in driver skill and fuel savings.
"We believe that to be a fuel efficient driver you also have to be a safe driver," De Bruyn says. "And to be good on fuel you tend to be a proactive driver as opposed to a reactive driver.
"We monitor our fleet ourselves through Dynafleet," De Bruyn adds. "We record all data (driver efficiency rankings) on a weekly basis which is then put up in the lunch room for all the drivers to see."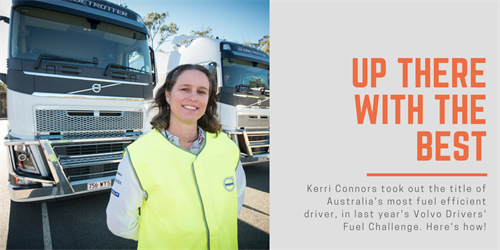 De Bruyn believes this competitive approach is friendly, and reflective on driver skill.
"(Having the data on display) the drivers do talk about it, there's nothing like a bit of competition, especially when it results in driver and fuel improvements."
"What we measure is the driver score which is measured from 0-100, we typically sit (as a fleet) at 90.
"We started on this journey roughly three years ago now, and before we started measuring or having conversations with drivers, our average fleet score was sitting at 60 – so we've gone from 60 to 90 just by having conversations with drivers and some driver training.
"For us to go from 60 to 90 represents about a 10 per cent savings in fuel," he adds.
When asked if it's easier to be fuel efficient with today's technology.
"Yes it's a lot easier to be fuel efficient nowadays, but it's also easier to measure.
 "And I quite like the driver scoring set up," De Bruyn says. "You do get a kick out of seeing improvement in your drivers, seeing a driver scoring 50s and 60s to then scoring high 90s after some training is really satisfying.
"We see it (the improvement) and so does the driver, it's the visual improvement that I like."
JUST TRUCKING ALONG
While his boss might enjoy the competitiveness between drivers, Bowden says he doesn't see it as a competition.
"I just do my job," Bowden admits. "I don't try to beat anyone else; as long as I do my job and keep the truck on the road I'm happy."
A truly humble truckie!
But every driver has their own tips and tricks for keeping efficient, whether it be braking less often or taking easy on the corners, but it's simpler than that for Bowden.
"Just take your time and don't rush," he says. "Of course, you have to be a little lighter on the brakes as well as the right foot – I know this may sound funny, but you have to feel your truck," Bowden explains.
So how does Bowden keep track of his day-to-day efficiency?
"You just press that button there under the screen and it tells you how well you've gone for the day," Bowden says.
The screen read 99 … out of 100 for fuel efficiency. The monitor even tells John what he can improve on, if you're wondering, he could have coasted a bit more.
Bowden's skills were also highlighted by a visiting driver trainer.
"We had a bloke come out from Volvo who took me out for a drive, he just said he was impressed with how gentle I was with the throttle," he says. "I do suppose you naturally try a little harder when under the eye," he jokes.
"But I've told John (De Bruyn) that I haven't changed my driving practices from the last job to this job.
Bowden says he's looking forward to his trip to Brisbane for the Australian Volvo Truck Drivers' Fuel Challenge.
"I am honoured that I've been picked, but I don't want to get too carried away with it; we'll just see how we go.
"I try not to think about it," Bowden jokes. "Like I said to management here, don't count on me to win this, there are probably 17 others better than me, there's no doubt there are better driver than me out there, I've just probably been lucky."
The winner of this competition will go on to compete in the World Final of the Volvo Trucks Driver Challenge held in Gothenburg, Sweden on September 13 and 14.
State showdown at Mt Cotton
In total 22 drivers battled it out to represent Australia in the global final. Six of these spots were won by drivers representing their states.
The six finalists will battle it out in the Australian Volvo Truck Drivers' Fuel Challenge at Mt Cotton in south-east Queensland on July 16 and 17.
The winner will then compete against contestants from around the globe for a place in the final.
The six finalists are:
Craig Mengel from Exodas, representing Queensland

Brad Kennedy from Western Freight Management, representing NSW

John Bowden from De Bruyn Transport, representing Tasmania

Eric Christie from Visy Logistics, representing Victoria

Peter Karger from Bordertown Haulage, representing South Australia

Kris Venema from K Venema P/L, representing Western Australia
Subscribe to our newsletter
Sign up to receive the Trade Trucks e-newsletter, digital magazine and other offers we choose to share with you straight to your inbox
You can also follow our updates by liking us on Facebook. 

Trucks For Hire | Forklifts For Hire | Cranes For Hire | Generators For Hire | Transportable Buildings For Hire