Truck restoration: Tilly's 1964 Volvo G89
---
This fully restored jolly green G89 has had one hell of a journey since it was first bought by the Tilly family way back in the '80s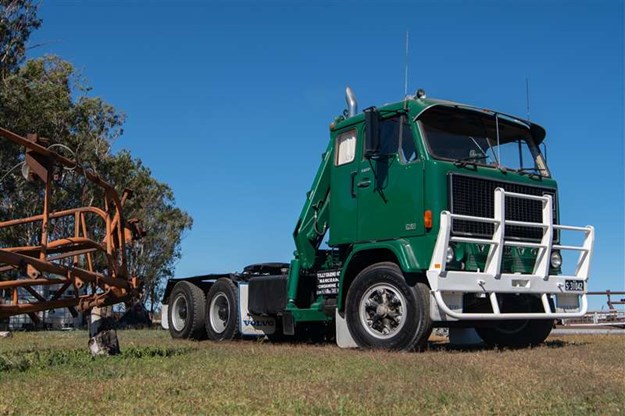 I must admit it's been a fairly tough task tracking down restored Volvos. Considering the presence the brand has had in Australia for almost 50 years they are few and far between. So you can imagine how stoked I was when I managed to get a lead on a beautiful G89 that frequented the Queensland historic truck shows. What came as a huge surprise though was not just the fact that this jolly green giant of a truck was still being worked, but it was still being worked by the same family that put it on the road, way back in 1975 – Tilly Farming Company.
Glenn Tilly is the retired truckie who now owns the G89. It was his father, Hugh, who purchased it four decades ago. "This was the first truck I drove legally on the road," Glenn told me. There's rumour and speculation he may have driven it a few times before he had the paperwork to do so, but no one is sure of that!
The truck was purchased to assist in the heavy workload of the Tilly family businesses. Originally from South Australia, Glenn's father shifted the family to Geelong where he got into earthmoving and started H.P Tilly Earthmoving.
Glenn spent as much time as he could sitting in the passenger seat of an old 1963 Leyland Hippo with a side-loading float. The power and comfort may not match the trucks of today, but it was still enough to get him hooked on transport at the age of five.
In 1964 the Tilly family left Geelong and moved to Condamine, a small central Queensland town where they had several large properties along the Condamine River. This move also saw H.P Tilly Earthmoving morph into Tilly Earthmoving as the family began to rebuild heavy machinery and deliver them all around Australia (once the family moved to Toowoomba in later years it would eventually become the renowned Tilly's Crawler Parts).
It was the need for a heavy-duty truck to pull the Tilly Earthmoving float that saw Hugh at the doorstep of Farmers Centre in Dalby, the local Volvo sales agent. Hugh worked with the salesman to build a truck capable of carting the big gear around. The G89 was specced with heavy-duty diffs, as well as heavy spec hub reductions and super heavy-duty Hendrickson suspension all sitting behind a 330hp (246kW) motor and rated at 100 tonne.
In the early '80s the family was looking to irrigate their family properties at Condamine and tendered for some decommissioned water piping out of the Mt Isa area. When they were successful it was decided by Glenn that Tilly Farming needed its own dedicated work horse. The majority of Tilly Farming's trucking work had been being done by the original Leyland Hippo that created Glenn's passion for trucking. As good as the Hippo was, with 44 trailers of pipes to get from Mt Isa back down to Condamine a more capable truck was definitely needed. So, after eight years of heavy float and grain work the big Volvo was reassigned to the farming business.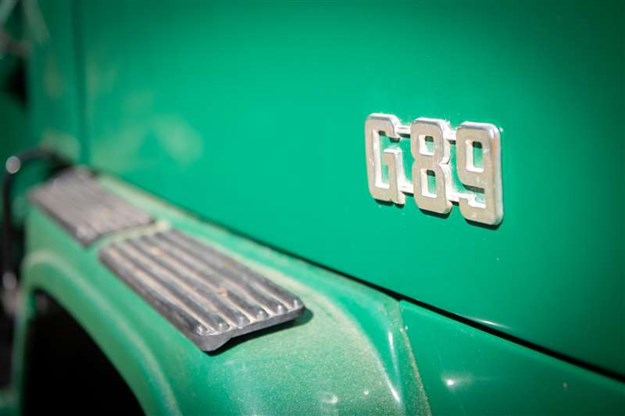 The jolly green G89 was put straight to work running between Mt Isa and Condamine pulling a double road train. For 18 months the big girl battled the tarmac as well as the notorious Queensland gravel highways hauling two trailers of pipe through some extremely tough conditions. "I copped plenty of flack," Glenn recalls when he had the G89 out west. "I was the European kid." Though he also admits, unlike a lot of the trucks out in the Queensland heat, he never had the issues the other trucks had with blowing tyres. "We could run some pretty average tyres on the trailers," Glenn laughingly recalls, "we had no problems with heat 'cause we weren't going fast enough."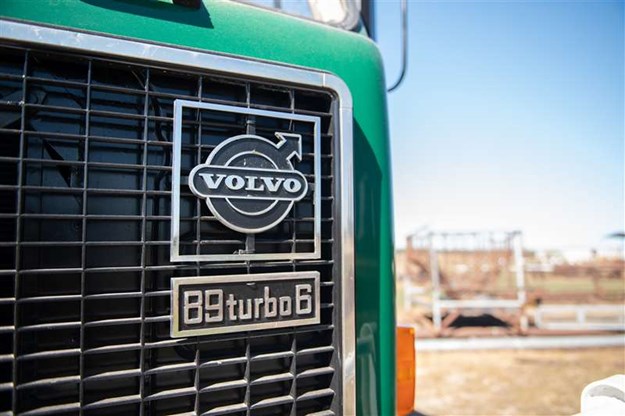 Yes, the truck was designed to do the heavy work, but the TD120A motor was designed for top torque performance, not speed. Glenn openly admits "it is all in the heavy arse end; it could pull Christ off the cross, as long as you weren't in a hurry".
The G89 started its life working hard and never stopped. It was put to work hauling anything and everything Tilly Farming required. Another tender saw them hauling steel pipes out of Sydney for more irrigation set up. There was loads of hay, to and from their farm as well as many others. Like any good farming trucks there was plenty of stock that needed moving to and from sales as well as loads of feed and fertiliser.
In the early '80s the home-made deck behind the cabin was removed and an HMF crane was fitted, allowing a lot more versatility for the truck. Now they were able to load and unload themselves on a lot of their jobs.
---
Read about Graeme Troutbeck's addiction to restoring Volvos here
---
Right through the '80s and '90s the jolly green G89 worked tirelessly for the family businesses. Not just restricted to hauling goods for Tilly Farming, the big girl also spent more than its fair share of time with a low loader in tow hauling heavy machinery around the country for Tilly's Crawler Parts in Toowoomba.
As the new millennium rolled over and the G89 neared its 30th birthday there were changes all around. The poor G89 was feeling its age and so it was decided to retire it from highway life. That's normally a sad sign for a truck but not for this Volvo. Glenn had quite a bit of gas field work going on and instead of easing up on the workhorse, it got shipped into the workshop, the motor got rebuilt and the running gear overhauled and the G89 headed into its second working career. For the next decade the Volvo continued its tireless workload. Tankers, flattops, low-loaders, they all slipped in behind the big rig and were hauled around the Tilly properties.
Finally, in 2013 the G89 got an afternoon off, Tilly Farming and its properties were sold off to a neighbouring farm and with it went the vast array of equipment. All except the mighty G89. As Glenn entered a new business venture down on Queensland's sunshine coast, he couldn't get rid of the truck that he loved. "It was my first highway truck, it's sentimental to me," he says.
Glen held onto it with the idea of tidying it up and restoring it to its former glory. The running gear was still early into its second life, so it was just a job of tidying up the cosmetic side of the old girl. Like most 'resto' projects the truck did get a little forgotten about as Glen was busy running his other trucks. The G89 sat around gathering dust until it was eventually thrown a lifeline in 2017.
She was put into Glenn's workshop again where it was stripped right back to bare bones and the team went to work fixing all the dents and blemishes that occur to a truck fitted with a crane.
"Once you fit a crane to a truck there's always going to be incidents," Glenn admits, and the G89 was no exception.
Having spent its life in the dry western Queensland climate meant rust wasn't an issue with the G89. Once the body was straightened out a new coat of British racing green was applied, the interior was restored to how it rolled out the factory doors and the G89 was back to its pristine best.
It's about now you would expect a freshly-restored, mint-condition truck to be meticulously cared for and almost treated with kid gloves. Not the G89, not even close. Whilst Glenn takes immense care of it, he is a firm believer in keeping the truck going. "It's good to keep the old trucks moving," he says, "they don't do well just sitting around."
Hence the reason I was out at a feedlot outside Warwick, Queensland where the G89 was busy hauling silt from drought-affected dams in order to photograph the jolly green giant.
It's now been 40 four years since the truck hit the road and it is still looking as good as it did the day Hugh picked it up. A lot of that is due to the efforts of Glenn and his team that have rebuilt and restored it, but a lot is also due to the sturdy reliability of the Volvo product.
"It's still got the original shockies and original brake linings," Glenn confesses as he spoke with pride of his classic Volvo.
"I still like trucks, I still want to drive trucks, but this is my journey." And the Jolly green G89 has had one hell of a journey.
Subscribe to our newsletter
Sign up to receive the Trade Trucks e-newsletter, digital magazine and other offers we choose to share with you straight to your inbox
You can also follow our updates by liking us on Facebook. 

Trucks For Hire | Forklifts For Hire | Cranes For Hire | Generators For Hire | Transportable Buildings For Hire