Trailer technology: taking the EBS lead
---
It's no good having the latest electronic safety technology on trailers if it's not connected to the prime mover, as some drivers and operators are finding out the expensive way
In the 20th century, there were only three lines you had to hook up to a trailer – one electrics lead and two air hoses.
But in the past couple of decades, on more and more trailers, there has been a fourth plug at the front. Initially it was for ABS – anti-lock braking system – and more recently for the superior EBS – electronic braking system.
EBS – or "brake by wire" – has anti-lock braking, and it can also speed up brake application as well as reduce uneven brake application and brake wear.
But EBS might also have a combination of traction control, stability control, load sensing and most significantly for new regulations this year, anti-roll functions.
However, some EBS systems don't incorporate all those amazing abilities, including roll stability.
"It is important to check your truck or trailer EBS functions with the truck or trailer manufacturer," advises the Guide to Braking and Stability Performance For Heavy Vehicle Combinations produced by the Australian Trucking Association (ATA) and several  other industry groups.
As of the start of this year, all tank trailers carrying dangerous goods within or through NSW will need to have a roll stability system, regardless of where in Australia they are registered, and regardless of whether they are new or old. This has meant a lot of EBS retrofitting.
Meanwhile, as of July 1, roll stability control is mandatory for all new models of medium and heavy trailers across Australia. And from November 1 roll stability will be compulsory on all these medium and heavy new trailers (more than 10 tonnes loaded) full stop, i.e. whether they are a new or existing model. (It's already compulsory for all new trailers in Australia to have ABS or load proportioning.)
While everyone has their anecdotes about EBS trucks and trailers with roll stability braking unexpectedly on a corner or refusing to power out of a roundabout, the facts on the safety benefits of electronic braking are hard to dispute (more on this later).
Despite that, in Australia, only around 25 per cent of new heavy duty trucks are fitted with ESC (electronic stability control) and around 40 per cent of new heavy trailers are fitted with RSC (roll stability control). In Europe, these systems are already mandatory, and the ATA supports that here.
LEADLESS AND BUSTED
We have heard several anecdotes about newer trucks being defected and put off the road in NSW – and fines imposed – for not having the ABS or EBS leads plugged in, or not having ABS/EBS leads at all despite the truck and trailers having the plugs.
This might not seem fair when the massive number of existing "dumb" trucks and trailers out there are allowed to continue running about for years to come perfectly legally on foundation air brake systems alone. But them's the rules – to be precise, the National Heavy Vehicle Regulator's Vehicle Standards Guide Number 25.
"The issue with EBS and compliance is very simple," says the ATA's chief engineer, Bob Woodward. "If the towed vehicle is fitted with ABS/EBS power supply and the towing vehicle is fitted with a compatible ABS/EBS power supply, then they must be connected."
However: "If the towing vehicle is 24 volt and the towed vehicle is 12 volt, then clearly they are not compatible, then they shouldn't be connected."
Woodward says compliance issues the ATA is aware of include the prime mover and trailers being equipped with compatible EBS systems, but no EBS lead available to connect up; and the EBS lead being "zip tied" at the back of the prime mover.
"But there has also been a report of an ABS prime mover towing a 'dumb' trailer and the ABS lead was in the toolbox, but the enforcement officer wanted the ABS lead plugged into the prime mover and left dangling," Woodward says. "This just leaves the lead loose and 'Murphy' will ensure the loose end wraps around the tail-shaft or catches on something else."
ABS BENEFITS
Federal Government research has concluded that mandating stability control and roll stability for  new heavy trucks as planned from 2022, and mandating roll stability for all new trailers as above from November 1 this year, will save more than 120 lives over 35 years. The stability technologies are also forecast to prevent 1,100 serious injuries.
Getting back to the common driver criticism of EBS systems going off when they're not supposed to, this issue was addressed in a government survey of a cross-section of operators in the lead-up to this year's new rules.
"Operators indicated that driver attitude towards advanced braking systems would often change after avoiding a crash through the activation of a stability system," says the Regulation Impact Statement for the rules.
"When drivers understand why the system activates, they change their driving style to be more sympathetic towards the system and inherently become safer drivers."
Woodward acknowledges the driver experience of the EBS roll stability program (RSP) activating when the driver is not expecting it. He points out that the RSP function intervenes by applying the brakes in situations where the lateral (sideways) acceleration is greater than that programmed.
But Woodward also warns that the trailers might be closer to rolling than the driver thinks.
"As a driver, it's difficult to tell how close you are operating to the roll threshold," he says. "Typically, in single vehicle roll-overs, it is the last vehicle unit in the combination that rolls over first. A driver's ability to identify impending roll-over via the 'feel' as a vehicle or vehicle combination approaches the roll-threshold is optimistic as best.
"Anyone who has attended EBS roll-over intervention demonstration days (where the vehicle is fitted with outriggers to prevent roll-over) and the EBS system is operated through the same manoeuvre at the same speed both powered and unpowered, will attest there is no early warning."
RETROFITTING TRAILERS
If trailer replacement is not scheduled within three years, the ATA says retrofitting an advanced braking system should be a consideration.
"Any competent, well-equipped workshop would be capable of completing an ABS/EBS retrofit to a trailer," says Woodward. 
"An ABS retrofit on a prime mover is more complex, and retrofitting EBS on a prime mover is very complex."
Woodward says retrofitting shouldn't be limited to the ABS/EBS system. Where a leading trailer (say in a B-double) is not fitted with ABS/EBS, but is expected to tow a trailer fitted with ABS/EBS, then consideration should be given to fitting a "through power supply".
There are other options too, says Woodward – not as good as full trailer EBS but a significant improvement on the "dumb" basic pneumatic brakes systems prior to Australian Design Rule 35/04, which mandated ABS or brake load proportioning (BLP) on new trailers.
"Brake load proportioning is relatively simple technology for air suspensions that proportions the braking force over the load range based on air spring pressure," Woodward says.
He says each installation needs to be calibrated (as does an EBS system), however BLP has a history of being very low maintenance.
"A BLP will likely save a set of flat spotted tyres in an emergency when empty and then the tyre savings will have more than paid for the BLP installation."
HELLO DOLLY
Woodward was at the recent Brisbane Truck Show, where he was showing off a trial converter dolly.
Dollies and non-standard low loaders are the only exceptions to the new rules on roll stability for new trailers.
But the industry is trialling the "fixed" drawbar dolly which is showing superior stability characteristics compared with the traditional "hinged" drawbar, even without having ABS/EBS fitted.
That's because dollies are a highly reactive part of the trailer combination, and when they pitch forward in a braking event, a fixed drawbar is less likely to load up the leading axle as much; and with typical air suspension it's more likely to ensure uniform braking.
The ATA's Industry Technical Council is trialling the fixed drawbar dolly with the support of equipment suppliers MaxiTrans, Hendrickson, Alcoa, Bridgestone, Jost and Wabco.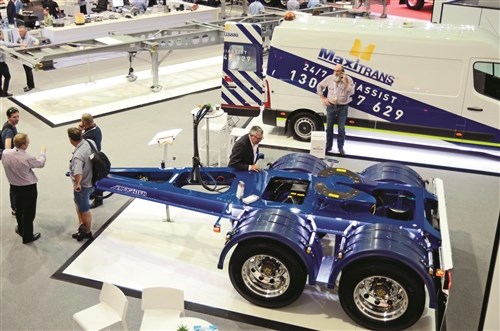 Subscribe to our newsletter
Sign up to receive the Trade Trucks e-newsletter, digital magazine and other offers we choose to share with you straight to your inbox
You can also follow our updates by liking us on Facebook. 

Trucks For Hire | Forklifts For Hire | Cranes For Hire | Generators For Hire | Transportable Buildings For Hire