TEST OF RESOLVE
---
Glen Cameron Group finds Long-term success is built on resilience of people and the technology and machines they use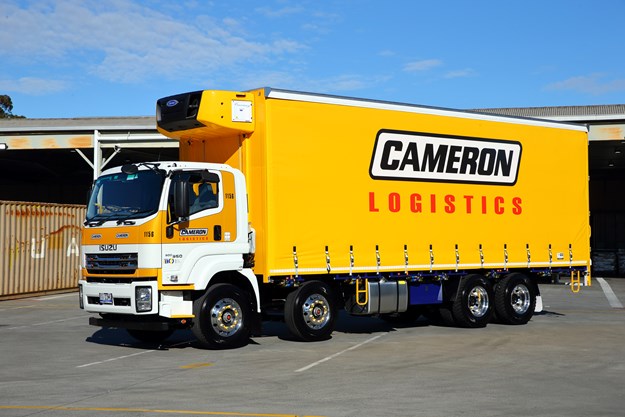 The background to one of today's premiere Australian transport and logistics businesses, the Glen Cameron Group, is one of classic determination and business nous.
But like its competitors, the company is relying on the strengths that allowed them to survive and thrive over the years as they work through uncharted territory.
Many of them were embedded at their foundation.
From a single truck outfit launched in 1975 from a phone box in Bayswater, founder Glen Cameron built his transport business into a multimillion-dollar national logistics operation that spans the country.
What started from one person, with a whole lot of determination, is now is a team of over 700 staff and 500 contractors, all playing an important role distributing a diverse array of freight the company handles on behalf of its clients across the country.
The company sees these as the same principles that keep Cameron's staff and contractors delivering top-level service – loyalty, trust and integrity are critical characteristics and enduring values passed on from Glen's father, Ed Cameron.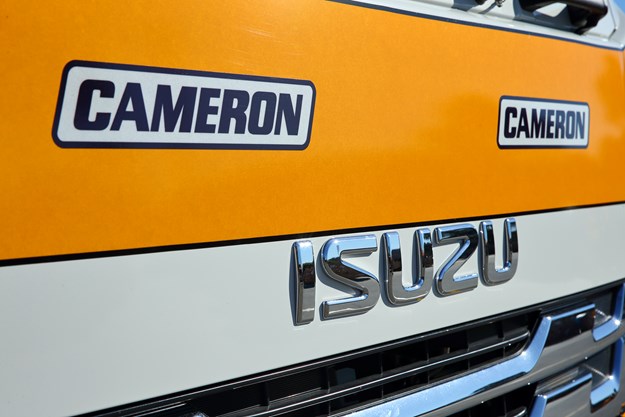 AUTHORITY EARNED, NOT BOUGHT
As the Covid-19 pandemic hit and the health and economic implications of the situation generated unease and uncertainty in some industries and businesses.
As a road transport industry leader, Cameron was out of the blocks early in the piece, advocating for drivers and access and directly appealing to the company's customers.
"With clients in health, food and essential services, it was paramount that our business in supplying their needs continued unhindered," he says.
The call to action on behalf of truck drivers and operators was backed up by the deployment of comprehensive response plans and the establishment of health and safety procedures for all staff across the company's 28 sites throughout the country.
"Gearing up and meeting customer demand was a whole other challenge, but everyone in our team rose to the occasion," Cameron says.
"We're fortunate to have developed a talented senior management team to provide key support and considered execution of the company's strategies and plans, and we've consistently embraced the smart application of technology to deliver safety, environmental and efficiency dividends.
"In the instance of Covid-19, we've been able to deploy our transport assets to assist our clients to answer the shifting demand for goods and supplies in a very fluid operating environment," he continues.
"Flexibility and being dynamic have been key qualities that we've always looked to ensure we deliver for our clients and the last couple of months have certainly been a test of that."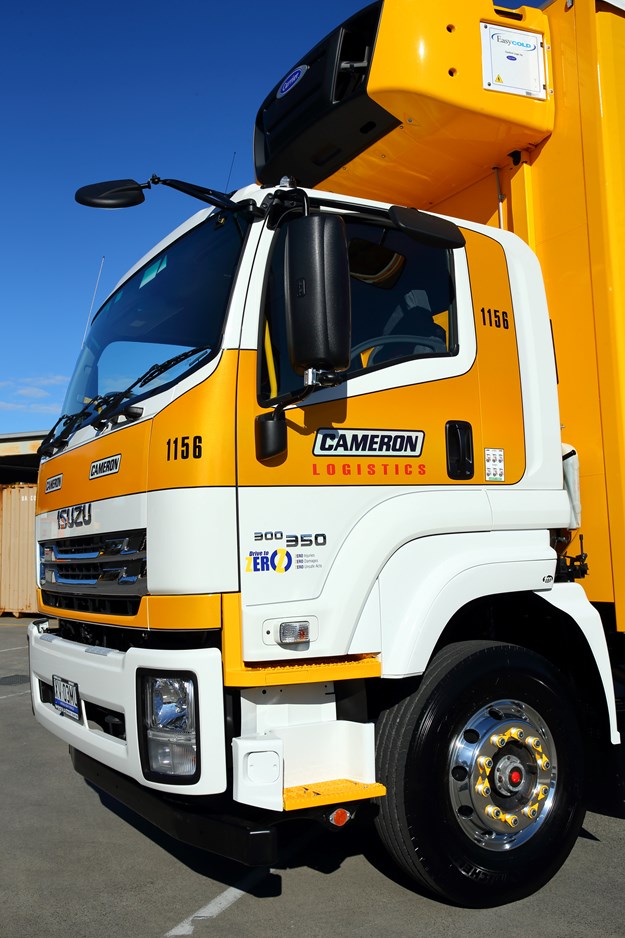 TECHNOLOGY-ENHANCED RESPONSE
It is a truism that the bigger the enterprise, the better the business technology needs to be. Otherwise, managers lose control and increase risk.
"From the outset, the restrictions of mass gatherings, social distancing and face masks have meant conducting our usual driver toolbox meetings in person have not been easy," Cameron says.
"Using our telematics platform, we've been able to disseminate our meeting notes to all our drivers in real time and on mass via the messaging system, and receive and respond to any questions direct to individual drivers as the need arises.
"All GPS devices are also integrated with a hands-free phone and the ability to dial a managed list of depot and operational staff numbers, so keeping in touch with our drivers with a lack of face-to-face interaction has been vital and well-supported by MTData."
The group's uptake of technology as it develops has been another long-term policy that continues to pay dividends. And this extends to hardware.
"Our company-wide embrace of technology and the experience we've gained over the years have allowed us to balance servicing our customers' needs whilst remaining nimble and responsive," Cameron emphasises.
"For example, in our fleet procurement we need to constantly review, revisit and adapt as our customers and the market nuances change how we strive to provide the best solution for the task at hand.
"We look to have the best equipment and people to deliver that solution. It just can't work any other way.
"To this end we also regularly call on our long established and new industry relationships with the OEMs to support us in meeting these challenges."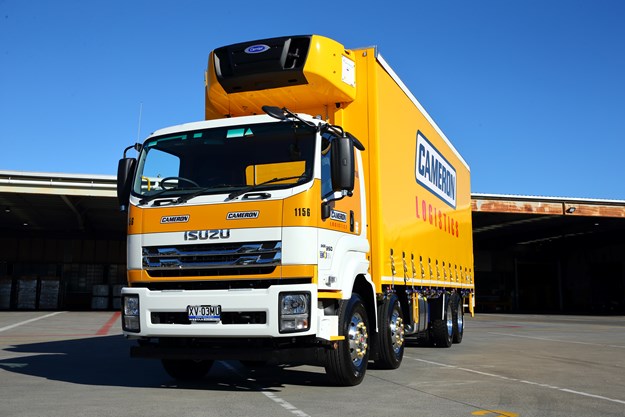 LOOKS AND PERFORMANCE
The Glen Cameron Group is known for its smart looking transport fleet with distinctive yellow, white and blue livery – subscribing to the 'if you look good, you feel good' school of thought.
Running a mixed fleet, Cameron's cherry-picks the best available models on the market at the time to deliver on their transport customer's needs.
It's a formula that has worked well over the years, as has the decision to focus on managing the transport business and outsourcing the maintenance responsibility back to the OEM.
A recent addition to the fleet is a new Isuzu FYJ 300-350 twin-steer with 14 pallet temperature-controlled curtainsider body, employed in a diminishing payload application delivering across metro locations throughout Melbourne.
According to fleet manager Greg Morris, the company has purchased many Isuzu trucks over the years in the lighter end of the company's operations.
"We've typically specced European trucks for our heavier applications, particularly where 16 tonne payloads are required," Morris says.
"Our recent purchase of the Isuzu FYJ 300-350 will be the first Japanese truck we've put into our heavier applications, so the bar is set high.
"The FYJ will be working for one of our newer customers, Graincorp, delivering 16-tonne diminishing loads throughout Melbourne's metropolitan areas, hence the need for a twin steer."
Naturally these days, the road machinery is one part of the equation.
"Cameron leans very hard on all their OEM partners for national aftermarket maintenance support," Morris adds.
"We're pleased to have this arrangement with Isuzu supporting our Isuzu truck fleet nationally.
"Our view is that this vehicle will work within our business for seven years and Isuzu will support that commitment with a comprehensive seven-year service agreement and extended warranty arrangement.
"We've gone for bumper to bumper coverage and the benefit for us is locking in our repair and maintenance costs for the life of the vehicle, so we have known operating costs for the piece of equipment."
The new Isuzu is the first truck to proudly displays the company's new Cameron 'Logistics' logo, which replaces the well-known 'Storage and Distribution' logo and is being launched in conjunction with the 45th anniversary of the business.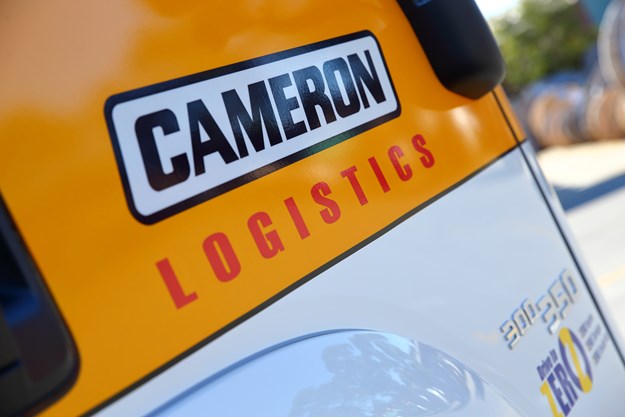 LONG GAME
The Glen Cameron Group is an active industry contributor and has a strong record of pushing for improvements in driver support and facilities around the country.
"Being safe at work has to be at the front of everything we do," Cameron says.
The fact that transport industry participants can't work from home and have been a key part of the response to the pandemic is front of mind for the firm.
"We've implemented programs both from a day to day health and safety approach and in support of our workers' mental wellbeing," Cameron adds.
"It's the same sentiment that drives our campaigns to build road user awareness around the best and safest way to operate on the road around heavy vehicles – we all benefit."
And while many transport and logistics operators and fleets have the name of the owner on the doors of their trucks as they ply their trade, Cameron seeks to ensure the reality within the company is more than just the public profile. So, he still comes into to work every day and speaks with his people with the same commitment in 2020 as 45 years ago.
Subscribe to our newsletter
Sign up to receive the Trade Trucks e-newsletter, digital magazine and other offers we choose to share with you straight to your inbox
You can also follow our updates by liking us on Facebook. 

Trucks For Hire | Forklifts For Hire | Cranes For Hire | Generators For Hire | Transportable Buildings For Hire