Freightliner fightback against uncertain times
---
Part 2 of 2: Despite the economic ravages of Covid-19 and severe social unrest in the streets around its Portland, Oregon headquarters, Daimler Trucks North America reports Freightliner production is back to pre-pandemic days and electric truck development remains firmly on track
During a recent 'virtual' media event from Daimler Trucks North America (DTNA) headquarters in Portland, Oregon, president and chief executive officer Roger Nielsen was eager to report that DTNA is now building as many trucks as it did before the Covid-19 pandemic struck the US in March.
In a wide-ranging address, Nielsen also outlined DTNA's commitment to offering battery-electric vehicles in every US market segment it contests and commented on the social unrest that has dogged the streets of Portland in recent times.
The pandemic has caused much hardship on Freightliner production lines, he explained.
"We went through quite a tough period on the sales side and the production side. At one moment in April, we had nearly 15,000 people furloughed out of 23,000. It was quite an impact for us."
However, production levels are improving in line with strong customer performance during the pandemic.
"Every one of our customers has come out of this pandemic really strong," he continued.
"Today, we are back to building vehicles at the same rate we were before the pandemic hit America. We are glad to be back up and running.
"It's definitely not 2019 but it's still strong.
"A lot of it is replacement demand …. 2015 was a strong year so those trucks, four years later, started coming back to us for replacement and continue now for 2020."
Nielsen, pictured below, was quick to add that DTNA has already started taking orders for 2021.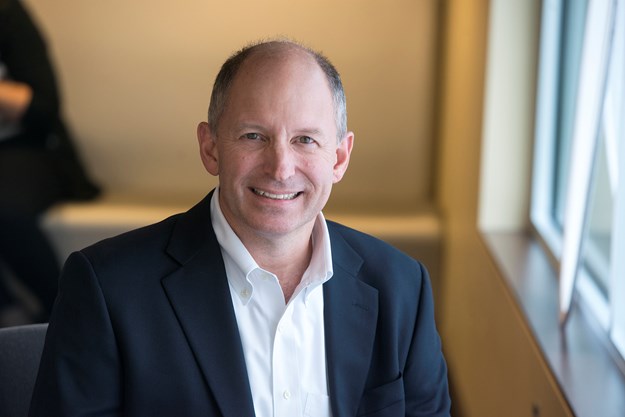 While DTNA production volumes for 2020 will be down overall, with the company expecting to sell approximately 310,000 units this year compared to 492,000 in 2019, Nielsen confirmed that July 2020 was a relatively strong month for retail sales of Class 6 to Class 8 categories in North America.
However, Covid-19 isn't the only reason 2020 will be remembered as a tough year says Nielsen, commenting that the social impacts and nationwide outcries around the death of George Floyd have further complicated America's difficulties.
Floyd was an unarmed black man who died at the hands of police in Minneapolis and much of the subsequent civil unrest has erupted around the streets of Portland, where DTNA is headquartered.
Although the demonstrations and unrest have not diminished DTNA's ability to produce and test trucks, a thoughtful Nielsen said the circumstances of Floyd's death "has affected our social conscience".
"We are not going to stand silently and watch this happen. We feel, as a major corporation in North America, we have a strong voice, with operations in nearly every major city, between us and our dealers,"
"We have the ability to put our voice and our power behind that," Nielsen commented, adding that, as part of the company's stand against social injustice, DTNA intends to focus its efforts on supporting minority-owned dealerships and fleets.
ELECTRIC ENERGY
Despite the influence of Covid-19, Nielsen also reaffirmed DTNA's intention to keep Freightliner at the forefront of electric truck technology, with new products, new innovations and new partnerships to develop and grow the business.
Reinforcing a statement made at an industry expo in early 2019 when he declared, "the future is electric", Nielsen asserted.
"We have been on this road to electrification for some time [and] are now well into putting battery-electric vehicles on the road in every one of the segments we compete."
According to recent reports, DTNA has now accumulated more than 300,000 test miles (480,000km) with its battery-electric 'Freightliner Innovation Fleet' of medium-duty M2s and eCascadias. Additionally, the company is in the process of putting its 'Freightliner Customer Experience Fleet' to work with a number of customers new to battery-electric technology.
DTNA has already established partnerships with several major fleets including NFI and Penske Truck Leasing to expand the knowledge base of how the vehicles operate, the infrastructure required for greatest effect, maintenance costs, and the changes that may be required to further enhance efficiency.
Furthermore, says Nielsen, DTNA has established a dedicated consulting group to help fleets access electric-truck incentives and how to acquire the right infrastructure and, where necessary, the right permits.
"There is a lack of knowledge out there, so we've stepped up with technical resources to execute on this idea that they can convert some of their fleet to battery-electric vehicles," he explained. 
Working closely with customers has "put us many steps ahead in our development that we otherwise would have suffered through had we tried to test these vehicles on our own".
On the critical issue of battery recharging infrastructure, DTNA has been working with specialist electric vehicle charging provider ChargePoint on the development of depot charging equipment.
According to Nielsen, depot charging infrastructure is currently preferred because development and installation of public charging outlets for commercial vehicles remains consistently slow.
As for timing, Nielsen says battery-electric trucks will be ready by the end of 2021 as first projected and the pandemic has not unduly delayed development.
"We are hauling freight today, but our next version will come out in early 2022 with the eCascadia."
However, "There is still a lot of testing between now and then," he concluded. 
Subscribe to our newsletter
Sign up to receive the Trade Trucks e-newsletter, digital magazine and other offers we choose to share with you straight to your inbox
You can also follow our updates by liking us on Facebook. 

Trucks For Hire | Forklifts For Hire | Cranes For Hire | Generators For Hire | Transportable Buildings For Hire