Scenic Detour
---
Detour Logistics' collection of Kenworth, Volvo and Scania trucks are some of the best-looking units out on the road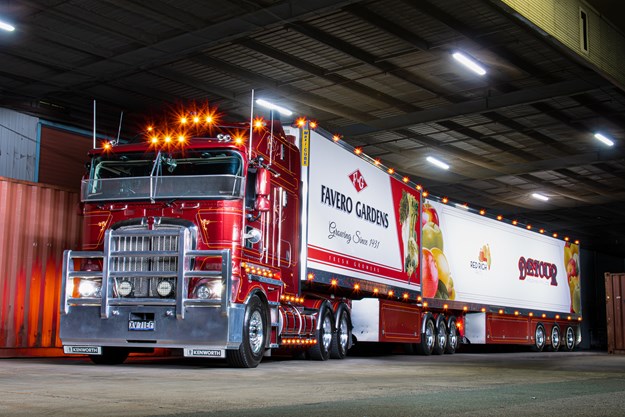 Now, contrary to what you may think, Detour Logistics did not get its name from an amusing story of owner Colin Beer getting lost and encountering a wild adventure. I would also love to be able to tell you an amusing tale aligning Colin with the phrase 'alternative route' (yeah I childishly sniggered at that one a little too much). Nope, truth be told the 'Detour' in Detour Logistics came from the side of the family ski boat. The bonus of the less exciting origin story is it's a much easier name to fit on the side of a truck, much easier than the original company name Australian Linehaul Shuttle Express. The money saved on sign writing alone; well you can work that out.
After all those little quips about the company name it is worth pointing out that owning, managing and driving for a transport company is in fact quite a detour from Colin Beer's  former profession. While he grew up with his father in and around trucks, it wasn't his first choice of career. In fact his younger years were spent in the heat and alcoholic haze of Western Australia where Beer was building houses. Eventually he returned to the more erratic weather patterns of Victoria where he downed the tool belt and jumped behind the wheel to become a truck driver.
One thing you learn very quickly about Beer is when he sets out to do something, he's going to do it all in and to the highest level – whether it's sweltering under the tools in the WA sun, or driving express freight up the east coast of Australia. He doesn't sit still long and he is always moving forward.
So it should come as no surprise that his time as a salaried driver lasted only slightly longer than the shelf life of a Maccas hamburger. By the time Beer was 31 he had his own truck. That first purchase was a Freightliner Argosy. "I'd driven a few of them so I knew what they were like," Beer explains. "They were a good cheap truck that made money."
In 2004, Beer and his truck were towing trailers for Wettenhalls, going wherever it needed him. I would love to tell you some stories that he shared, back in the earlier days when even the 'Cannonball Run' couldn't set the kind of Sydney-to-Melbourne times that those guys were doing, but for obvious reasons it's best I don't. We all know it was a different era back then. A fun kind of lunacy.
Within a year, Beer picked up his second truck as well as his own trailers and began working for IFM. By the end of 2005, there would be five trucks in the fleet altogether. From there he just grew. Beer picked up more subbie work, this time for Linfox, working alongside the transport and logistics giant to establish and organise new runs. From there Beer grew to a 16-truck fleet, building his knowledge and expertise, particularly in the refrigerated transport market.
Eventually the call was made to step out and start carting his own customers' freight. He bought a location out in Silvan, Victoria that was all set up with cold stores and ongoing customers and moved from not just produce, but into the flower market as well.
His first truck may have been a Freightliner but the majority of Beer's truck choices since then have been about as far removed as you can get. In the early years, Detour was almost exclusively stacked with Volvos, in particular the XXL Globetrotters. Beer swore by the first XXL cabs, offering increased fuel savings as well as better safety packages than anything else out there. While Beer undertakes fleet renewal quite regularly, there is still a few of the old XXL happily earning there keep.
Another huge reason for the addiction to the Volvo XXL cab was it allowed the drivers more room. They often spent long periods on the road and Colin was adamant they should have as much space as possible. This is also the reason why when the production of XXLs was halted with the arrival of the new-generation Volvos, Beer changed preferences. He began stacking the fleet with the king of cabin space, Kenworth's King Cab K200. Several of these joined the company colours as the business kept growing. More customers appreciating Detour Logistics' dedication to quality service meant more trucks were needed.
The company now sits at 30 prime movers, with 22 of those dedicated interstate runners. Volvo's re-entry into the XXL market has seen Detour's fleet start to return back to its European-influenced days. Though this time it's not just the Volvos carrying the comfy class; Detour has branched out and has several of the new-generation Scanias in the fleet. Not just that though, they have actually managed to find a way to make the new Scanias look pretty bloody good too. For those of you wondering, Beer has kept the Scanias white due to the replacement plan he is running them on, but the white with the pin-striping works perfectly.
Keeping his fleet stacked with the cream of the crop – namely, Kenworth, Volvo and Scania – has been a deliberate action by Beer and the Detour team. They operate in a competitive enough business on a good day; but when the industry is competitive, and the freight you cart is extremely time-sensitive, you are just amping up the pressure.
So Beer has always ensured he does everything he can at the highest possible level and runs only the best gear. Trucks with solid proven reliability and performance as well as dependable back-up service are key. What they tow is of equal importance as well. All of Beer's trailers are custom-made and highly tailored. Fridge vans run top-of-the-line Thermo King fridge units, which allow the management staff to keep a close eye on the temperature all the time. Tyre pressure sensors also keep a close eye on the trailers health as they travel the highways. All the trucks and trailers are on very strict maintenance plans, which ensures very little down time or breakdown issues. Last thing you want is a load of perishables sitting on the side of the road.
Aside from running the trucks and company like a well-oiled machine, Beer places a huge emphasis on the visual aspect of Detour Logistics as well. The company's burgundy (Queenslanders may say maroon) colour scheme definitely has them standing out on the road. Scroll work and just the right amount of bling ensure the trucks catch the eye of everyone.
More recently, the new trailer sets have been getting the colour treatment as well. Adding in some of the company's long-term clients on the side offers not just promotion for the client but builds the profile of Detour Logistics. The trucks are very hard to miss with their colourful fruit and vegies plastered on the side. When it gets dark, you'll also be able to pick the Detour trucks out of any line up as their plethora of lights ensures you could almost use them to mark a runway for low-flying planes.
Cosmetically, the Detour Logistics trucks tick all the boxes; mechanically they also tick all the boxes.
It's a safe assumption then that Beer looks after his drivers inside the trucks as well, with drivers spending vast amounts of time on the road and away from home – often on very time-sensitive runs.
Along with the space provided by the big-cab trucks, they all come fitted out with all the extras needed to make a driver's job just a little more comfortable. When I met up with long-time driver Mal Whiley to photograph his King Cab K200 I had to wait whilst he finished the latest episode of 'Dora the Explorer' on the truck's bunk-mounted TV. Alright, I may have taken a little creative license with that last bit just to illustrate my point.
Thankfully, when doing this interview and photo shoot I got the privilege of seeing a wide variety of the extensive Detour Logistics fleet. I even joined Beer as he took one of the stunning K200s down to Maxitrans in Laverton to pick up a brand spanking new B-double set. The Kenworth had all the staunchness and cool factor you expect of a K200.
From there I got to photograph Detour's custom-painted FH Volvo, showing all the smooth and stylish looks you expect from the European giant. I even managed to slow down one of Detour's new-generation Scanias and show off its fuel-saving aerodynamic looks. Throw in a couple of the old-school XXL Volvos, a couple of the hard-working local trucks that do all the company's pickups, and I pretty much saw it all. I would hate to be judging an all Detour truck show because I must admit, Beer and the team have got a collection of some of the best units out there. And no, I didn't get bribed to add that last bit it!
Beer may not have an exciting, amusing or even humiliating story behind the Detour name, but we can all be thankful for his ski boat and thankful he detoured from Western Australia. Detour Logistics is definitely on the right road.
Subscribe to our newsletter
Sign up to receive the Trade Trucks e-newsletter, digital magazine and other offers we choose to share with you straight to your inbox
You can also follow our updates by liking us on Facebook. 

Trucks For Hire | Forklifts For Hire | Cranes For Hire | Generators For Hire | Transportable Buildings For Hire