EXCLUSIVE: Mack on song with safety Anthem
---
It is looking ever more likely that Mack's long-awaited Anthem will make its Australian debut in early 2021. Just as likely, it will be the first Mack to come with an advanced safety package as standard equipment and, if all goes to plan, the same safety systems will also become standard on the bulldog's two biggest sellers, Super-Liner and Trident. Yet, safety is just one of several big benefits Anthem will belatedly bring to the kennel club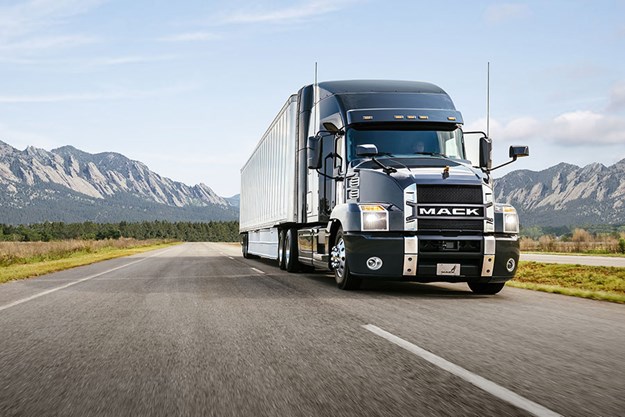 It has been a long time coming, but if the whispers are correct and Mack's new Anthem does actually debut on the Australian market in early 2021, it will be an incredibly momentous occasion for the bulldog breed in this country. A milestone for true celebration.
Not because of its unique Tonka toy looks, or the fact that Mack will finally boast a high-rise stand-up cab and 'crawler gear' transmission option. No, the real celebration will come from the fact that it's now 20 years since Volvo bought Mack and, at long last, after endless hard questions and weak answers, the Swedish corporation's megaphone mantra on the vital importance of safety will finally extend to Mack's Australian operation. 
Indeed, it is becoming increasingly apparent that Anthem will be the first Mack on the Australian market to offer a comprehensive safety package as standard equipment and, accordingly, quell the hypocrisy that year after year has highlighted the vast separation of Volvo and Mack on the development and deployment of standard safety systems.
As it does in the US, the safety platform to be employed in Australia's Anthem is effectively the same Bendix Wingman Fusion system that has been an extra cost option on Mack's Granite, Trident and Super-Liner models in Australia since 2017.
Right now, though, with Anthem almost certainly on the cusp of an Australian release and set to replace Granite in the Mack range, there are hints of a strong push by senior powerbrokers within Volvo Group Australia (VGA) to also make the Wingman Fusion system a standard offering on Trident and Super-Liner at the same time as Anthem's local introduction.
Whether VGA chooses to tell us or not, we'll know soon enough if our insights are on the money, with Anthem expected to be launched to dealers in the first quarter of 2021 and full production at VGA's Wacol facility in Brisbane scheduled to start in the second quarter.
Given the timing, VGA's decision to forego next May's Brisbane Truck Show and subsequently miss the opportunity to propel its new and improved Macks into the public gaze seems extraordinarily odd. Even more so when it's mixed with the fact that Volvo also has an entirely new range of trucks to showcase. Odd indeed!
SAFETY AS STANDARD
In the modern era where inherent safety systems are increasingly sought by truck operators to satisfy socially-sensitive freight customers – especially among 'blue chip' fuel and retail companies – there are sound commercial reasons for Super-Liner and Trident to join Anthem in having Wingman Fusion as a standard feature.
For starters, the arrival late last year of Freightliner Cascadia with the standard inclusion of a comprehensive and advanced Daimler safety package raised the bar to new heights in the conventional truck sector.
Without something similar offered as a standard feature, Mack could easily find itself out in the competitive cold. The same scenario, of course, also applies to conventionals from Kenworth and Western Star.
It is no longer enough to simply offer advanced safety technology as an option.
In Mack's case, for instance, it appears most truck buyers have been hesitant to tick the safety box and subsequently pay the optional premium for Wingman Fusion, said to be between $5,000 and 10,000.
According to our information, less than 10 per cent of all Macks are currently delivered with part or all the Bendix system installed.
In fairness, though, cost may not be the only motive why so many operators decline the Bendix option. As an add-on rather than an integral, factory-owned system, there are reports that some aspects of the package have been problematic at times.
What's more, there are those owners and drivers who simply dislike anything that infringes on 'old school' practices, much like many attitudes when automated transmissions first came on the scene.
Still, when it comes to inherent safety standards in a modern truck, there's also a moral imperative. Simply put, and despite the remonstrations of various Volvo Group executives here and abroad over many years, Mack has largely floated adrift of the Swedish ethos on safety.
---
VIDEO: Look back at our American test run of the Anthem in 2018
---
Numerous Volvo and Mack operatives, some at very senior executive levels, have for many years repeatedly dismissed and even bluntly disregarded questions on the reasons why Mack has been seemingly sidelined on the standard fitment of advanced safety compared to its Volvo and UD stablemates.
All too often, their responses have been limited to lame lines like: "They're two different trucks for two different customer bases," or "No one ever asks for it."
Yet, in the Volvo world, where safety is a heavily funded core quality, no one has to ask for safety. It's just given – a moral and potentially life-saving initiative with increasing commercial clout in the modern world. The same can be said for UD under Volvo's stewardship.
Anthem, however, and potentially its Trident and Super-Liner siblings, will bring Mack a long way into the safety sphere by making the Wingman Fusion system standard – with the cost obviously tucked into the price of the truck – and finally delivering an advanced safety platform as a fundamental feature of the bulldog brand.
It has been a long time coming. A very long time. Like I said, it's now 20 years since Volvo bought Mack, but as the saying goes, 'better late than never'.
BENDIX AND THE BULLDOG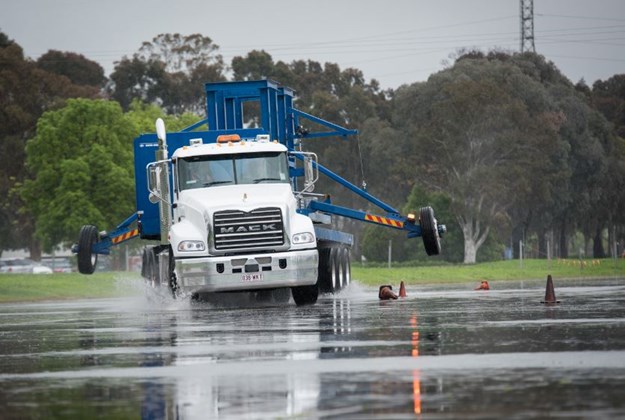 With Bendix an external supplier rather than a factory-owned arm of a major truck manufacturer, it's obvious there are some areas where the Bendix Wingman Fusion system is simply not able to contribute to the safety portfolio of a truck.
Like, a driver's side airbag, which, unlike Volvo, UD and Freightliner's Cascadia for that matter, is not part of Anthem's safety suite. Interestingly, though, Volvo's US conventional models are equipped with a driver's airbag.
Likewise, the Bendix system has little or no bearing on cab construction and, consequently, the ability of Mack's ageing cab shell to withstand a severe impact remains somewhat less than Volvo models, which meet Sweden's rigorous cab-crash test standard.
In years to come, however, Mack may indeed meet the Swedish cab standard. It's no secret that in January 2018, at a meeting of senior business leaders with US president Donald Trump, Volvo Group global chief Martin Lundstedt outlined ambitious plans to invest "north of two billion dollars" in development programs around its two North American nameplates, Mack and Volvo.
Given the vast amount of money, it's reasonable to assume that somewhere in that program there's an entirely new conventional cab under development, with the core design almost sure to be shared across both Volvo and Mack brands.
If so, there is every likelihood the highest levels of crash integrity along with significantly more advanced electrical systems will be part and parcel of any new cab.
Moreover, there are rumours a completely new cab may be as little as two or three years away and maybe, just maybe, Anthem is aimed at simply filling the gap in the interim.
Whatever the outcome and the time frame, Mack's safety push today remains bolted to Bendix – part of Germany's giant Knorr-Bremse group – and the Wingman Fusion system, which integrates advanced camera, radar and braking technology.
THE PACKAGE
Our first close encounter with the full Wingman Fusion package came on a wickedly wet and windy Victorian day at Shepparton's Driver Education Centre in late 2016, with Mack excited and keen to showcase its ability to finally offer an optional safety system.
As we reported back then: "The latest evolution of the Bendix system is Wingman Fusion, and it's this high-tech program which has now been applied to Mack in the US and will early next year [2017] be offered by Mack Trucks Australia as an extension to the optional 'Road Stability Advantage' [electronic stability program] also developed by Bendix."
Then, as now, the full system consists of the stability program along with Wingman Fusion's adaptive cruise control, lane departure warning, information alerts on following distance and stationary objects, and the 'Blind Spotter' function that reveals the presence of other objects down the passenger side of the truck.
Installed in a Mack Granite – ironically, the model about to be replaced by Anthem – the drive program at DECA started on a fearfully slippery skid pan before stints on a test track and the open road.
In every instance, the system's full array of features showed an impressive ability to avoid or at least minimise the impact of crash events.
---
VIDEO: Our Mack Super-Liner 685 with 60-inch sleeper review, here
---
Yet, as Mack and Bendix operatives were quick to point out, it is a safety package designed to provide collision mitigation rather than collision prevention.
While typically upbeat about the availability of the Wingman Fusion system, former Mack Trucks Australia vice-president Dean Bestwick (now working with Mack in the US and replaced by former Mack and Volvo vice-president Gary Bone) emphasises that it is essentially a driver assistance system.
"[This is] one of the most comprehensive and powerful driver assistance systems available on conventional trucks in Australia and New Zealand," he explains.
But: "This system will not replace an alert or skilled driver."
It was a statement endorsed by Brett Nicoll, then lead applications engineer for Knorr-Bremse Australia.
"As good as these systems are, the technology is collision mitigation, not collision prevention," Nicoll says.
In effect, softening the smack rather than avoiding the smack altogether.
LONG ROAD
"Anthem will give us a massive boost," says an emphatic Bestwick during an impromptu interview in the spacious surrounds of a high-rise Anthem cab and 70-inch (178cm) sleeper at the 2018 Mid-America truck show in Louisville, Kentucky, just six months or so after the new Mack's launch on the North American market.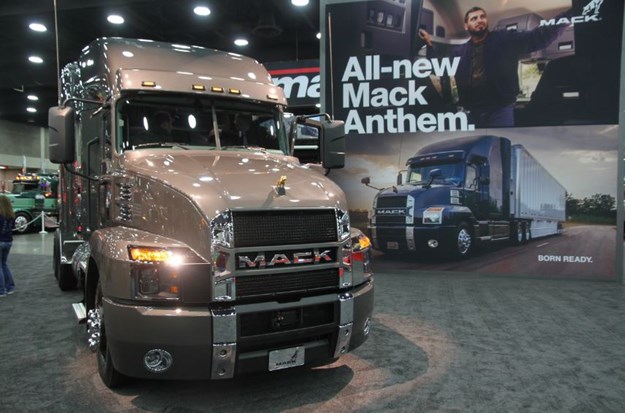 Four years in development before production started at Mack's Lehigh Valley facility in Pennsylvania, Mack boffins were openly optimistic about Anthem's ability to recapture some of the US linehaul market, where the bulldog had once stood so strong and proud.
No less exuberant or enthusiastic was Bestwick, citing Anthem as much more than a dog with a new look or simply a replacement model for Granite.
While Mack's modern presence on the US linehaul market is meagre at best, the bulldog remains a powerful player on Australian highways, with models such as Trident and Super-Liner entirely unique to our part of the world. It's worth noting, too, that the engines and transmission used in Australia are sourced from Europe, not the US.
As Bestwick was quick to add, though, it is the uniqueness of Mack's Australian range that has for a long time limited the brand's ability to tap into various US options.
Anthem, however, creates a bridge between the Australian and US markets, more than any model since Volvo took control of Mack in 2000.
"We're competitive now with our current range, but the things Anthem provides will make us even more competitive," he insists.
"It's a new ballgame for us. We need more from America and Anthem provides the things we want. Simple as that."
Another visitor to Mid-America in 2018 was Volvo Group Australia senior product manager Scott Simpson.
Calm and thoughtful, and somewhat more subdued as engineers invariably are, there's little doubt he has subsequently had a significant hand in testing and validation for the Australian market, and at Louisville didn't shy from expressing early satisfaction with aspects of Anthem's design.
"There's a lot to like from what I've seen," Simpson commented at the time.
"The gusseting they've done to strengthen the cab for the higher roofline seems really strong.
"It'll go through plenty of testing before it's released in Australia, but we already know there are a lot of improvements in a lot of areas.
"I'd say they've done a really good job with it."
High praise indeed from a man with an engineer's propensity for cautious commentary.
Yet, despite the optimism and expectation of a bright new chapter in Mack's long history in Australia, it was an unusually cautious Bestwick who would not be drawn on a possible introduction date for Anthem in Australia.
"Anthem's introduction will depend on the quality levels achieved through the testing program and validation process," he said, adding that particular attention will be paid to Anthem's electrical systems and features, and obviously enough, structural integrity of the high-rise cab which allows a standing height of 1.8 metres and more.
"We've been waiting for Anthem for a long time. A little while longer won't hurt if it means making sure everything's right."
Critically, it's believed a good deal of development work has been done to upgrade and standardise the electrical systems of Anthem, Trident and Super-Liner so all can share in a range of new features and initiatives.
CRAWLER DEBUT
Nonetheless, there's no question it has been a longer testing and validation process than originally expected. At the 2019 Brisbane Truck Show, for example, a walk-through cab and sleeper exhibit was accompanied by suggestions Anthem would hit the market later that year. Obviously, that didn't happen, so with the arrival of 2020 came assertions it would be introduced mid-year, but then, of course, came Covid as the chosen excuse for many things, including another delay to Anthem's release.
Now, however, it's almost certain – or as certain as anything can be at VGA these days – that Anthem will be launched in early 2021. "Full steam ahead," according to one source. And, vitally, Anthem's modernised, high-rise cab with a notably improved driver environment will be available on both Super-Liner and Trident.
As Bestwick quipped several years ago: "Anthem is much more than simply a replacement for Granite. It's what it can give us for other models in the range that makes it so special for our market."
Given Australia's B-double length limits and Anthem's 2,996mm bumper to back-of-cab dimension (120mm longer than Granite), it's our bet the hi-rise cab will only be available with a 36-inch (91cm) sleeper. Likewise, Trident and Super-Liner. In fact, it's a poorly-kept secret that a Super-Liner with a hi-rise cab and 36-inch bunk has already been built for demo duties.
Down the track, though, it would be entirely surprising if Mack didn't have plans to eventually offer both shorter and longer sleeper sizes than the 36-inch model.
Even so, it seems highly unlikely that the 70-inch sleeper offered with the hi-rise cab in the US would be considered for the Australian market. It's simply too long for the great majority of our needs. Meanwhile, existing sleeper options on current Super-Liner and Trident low-roof cabs are sure to continue.
Finally, there are some indications the arrival of Anthem will also see the much anticipated debut of crawler gear options in Mack's mDrive automated transmission.
The mDrive, of course, is Mack's version of the Volvo I-shift transmission, which
has for some time offered an optional 14-speed model that adds two crawler gears to the standard 12-speed layout.
As we understand it, mDrive will be soon available with optional 13-speed and 14-speed models, offering a single 17:1 crawler ratio in the 13-speeder, and 19:1 and a tree-climbing 32:1 in the 14-speed.
Yet, with Anthem's standard gross combination mass (GCM) rating of 70 tonnes and conditionally up to 106 tonnes, powered by the 13-litre MP8 engine with up to 535hp (399kW) and 1,920lb ft (2,600Nm) of torque, the newcomer is probably not the most likely beneficiary of the crawler ratios.
Where the bog cogs give Mack its biggest – and long overdue – benefits are in some Trident tipper and dog applications and the truly heavy-haulage and road train workloads frequented by Super-Liner with its burly 16-litre MP10 engine.
As one Mack insider conceded some time ago, the absence of crawler cogs in mDrive has been the main reason some operators have argued long and loud for an Eaton 18-speed manual shifter, with its deep reduction ratios.
Again, crawler ratios in mDrive have been a long time coming but, like the rest of the Anthem package, it's all better late than never.
SHORT 'N' SWEET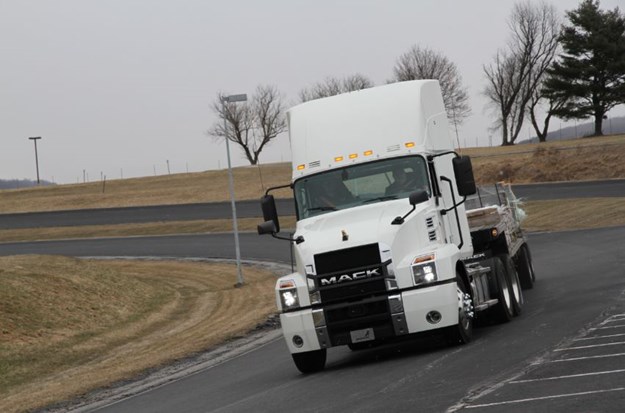 A short drive from Mack's Lehigh Valley plant, the company has a bulldog customer centre and test track.
As far as test tracks go, it's nothing special or particularly demanding. But on a cold and snowy Pennsylvania afternoon back in early 2018, it was at least a reasonable venue to climb behind the wheel of Anthem for the first time.  
Two test units were provided for a few hours – one a day cab, the other a flat-roof sleeper, each powered by a modest 430hp (321kW) version of the MP8 engine coupled to an mDrive transmission, and each towing a loaded flat-top trailer.
Anyway, with Anthem now almost certainly on the cusp of an Australian release, but not knowing when or even if we'll be invited for an official test drive, it's probably worth recalling initial thoughts from that US trip.
As reported back then: "Let's start with the most obvious feature of all: that hood, which, apart from its unique appearance, also uses an innovative locking mechanism behind the lower edge of the grille in place of normal lock-down clamps on the rear corners. What's more, Mack insiders say the grille design not only enhances aerodynamic efficiency and fuel economy, but also provides ample airflow to further aid cooling capacity."
As for Anthem's somewhat radical facial features: "While first pictures may have conjured thoughts of a chunky mix of meccano with a touch of Tonka, the consensus among our small group was that it's a truck which actually looks far better in the flesh. Even appealing, and quintessentially Mack.
"Still, opinions are sure to vary, but there is, of course, much more to Anthem than first meets the eye.
"For the driver, it's a hugely improved environment with main gauges and instruments ideally sited each side of a central digital information screen, while the layout of control wands and switches for a multitude of current and new functions is neater and vastly more practical than the current outdated design."
While the steering wheel arms hold switches for radio volume, phone and cruise control, "some will find the wheel odd with its straight section near the driver's waist. Unusual, sure, but also a very clever and effective way of increasing belly room for those with a generous girth, especially the short, stumpy types who need to be up close to the wheel.
"That's about it, for now."
Subscribe to our newsletter
Sign up to receive the Trade Trucks e-newsletter, digital magazine and other offers we choose to share with you straight to your inbox
You can also follow our updates by liking us on Facebook. 

Trucks For Hire | Forklifts For Hire | Cranes For Hire | Generators For Hire | Transportable Buildings For Hire