Sure, it hasn't yet notched the numbers expected of it, but in everything else Freightliner Cascadia appears to be achieving exactly what its proponents planned.
It was late 2019. No one knew a global pandemic was just around the corner and at a high level press conference on a sparkling spring day in Sydney, it was all good news coming from not just the top tier of Daimler Trucks North America but from the big corporate kahuna himself, Daimler Truck global supremo Martin Daum.
Obviously, it took something very special to bring to Sydney's shores such a cluster of Daimler's heavy hitters but more to the point, it signalled in no uncertain terms that Australia was on the corporate radar like never before. Cascadia had cometh and with it, an unmistakeable pledge that this time around, operational reality would prove to be significantly greater than corporate rhetoric.
From Herr Daum down, the overseas 'heavies' were resolute in pushing the message: Australia and New Zealand are valuable markets and Cascadia was the key to cracking a bigger stake because, quite simply, it was the truck that would finally allow our part of the world to feed from the same technological table as its North American counterpart. In effect, Cascadia would deliver what its predecessors had never been able to deliver – a fast, direct line to the technical and mechanical developments of North America's top selling heavy-duty truck as they happen. Not only that, Cascadia's conversion to our side of the road was emerging from the most comprehensive and costly test program ever undertaken by Freightliner for an export market. 
From any angle, this was the start of a bigger, bolder, brighter future for Freightliner in Australia. A new era to finally put a stake through the heart of the hardships and disappointments of the last few decades. No more patchwork product plans, no more interminable waiting for the US to apply an engineering fix to one problem after another, no more mediocre build quality, and with the bell finally tolling for the defunct Argosy and its Coronado stablemate, no more of Australia's second-string status in the Freightliner fold. 
It had all come down to this balmy, bullish day in Sydney, and that night the official launch of the truck which promised to carve an entirely new line in the Australian sand for a brand which had long promised so much yet, for any number of reasons, had largely failed to live up to the potential forged during the inspiring days of our first Freightliner, the indomitably durable FLC112.  
But then came COVID and suddenly, just as hype and hope were hitting the heights, the brakes went on. Hard!
Ups and Downes
With the likely exception of Daimler Truck Australia chief Daniel Whitehead, it'd be difficult to imagine anyone more excited or hungrier for Cascadia's 'Down Under' debut than Freightliner's local leader, Stephen Downes.
The former Paccar Australia manager had moved to Daimler at the start of 2015 knowing full well that some time down the track, Cascadia would take its place here. It may, however, have taken longer than expected but during the extensive product planning and testing processes preceding the new truck's local debut, Whitehead and Downes were equally adamant there would be no shortcuts in ensuring that Cascadia did not suffer the fundamental foibles of its predecessors. Simply stated, Freightliner's reputation could not afford those mistakes again and as rumour has it, they didn't defer from reminding their American colleagues of that one cold, hard fact.
Even so, and especially given the early fervour of Cascadia's launch, it has also taken much longer than expected for the opportunity to slip behind the wheel of Cascadia's flagship 126 model. And sure, COVID constraints have been part of the problem but the main reason according to an earnest Stephen Downes is, "Everything we get, we sell." In effect, supply shortfalls and strong customer demand have meant no spare trucks, least of all for media trials. Fair enough, customers come first.
To state the obvious, there are two Cascadia models, the 116 and the 126, with the numbers defining the bumper to back-of-cab (BBC) length in inches of each model. The shorter version is punched by a Detroit DD13 engine with up to 505hp and 1850lb-ft of torque whereas the 126 has the DD16 engine topping out at 600hp and 2050lb-ft.
Funny thing though, it wasn't hard to secure an early steer of the 116. Freightliner was, in fact, extremely quick to put a pre-production single trailer combination together for trial runs. Furthermore, in the first half of 2020 we were also able to secure the maiden run in one of the first Cascadias sold in Australia, a 116 truck and quad-dog combination in the fleet of highly regarded NSW family company, Cleary Bros.
In a follow-up report more than a year later, company director Brett Cleary and original driver Kieran Pearce were quick to commend Cascadia's standards of durability and fuel efficiency. "I wouldn't change anything," Kieran Pearce declared after the first 150,000km behind the wheel. 
Meantime, for Brett Cleary the standard fitment of the Detroit Assurance 5.0 safety package of Active Brake Assist, Adaptive Cruise Control, Lane Departure Warning, and the Side Guard Assist system had been a powerful influence on the decision to go early with Cascadia but operationally, he knew there was still a long way to go.
Now, with 300,000km fast approaching, the truck continues to do the right thing according to an obviously satisfied Cleary. "Other than a minor, very minor, gearbox glitch at the moment, it hasn't missed a beat. No dramas, and it's pulling a 39 tonne payload," he remarks, adding that fuel consumption over the life of the truck to date sits at a pleasing 2.05km/litre (5.8mpg).
So, the big question: Would you buy another one? "Yeah, I would. The service has been good but we're running over the big hill (Mt Ousley) a lot of the time so I'd probably go for the 16 litre model," Brett Cleary concluded.
Yet despite these accolades for the 116, it came as a surprise to learn the longer 126 model accounts for around 70 per cent of the 700-plus Cascadias now running on Australian roads; a ratio which perhaps belies the suggestion that the model's long BBC precludes it from many B-double applications. 
Still, proving that most things come to those who wait long enough and whinge loud enough, a new Cascadia 126 in 26-metre B-double form recently became available and before our run through regional Victoria and southern NSW, a forthright Stephen Downes didn't shy from any of the issues which appear to have collectively subdued Cascadia sales since its launch more than three years ago.
For instance, asked if he was content with Cascadia's achievements to date, a succinct Downes replied, "No. We simply haven't had enough trucks (and) we could've done significantly more if we'd had the trucks.
"We built momentum but it has been frustrating waiting for supply. We want more because we can sell more. Simple as that."
COVID, he remarked, has had an obvious influence but it certainly hasn't been the only issue impacting Cascadia's ability to make the most of a booming Australian truck market. Big demands on production in North America continue to be a contributing factor but so, too, has limited global supply of components been a problem for automotive brands around the world. (Not least, semi-conductors for the electronic control modules of every new car and truck.) Add stifled shipping availability and it's easy to see why importers – Freightliner certainly isn't alone in suffering supply shortages – have found it particularly hard to meet high market demand.
As for the assertion that the 126 inch BBC of Freightliner's premium model restrains Cascadia's potential for 26 metre B-double duties, Downes insists it's more of a problem if the 126 is coupling to an existing trailer set essentially designed for a cab-over or a shorter conventional. "It's not really an issue with new trailers," he contends, referring to an engineering drawing of the new 34-pallet Krueger Kurtainer B-double set built specifically for the test unit complete with a 36 inch stand-up sleeper and bull bar.
As our photos show, the truck's graphics aren't timid in highlighting Cascadia's credentials for B-double duties but arguably the most positive aspect of all came from a blunt question about Cascadia's durability to date. 
"All good," Stephen Downes instantly answered. "On durability and service, it's meeting all our expectations."
Over the next 48 hours though, as first the new truck, then a meeting with a fiercely pragmatic fleet operator and finally, a run in an early engineering 'mule' with more than 800,000km on the clock, signalled that despite its relatively modest numbers, Cascadia appears to be in the process of achieving far more than simply 'meeting expectations'.
Drive with a difference
After more than three years since its introduction, we were keen to do something more with the Cascadia 126 than a day-long highway run, and so it was that early on a weekday morning, Freightliner field service manager Mike Bushett had an immaculately prepared 126 ready to roll from the hectic Cooper Street BP outlet on Melbourne's northern rim.
Grossing 60 tonnes and with just 2600km on the clock, the plan was to spear north up the old Hume Highway, taking in the sharp climb over Pretty Sally before tracking to Echuca and over the border to Deniliquin and a quick meeting with Deniliquin Freighters principals Russell Tait and wife Vicki who now run three Cascadia 126 models in their 15-truck operation. After that, head 'cross-country on busted bitumen to Barham and over the town's notoriously skinny bridge back into Victoria, threading through mallee country on equally ordinary roads before an overnight stay in the truck at Horsham.
Early next day, with Horsham's Wimmera Field Days about to start, the B-double outfit was left with Daimler Truck's Wilson Bolton dealership for display duties. In its place for the run back to Melbourne was a loaded single trailer hauled by the same engineering test unit we'd first encountered years earlier in Queensland pulling B-double loads of fuel. If nothing else, this final stint would at least indicate if Cascadia's cab was enduring time and toil better, significantly better, than most of its forebears.
Anyway, first things first: Cascadia 126 comes with a standard gross combination mass rating of 106 tonnes and certainly ticks enough boxes to make it a worthy competitor for the great majority of applications available to a conventional truck. Indeed, the test unit supplied for this exercise proved the point in no uncertain way.
Underneath, of course, is the burly DD16 engine rated at peak output of 600hp (447kW), backed up by a healthy 2050lb-ft of torque, distributed through the super-slick and highly intuitive control of the DT12 12-speed overdrive automated transmission. This combination is obviously part of the same 'family' powertrain as Mercedes-Benz with the notable difference that Cascadia's engine meets America's fierce GHG 17 (greenhouse gas) emissions level – even more stringent than Euro 6 – with a horizontal exhaust and after-treatment system mounted under the driver's side of the cab.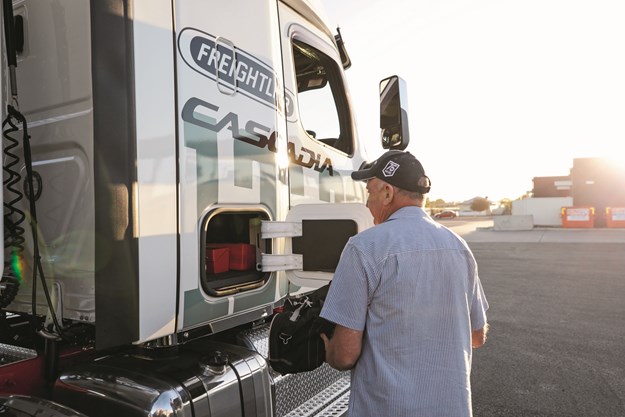 Importantly, there's a wide range of round or square fuel tank options with the test unit carrying almost 1000 litres in three tanks, two on the driver's side and a single on the passenger side partnered by a 200 litre AdBlue tank, with smaller AdBlue sizes also available.
Putting performance to the ground is Meritor's RT46-160 GP drive tandem running a 3.42:1 final drive ratio and riding on Freightliner's well-mannered AirLiner rear suspension layout. Up front are long taper-leaf spring packs.
In the all-important stopping department there's the choice of Meritor drum brakes or Bendix discs, with the latter fitted to the test truck.
From behind the wheel, the cab's a delight with an enviable mix of creature comfort and operational simplicity. For starters, it's an easy climb to the Isri high-back seat and from there, everything falls easily to hand. There is, of course, no mistaking the Daimler family similarities in a tidy switchgear and control layout, and now, Cascadia's inclusion of two digital dash screens operated through fingertip controls on the leather-wrapped steering wheel. All up, it's a quality layout and while a driver's like or dislike of the digital systems over more conventional gauges is largely driven by personal choice, the Daimler design is at least among the most practical and logical in the market.
Admittedly, Freightliner's Mike Bushett was alongside to explain the operation of the various functions and features but nonetheless, familiarity came quickly, even to someone from a time when 'digital' implied a finger in a certain direction rather than a technological trend.
Moreover, it didn't take long to feel completely at ease on the road, in or out of traffic. There's a crisp, smart strength in the Detroit powertrain which is perhaps unsurpassed in the conventional class, particularly with such worthwhile inclusions as a standard 'hill hold' function. Likewise, handling and road manners on the highway were sure and smooth as the outfit notched an easy 100km/h around 1400rpm. Some may initially find the steering a tad too soft but it is in no way sloppy or vague.
Meantime, forward vision over the drooping snout is supremely good but as in past appraisals of Cascadia, I find the radar unit at the top centre of the windscreen visually intrusive. Typically, some agree, some don't, but to my thinking, it simply infringes on a full view. As for rear vision, the mirrors are excellent but like so many others, the driver's side housing can at some angles interfere with the right-hand view at roundabouts and the like. 
In performance, however, there's nothing not to like about the DD16. It's strong, tenacious and again, ideally matched to a slick and highly intuitive transmission. The biggest hill on the run to Deniliquin is the Pretty Sally climb less than an hour out of Melbourne yet even when baulked by slower traffic, the 60 tonne B-double romped over the steepest pinch in 8th gear under part throttle. Trucks have, indeed, come a long way since the days when Pretty Sally was one of the old Hume's many hard hauls.
Over the border into the NSW Riverina, summer still had a sharp bite as the Cascadia rolled into the Deniliquin Freighters yard with the trip computer showing the 270km leg from Melbourne returning 1.78km/litre, or 5.03mpg. It seemed a respectable result for a relatively new truck hauling 60 tonnes.
Horses for courses
Time was tight but Russell Tait and wife Vicki were typically obliging as the conversation quickly turned to the three Cascadias in the couple's high profile business as the national carrier for SunRice out of its Riverina operations.
It's a formidable effort, with long-term subbies and tow operators complementing the Taits' 15 company trucks to move up to 60 loads each day in either roadtrain, B-double or single trailer configurations.
As for Cascadia, Russell explained the first of the three 126 models arrived towards the end of 2021 and now, with upwards of 170,000km on the clock, the decision to add the Freightliner conventionals in an operation dominated by Mercedes-Benz's flagship 2663 model comes with no regrets. Nor, he continues, are there any regrets in making a major move to Mercedes-Benz some years back after a gruelling experience with Cummins EGR engines in Kenworths. We reported that story a few years ago but to say the EGR experience was a painful episode for Deni Freighters is an understatement of massive proportion.
Interestingly, there are three aging Kenworths still in the operation but as a candid Russell Tait points out, there's no EGR.
Meantime, the couple is adamant the Benz experience has been entirely beneficial, with Vicki commenting, "We really enjoy our experience with Daimler," and both asserting that the appointment of David Warren as dealer principal of the Daimler Truck outlets in Albury and Wagga "… has been a revelation." In fact, as far as the Taits are concerned, David Warren's recent award as Daimler Trucks dealer of the year was entirely deserved.
What's more, a definite Russell Tait declares the Daimler Trucks' full maintenance plan which supports the company's Benz and Freightliner trucks is "… entirely cost-effective".
But, if the Benz experience has been so good, why Cascadia?
"Because we could run a long wheelbase with a 60 inch bunk and still meet the length limit with tippers," Russell instantly fired back. 
"Besides, rice is a heavy product and we generally need only a 32-pallet deck for curtain-side B-doubles." Thoughtful for a moment, he eagerly adds, "The big bunk certainly pleases drivers. It creates a lot of pride and the feedback has been very strong."
Cascadia, however, has delivered other assets. He cites, for instance, the decision to specify Eaton 18-speed manual gearboxes instead of the Detroit DT12 automated transmission as a benefit when loading from harvesters in paddocks. Moreover, an emphatic Russell Tait says Cascadia has shown an ability to cope better with poor secondary roads than its Mercedes sibling. 
Still, while he describes Cascadia's DD16 as "good on fuel," Russell equally attests, "Mercedes-Benz is a tad better because it runs a taller diff ratio."
As for future purchases, a steadfast Russell and Vicki say it's simply a choice between the two brands, dependent on the application. As Russell puts it, "Mercedes for highway runs and Cascadia for more regional work.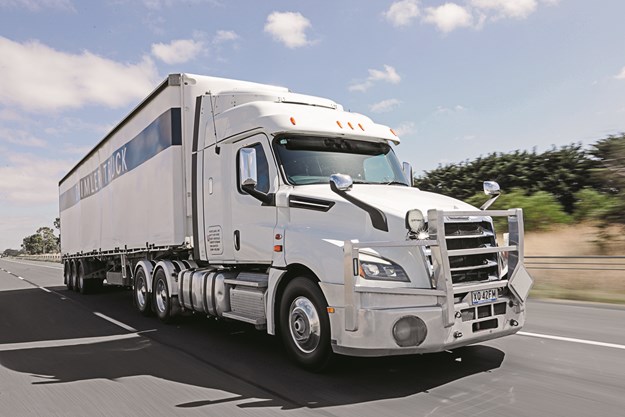 "Either way, it'll be one or the other," he confirms.
By now, the heat was high and a blustery wind was curving the curtains as the demo truck was pointed south on badly cracked and flood-ravaged roads to Barham and over the border through flat, windswept farmlands streaked by similarly second-class roads.
It wasn't always easy holding a steady speed and neat line on such broken and rough-edged roads, but for the most part Cascadia's ride and handling qualities made the haul to Horsham at least tolerable. It was, if nothing else, easy to accept Russell Tait's judgement of Cascadia as a capable truck on poor secondary roads.
A hot gusty wind, however, was taking a toll and as the truck rolled into Horsham in the early evening, fuel consumption for the 616km trip from Melbourne had fallen to 1.71km/litre, or 4.83 mpg. Given the diverse demands of the day, it seemed a reasonable result for a truck which had barely notched 3000 km. It's worth noting though, the fuel figure does not include AdBlue consumption.
Meantime, the next part of the exercise didn't demand much of truck or driver. Sleep!
Night and day
Accommodating 34-pallet B-double duties, Freightliner's 36 inch XT sleeper is obviously the smallest of Cascadia's bunks, its bigger brothers being the 48 inch XT, 60 inch XT and 60 inch RR (raised roof) sheds. 
All XT cabs provide reasonable standing room between the seats but as the slimmest bunk in the bunch, the 36 inch version lacks the sleeper doors and lockers on each side of its bigger brothers, but at least has opening vents on each side and a reasonable single locker on the driver's side. 
Importantly, sleeper trim is neatly finished and there's a good quality 30 inch mattress as well as curtains that extend around the doors and windscreen and another curtain that slides across the width of the sleeper. Controls for lights, fan, heating and ventilation are on a panel on the passenger side wall, along with a handy digital clock with an alarm function. On the driver's side there's a convenient towel rack and in the test truck, steel bracketry for mounting a TV. 
But here's the thing, the bunk is still in a left-hand drive layout. Most drivers I've come across (including the one in the mirror) like to sleep with their head behind the driver's seat because it's generally the high side of the road, which means the XT's controls for lights, fan and so on, as well as the TV bracketry, are on the wrong side of the sleeper. Whether or not Freightliner's masters are willing to make the change for our market remains to be seen but from a driver's perspective, the change would be welcome.
The final part of the story, however, is arguably the most revealing and given Freightliner's track record for questionable build quality over the last few decades, the most important. There's no question the fit and finish of the test truck were of an appropriately high standard and with a complete lack of rattles, squeaks, shivers and shakes on roads that ranged from reasonable to rotten, it was easy to again accept Freightliner's assertion that Cascadia's overall quality is far above any of its immediate predecessors.
However, a few hours behind the wheel of the engineering test truck which was, in fact, the first right-hand drive Cascadia to hit an Australian road, sealed the deal on build quality more than any other. 
Hooked to a curtain-sided single trailer and grossing around 40 tonnes for this relatively short hop to Melbourne, the truck had notched almost 810,000km on a range of durability trials starting well before Cascadia's Australian launch and to put it mildly, hadn't had an easy life. 
Again though, there was not a rattle or squeak to be heard, the dash fittings were still neat and tight, and the overall handling and steering quality were entirely acceptable. In fact, the only thing outside the square was a blank space in the left of the dash fascia where a data logger had sat until recently removed.
Across the cab, Freightliner's Mike Bushett is a calm and considerate man who didn't deny a genuine gratitude for Cascadia. After a collective 28 years in Daimler's truck business and nowadays the field service manager for South Australia, Western Australia and parts of Victoria, he admits to more than a few hard days with some earlier Freightliner models.
It's a far different deal today and despite the added complexity and detail of all modern trucks, he candidly declares Cascadia's quality is far beyond anything from the past. As for reliability, "It's on a far higher scale in every way. There just aren't the issues anymore."
Meantime, back in Melbourne, Stephen Downes was asked, "What's on your wish list now for Cascadia. Maybe a 16 litre model with a shorter BBC?"
"No," he answered sharply. "The only thing on my wish list right now is more of what we've got." 
For more truck reviews and pictures, see OwnerDriver's April 2023 print edition!