Ahead of its release later this year, here's a first look at how Scania's new R660 performs, with a jaunt up the Hume Highway
The phone call came out of the blue late one afternoon and the request could not have been more direct.
"G'day Steve," started the senior Scania man.
"We'd like to get your feedback on something."
Obviously enough, the conversation quickly developed; the 'something' turning out to be Scania's upcoming R660 model and the 'feedback' essentially seeking an objective opinion on the truck's specification and subsequent performance and efficiency in a linehaul B-double run, well before an official launch later in the year.
"Sure," was the emphatic answer, but on one absolute condition. "As long as it's on the record and I get to write the story about the truck and the result straight after."
"Fair enough," was the Scania manager's prompt response before adding: "We're confident, but we'd just like an impartial outside opinion before we settle on the final spec."
And so, in relatively short time, a new R660 with less than 1,500km under its belt, hooked to Scania's curtain-sided B-double set, rolled out of the brand's Campbellfield (Vic) headquarters on a weekday morning at a gross weight of 62.2 tonnes with the simple goal of notching at least 1,000km on a major linehaul route.
Sitting in the passenger seat was Ben Nye, Scania Australia's pragmatic national product manager, earnestly believing the truck would do all expected of it, but quietly eager for confirmation.
There were no instructions or suggestions on how the truck should be driven for maximum effect, just a casually stated acceptance that linehaul reality demands freight getting from one point to another in the most timely, efficient and safest manner. In a nutshell, drive it like it's your own.
As for where to run the truck, Ben made it simple: "Wherever you like. We've got today and tomorrow, so as long as it's a typical highway run that'll give us a genuine indication of performance and fuel. It's up to you."
Starting from Campbellfield on Melbourne's northern outskirts, the Hume Freeway was the obvious choice and, in a matter of minutes inside the cab, the plan became as plain as it was practical: northbound a tad over 500km to the Coolac truck stop then turn around and head straight back the same way to create a trip of around 1,000km that, on the run north, obviously includes the high profile climbs of Aeroplane and Wagga hill. Simple!
But, with a little time up the sleeve on the run back to Melbourne, a spur-of-the-moment idea saw a detour onto the old Hume Highway for a nostalgic haul over the sapping 'Pretty Sally' climb before picking up the freeway again at Broadford and steaming back to Scania HQ.
All up, close enough to 1,100km. However, it didn't take nearly that far to realise that the R660 is a stunningly smooth, extremely strong, impressively efficient and exceptionally well-equipped linehaul B-double truck. Then again, after a cursory look at the spec sheet and a fair idea of what to expect, none of this really came as a great surprise.
Grunt and gears
It's no secret, of course, that Scania Australia has been, for some time, planning the introduction of a significantly strengthened Euro 6 line-up of six-cylinder and V8 models.
At the top of the tree in the six-cylinder range, the current 540 rating will be superseded by an all new 'Super 13' 560hp (418kW) engine later this year; a development which, as things stand at the moment, will give Scania a performance edge over its continental competitors in the 13-litre class.
It is, however, the burly 16.4 litre V8 family that has grabbed all the headlines so far, led by the early introduction and extraordinary road manners and performance of the R770 flagship, spearheading Scania's blatant intention to maintain the momentum that has seen the brand's popularity jump to record levels over the past few years.
Even with the constraints of COVID-19 and stifled supply lines, Scania has never been so popular or so successful in the Australian market. The obvious intention with this latest line-up of double bankers and their six-cylinder siblings is to keep the popularity well and truly on the boil.
Wisely, Scania is keeping its current Euro 5 R620 V8 in the mix but, as we've reported several times, the reworked Euro 6 bent-eights have undergone substantial change, with more than 70 new parts and extensive fine-tuning, which Scania says has led to reduced internal friction, higher compression ratios, improved after-treatment systems and a more powerful engine management system (EMS). Still, as Scania admits, none of these initiatives are revolutionary achievements. Indeed, as Scania's top engineer Göran Lindh has previously stated: "There are no quantum leaps. It is all about refining things and adding the latest technology."
Specifically, he said: "The new EMS enables a smarter and more advanced engine control software with higher accuracy. We can calculate more precisely how much fuel is needed and when."
There are four ratings in the revamped V8 range, from 530 to 590, 660 and 770hp (395, 440, 492 and 574kW), but with a six-cylinder 560hp to join the Australian stable, the 530hp V8 is unlikely to be offered here except on special order.
Nonetheless, common to all four ratings is the increasingly standard reliance on selective catalytic reduction for emissions compliance, while arguably the most notable of all the engine refinements applied to the V8 range is what Scania describes as being a new concept where AdBlue is injected twice. "With the extra dosing, the evaporation of the AdBlue is improved during low load cycles and also contributes to better fuel efficiency," it says.
Somewhat strangely, though, Scania does not mention if, or how much, more AdBlue is used in the twin dosing process.
The company does, however, point out: 'The updated V8 range is now equipped with a new high-pressure fuel pump and the compression ratio and maximum cylinder pressure have been raised to further improve combustion and fuel efficiency."
Yet, as significant as these engine refinements are, the greatest change across the Scania range – including the current Euro 5 R620 – comes in the form of an entirely new automated transmission for all models except the flagship R770 that, for now, and no doubt due to its mountainous 3,700Nm (2,730lb-ft) torque output, retains the existing Opticruise synchromesh automated shifter.
In a first for Scania, this new 14-speed 'box is based on constant-mesh gearing and, critically, is said by Scania to be 60kg lighter thanks largely to an all-aluminium housing. Moreover, the company says it is "shorter and sturdier, with shafts capable of handling more torque and enables the use of gears with slightly wider cogs that can handle more load and are more durable".
In broad terms, the new shifter currently comes in two forms – a G25CM version for Scania engines with up to 2,500Nm [1,844lb-ft] of torque and a G33CM for models with up to 3,300Nm [2434lb-ft] torque output, namely the R660. There's little doubt, however, a version capable of coping with the R770's prodigious torque output is already on the cards.
Six years in development and testing, and with more than 400 million Euro (A$590.6 million) said to have gone into development of the new range, and no parts in common with the existing synchromesh transmission, Scania certainly isn't shy about detailing some of the major advances that it insists make the new 'box appealing and unique. These include reduced oil volume and improved oil spray, as well as oil change intervals out to an extraordinary one million kilometres in some situations. According to Scania, enhanced maintenance systems such as oil temperature sensors and oil level sensors that detect possible oil leakage provide the safeguards to push oil drain intervals to such remarkably high levels.
Furthermore, Scania asserts that internal losses in the new transmission are reduced by no less than 50 per cent, accomplished through polishing some of the gears, by using low viscosity transmission fluid and by locating the lion's share of the oil in a separate, dry sump-like container on top of the gearbox to reduce internal splash. Likewise, the company says: "Certain cog areas that are vulnerable to significant wear when absorbing force are supplied with extra oil by spray pipes for increased cooling and lubrication."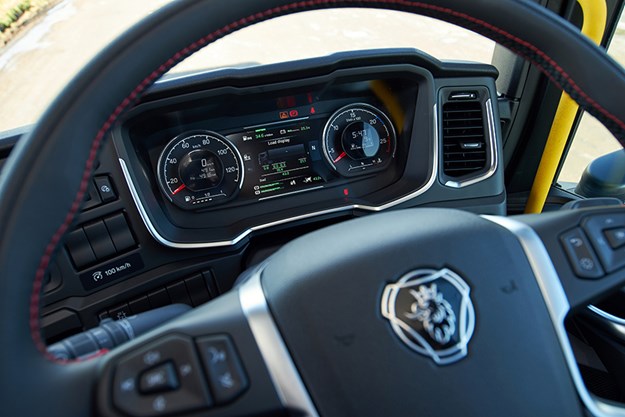 Although the new shifter is still based on a single countershaft design, with gearshift synchronisation performed by shaft brakes, the move to constant mesh and subsequent removal of the synchronisers in the new transmission have not only helped make the box lighter but also shorter by 150mm compared to the existing GRS905 synchromesh shifter.
Further contributing to the shorter length is removal of dedicated reverse gears, replaced by planetary gearing at the rear of the new box and providing up to eight reverse ratios.
As Scania explains: "Engineers adopted a new approach to reversing. In most gearboxes, selecting reverse entails letting a separate cog-wheel rotate the main shaft in the opposite direction. In the new Scania range, by contrast, the planetary engagement at the output shaft is used."
Thus, reversing is achieved by locking up the planetary wheel carrier in the rear of the transmission and, according to Scania, allowing faster reversing speeds for applications like tippers backing over extended distances in tunnel construction sites, for example.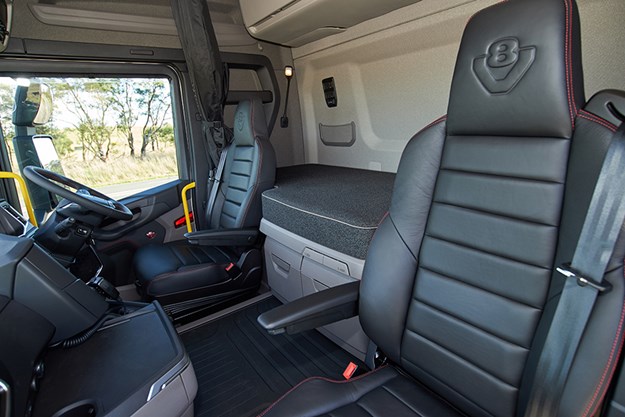 Moving forward, though, the biggest advance in operational terms is the widened ratio spread of the 14-speed layout, from a bog cog crawler ratio of 20.8:1 to an overdrive top gear of 0.777:1. According to Scania, the wider ratio spread, coupled with gears with slightly wider cogs that can handle more load, will allow applications at high gross weights the flexibility and efficiency to use faster rear axle ratios while still providing the deep gearing to facilitate smooth lift-offs.
Importantly, Scania adds that its new range comes with an abundance of newly developed and clever power take-off (PTO) solutions aiming to fulfil any number of advanced PTO needs.
Yet, somewhat understated in Scania's information on the new transmission is a substantial improvement in retardation performance, with the gearbox now contributing to 4,700Nm of auxiliary braking compared to up to 4,100Nm previously. It's a big gain that, soon enough, highlighted exceptional downhill speed control on the Hume.
Scania further emphasises the new box is quieter, yet given that transmission noise is not an inherent Scania trait, it was difficult to discern if the G33 is any quieter than its synchromesh sibling.
The new shifter also comes with a different dash display, with crawler gear shown as 'C' and numbers for all ratios up to and including direct-drive 12th gear. Overdrive top gear is, however, shown as 'OD'.
Highway Haulin'
According to European reports, Scania asserts that the combination of its new transmission with a wider ratio spread and the formidable power and torque issuing from the latest versions of its burly V8 provide an ideal platform for running faster (e.g. 2.8:1 or thereabouts) rear axle ratios to keep engine speeds and fuel use efficiently low at highway cruise speeds. As low as 1,000rpm in many continental applications.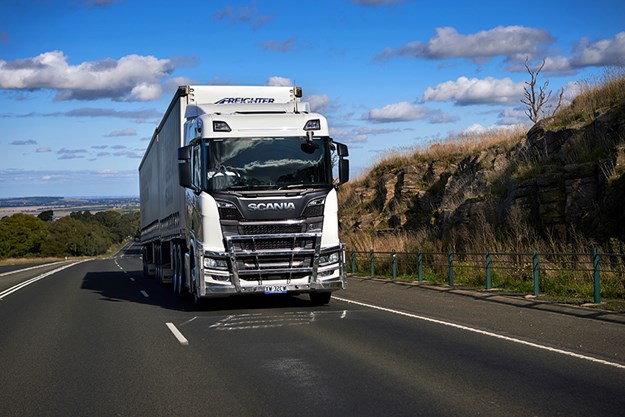 Australia, however, obviously has vastly different operating demands than Europe and, after much consideration, a 3.07:1 diff ratio was judged the best option to deliver good fuel economy and flexible performance, particularly for linehaul B-double work.
From behind the wheel, it didn't take long to accept the suitability of Scania Australia's choice of rear axle ratio.
The R660 rating develops peak power of 485kW (660hp) at 1,900rpm and produces its formidable torque peak of 3,300Nm (2,434lb-ft) between 950 and 1,400rpm. Much like its R770 counterpart, though, it's where the power and torque curves intersect at around 1,350rpm that a distinct appreciation for the V8's bold strength and gritty determination starts to emerge. At this point in the rev range, the engine is producing around 640hp while still dispensing maximum torque output, equating to incredibly strong pulling power at relatively low engine speeds.
It's on the road, of course, where this performance trait truly shines and, in this estimation, firmly validates the decision to run with the 3.07:1 final drive ratio. Heading north out of Melbourne in 'Normal' shift mode (there are also Eco and Performance modes) the R660 marched effortlessly at 100km/h in overdrive top gear at a touch over 1,200rpm.
However, in the Hume's rolling hills, it wasn't until road speed had dropped to a twitch over 80km/h and the rev counter touched 1,000rpm that the transmission shifted seamlessly into direct-drive 12th gear, perking engine speed up to 1,450rpm and giving the R660 the freedom to stretch out to 100km/h at 1,550rpm before shifting back to overdrive top gear. Smooth and strong. Very strong!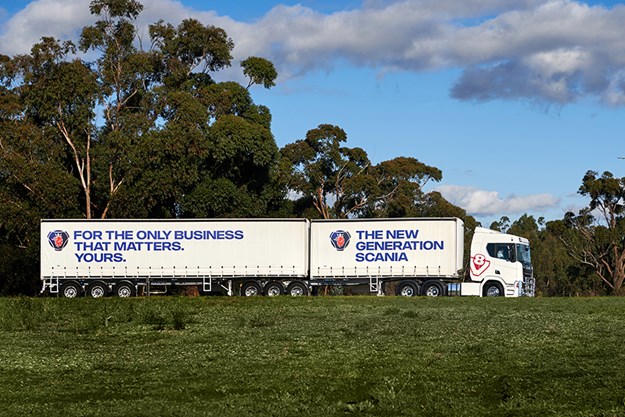 The leg from Melbourne to Wodonga certainly isn't difficult but it's hard to think that it could have been any easier or smoother. Again like its R770 big brother, the R660's handling and road manners were impeccable and, increasingly, the speed, smoothness and absolute suitability of the new transmission's shifts were right on the money, from start to finish.
Moreover, and remembering that this was a truck with few kilometres on the clock and hauling over 62 tonnes, the R660's on-board computer showed fuel consumption running at a highly commendable 2km/litre (or 5.65mpg for us older models) as the truck rolled across the Murray.
As everyone knows, though, things change quickly over the border and, on the approach to the taxing Aeroplane climb, it was decided to manually swap into direct-drive 12th gear on the approach, pushing engine revs out to around 1,500rpm, then put the transmission back in auto mode and let the truck simply do its thing. And do it, it did, mounting the climb in 9th gear at 1,350rpm and still moving at more than 40km/h.
Next comes Wagga hill, with much the same grade as Aeroplane, only this time – and for no other reason than being different – manual mode was selected for the entire climb. Again, with incredibly quick response at every shift, the R660 delivered an almost identical result, strolling over the sharpest pinch in 9th gear just a tad under 1,350rpm at 40km/h.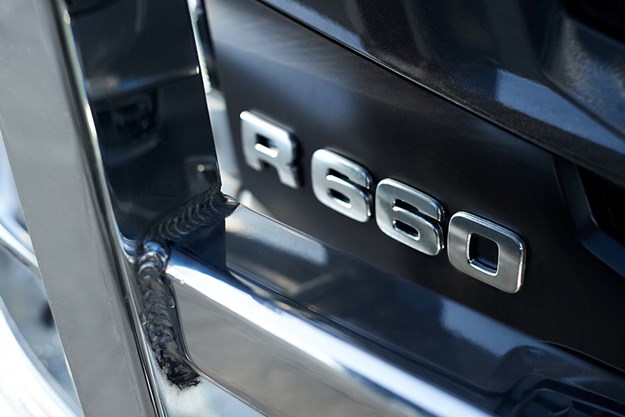 By this stage, fuel consumption had dropped to 1.7km/litre but by the time the truck rolled into Coolac, fuel use had improved to 1.9km/litre (5.37mpg) and stayed there for much of the return trip to Melbourne as almost the entirety of the southbound leg was with cruise control set at 100km/h or thereabouts.
Indeed, the only time fuel consumption dropped briefly below 1.9km/litre on the run south was on the long haul up the northern side of Wagga hill where the R660 showed immense tenacity to hang onto 10th gear at 1,000rpm and, similarly, during the nostalgic diversion over the sharp Pretty Sally climb where 9th gear at 1100rpm further reinforced the big V8's fierce fortitude.
---
RELATED ARTICLE: New Scania MD arrives in Melbourne
---
Surprisingly though, a switch to 'Eco' mode from Coolac to well south of the border did nothing to improve fuel efficiency. In fact, it was more a hindrance than a help, on long grades allowing road speed to run high and then engaging the retarder and invariably swapping down a gear in an effort to bring speed back to a pre-set point.
However, in 'Normal' mode, the combined smarts of a significantly refined engine and slick new transmission were exceptionally astute in not only delivering highly effective and efficient performance on climbs, but also supremely strong retardation on downhill runs.
Overall, the summation is simple. Scania's upcoming R660 model is a highly efficient and incredibly impressive highway hauler with a drivetrain that in this estimation, is as good as it gets for linehaul B-double work. Or as it was put to Ben Nye as the truck idled into Scania HQ: "I wouldn't change a thing."
As always, though, time and toil will tell the rest of the story.