For more than 70 years the Mercedes Benz Unimog has been delivering the goods for its owners and those who find themselves living and working in out of the way locations throughout the world
It was an obscure, unmarked dirt track draped with tall trees, just a few kilometres off a busy German motorway. Deutschland's version, perhaps, of 'off the beaten track' and for a few imaginary moments under a blazing summer sun and drifting dust, Down Under didn't feel quite so far away.
But there was, of course, more to this diversion than just a curious detour through a foreign forest. A few hundred metres further, the track opened up to reveal a man-made torture course of off-road obstacles designed to test, demonstrate and dramatically accentuate the abilities of various all-wheel-drive models from the Mercedes-Benz 'special trucks' range. None more dramatic, though, than possibly the world's most adroit and diverse commercial vehicle, the Mercedes-Benz Unimog.
Initially engineered as part tractor, part truck, purists might suggest Unimog is not a freight-carrying commercial vehicle in the true sense. Nothing, however, could be further from the truth. Sure, agriculture was the main purpose behind the initial design in the immediate aftermath of World War II, but it was also created to be many things to many people; a vehicle capable of powering, pushing or pulling implements as well as transporting loads and people over and through terrain generally impassable to more conventional trucks, even those with a driven steer axle. And, unlike a tractor, entirely at ease rumbling along at pace with the rest of the motoring masses.
Indeed, in a modern world where versatility can often appear to run an increasingly distant place behind high-tech wizardry and knife-edge efficiencies, Unimog stands as something of an understated masterpiece in utilitarian performance and practicality.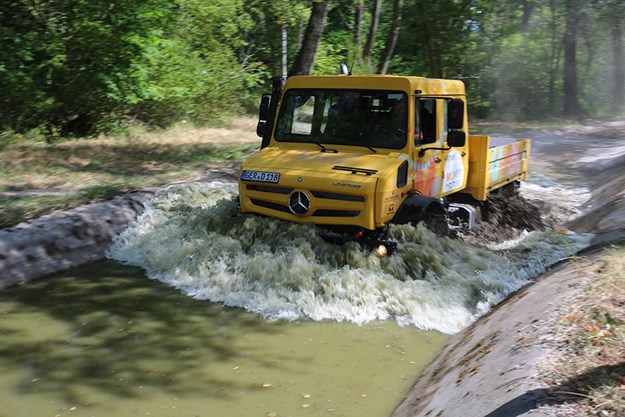 Nowadays, Unimog is built in a 'Special Trucks' section of Mercedes-Benz's massive Wörth production plant, widely held to be the biggest truck manufacturing facility in the world. Around 2,500 of the specialist workhorses are produced each year, which is, of course, almost miniscule compared to the vast volumes of regular trucks rolling off Wörth's lines.
As insiders quietly concede, though, there's comparatively modest demand for the high cost associated with the specialised engineering and operational ability that have seen Unimog go to work in some of the most remote and difficult terrains on Earth, from frozen Poles to blistering desert and everything in between.
Unique and certainly unconventional in general trucking terms, Unimog nonetheless plays a significant role in the Daimler Trucks range, not least for an established reputation to cope with applications that few others are able to match, with a track record compiled over more than 70 years. As Mercedes-Benz proudly boasts, "there is no other vehicle in the world that offers such a broad scope of operational capacities".
For our foray into the forest, sited just a dozen kilometres or so from the Gaggenau facility in south-west Germany where Unimog was built for generations before production moved north to Wörth, Mercedes-Benz brought in test units from the two specific platforms that typify the modern 'mog – a U5023 model from the widespread off-road range and the extraordinarily specialised U530, designed largely as an implement carrier for an equally extraordinary range of agricultural and municipal attachments able to be attached to almost any part of the vehicle.
Throughout the world, Unimogs are routinely used as snowploughs, mowers and blowers in municipal applications, agricultural implement carriers, forest management and firefighting vehicles, remote area construction units, road-rail maintenance trucks and, typically, a wide range of military and emergency vehicle functions. On Australia's east coast, for example, Unimogs recently played a vital role during devastating floods.
Yet, for all its enduring diversity and ultimate durability, Unimog actually grew out of the ruins of World War II in 1946.
The unusual name derives from Universal-Motor-Gerät (universal motorised vehicle) and as the history books tell it: "The roots of Unimog were planted in the months after the allied victory in Europe, when engineer Albert Friedrich and others began work on a medium-sized, four-wheeled agricultural tractor that could perform a number of jobs in the field and on the road.
"The list of goals for this machine, laid out differently from most agricultural tractors of the time, was quite long: it had to be able to carry attached tools on all four sides while also offering four-wheel drive, being able to carry cargo, act as a tractor by pulling a plough and also be able to have a high-enough on-road speed to keep up with city traffic.
'There were small trucks at the time that could carry cargo, but most were not four-wheel drive and they certainly could not carry attachable tools on all four sides. Likewise, there were wheeled agricultural tractors that could do some of these tasks, but they couldn't carry cargo without a trailer and were not great to drive on road.
"The first prototype sought to do it all, featuring a complex suspension with portal axles, designed with permanent all-wheel drive, with equal-size wheels in order to be driven on roads at higher speeds [and] with very high ground clearance and a flexible frame that is essentially a part of the suspension."
Still, while Unimog was never designed to carry as much load as regular trucks, it is essentially engineered to carry its load just about anywhere.
However, Mercedes-Benz parent company Daimler was not Unimog's original manufacturer. Herr Friedrich's design was, in fact, initially developed by the small German automaker Boehringer Bros, which first showed a production-ready prototype of the highly versatile truck at a machinery show in Frankfurt in 1948.
Apparently, success came quickly, no doubt buoyed by the desperate need for effective machinery in the aftermath of a devastating war. Consequently, after a positive first appearance in Frankfurt, 600 units were produced in the same year and it wasn't long before demand was outpacing supply.
For the limited capacities of Boehringer Bros, demand became problematic as it became increasingly apparent that huge investment would be required to not only satisfy demand for Unimog, but continue its development into the economic boom of post-war Germany.
Enter, Daimler-Benz!
The German giant obviously recognised Unimog's immense potential and, in October 1950, as Daimler-Benz states, "signed the contract to take over Unimog production, lending its manufacturing base and expertise to what was rapidly becoming a sought-after machine both for farmers and for many other uses".
Accordingly, "the OM636 diesel engine, initially developed for the Mercedes-Benz 170D sedan, which was the first diesel passenger car engine produced in post-war Germany, found a natural home in the Unimog, serving up 25hp".
Precarious drop
Fast forward to the northern summer of 2022 and a forest not too far removed from Unimog's historic heartland at Gaggenau, the opportunity to experience the two top-end models was both appreciated and a vivid reminder of this exceptional vehicle's extraordinary abilities.
It was, for instance, like looking down the face of a cliff as first the four-cylinder U5023 model and, soon after, its six-cylinder snub-nosed sibling were driven over the lip of an 80 per cent grade. It wasn't far, maybe 25 or 30 metres to the dirt below, but from behind the wheel it seemed a hugely precarious drop even with the advantage of deep off-road gearing and a two-stage retarder comprising an exhaust brake and engine (Jake) brake. Yet, in fourth gear and with just the exhaust brake engaged, each of the partially loaded 'mogs walked down the slope with consummate ease.
But then, just before reaching the bottom, the smiling Unimog specialist in the passenger seat said: "Stop here. Now put it in reverse and go up backwards." And so, with the benefit of a semi-automated transmission sporting eight forward gears and six reverse ratios, each unit walked backwards up the seriously sharp hill just as easily and confidently as they'd done going down.
Words probably don't do the exercise or the seemingly effortless performance of the Unimogs justice but, over a few hours, the various hill climbs and jaw dropping descents became just part of a showcase of the vehicle's immense capabilities as it waded and walked, crawled and climbed, and dipped and dived its way up, over, across and through a series of extreme obstacles.
Ironically perhaps, around the same day as our trial on the German test track, it was announced that the NSW State Emergency Service (SES) had taken delivery of the first of three Unimog 4023 models, quickly put to work responding to extreme flood events where its wading depth of 1,200mm is a critical factor.
Typically, the SES Unimogs will be employed in a wide range of roles where front and rear diff locks, a central tyre inflation system and the high articulation of coil spring suspension will be vital for accessing difficult terrain in often dangerous conditions.
As a press statement on the SES units further explained, the M100-8 gearbox features a transfer case and optional low-range mode that enables a total of 16 forward gears and 14 reverse gears.
"This is an automated system and can be operated in full automatic mode. The driver can also choose to use a special fold-out clutch pedal that assists at low-speed in slippery conditions where minute clutch control is valued," it says.
"The Unimog is powered by an OM934 four-cylinder turbo diesel engine that generates 231hp [170kW] and 900Nm of torque while meeting Euro 6 emissions standards.
---
RELATED ARTICLE: Unimog celebrates 75 year anniversary
---
"The SES units are initially being fitted with standard trays in order to get them into service as soon as possible and be used to move people out of dangerous situations or to provide logistic support to isolated communities.
"Further upgrades, including fitting a crane and flood rescue module, which includes an inflatable rescue boat carried on top and other features for flood operations work, are being planned for these units."
And finally: "The Unimog U4023 features a factory hydraulic pump with front and rear quick release hydraulic couplings that will be used by NSW SES for cranes and front and rear mounted hydraulic winches."
Meantime, back in Germany, the two Unimogs just kept showing why this supremely capable and immensely versatile workhorse has been for so long a Mercedes-Benz family favourite. There's simply nothing quite like it.