A longer test run of Scania's flagship R770 matched expectations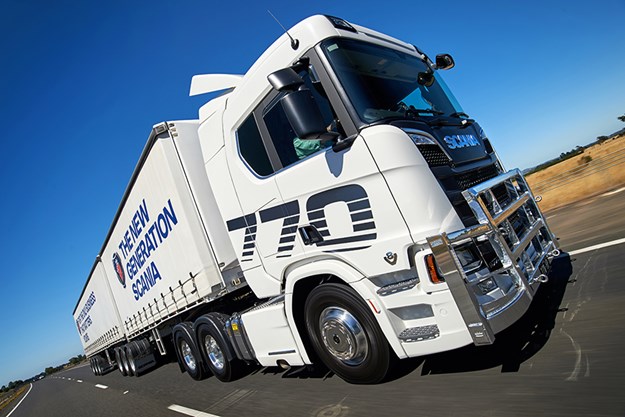 Every now and then, something special comes along. It doesn't matter what it is. It can be anything. For whatever reason or reasons, it just comes together in a way which makes it, well, special. A cut above. A bit better. A good thing. Ahead of the pack.
Something that doesn't just do one or two things well, but does most things better than most.
Even so, there's a danger in calling something 'special' because so much depends on individual opinion. After all, one person's delight is quite easily another person's derision and, let's face it, when it comes to trucks, opinions can be poles apart.
However, after a few days in Scania's R770 flagship, it would almost certainly be a severely jaundiced and irrevocably riveted view that failed to acknowledge or even comprehend something altogether special about this Swedish package.
It's not just the muscle and mountain-munching 3,700Nm (2,730lb-ft) of torque bulging out of the burly 16.4-litre V8, or the way Scania's much evolved 14-speed overdrive (0.8:1) automated shifter pours such potent performance so smoothly and efficiently through a tall 3.07:1 rear tandem. Nor is it just the way the highly effective retarder works so compatibly with the software 'smarts' of the various cruise control and safety functions, or the exceptional road handling of the airbag front axle and electro-hydraulic steering system. It's not even the remarkable ride and comfort inside a stylish and superbly built cab.
Quite simply, what makes the R770 so special is the way all these things come together to create a truck which, in this estimation, is to date the pinnacle of Scania's achievements and, in any cab-over comparison, sets a standard of the highest level.
Again, other opinions may see it differently, and time and toil will no doubt deliver the ultimate judgement, but, over more than four decades, I've been incredibly fortunate to drive many good trucks. Special trucks. In any era, though, few have delivered so many attributes in one premier package as the R770.
Pushing ahead
Obviously enough, Scania's European announcement in late 2020 that it was reclaiming the title of 'world's most powerful production truck' with the launch of the R770 was big news in itself. Soon after, Scania Australia left no doubt that it was keen to bring the new model's momentum to our part of the world to spearhead a major update of its V8 and 13-litre lines.
Then, just a few weeks before Christmas 2021 following the arrival of the first two R770s in the country, came an invitation to take Scania's biggest banger for a short B-double run from Melbourne to near Bendigo and back. Not far, for sure, but more than enough to light the fire for something more conclusive. Something, in effect, to determine if this new flagship was actually as good as a few hours in Melbourne traffic and on the undulating Calder Highway were so quick to first suggest.
From the outset, there was a lot to like and plenty to talk about. As our report last February stated: "Justifiably, all the talk at the moment is on the V8 flagship's formidable grunt but the raw fact is that there's far more to this truck than the burly block underneath."
High on the list of likes was Scania's overall build quality. "Typically, from the moment you climb in, certain things become blatantly obvious. First is the build quality, fit and finish of the modern Scania. First rate! Furthermore, Scania appears to have declined the trend to replace conventional gauges and switchgear with the digital screens and touchpads now in vogue with several of its continental competitors. For us more mature folk, it's nice to see some things remain the same."
On another tack, "… it takes a while to forge familiarity with the many buttons, switches and knobs controlling a vast array of functions but obviously, time and travel eventually overcome any awkwardness."
As for the grit and grunt of the big bore V8 hauling a gross weight of 62.1 tonnes with just 1,700km under its belt, expectations and reality were on much the same wavelength as the big Swede showed "an easy willingness to hold 100km/h around 1,250rpm".
"Yet, even with such potent performance on tap, it would be a mistake to think the R770 expresses itself with dashing displays of brute force or bold ferocity. It is, in fact, quite the opposite, delivering its deep reserves of resolve with a metered smoothness and seemingly sympathetic appreciation for the running gear putting such potent performance on the ground.
"As was the case with the superseded R730, the 770's hill-crunching torque peak is only available in 10th to 12th gears, delivering a remarkable capacity to maintain relatively high cruise speeds on long grades. Still, even when a hill demands a deeper gear, there's nothing at all timid about 3,500Nm (2,583lb-ft) of torque being dispensed from 1,000 to 1,450rpm all the way from crawler cog through to 9th gear."
As further reported, 770hp (574kW) is reached at 1,900rpm which, on first impression, suggests thirsty fuel consumption. However, as the engine's performance graphs show, power and torque curves cross over "at a twitch under 1,400rpm [where] the big bore V8 is still pouring out almost 740hp [552kW] and close to 3,600Nm [2,655lb-ft] of torque. What this means is that there's a fountain of fight right where it counts on the fuel front.
"At the end of the day, the on-board trip computer revealed a figure of 1.75km/litre, or 4.93mpg. It's a return which didn't disappoint, given such impressive strength from a new truck running at 62.1 tonnes on a route that varied from stuttering suburban traffic to flat freeway and long country grades."
Still, the day-long exercise wasn't enough. Or at least, not enough to satisfy the thirst for more time behind the wheel to better gauge a range of factors, including the 770 model's standard use of an airbag front suspension and electrically-enhanced steering system. Sure, the short pre-Christmas drive quelled some concerns from earlier experiences that airbag front suspensions are prone to being soft, even sloppy, while electric steering systems tend to be too reactive, but only a much longer drive on a wide range of roads would provide a more definitive conclusion.
There was also the desire to spend a night or two in the cab for two specific reasons: First to gauge the effectiveness of Scania's integrated cab cooler powered by dedicated batteries that allow the system to operate fully for up to eight hours.
As explained in our first report: "The cooler core is mounted behind the passenger side air deflector and plumbs fridge air directly through the cab's HVAC vents. Critically, the integrated system deletes the need for cab 'intrusions or adjustments' to fit an aftermarket cab cooler."
And second, to attest if our estimation that Scania's sleeper is one of the least desirable bunks in the premium cab-over class is truly justified. After all, why would Scania develop an extended cab – due in Australia later this year – which adds 300mm to the depth of the current structure, if there was not the call for a bigger bunk?
Begging to differ
Again, however, opinions vary and, according to a pragmatic, well-written email from veteran owner-operator Ken Begg following our initial report on the R770, there's nothing at all wrong with Scania's current sleeping arrangements.
Based in Mildura (Vic), it's 50 years since he bought his first truck and as an operator who nowadays runs a Scania R650 and a Volvo FH600 XXL extended cab driven by his son, Ken stoutly defended the current R-series bunk.
"I have some experience in living in both a Scania cab and a Volvo cab and spend five nights a week sleeping in my truck," he said.
"The bed on the Scania is 1,000mm wide and Volvo is 1,050mm wide. Compare this to the ubiquitous [Kenworth] K200 cab, which only has an 800mm-wide mattress."
What's more, Ken and his son are both big blokes and he was quick to point out that they each get a good night's sleep in either the Scania cab or Volvo's XXL bunk.
"One would have to be a bit of a nit picker to say 50mm makes some sort of difference," he commented, adding that in the Scania it takes just five or six seconds to effortlessly, "and I must stress effortlessly, roll the two seats forward to roll the bed out. The beds are pretty much the same size in both the 'smaller' Scania cab and the 'larger' Volvo cab, so I can't see the bed being an issue."
There is, he continued, also a downside with a bigger cab's impact on space between the rear of the truck and front of the trailer.
As Ken explained: "We have roadtrain walking floor trailers that get unhooked and put back together a few times a week. We need to hook up two hydraulic hoses to the couplings behind the cab and these hoses are quite inflexible and need some effort to align with the fittings.
"The rear of the Volvo XXL cab is 300mm closer to the front of the trailer, which makes that area quite tight and I find the job of hooking hoses up behind the Volvo quite hard compared to the Scania."
Critically, though, Ken has ordered a new R770 with delivery expected later this year, and he confirms it will not be fitted with Scania's bigger cab. Simply put, he doesn't see either the value or the need for the extended cab.
He does, however, see the benefit in "a couple of smaller features that are important to me. The Scania has two roll-out fridges under the bunk, one of which can be used as a freezer and the Scania has its own integrated a/c for engine-off usage.
"It is an excellent cooler and saves having to spend another $10k [or thereabouts] on an aftermarket cooler."
A few weeks after Ken's email, the R770 was ready for our longer run and while it was the same truck driven a few months earlier, there were a couple of differences. For starters, a bullbar had been fitted and a change in turntable placement had seen gross weight dropped to 59 tonnes. Yet, with just 2,600km on the clock, the truck had obviously been busy with engineers rather than on demo duties. The plan was simple enough: leave Melbourne on the Calder Highway, heading north towards Mildura. Early dinner at Hattah Roadhouse, across to Robinvale then over the border to an overnight stop at Balranald.
Next day, head to Hay and pick up the Newell at Narrandera, then south to Jerilderie and back into Victoria at Tocumwal, down to Shepparton and onto the Hume Freeway into Melbourne and Scania Australia headquarters at Campbellfield.
All up, just shy of 1,400km and while performance standards of the big bore V8 were already firmly entrenched in the brain box after the earlier drive, it was an ideal opportunity to assess not only fuel economy over the longer run but also the road handling qualities of the airbag front suspension and electro-hydraulic steering system on various road conditions. Plus, of course, with Ken's comments in mind, to again consider the attributes or otherwise of Scania's current R-series sleeper.
The airbag front end and electric steering system were, however, the big factors, especially since they're now standard issue on the R770. Apparently, wide profile steer tyres are also now standard on the Scania flagship, though the test unit was still fitted with its original 295/80R boots.
As stated earlier, previous experiences with steer axles riding on an airbag suspension and electrically enhanced steering systems weren't particularly positive but, as our initial drive in the 770 indicated, Scania appears to have succeeded on both counts. According to Scania's information, the airbag front suspension has overcome previous complaints about being too soft in cornering by providing the stiffest suspension it offers from a radius roll perspective. In technical terms: "This new airbag system has 495kNm/rad roll [roll stiffness] compared to 195kNm of the older airbag system and 385kNm of the leaf spring version." Simply put, the truck 'stands up' better with the new airbag front suspension.
Consequently: "This airbag suspension replaces the previous system's multiple arms, and instead locates the [front] axle traditionally with a longitudinal helper leaf spring," as the above schematic highlights.
---
RELATED ARTICLE: Scania R770 talks the torque
---
Furthermore, the new airbag design provides a weighing system on both front and rear axles via a dash display and, to assist with rough terrain or low clearance areas, Scania says it "has the ability to be raised up to 220mm or lower the vehicle by 80mm from the factory standard setting".
As for the electrically assisted steering (EAS) system, it effectively comprises two parts – the relatively standard hydraulic base gear and an electric motor. Scania explains: "The base gear functions as a normal power steering gear with hydraulic force. The electric motor assists the driver and adds extra torque to the input shaft on the base gear."
Importantly, "The system is speed dependent with the ability to offer lighter and easier steering during low speed manoeuvring, whilst firming up for improved road feel and vehicle placement at high speed. The system also features a return-to-centre system, returning to the straight-ahead position automatically, which is extra beneficial when reversing."
Accordingly, Scania says while its EAS system ensures "that the steering wheel torque is always proportional to the resistance coming from the wheels", it also insists "the driver is still responsible and in command despite the system's comfort and safety benefits".
Road work
As it did in our first run months earlier, this truck was a delight to drive from the moment the big V8 burbled into Melbourne's morning traffic, with a powertrain that simply oozes strength and smoothness, and top-shelf levels of comfort and class.
Again, it took a while to become familiar with the various control buttons and switches, and it could be argued that the placement of switches for cruise control and the like on the lower edge of the steering wheel hub could be better, but overall it's a small issue in an otherwise exceptional layout.
The thing is, the longer spent in the truck, the greater the satisfaction grew. Admittedly, after mixing with Melbourne's morning traffic and hitting the sharp climbs of the Calder Highway heading towards Bendigo, the truck's on-board computer was showing average fuel figures that weren't particularly impressive. It wasn't long after, though, as the Calder swings north towards Mildura that the average rapidly improved to 1.9km/litre (5.37mpg) and by end of the day after 650km from Melbourne to Balranald, had settled to a highly respectable 2.0km/litre, or 5.65mpg.
Critically, the exceptional road manners and handling quality shown by the truck in our first run became even more impressive as the trip continued, and no more than on the second-rate stretch of road from Hattah to Robinvale. Narrow in parts with no shortage of rough and broken edges, a good deal of truck traffic plies this road. Yet, the Scania's ride and handling instilled nothing but absolute confidence in the truck's airbag front end and electrically enhanced steering system. Seriously, top marks.
A blustery night had moved in by the time a reasonable parking spot was found in a crowded, dusty, dirty and downright disgraceful BP roadhouse at Balranald. A long day made it easy to sleep but, then again, vicious rumours suggest I have the ability to sleep sound on a brick fence.
No question, the Scania bunk is comfortable but as Ken Begg's comments typify, opinions vary on whether the sleeper is adequate for linehaul work. Personally, and I stress 'personally', I'm not a fan of moving seats to maximise sleeping space.
Maybe, as Ken suggested in his email, I'm being too Millennial in my estimations of what constitutes a good sleeper but, again, it's doubtful Scania would be introducing an extended cab if there wasn't some demand. Whatever, the simple fact is that without constant evolution in truck design and comfort features, drivers would be still sleeping in little more than match boxes attached to the back of skinny cabs.
That aside, Scania's current cab is certainly well appointed with its twin fridges and, now, an exceptionally efficient and silent cab cooler, which provided the perfect in-cab temperature all night.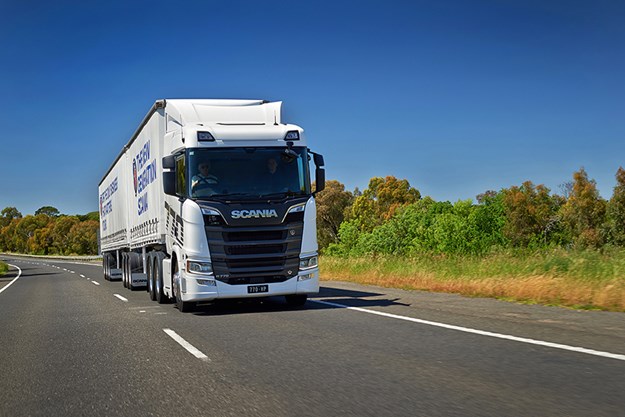 Anyway, well rested as dawn broke, the Opticruise transmission's 'Economy' mode was selected for the run across to Hay and Narrandera to gauge if there was any improvement in fuel economy from the 'Standard' setting of the day before. There is, of course, also a 'Performance' mode, which offers a few hundred revs more between shifts but unless the truck's pulling very high weights, it's hard to see why a driver would even consider it given the extraordinary muscle of this machine.
With a steady breeze hitting the side of the combination across the Hay Plains, fuel consumption dipped to 1.9km/litre in Economy mode on the run across to Narrandera but quickly returned to a commendable 2km/litre when the Standard setting was selected for the run into Melbourne.
Either way, doing the job with such ease, the big bore Scania showed yet again that big performance doesn't necessarily equate to poor fuel economy.
There's probably not much else to say about the overall trip other than to express the fact that Scania's R770 flagship was even more impressive on the longer run than it most certainly had been on the shorter run late last year.
All up, a truly good thing. Special indeed!