Freightliner Argosy Evolution '06 truck review
---
Freightliner Argosy has undergone a significant number of improvements in many build areas and has been badged the Evolution. On the road it is now a totally different truck to earlier models, as Pete Armstrong discovers
Freightliner Argosy has been on Australian roads for some 80 months and has achieved a healthy position in linehaul operations.
B-Double operation has been a strong segment for the cabover while it has been no slouch in single trailer work too, but from the time it was introduced here it was not without problems.
Argosy came to Australian shores with little in the way of testing under local conditions, the initial trucks arriving here just a couple of months after US release, and some problems with early models were quick to raise their head.
DaimlerChrysler reacted quickly to address operator concerns.
Every lesson learned was taken onboard and relayed to build headquarters, with improvements incorporated into trucks for the worldwide market.
Australia has a definite impact on input for change. It has been a continual improvement process, verified by buyers who have experienced quality advances as a result of this communication.
The development of the model has been further stepped up in recent times and now more than 120 design and engineering improvements have been incorporated into the build, resulting in the release of Argosy Evolution.
Evolution is exactly that, embodying all advances made and upgrades implemented due to the Australian experience.
Argosy will eventually be built in South Africa, a major right-hand drive market, and that country is closely aligned with Australia when it comes to severe operating conditions.
It is a model easy to pick due to a more macho exterior appearance achieved through the addition of chrome and polished aluminium including a new grille treatment, polished headlight surrounds, air dam front bumper, chrome mirrors, new side indicator lamps and a stainless steel insert in the sunvisor, complete with five marker lights.
While these new changes beef up the truck's on-road presence the real differences are beneath the skin.
Transmission
The trucks featured the optional SmartShift Generation III automated manual Meritor and Eaton transmissions, and this too has undergone a transformation to deliver some of the smoothest shifts available.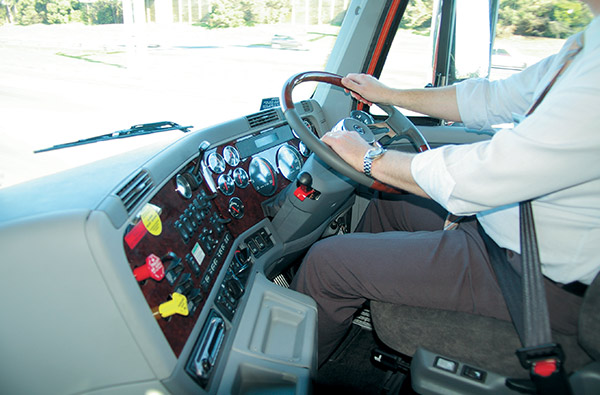 Cab and Controls
One thing drivers will appreciate is further insulation making the cab extremely quiet and combined with the new lowered engine tunnel comfort levels have increased. New design cab mounts have no sleeve, eliminating noise and vibration.
When it comes to vibrations, the headlight surrounds have undergone significant work to the problem in that area, including fitment of a stabiliser.
New mirror heads and stainless steel arms have been reinforced and offer extremely clear vision rearwards owing to a more robust design.
One of the troublesome aspects of Argosy has been the swing-out steps and a lot of work has been undertaken to eliminate all vagaries here.
Software changes have delivered significant improvements and Argosy has reclaimed its boast as being the truck to deliver the safest entry and egress system available in the road transport industry.
Door hinges have been changed and are now the non-lubrication type for longer life and easier operation and even the number plate bracket has been relocated.
A strengthened front firewall now gives a more rigid and stabilised part of cab construction and where the dashboard had a weak centre point, this has now been addressed with a bracket to stop dash cracks and annoying squeaks and groans.
Tilt the cab and you find running gear, including suspension, has been re-engineered in many places and all-new componentry design delivers an even higher quality standard.
Electrics have been upgraded and mounted for longer life and a 160 amp alternator and Delco-Remy starter motor is now standard. Even batteries have been upgraded and mounted behind the cab.
The electronic throttle control has also undergone a tweak for more precise control and improved response.
'Blue Stripe' hoses replace silicone hoses, a transmission air to oil cooler has been added, high flow air cleaners improve flow, deeper frame rails improve durability for tough conditions and greater axle carrier clamping force is used on Evolution.
Not much has been left unturned.
Diffs now have triple life seals on the input and output shafts to eliminate any oil leaks, another example of how closely Freightliner has worked with component suppliers on the Evolution model.
Non-leak axle breathers are now also standard.
One of the biggest challenges was problems in the charge air cooler and casting thickness has been increased by 20 percent, plus spring loaded mounts have removed rigidity and resolved all issues in this area.
A 1300 square inch radiator is used and, according to Freightliner, this will be adequate for new engines meeting more stringent emission standards, offering a high level of heat rejection.
The FUPS system on the Argosy was designed and built in Australia and complies with regulations in all states.
There have been issues with compliance in differing jurisdictions but Freightliner FUPS has satisfied all compliance demands.
Wiring and hoses has been addressed and all piping is high pressure capable and cold crimping has ensured absolute connection.
From there numerous other items have been attended to — right down to switches in cab and fit and finish far ahead of what we have seen in previous Argosy cabovers.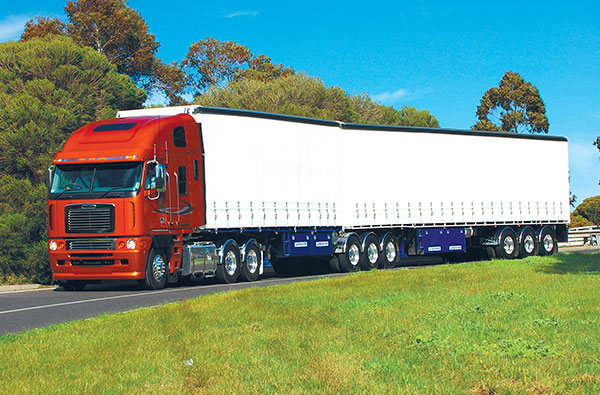 Performance
From the time the door handle is operated and the entry steps swing out it is very obvious this is a far different Argosy. Settling into the cab and you find ergonomics have gone to a higher level.
A turn of the key reveals an even quieter driver environment.
DaimlerChrysler made two Argosy Evolution prime-movers available for test drive, both 110-inch high roof cabs cited as flagship of the lineup.
One was pulling a B-Double while the other a single trailer and, rolling out into busy Melbourne traffic, it was possible to gain a good impression of the evolutionary Freightliner.
Putting the boot on the throttle and it becomes apparent the drive-by-wire system delivers 100 per cent throttle on demand and new insulation used in the cab has made this an exceptionally quiet vehicle, windows down or raised.
It's so quiet a normal conversation can be held without resorting to raised voices.
The driver's seat is comfortable and seatbelts are now mounted in the seat base and on the pillar with long travel.
Argosy has always offered excellent vision, yet this new version has toughened glass in the windscreen and to my way of thinking — and it may only be a personal observation — the view is clearer. Anti-vibration deep mirrors give an excellent view to the rear and spotters in both heads enhance safety.
Ride is a cut above earlier Argosys.
Freightliner has concentrated on delivering an improved ride as well as better road feel and both come together for a very driveable unit over all types of road conditions.
Meritor has enlarged the steering knuckles and the truck corners and stands up extremely well, handling whatever is thrown at it with aplomb.
The SmartShift lever is easily reached with the fingers, should a manual override be required for gear shifting.
In fact, it is a mere eight centimetres from the steering wheel rim so there is little for a driver to do to take control of all functions.
This is really the lazy way to drive, but in saying that everything that can be done to reduce fatigue is being favoured by most on the road.
While this wasn't a long highway run in Argosy Evolution, the route took in a combination of heavy traffic, open freeway driving and some tight turns as we made our way around the road network.
At 62 tonnes the B-Double made easy work of the exercise.
Another noticeable and highly favourable improvement is fit and finish in the cab.
The big sleeper version doesn't have a window rattle in it now.
Window rattles have been criticised by drivers but now they are a thing of the past with new seals eliminating the problem and, combined with the improved ride characteristics, this is luxury on wheels.
The dash and steering wheel feature highly polished Oregon timber and a leather wrap wheel adds to the opulence as do chrome bezel gauges.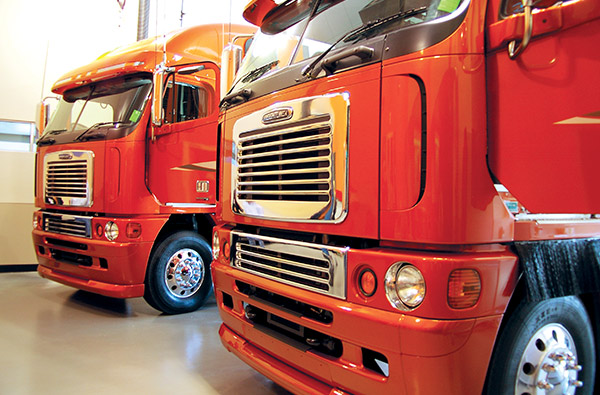 Freightliner has claimed a sizeable share of the cabover market in recent times due to its ongoing improvement program, but now it intends to push Argosy even further.
Since approval of 26 metre B-Doubles was announced it opens the doors to a variety of cab and wheelbase options, allowing the truck to be specced to meet a broader operational range.
Fuel is a primary issue in long distance truck operation and Argosy offers both round and square tanks to suit operator needs.
With the new exterior look comes new paint.
Imron is used to resist stone chips — another part of the plan to increase durability across the truck.
In line with the long list of refinements and new technology introduced in Argosy Evolution, Freightliner has instigated new quality processes and new technician training strategies.
The truck is at a new level mechanically and workshop personnel are undergoing continual training, taking expertise to new levels.
Verdict
Argosy Evolution is available now and no doubt offers new Freightliner the opportunity to increase its share of the cabover market.
There are almost 2500 Argosy trucks on the road in Australia and the new model should make further inroads as operators put their hands up for the Evolution experience.
Subscribe to our newsletter
Sign up to receive the Trade Trucks e-newsletter, digital magazine and other offers we choose to share with you straight to your inbox
You can also follow our updates by liking us on Facebook. 

Trucks For Hire | Forklifts For Hire | Cranes For Hire | Generators For Hire | Transportable Buildings For Hire