Fuso Heavy Duty 6x4, 8x4 truck reviews
---
Fuso is preparing to launch the latest version of its heavy-duty truck range, named appropriately enough Heavy-Duty in Australia, although some argue the Japanese moniker of Super Great is better. Gary Worrall travelled to Japan to test the trucks.
The advent of ADR 80/03 in January 2011 prompted a virtual torrent of new truck releases as almost every manufacturer unveiled the latest and greatest addition to their range to meet the clean energy targets.
Fuso Trucks used the Brisbane Truck Show to unveil not just its new Canter light-duty range but also its heavy-duty range, complete with redesigned front end, optional high roof and an ADR-compliant sleeper for all-day operations.
We had the opportunity to drive two Australian-spec Heavy-Duty trucks, a 6x4 prime mover and 8x4 heavy rigid on the Kitsuregawa High Speed Circuit, essentially an elongated NASCAR-style banked oval.
Engine
Finished in plain-Jane white, the trucks gave no hint of lurking power, despite the prime mover offering 335kW and 2,200Nm from its 12.8-litre Euro 5-compliant OM457 engine, while the heavy rigid was not far behind with 295kW and 2,000Nm.
Transmission
Both trucks were fitted with the Innomat-II automated transmission, the prime mover scored the heavier duty G330-12, to cope with the higher torque output, while the rigid version uses the G230-12 version, although both are 12-speed manuals with computer controlled clutches.
Cab and Controls
The cab interiors bear out the comments that the initial focus was on improving the fuel economy, with much of the dash layout familiar territory, in terms of switchgear and the instrument panel.
In this respect, the Heavy-Duty is a little disappointing. At a time when competitor offerings have moved to a higher level of driver comfort the Heavy-Duty still has the seat belts mounted to the B-Pillar rather than being integrated into the seats.
This may sound like a small quibble, but when other trucks in the class offer a suspension seat with integral seatbelt, it leaves the Fuso looking as though it has fallen behind the times.
Undoubtedly a local solution will be available in time. Fuso Australia has a track record of listening to customer requests and sourcing an alternative, it is a shame the factory is not so quick to hear the needs of its export markets.
Similarly, the audio system remains the faithful AM/FM/CD stereo, but in an era where a professional driver can lose $250 and at least one point from their licence for holding a mobile phone, a Bluetooth head unit is no longer a gimmick but a necessity, particularly for fleet operators.
These issues aside, the Super Great is, at first blush, a capable truck offering plenty for an operator chasing a solid workhorse with no frills attached.
The interior is classic Japanese grey, with plenty of vinyl and plastic that is both hardwearing and easy to clean, while the flooring is a mix of vinyl and rubber mats in a resounding victory for solid dependability over passing fads.
This is not to say operators will not enjoy a decent level of comfort, the driver's seat is well padded in all the right places to offer plenty of support, while there are more than adequate levels of head and shoulder room for even the tallest and broadest of drivers.
The controls are well placed, with all the major buttons and switches well within reach from a normal seating position, while the gauges are clearly marked and easily visible regardless of where the seat and steering wheel are positioned.
Entering and exiting the cab is simple, with well-spaced steps offering plenty of support for Australian-sized feet while the grab handles are also well placed for safety and ergonomics, and do not require using the door pockets or steering wheel as additional handholds.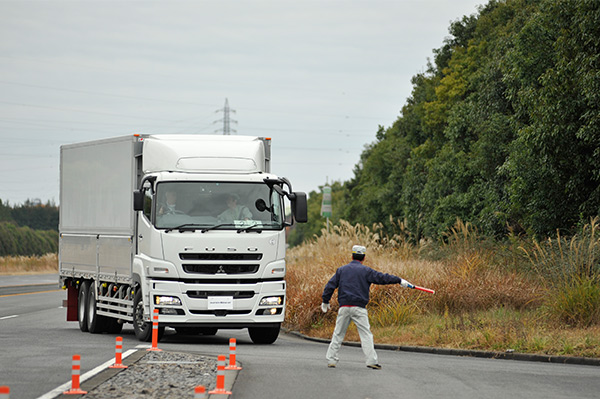 Performance
Unfortunately, both trucks had only recently left the production line, so there were no bodies or trailers fitted, which meant other than a quick blast down the straight there was no meaningful data available in terms of lugging ability or ride smoothness.
The 8x4 particularly suffered in this respect, with all-steel leaf spring suspension front and rear crying out for some weight to flatten the springs and remove the inherent tendency to skip that is normal in all unladen, stiffly sprung trucks.
Despite this, the general ride quality was good. Even when running over some earthquake induced ruts and corrugations in the road surface there was no skittishness through the steering, so that with a load closer to its 30-tonne GVM limit the Heavy-Duty should be predictable with no significant handling vices.
The steering was tight and predictable; there was no vagueness at the dead-ahead position, another positive sign that augurs well for the truck when it goes into full-scale operations with fleets.
The prime mover, with its airbag rear suspension felt much tighter, again despite the lack of an extra 35 tonnes to bring the suspension completely into its own.
Running over the same corrugations at an indicated 105km/h — unfortunately, the Australian specification includes speed limiters that prevent high speed driving, even on a closed track — the prime mover was settled and unfussed by the rippled nature of the road.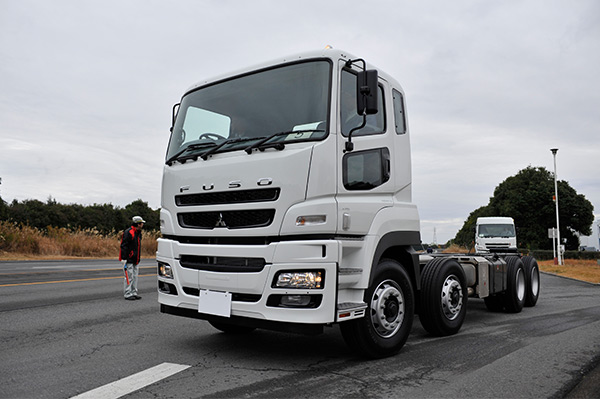 Verdict
Both trucks were well soundproofed, with surprisingly little engine noise reaching the cab interior, again despite the lack of bodywork which would otherwise dampen road noise in actual on-highway operations.
The Innomat-II transmission had no problems at all dealing with either the power or speed on the test track, delivering crisp and smooth gearshifts even when working at just a fraction of the designated GVM, which can sometimes induce a 'hunting' for gears as the computer searches for the optimal ratio to suit the occasion.
The other area that could not be adequately tested under the conditions is braking. With no load to deal with and therefore no mass, the brakes, both service and auxiliary, performed brilliantly, however when the first models arrive in Australia.
Specifications
Make/Model: Heavy 4x2 Prime Mover
Engine: OM457-T3 Diesel, six cylinder in-line OHV, SCR
Power/Torque: 295kW @ 1,900rpm/2,000Nm @1,100rpm
Fuel Capacity: 400-Litre
Transmission: 12-speed Automated Manual
GVM/GCM: 16 tonnes/40 tonnes
Make/Model: Heavy 8x4 Long WB
Engine: OM457 Diesel, six cylinder in-line OHV
Power/Torque: 335kW @1,900rpm/2,200Nm @ 1,100rpm
Fuel Capacity: 400-Litre
Transmission: 12-speed Automated Manual
GVM/GCM: 30.8 tonnes/53 tonnes
Make/Model: Heavy 6x4 Prime Mover
Engine: OM457-T5 Diesel, six cylinder in-line OHV
Power/Torque: 335kW @1,900rpm/2,200Nm @ 1,100rpm
Fuel Capacity: 350-Litre
Transmission: 12-speed Automated Manual
GVM/GCM: 24 tonnes/60 tonnes
Subscribe to our newsletter
Sign up to receive the Trade Trucks e-newsletter, digital magazine and other offers we choose to share with you straight to your inbox
You can also follow our updates by liking us on Facebook. 

Trucks For Hire | Forklifts For Hire | Cranes For Hire | Generators For Hire | Transportable Buildings For Hire