International 7600 truck review
---
The latest International to reach Australian shores is brimming with local content and designed to fill a void in the line-up, writes Pete Armstrong
International has responded to growing demand for a smaller version of its 9200 prime mover with the local launch of the first 7600 models suited to tipper and dog and short-haul prime mover work.
While the 9200 has sold in respectable numbers into localised tasks such as tipper work, its penetration of the short-haul market has been restricted by the fact that it's too much truck for these roles.
In response, International in the United States has begun exporting the first 7600 models in kit form. The final build is taking place at Iveco's plant at Dandenong in Victoria.
The result is a truck set to take an even larger slice of the tipper and dog and short-haul prime mover market, offering one engine and transmission and a fairly standard driveline spec, with limited options.
The model was released in the US in 2002 and then made its way to New Zealand the following year. In 2004 it was unveiled in South Africa.
What makes it different to most trucks sourced from North America is that it is a right-drive vehicle.
Modular design takes care of both right and left-hand drive markets, with both sides of the cab mirror images as is the firewall under the bonnet.
Available as a prime mover or rigid with differing wheel bases to suit and two cab designs — day cab and sleeper versions — the International 7600 fits the bill, bringing the line-up to three, covering the broader range of applications.
Responding to local market feedback, the 7600 models feature a number of engineering changes to bring it to the marketplace in a build better suited to conditions here and certainly making it a more robust vehicle.
Componentry comes from well-recognised and tested Australian brands proven in the field.
The Dana D6-170 rear axles are rated at 20.9 tonne, with a ratio of 4.30:1.
The diffs are common in larger and more powerful trucks and are actually overrated for the intended work roles of the 7600, but offer a high degree of durability for Australia.
Rear suspension is International Ride Optimised Suspension (IROS) four-bag air on an underslung axle spring with a fixed front-mounted bush for improved stability and dump valve operated by a dash-mounted switch.
This suspension is rated at 18 tonne and features deep air bags for smooth ride.
There is a choice of steel or alloy PCD wheels, with Dura Bright also available, and a choice of Michelin tyres.
Front axle is the forged steel I-beam Dana I-140W rated at 6.7 tonne, riding on long-leaf parabolic springs, increased from 43 to 48 inches, specifically for Australia and rated at 6.35 tonne.
The vertical exhaust has been relocated to the left side and piping routed and insulated to keep heat and noise from the cab, plus turbo piping is insulated for lower temperatures.
All wiring and piping, in line with all trucks built by Iveco, is now better sited to reduce the risks of chafing, and is securely anchored for reliability and durability in the field.
At Dandenong, the frame rails are redrilled to accommodate the longer front springs, new exhaust location and for installation of larger fuel tanks as required by Australian operators.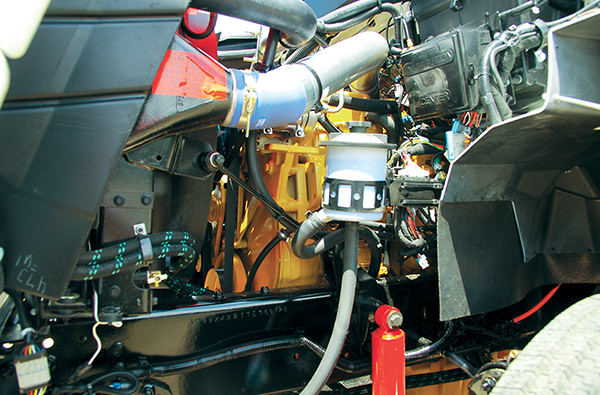 Engine
Basic specifications include a Caterpillar C-12 engine rated at 380hp (283kW) and delivering 1450ft/lb (1966Nm).
Transmission
The power is driven through an Eaton RTLO 18918B 18-speed overdrive transmission.
Cab and Controls
Some 600mm wider than the 9200 model, the cab itself offers plenty of room for drivers of all shapes and sizes, with plenty of open space for comfort.
Seats are the European GraMag brand, with a fully adjustable air seat on the drivers' side and a fixed version for the passenger.
The modular system enabling factor build of both left and right-hand drive vehicles is clearly evident, with the instrument panel exactly the same as the left side. The instrument panel is close to that found in motor cars and features a full complement of gauges, including a windscreen washer fill level and LCD odometer display.
Steering wheel controls come standard as does air-conditioning, cup holders, power windows and door locks, adding to the 7600's comfort features.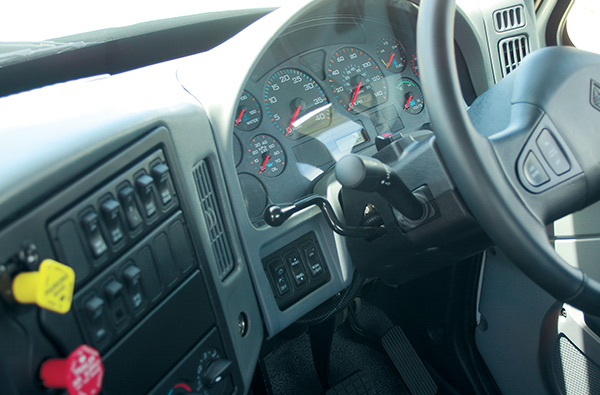 The sleeper version is 600mm longer than the day cab and drivers have a 660x184mm bunk mattress that is 127mm thick. An under-bunk area gives a host of storage room; for other odds and ends an overhead console gives them a home.
The mirrors have been designed to 'break away' should they be given a bump in tight dock areas, the brackets popping out and reducing the risk of head breakage should they be hit by other vehicles.
The sun visor features an aerodynamic design, with integrated marker lights and, to finish off the truck in the appearance stakes, wheel arch inserts have been added for Australia.
Behind the wheel you get a commanding view of the road, and International says there is approximately 11 percent more glass area than competitor trucks.
The door sills are relatively low and swivel quarter windows are fitted, satisfying drivers who appreciate fresh air flow through the cab.
Performance
Turning the ignition switch to the on position one must have the clutch depressed, and the engine ECM completes its diagnostic pre-start check before firing.
A launch event at Anglesea Proving Ground in Victoria saw Iveco dealers from across the country involved in driving the new International 7600, coupled to a loaded Tautliner.
Easing the clutch out and the vehicle takes off smoothly and effortlessly, the C-12 Cat purring as full gear movements were made due to the flat terrain.
An important aspect of the drive was to evaluate performance, and the 380-horsepower Caterpillar certainly delivered that, along with stability and handling.
The Anglesea circuit offers a variety of road surface and corner radii. Throwing the truck into turns saw it stand up very well with little trailer yaw and sure-footedness.
Road feel is good and it steers very well. Sheppard M100 power steering is fitted and delivers light and direct steer that will be well received by drivers.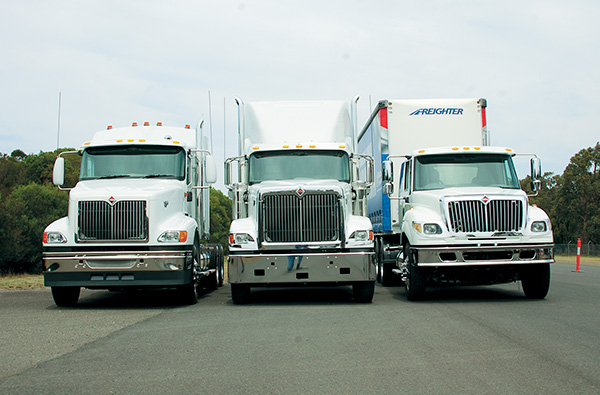 Unfortunately, only the sleeper prime mover version was available for the driving stint, sitting on a 4.8-metre wheelbase.
The day-cab rigid wheelbase is 5 metres, and the extended cab 5.2, while the day-cab prime mover has a wheelbase of 4.5 metres.
Preliminary specifications show fuel tanks on each version are: day-cab tipper 1x380 litre plus a 350 (250/100 split tank); extended-cab Tipper 1x450 plus an identical split tank.
Iveco has recognised a larger hydraulic oil compartment is required by operators and this is currently under review. The day-cab prime mover offers 1x450 and 1x380 litre tanks with 2x450 litre tanks on the sleeper truck.
Tare weights, with oil and coolant but no fuel or spare, range between 7.05 and 7.33 tonnes, depending on fitment of alloy or steel wheels. The heaviest is the extended cab tipper version with steel wheels due to its longer chassis rails and extra equipment.
Verdict
The International line-up has been heavily 'Australianised' to match our conditions and completes the application family. 
Specifications
Engine: Caterpillar C-12 engine rated at 380hp (283kW) and delivering 1450ft/lb (1966Nm)
Transmission: Eaton RTLO 18918B 18-speed overdrive transmission
Ratio: 4.30:1
Suspension: International Ride Optimised Suspension (IROS) four-bag air on an underslung axle spring with a fixed front-mounted bush
Wheels: Choice of steel or alloy PCD wheels and a choice of Michelin tyres
Suspension:
Forged steel I-beam Dana I-140W front axle rated at 6.7 tonne, riding on 48-inch long-leaf parabolic springs rated at 6.35 tonne
Dana D6-170 rear axles rated at 20.9 tonne
Subscribe to our newsletter
Sign up to receive the Trade Trucks e-newsletter, digital magazine and other offers we choose to share with you straight to your inbox
You can also follow our updates by liking us on Facebook. 

Trucks For Hire | Forklifts For Hire | Cranes For Hire | Generators For Hire | Transportable Buildings For Hire