Isuzu CNG truck range review
---
The politicians may not be able to agree on how to cut pollution, but Isuzu Australia is taking the initiative by releasing its all-new range of compressed natural gas (CNG) trucks.
The economy is apparently in tatters, but that does not stop the march of technology, just ask Isuzu Australia's Chief Operating Officer Phil Taylor, particularly when he is presiding over the launch of a whole new class of trucks into the Australian market.
Taylor, along with his boss Yuki Murata, the Managing Director and CEO of Isuzu Australia, were on hand late last month to unveil Isuzu's latest market offering: compressed natural gas-powered (CNG) light and medium-duty trucks.
In summing up the market, Murata notes that in the 12 months since he hosted a full-scale press conference Isuzu's global position improved from forecasting a loss to achieving a minor operating profit.
In the fiscal results for the October-December 2009 quarter, Murata says the company recorded global consolidated sales revenue of JP¥285 billion, or A$3.3 billion, which delivered a "modest" operating profit of JP¥14.3 billion, or roughly A$162 million.
"This is a great result in light of the conditions, and helped Isuzu Motors to revise its outlook from negative in February to predicting a modest profit of JP¥11 billion, or A$127 million," Murata says.
"This means Isuzu will achieve what many others couldn't — profitability."
Not only is the company coming back to the black after some very slow times, with the Australian arm proving to be a major contributor, Murata says Isuzu has continued to commit to research and development, including the development of the new CNG-powered truck range.
Although he stops short of an absolute declaration, Murata believes the worst of the economic crisis has bypassed Australia and, along with China, is already enjoying an economic turnaround.
While the CNG versions are on the ground in Australia, Murata says there are still more models in the pipeline, including the Euro 5-compliant versions of the current diesel-powered N- and F-models.
Taylor backed up his boss, explaining the decision to introduce CNG, rather than a diesel-electric hybrid, was based on an analysis of local market conditions, as well as the actual operating conditions.
With diesel-electrics needing dense traffic and low average speeds to perform at their peak, Taylor says Australian operators still do too much high-speed and open-road driving for a hybrid to be successful.
Instead, he believes there is a better opportunity to work with 'back-to-base' operators and city couriers that travel relatively short distances each day, although this is affected by the lack of public refuelling stations, with just seven currently in operation and a further four due to open in coming months.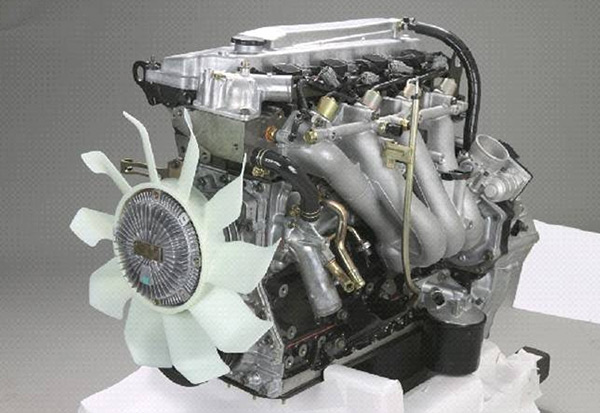 "There is also a price premium on the purchase of a CNG truck, however, there is also a better opportunity for return on investment due to the lower operating cost," Taylor says.
In addition to the private fleet market, Taylor acknowledges there are opportunities with government and council fleets, which already have access to CNG through bus or other operations.
In looking for a comparison market, Taylor says he is drawn, rather unusually, to Iran, which despite having massive oil reserves has become a big user of CNG.
Taylor says the CNG market in Iran went from having a zero per cent market share to 7 per cent in five years, with 900 refuelling stations now in operation and an extra 180 ready to join the gas network.
Locally, Taylor says the Truck Industry Council (TIC) is involved in lobbying government for assistance to establish public refuelling stations, which are more expensive to establish than petrol or diesel stations.
While he admits Isuzu's first attempt to introduce a CNG truck range to Australia was unsuccessful, due to a range of factors including low-grade technology and opposition from cheap diesel, Taylor says these factors have reversed, with the new trucks now offering modern engine technology.
Increased diesel prices and demands from the general public for action to reduce environmental impacts, coupled with a greater awareness of CNG and more manufacturers able to join the market with CNG-powered product, have also contributed to improving the situation for the new trucks, Taylor says.
Dean Stuhldreier, Isuzu's National Fleet Manager for Corporate and Government Business, also believes there is a good opportunity for CNG to establish a toe-hold in the Australian market, despite the current limitations.
He says there is a need for the industry not only to improve its environmental credentials, but also be able to show it, especially in light of proposed emission trading schemes.
Backing up his stance are global operators such as TNT and Toll publicly committing to reducing carbon emissions in all facets of their operations, including road transport.
"The environmental impact [of a truck] is a big part of fleet purchasing decisions," he says.
Despite having plenty of expertise in hybrid trucks in overseas markets, Stuhldreier says local evaluation shows hybrids are not yet viable for Australia, leaving CNG and LNG as the only other significant alternative fuel options for fleet operators.
Other advantages of converting to natural gas include Australia having a large portion of world reserves, with known fields containing enough to run Australia's vehicle fleet for more than 100 years, as well as not being linked to overseas fluctuations in oil pricing.
"The transport industry should aim for a 10 percent conversion rate to CNG," he says.
With Gosford City Council in New South Wales purchasing six NPR 400 CNG trucks in 2004, Stuhldreier says the council has established a solid bank of information, including running costs that show the CNG versions cost $9,000 less per 100,000 kilometres than the equivalent diesel model, based on 40 months of operations.
Gosford Council also recorded a reduction in carbon dioxide emissions of 1,600kg per truck, with the trucks all still in operation today.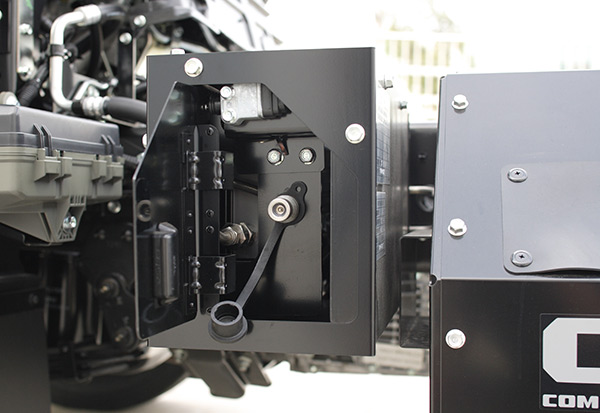 Toll IPEC has tested the current generation trucks as part of the Canberra fleet, as it has access to a refuelling site, and reports positively on the trucks, based on both economic and environmental data.
Despite the favourable test data, as well as Toll IPEC's commitment to build onsite refuelling sites at depots around Australia, Stuhldreier admits this is the biggest single stumbling block to the wider uptake of CNG trucks locally.
Colin White, Isuzu's product planning and engineering support manager, says the use of a dedicated CNG engine in the current range of trucks, rather than simply retro-fitting diesel engines with gas diffusers and carburettors, which happened in 2004, shows Isuzu's commitment to the cause of reducing exhaust emissions and improving overall vehicle performance.
White says the availability of piped natural gas in major population centres can help fleets considering converting to CNG trucks, as they can attach a compressor plant to an existing supply and take advantage of cost savings, with compressed gas estimated to be 20 cents per cubic metre dearer than the pipeline cost.
With CNG emissions bettering even the ultra-tough Euro 6 regulations on particulate matter (PM) and NOx, White says it also offers a reduction in carbon dioxide emissions of about 15 per cent compared with an equivalent diesel engine.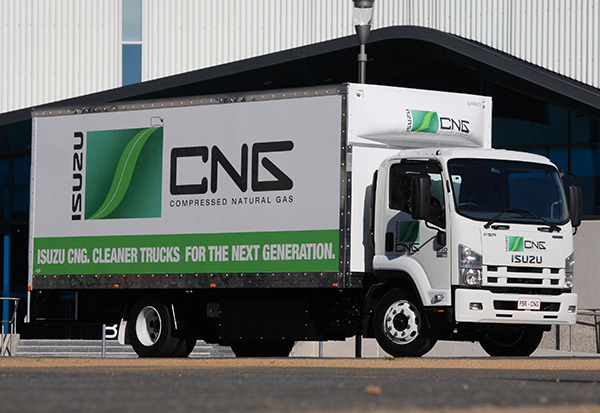 FSR 850 Pantech
Australian options
Australian operators will have the choice of either a 130hp (96kW) engine in the NLR 200 and NPR 300, while medium-duty operators can have the 220hp (162kW) engine, fitted to the FSR 700 and 850 models.
These engines make use of multi-point fuel injection, with full electronic control, providing more precise monitoring of the spark ignition engine, as well as the reduced exhaust emissions.
Unlike a diesel engine, White says the CNG motors provide peak power much higher in the rev range, and drivers are encouraged to hold gears for longer than in a diesel, with the power curve taking over from the torque output as revs rise.
A good example is the 130hp version, which delivers peak torque of 353Nm (260ft-lb) at 1,400rpm, but then falls away quickly, while the power curve is just still developing, so that as the two cross at 1,800rpm, the horsepower takes over and continues to push the truck along the road.
By comparison, the 155hp (115kW) diesel engine delivers its peak torque of 425Nm (313ft-lb) between 1,600 and 2,600rpm, with peak power also arriving at about 2,600rpm, making it easier to short shift and conserve fuel while still achieving reasonable performance.
In the larger engine size, as used in the FSR 700 and FSR 850, the CNG engine actually delivers more torque, although less power, than the 235hp (175kW) diesel. However, the power delivery of the gas engine is such that again the power picks up where the torque falls away so that the driver does not notice the fall in torque.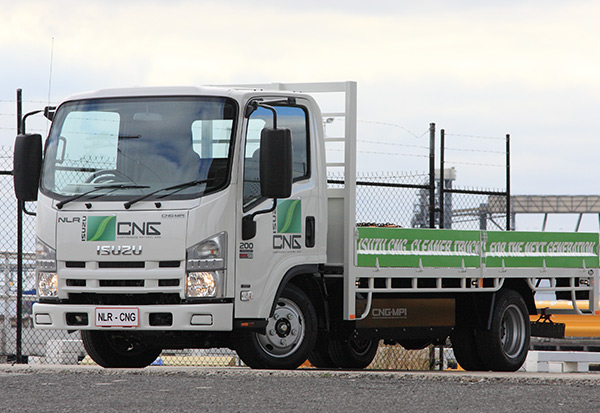 NLR 200 Trayback
Performance
During the drive program for the CNG trucks the Isuzu staff encouraged journalists to let the engine climb through the rev range, rather than follow our instincts and short shift the engine as if it was a diesel.
Given the chance to climb through the gears, the CNG engines displayed plenty of flexibility, and no signs of struggling, even under load.
With three trucks on the drive program, an NLR 200, loaded to 3,940kg, against a GVM of 4,495kg, an NPR 300 at 5,320kg (7,000kg GVM) and an FSR 850 with 10,340kg (14,000kg GVM), each truck had the opportunity to strut its stuff.
With these engine combinations aimed at the pick-up and delivery fleet market, it is worth remembering these trucks are rarely loaded to maximum weight, as the load is constantly changing from light to heavy and back again, so not being loaded to the maximum permitted weight is a fair interpretation of how these trucks are expected to operate.
Both the NLR and NPR were fitted with automated manual transmissions (AMT), recalibrated to suit the power delivery of the CNG engines, while the FSR 850 used the standard six-speed manual transmission.
White says compared with the equivalent diesel models, the CNG trucks do suffer a tare penalty, although not as much as expected, with the NLR 200 some 332kg heavier before freight is added, while the NPR 300 adds 147kg and the FSR 850 increases by 277kg over the diesel model.
According to White, the difference is not as high as expected because the CNG models actually lose all of the diesel components, which helps to keep the gas trucks competitive against the diesel versions.
The main change is the removal of the diesel tanks, which are replaced by four gas cylinders, to give the equivalent of 300 water-litres of fuel, in the case of the NLR and NPR, or 440 water-litres on the FSR, although White explained the actual measurement of the gas is in kilograms.
The tanks are either fibre-wrapped alloy or steel, with the gas compressed to a pressure of 20 mega-pascals, which created one other interesting change in the cabin, with the fuel gauge reading pressure rather than volume.
White says unlike LPG engines, if a CNG engine runs low on gas, it begins to lose power, warning the driver to pull over to the side of the road.
Also unlike other gas engines, he says cylinders can be changed on the road, or the operator can switch one tank off, to become a reserve, so that the other tanks are empty there is still enough in the reserve to return to base or a public filling station.
Isuzu's own testing found the average range of the trucks on one fill, in a mix of driving situations including traffic, open highway and urban running, was 320km for the N-Series trucks, while the F-Series managed 360km.
While everything else in the CNG trucks were otherwise completely standard, it was clear the gas engines offered plenty of flexibility.
During one leg, the climb to Arthur's Seat while driving the AMT-equipped NLR 200, I allowed the AMT to select the gears automatically, and found that it would attempt to shift up a gear whenever the road became flat, only to struggle at the next steep section, before dropping back to the previous gear.
The more effective solution is to use the manual override and choose a gear, either second or third, and then let the engine climb up and down through the rev range, showcasing its strengths.
The downside to this amount of flexibility is that there is very little engine braking, unlike a diesel, which means the driver will use the exhaust brake more often, which is actually assisted by the higher revs of the gas engine, or they will tend to use the service brakes, which can cause them to wear faster than expected.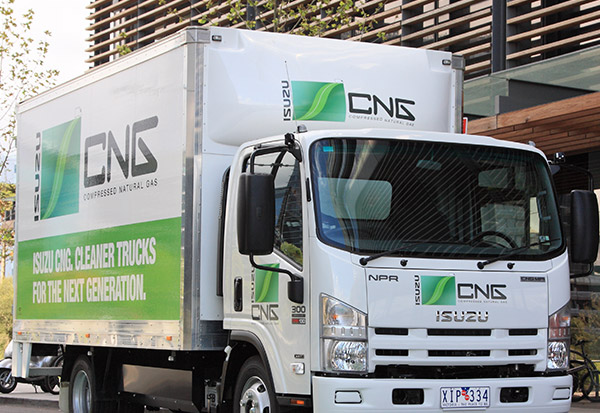 NPR 300 Pantech
Verdict
Despite the differences in power delivery to a diesel, the CNG engines proved to be willing performers, more than capable of holding their own in a variety of driving situations, from urban traffic to highway driving and even steep hill climbs.
Specifications
Make/Model: FSR 850 Pantech
Engine: 6HF1TCN
Power: 162kW (220hp) @2,400rpm/735Nm (540ft-lb) @1,400rpm
Transmission: MXW-6P 6-speed manual
GVM: 14,000kg
Tare: 6,080kg (approximate, with fuel)
Make/Model: NLR 200 Trayback
Engine: 4HV1TCN
Power: 96kW (130hp) @3,200rpm/353Nm 260ft-lb) @1,400rpm
Transmission: MYY-5A 5-speed AMT
GVM: 4,500kg
Tare: 3,160kg (approximate, with fuel)
Make/Model: NPR 300 Pantech
Engine: 4HV1TCN
Power: 96kW (130hp) @3,200rpm/353Nm (260ft-lb) @1,400rpm
Transmission: MYY-6S 6-speed AMT
GVM: 7,000kg
Tare: 3,760kg (approximate, with fuel)
Subscribe to our newsletter
Sign up to receive the Trade Trucks e-newsletter, digital magazine and other offers we choose to share with you straight to your inbox
You can also follow our updates by liking us on Facebook. 

Trucks For Hire | Forklifts For Hire | Cranes For Hire | Generators For Hire | Transportable Buildings For Hire