Kia Motors K2900 Pantech truck review
---
Increasing pressure from regulators and planners to keep heavy trucks out of urban areas has opened the door for Kia and its K2900, writes Gary Worrall
Completing the 'last mile' of the freight task in a modern urban setting poses many problems for operators, from reduced load limits to shrunken delivery docks and drop-off areas.
While this means fewer heavy trucks are allowed to enter metropolitan areas, particularly during office hours, the problem of how to make deliveries to city-based businesses remains.
Korean manufacturer Kia believes it has a solution, with the recently released K2900 light truck range.
Available in a variety of configurations, including trayback and dropside utility models, the latest Pantech version opens the door to a new sphere of operations.
The K2900 is a reworking of the previous K2700 with plenty of improvements, including a 59 per cent increase in power and 49 per cent more torque over its predecessor.
From a style perspective, it is harder to pick the changes, with the same basic body shape retained on the K2900; the nose section curves up and back from the bumper, leading into a curved roof panel.
The doors span virtually the full depth of the cabin, making for entries and exits easy, particularly with a step placed in front of the wheel, and the A-pillar mounted grab handle.
The adjustable main door mirrors offer a wide field of view, although tall drivers may have some problems when reversing.
The lower wide-angle mirrors are fixed in place and the driver needs to adjust themselves to establish a field of view.
The K2900 rides on 15x5.5 inch wheels and 195/R15/8PR tyres up front, while the rear spreads the load across a set of dual 12x3.5 inch rims shod with 5.00/R12/8PR rubber.
Engine
Despite only pushing out 92kW, the 2.9-litre turbo-diesel finds plenty of torque. At 245Nm it is more than enough to get its wheels rolling, even with an extra 1,500kg on board.
The engine is in fact a sweet little unit that revs freely all the way to beyond 4,000rpm without sounding harsh.
Helping out is a wastegated turbocharger, while direct injection of the fuel aids not only fuel economy but also helps reduce exhaust emissions by strictly controlling the amount of fuel used in each cycle.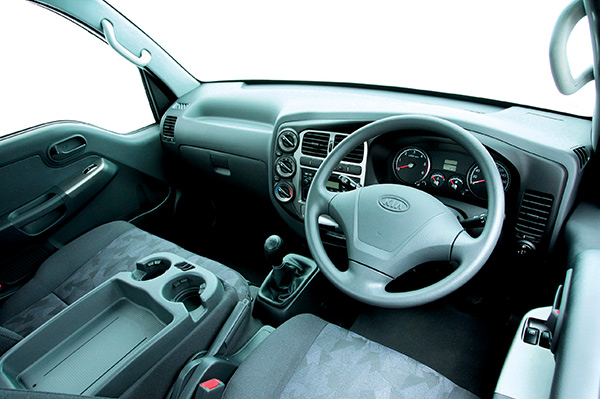 Cab and Controls
Inside, the K2900 gets a height adjustable steering wheel, which offers a good range of options, however a little more rearward travel on the seat would be appreciated by tall drivers.
The real issue for bigger drivers is in the footwell, with insufficient boot room between the accelerator pedal and the seat base, which can lead to your foot getting jammed in an emergency or, worse, suffering from cramp while driving.
The only other downside is the lack of cruise control, which makes itself apparent on longish drives such as Brisbane to the Gold Coast or Sydney to the Central Coast.
The seats are comfortable with accommodation for three, although the centre passenger only cops a lap belt rather than the three-point belts offered on the outboard positions.
The centre seatback also a single disc AM/FM/CD stereo, power-assisted steering, ABS brakes and remote central locking.
The gauges are large and easy to read and the information is kept strictly to what the driver needs to know, with a speedo and tacho and fuel and temperature gauges.
Performance
The K2900 has no problems holding its own at the posted speed limit, loaded or empty, but if you have to sit there with your foot on the pedal the whole time, cramp or getting tangled up is an ever-present danger.
Despite those concerns, it is a simple truck to operate, with a light clutch and gearshift action, while the large front window offers an excellent field of view, with only minimal blind spots, although it is important to be extra vigilant near pedestrian crossings.
The factory pantech is a great idea; it is of relatively lightweight construction. It features a checkerplate floor, perfect for coping with a pallet or skid, as well as providing all-weather grip for hand loading.
The total height of 3.3m means it can still squeeze into virtually all delivery docks, while providing enough vertical space for bulky loads such as furniture.
This is probably the key to the K2900's success: it is capable of holding almost any type of load and can go just about anywhere, while providing all-weather operations for sensitive freight.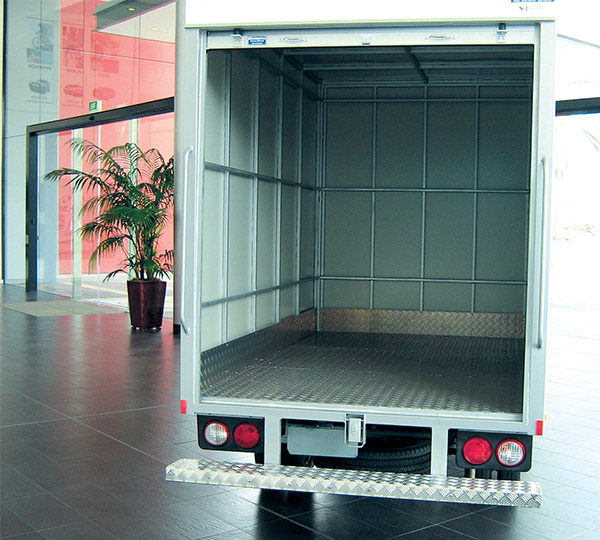 Additionally, it can be driven on a car licence, which will make it popular with rental fleets and local governments.
The K2900, clearly, is likely to be seen in ever-increasing numbers.
With the factory body, the K2900 has about 1,500kg of payload (depending on the usual variables of fuel load and driver size). We fitted in a couple of different configurations, including an 1,100kg stericon.
Even with that hefty load on board, the vehicle proved to be a willing performer.
While it did not exactly zip through traffic the five-speed transmission contains a well-chosen set of ratios that keep the little truck that could puffing along nicely.
With a lighter load, or running empty at the end of the day, the K2900 is even more impressive, and as often as not was overtaking cars and vans while driving on the motorways.
The K2900 uses a combination of vented discs and rear drums, but had no problems pulling the truck to a halt. Even with a heavy load out the back there was no indication of brake fade.
Another clever feature is the headlight adjustment. When the back end is heavily laden the headlights can be swivelled down to keep them pointing at the road, and not at the trees.
The suspension uses double wishbones with torsion bars, gas shock absorbers and a stabiliser bar up front, which provides a degree of ride comfort and performance that is unusual for this class.
The rear end uses a multi-leaf set-up, combined with gas shock absorbers that squat down under load, helping put the power to ground as well as soaking up the numerous bumps encountered while driving around urban Australia.
Verdict
The addition of cruise control would definitely improve its driveability on longer trips, but the K2900 remains a capable workhorse suitable for a variety of freight tasks where larger trucks are either prohibited or would struggle to access the delivery dock.
Likes:
Light weight and small size ideal for restricted metro deliveries
1,500kg payload
Ability to hold bulky goods
Car licence only
Dislikes:
Driver's foot well cramped
Lack of cruise control
Specifications
Make/Model: Kia K2900 Pantech
Cab: Two door, three seats
Chassis: Ladder frame, fitted with pantech body
Engine: 2.9 litre diesel, direct injection, wastegated turbocharger
Power/Torque: 92kW at 3,800rpm; 245Nm at 2,000rpm
Payload: 1,500kg
Click here to find Kia trucks for sale.
Subscribe to our newsletter
Sign up to receive the Trade Trucks e-newsletter, digital magazine and other offers we choose to share with you straight to your inbox
You can also follow our updates by liking us on Facebook. 

Trucks For Hire | Forklifts For Hire | Cranes For Hire | Generators For Hire | Transportable Buildings For Hire