Meet the Daum-inator
---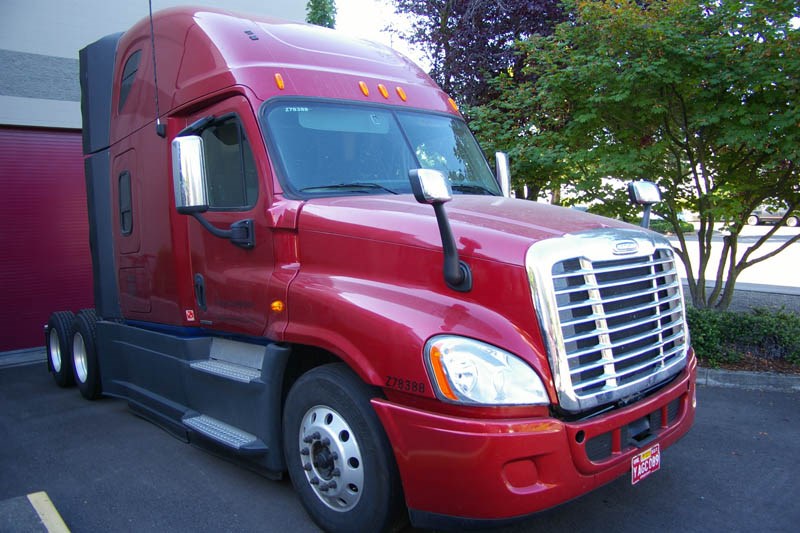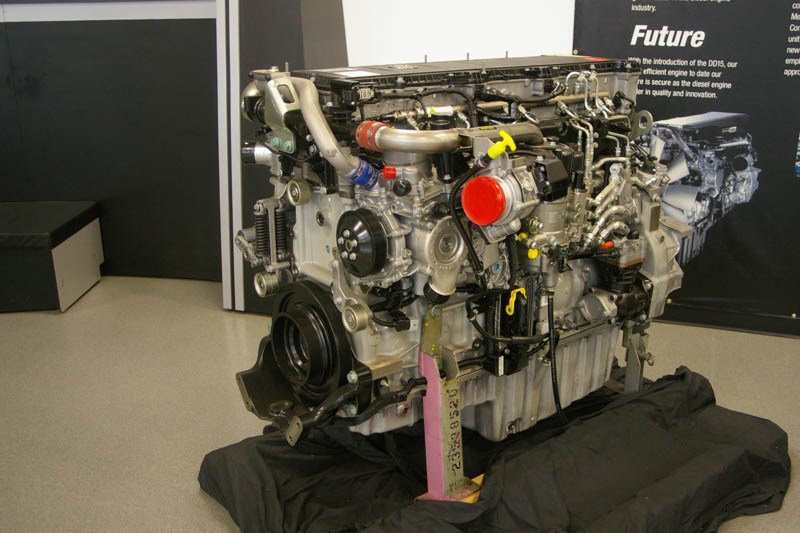 As well as launching the Coronado 114, the Freightliner media tour of North America included a visit to Detroit Diesel and the headquarters of Daimler Trucks North America with a briefing by CEO Martin Daum. Gary Worrall reports.
As the man who made the call to kill off the Sterling brand, Daimler Trucks North America (DTNA) President and CEO Martin Daum could be viewed as the worst thing to happen to the Australian arm, yet he remains unrepentant about the move.
This is despite Daum's background including a stint as General Manager of Finance for Sterling after he joined Daimler Trucks in 1987, two years after completing a Masters in Economics at Mannheim University in his native Germany.
Describing Sterling as "too close" to Freightliner compared with Western Star − so close that it was "virtually a re-bonneted Freightliner" − Daum says there was too much risk of Sterling cannibalising Freightliner sales, making the decision to close the whole division much easier.
Despite the relatively low volumes of Western Star sales, Daum says it is a "different truck" with different engineering and applications, so that it made more sense to maintain the Western Star nameplate.
Continuing his 'firm but fair' approach to the Antipodean sector, Daum says Australia is a "valued" export market, although he quickly follows this up by saying there is "room for improvement" on truck sales.
In line with this, he would like to see Freightliner join the medium-duty market in Australia, although there is not a suitable truck available currently, as the United States-spec M2 models are too heavy when fitted with the standard steel cab.
To facilitate this, Daum would like to see all future models designed to suit both left- and right-hand drive configurations.
In North America, Freightliner is 'part of every deal', even if it is not always the successful brand, with the company competing in all segments except for cabover refuse trucks.
Freightliner's Australian boss, Gary Wheatley, drew an almost visible sigh of relief when Daum categorically threw his support behind the cabover Argosy, although he did admit that if it was not already in the product mix, it "would not be designed today".
"With no length restrictions, the conventional truck is better, but the cabover design does have advantages," he says.
Daum says the proof of his support for the Argosy was the decision to begin the new model's development in 2009, in the middle of the global financial crisis, at the same time the Sterling brand was shutting down.
"We could have done the same thing with Argosy," Daum says.
Warming to the theme of cabover models in the Freightliner product mix, there will never be a 'global' cabover, primarily due to market differences, however he is confident there will be shared technologies between markets.
Continuing this theme, Daum recognises the cost savings of using group-developed technologies, although he also points out the strength of the customer in the sales relationship when it comes to specifying equipment levels.
"Customers have a greater say in the [US] market, and they force the specification of the truck, for example preferring drum brakes and not disc brakes."
Despite this, Daum says DTNA does try to 'commonalise' components under the skin, which helps creates economies of scale, not just in purchase costs but also in simplifying manufacturing processes by minimising the number of production techniques required.
When pressed as to one feature he would like to see adopted across the board, Daum says his preference is for the introduction of Adaptive Cruise Control, as it not only supports the driver but improves fuel economy.
Although there is a widespread belief that the supply of advanced technologies is a one-way street, Daum says it actually goes both ways, with the North American arm responsible for the 'predictive' cruise control now offered by Mercedes-Benz in Germany.
DTNA does "a lot" of work with regulators in the US to help educate the transport industry on technical and safety advances, and lobbies to have rules updated in line with the latest developments.
"As an example, we worked with the [Environmental Protection Agency] on the development of the GHG14 standard, and DTNA received US$38 million for the Super Truck, the most money of all the North American manufacturers."
While he is a 'strong believer' in free market economics when asked for his views on Chinese and Indian manufactured trucks − saying "if customers want them and they are profitable, then they will be available" − his tune changes when the topic switched to Navistar's engine design woes.
Although he believes the US parent of Australia's Cat Trucks brand will eventually find a design solution to the stringent EPA 2010 regulations, as the other North American manufacturers were forced to do, Daum is critical of the decision to allow Navistar to supply non-compliant engines after the mandated cut-off date.
Power Trip
While truck manufacturing is the obvious centrepoint of DTNA, the company's broad portfolio also includes ownership of Detroit Diesel, which provides an in-house engine research and development service, as well as building engines to power the company's trucks.
Australia currently receives the impressive DD13 and DD15 engines in both Freightliner and Western Star models, although operators also have the choice of specifying the ubiquitous Cummins engine range, with the DD16 version set to arrive in time for ADR 80/04 regulations.
To meet the stricter rules Detroit's Field Service Manager, Vic Meloche says the DD16 will use a combination of selective catalytic reduction (SCR) and exhaust gas reticulation (EGR) technologies, to allow 'smaller' amounts of both rather than a large amount of either.
Interestingly, Meloche also ruled out any form of waste heat capture to power ancillaries, saying every degree of exhaust heat will be required to meet emission control rules.
Meloche says all engines are built to a single specification, ruling out talk of Australia-only versions to meet different emission controls, offering Freightliner the option of introducing ADR 80/04-compliant engines well ahead of other manufacturers.
With the DD15 and DD16 using common components, including the compounding turbocharger technology that replaces the previous variable geometry unit International Product Support Manager, Terry Bistue says the new engines were designed after the latest EPA 2010 and Euro 6 regulations were confirmed, allowing engineers to 'future proof' against potential requirements.
Bistue says the DD15 has a 'B50' life − an estimate of when 50 percent of engines will require a major repair involving removal of either the sump or cylinder head − of 1.9 million kilometres, compared with the previous Series 60, which had a projected B50 life of 1.6 million kilometres for the 14.7-litre ADR 80/02 version.
Also under development are two new engine lines, the DD9 and DD11, 9- and 11-litre units respectively, with the DD11 set for European release, while the DD9 remains a work in progress in the research and development section, which is also contributing to the development of new Mercedes-Benz 6- and 7-litre engines.
The 2,300 staff employed at the factory produces 'around' 300 engines each day, although Meloche says this can be boosted as high as 370 engines each day if demand picks up.
While Detroit builds a range of transmissions for the DTNA 'family', heavy truck buyers can tick the box in the dealership to add a variety of 'outside' options, including Eaton and Allison transmissions.
With the Detroit product range also including a full selection of drive and steer axles and on-board diagnostic tools, as well as exhaust particulate filters, DTNA is rolling out a new corporate identity, dropping the 'Diesel' to create the 'Detroit' brand.
The new name debuted at the 2012 Mid-America Truck Show, and is being progressively introduced to global markets, with Australia and New Zealand slated to see the new logos in 2013.
With all manufacturing carried out at the single facility in Michigan, staff are subject to one of the more bizarre pieces of bureaucracy as the factory sits astride the county line dividing Detroit and Redford.
As staff cross from one side of the plant to another, they are required to keep track of time spent in each location, with all staff working in the Detroit portion of the building paying an extra 2 percent city tax compared to workers 'based' in Redford.
While the move to become part of the global Daimler family saw Detroit lose potential market share, with the engine group now limited to Daimler subsidiaries, the upside is that for Australia, 85 percent of all Freightliner orders now specify Detroit power.
Testing times
Although its limited Australian test schedule has raised eyebrows in the past, Bistue says this is not a concern, with a comprehensive computer-controlled test facility allowing Detroit engineers to replicate virtually any load and temperature combination.
This is backed up by DTNA's Portland, Oregon facility, which as well as testing complete trucks is able to carry out component testing, including rolling roads and 'shaker' test cells using data collected from millions of kilometres of on-road testing.
Run by DTNA's Product Validation Chief Engineer, Al Pearson the Oregon facility also has a full-scale wind tunnel and a 'cold room' that can freeze a truck to ensure it still operates in below-zero conditions.
Pearson says the Portland facility is part of a global research group within DTNA, with a total of 5,496 employees, which allows the different centres to share results to eliminate duplication of work.
The Portland centre also built the Freightliner 'Super truck' a rolling test bed debuting a range of advanced technologies, to showcase not only the capability of the Freightliner design team, but also how technology can impact the driving task.
Based on a Cascadia cab, not available in Australia, the Super Truck features elements like 'digital' mirrors, which although not DOT-legal explore the potential for the unit to improve external aerodynamics while maintaining full rear visibility.
The Super Truck also uses a version of 'on-demand' four-wheel drive technology, in this case known as 'Long-Haul Tandem' which disconnects the rear axle of a bogie drive axle in low-demand applications, such as sustained-speed cruising, which reduces fuel consumption over long journeys, while still providing full drive capability when needed.
Pearson says the research team works with customers to 'encourage' the take-up of innovations such as reducing the gap between the truck and trailer, which in turn improves aerodynamics and reduces fuel consumption.
With the US not requiring specific cab-strength figures, Pearson says the test lab works with the design team to test new designs, opting to use the tough European ECE-R29 standard as a benchmark, as well as the Swedish 'moose test' and the SAE (Society of Automotive Engineers) roll over test.
Pearson says a single cab must survive impacts on the A-pillar, rear wall and roll over tests to receive a pass mark and be approved for production.
"We do lots of destruction testing on the chassis and suspension, we use actual production components to establish the product's real life cycle compared to what is required," Pearson says.
Pearson also oversees the 'RG' - Reliability Growth - fleet, staffed by a combination of Freightliner and Detroit engineers, who run a fleet of both Detroit and Cummins-powered trucks to establish real world limits for components.
Australian loads are replicated through a loophole in Oregon traffic laws that allow overweight 'indivisible loads, in this case concrete-filled containers, to be towed without special paperwork or other restrictions.
With all failures noted, Pearson says the team has passed 7,000 documented 'fails', with engineers then finding appropriate 'fixes' that are put into series production.
This uses a team of 100 drivers, 17 technicians and 21 engineers, and has run up over 12 million miles on EPA 2010 (ADR 80/04) vehicles already, with testing set to continue into the future.
Pearson says among the reports was one of failure of a seal on the gas struts that support the bonnet when it is opened or closed, with the final solution requiring a change to the chroming process of the strut to improve service life.
Pearson is clear on his mission: "All faults must be resolved".
Looking Ahead
While Freightliner has had a chequered past in Australia, it is clear the work put into improving the breed since it became part of the Daimler Trucks empire is paying off.
For long-serving employees like Gary Wheatley, as well as Australian truck buyers, this can only be good news.
Click here to find Freightliner trucks for sale.
Subscribe to our newsletter
Sign up to receive the Trade Trucks e-newsletter, digital magazine and other offers we choose to share with you straight to your inbox
You can also follow our updates by liking us on Facebook. 

Trucks For Hire | Forklifts For Hire | Cranes For Hire | Generators For Hire | Transportable Buildings For Hire