Isuzu 2013 N and F series video review
---
Isuzu have revised, tweaked and added to their light-duty N series and medium-duty F series workhorse range. Matt Wood takes a few examples for a drive
Isuzu Trucks have decided that their bread and butter N and F Series range needed a slight bit of subtle tweaking before it started to look a bit long in the tooth.
This is not a drastic remodelling of Isuzu's light- and medium-duty workhorses.
From the outside, the only real visual cues to the update are the directional lamps that illuminate when the indicators are used in conjunction with the headlights.
This neat little feature makes it much, much easier to pick out puddles in the gutter when passing crowded bus stops.
But it's the changes that have taken place underneath the fridge-white skin of Isuzu's urban warriors that are really worth taking notice of. For a start there's the addition of rear disc brakes to selected N Series models and there's also the addition of a CANbox to the F Series.
Engine
The new N series is powered by a 5.2-litre four cylinder engine with high pressure common rail fuel injection and variable nozzle turbo charger. The NLR-NNR models have a smaller 3-litre four cylinder engine.
However, the F series packs in a 7.8-litre six cylinder engine with high pressure common rail fuel injection and variable nozzle turbo charger.
Transmission
The NLR-NNR models in the N series are available with a 5-speed manual or 6-speed AMT transmission, while the rest of the N series and the F series ship with either a 6-speed manual or 6-speed AMT.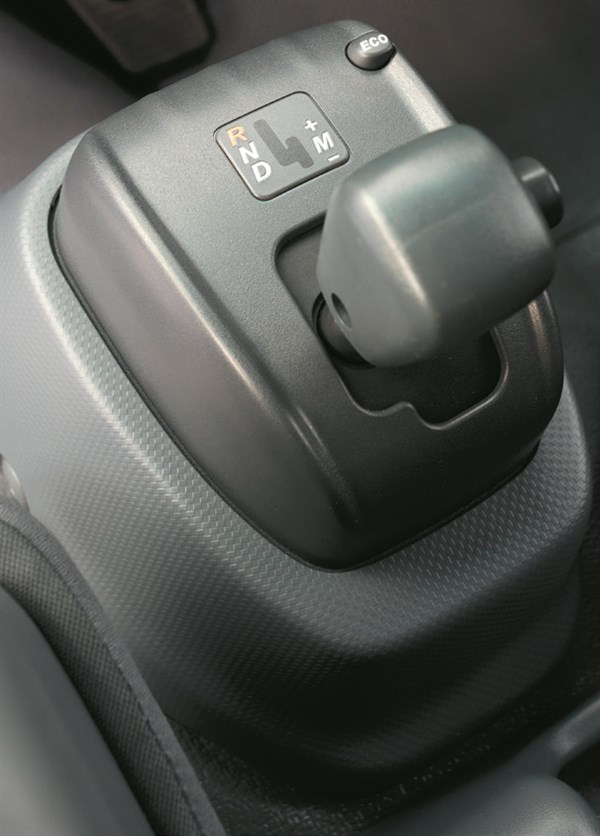 Cab and Controls
Inside there's not a lot that makes you do a double take. In fact the only difference you'll pick are the matte silver highlights surrounding the speedo and tacho, the inside door handles and power window switches cop the same treatment as well.
While maybe only a small visual cue, the sliver treatment does serve to give the otherwise drab grey interior of the Isuzu's a bit of a lift; in short, it works.
The new CANbox is an interface for body builders to access when installing equipment after manufacture.
This can mean anything from elevated work platforms to tailgate loaders. With a CANbox on board, features such as ignition interlocks that stop the truck being driven down the road with a tailgate dragging on the ground can be fitted, without the needing anyone to fiddle with the truck's already complex CANbus network.
Again, on the surface this may not seem a great deal but the idea of an aftermarket equipment supplier potentially meddling with some of the delicate internals of a new vehicle is not a particularly happy one.
The CANbox interface manages to remove the need for this scenario, which can cause more than a few headaches for a new truck owner trying to track down the cause of some fickle electronic quirk that a new truck may have developed as a result of other equipment being added to the CAN network.
It also provides an easy gateway for telematics systems with access to road speed, throttle, fuel usage without any CAN modification.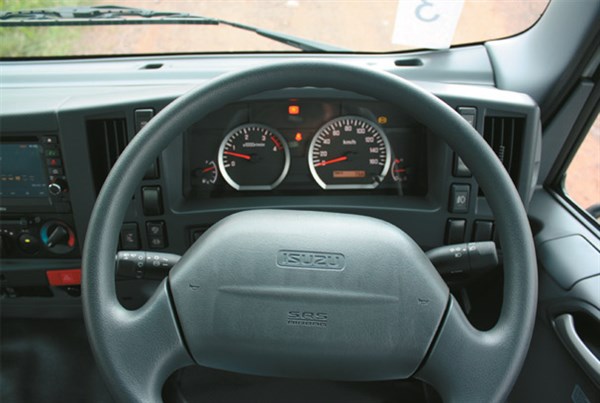 The F Series benefits from the new CANbox as well as the updated digital audio visual unit (DAVE).
This 15.3cm touch screen unit now comes with Digital Audio Broadcast (DAB+) radio, which is great unless you leave the metro area where it all becomes a bit muddled.
That said, DAVE goes a long way towards making a driver's day at work that little bit more pleasant, with truck specific satnav and a built-in 4GB hard drive that can record from the radio for replay at a later date.
After giving up on the fading in and out of the radio in the hills, I turned my hat around the wrong way and threw a Linkin Park CD into the slot to check out the sound quality.
The resulting cacophony was like being trapped in the belly of a giant cicada, the speaker quality was woeful. I'm sure that the head unit itself is capable of providing decent sound but it's the speakers that really let the side down.
While a lot of people are happy to listen to news and talk back radio throughout their working day, anyone wanting to listen to a bunch of whiny white boys with relationship issues play guitar very loudly will be disappointed by buzzing, tinny speakers.
A premium speaker option wouldn't go astray here. I made sure, however, that I'd turned my hat back around the right way by the time I rejoined the other members of our entourage. I was even able to resist the temptation to call anyone from Isuzu "Dude".
DAVE has the capacity to handle up to four cameras and display them on the touch screen where required. Along with this DAVE now has the capacity to handle proximity sensors that can be mounted around the truck body.
Working much the same way as a parking or reversing sensor these use an audible alarm to warn the driver of an impending impact; roller doors and shop awnings around the country will be sighing with relief.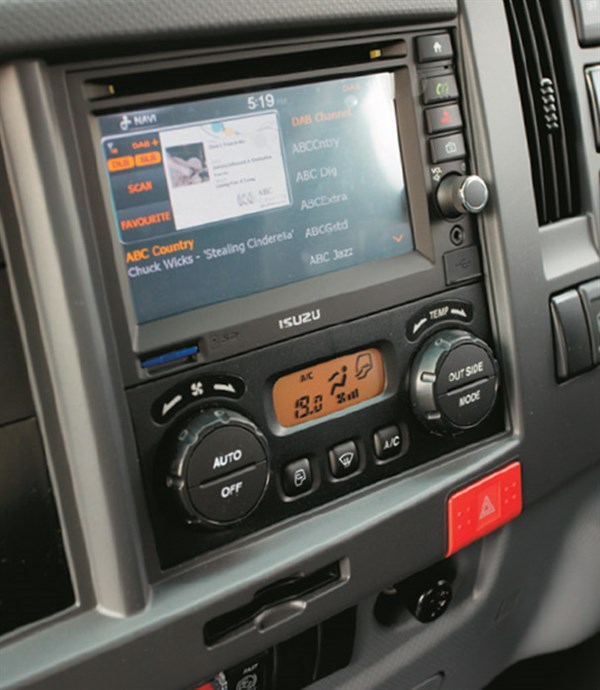 Performance
To give us journos a chance to play with examples of the tweaked line-up, a cross-section of vehicles was made available for a jaunt through the Macedon Ranges area.
While this isn't really the most likely environment for these trucks, especially the N Series, it did provide enough ups and downs to give the trucks a real workout.
The down side of this however, was that we spent most of the drive lined up like baby ducklings in case we got lost, or did something stupid like try and fit through a Macca's drive-thru in a van body.
It's a little known fact that most journos are easily bought with cheap soft-serve ice cream.
With not a great deal new underneath, it was still an opportunity to reacquaint myself with the lighter side of the range.
The first truck I clambered into was the NLR200 equipped with a 5-speed manual gearbox and, with the flick of an ignition key, the 3-litre 16-valve engine cranked to life. It didn't take long for me to remember what it was I've always enjoyed about the N Series.
It may look like a road-going dishwasher but from behind the wheel, the N Series has always had a bit of character about it.
The little powerplant seems eager, the 6-speed 'box uncomplicated and smooth; if the N Series was a dog it would be a fox terrier chasing a tennis ball.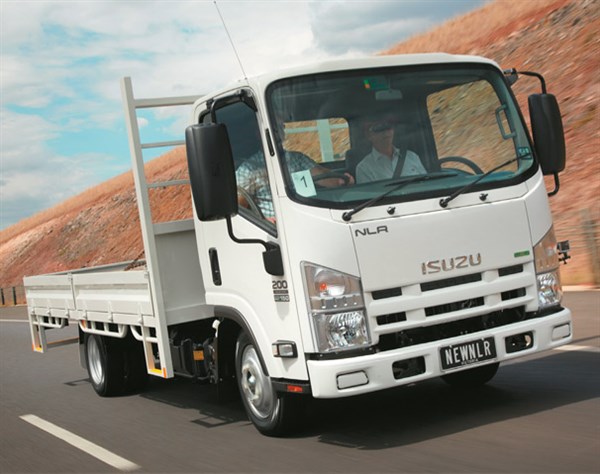 I wandered through examples of the N Series range during the drive with some affection until, that is, I slid behind the wheel of the NQR450 Medium with the 5.2-litre engine.
This particular truck was fitted with 6-speed automated manual transmission (AMT) and this transmission didn't seem to be in much of a hurry to do very much at all.
The AMT seemed reluctant to be pushed in either auto or even when being stirred manually, and in some cases the gaps between the gear ratios seemed too tall for the computer to deal with; in short "computer says no".
Considering just how light and easy the manual transmissions are to operate, the AMT in the NQR was a letdown and seemed to hinder the performance of the 186hp (139kW) engine.
Of course at 8,700kg GVM this truck is at the heavy end of the N Series and was carrying over 25,000kg of extra bulk over other N Series vehicles on the drive.
However, if this truck was a dog, it would probably be an overweight Labrador with conjunctivitis.
The medium-duty F Series and I go way back and I'm always happy to return to where my professional driving career once started all those years ago.
Apart from the cornering lamps there's not a great deal else new going on from the outside. Where the N Series looks like a dishwasher the F looks like ah … er … bigger dishwasher.
The F Series may be bland, it may be pedestrian but it's still a great truck to drive whether poking around town or out on the open road.
It just doesn't seem to do anything badly which, for a white bread vehicle like this, would have to be exactly what is required, a versatile platform that will do all of the above.
The 7.8-litre engine just does its thing without any fuss whether in manual or AMT guise, the AMT is actually a good thing in the F Series and the logical choice for around town.  
However, any role that required a fair bit of open road running would still have me looking for the 6-speed manual version. If the F Series was a dog it would be one that comes when you call it, and sits when you tell it to.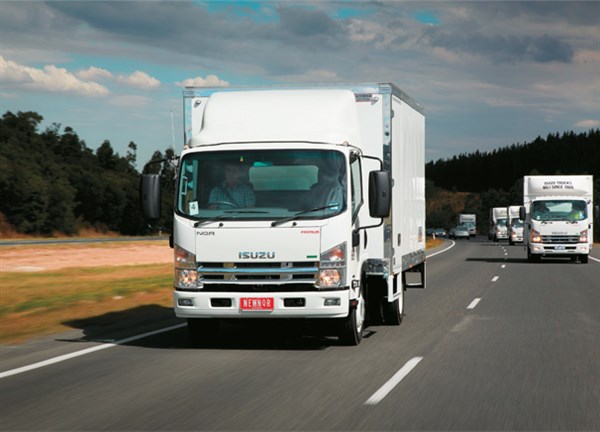 Verdict
Isuzu have chosen to value add to their light and medium range, and while it hasn't re-invented the wheel, it has made some intelligent additions to what already is a solid and well equipped model line-up.
And the best bit is your bum won't look big in any of them.
Specifications
Model: N Series
Engine: 5.2-litre, 16-valve, four cylinder with high pressure common rail fuel injection and variable nozzle turbo charger.
(NLR-NNR model 3-litre, 16-valve, four cylinder)
Transmission: 6-speed manual or 6-speed AMT. NLR-NNR 5-speed manual or 6-speed AMT
Power: 139kW (186hp) @ 2,600 rpm (NLR-NNR 110kW, 148hp)
Torque: 510Nm (376ft-lb) @ 1,600-2,600 rpm (NLR 375Nm, 277ft-lb)
Emissions Control: Cooled exhaust gas recirculation (EGR)
Model: F Series
Engine: 7.8-litre, 24-valve, six cylinder with high pressure common rail fuel injection and variable nozzle turbo charger.
Transmission: 6-speed manual or 6-speed AMT
Power: 176kW (236hp) @ 2,400rpm
Torque: 706Nm (512ft-lb) @ 1,450 rpm
Emissions Control: Cooled EGR
Subscribe to our newsletter
Sign up to receive the Trade Trucks e-newsletter, digital magazine and other offers we choose to share with you straight to your inbox
You can also follow our updates by liking us on Facebook. 

Trucks For Hire | Forklifts For Hire | Cranes For Hire | Generators For Hire | Transportable Buildings For Hire