Fuso Canter Eco Hybrid truck video review
---
Steve Skinner analyses the Fuso Canter Eco Hybrid below, while Matt Wood takes it for a spin in the video above
The Fuso Canter Eco Hybrid diesel electric is a beaut little truck.
Comfortable, easy to drive, has the power when you need it, and saves about a fifth of the fuel compared with the equivalent diesel-only Canter.
And here's the most important part: the Eco Hybrid pays for itself in less than four years, according to Fuso.
That's because the purchase price of this second-generation model is only about 13 per cent greater than the diesel equivalent, compared with around 35 per cent for the original version.
So, it can make good business sense, even if you think human-accelerated global warming is a crock of the proverbial. You're emitting less carbon dioxide but also saving money in the long run.
ATN was part of a group of truck journalists hosted by Fuso to drive several of its new and updated models around the Geelong area over two days.
The Canter Eco Hybrid doesn't look that much different to the bigger ones, but it's a standout under the skin and has the most interesting things to play with.
That's not only because of the electric motor and lithium-ion battery pack.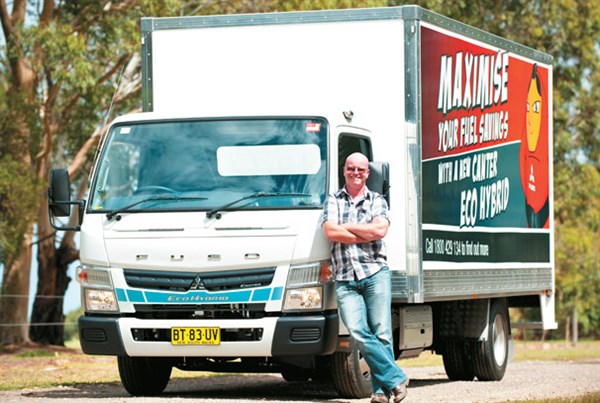 Battery
The engineers in Japan have come up with a second-generation hybrid which has a more powerful electric motor and a less expensive battery which is also lighter and keeps cooler — heat being the enemy of batteries.
The battery never goes completely flat nor fully charges, a feature which lengthens its life and enables the 10-year battery warranty.
Battery power is most efficient for takeoff and low speeds (up to about 10km/h) unless you plant your foot, in which case the diesel engine kicks in straight away.
The electric motor helps the diesel at low to medium speeds, but it is all diesel power at cruising speeds. This all seems to work seamlessly in the new truck.
The battery is charged by regenerative braking, with the system capturing the heat and friction caused by hitting the brake pedal.
An unexpected bonus of regenerative braking in the little Canter is that when you take your foot off the throttle going downhill, the electric motor works against the wheel speed, serving as an excellent retarder; if you leave the diesel exhaust brake off, the engine merely idles.
This electric retardation also puts power back into the battery.
"It's a nicer vehicle to slow down in," Fuso Australia's Product Planning Manager Kevin Johnston says. "Good quiet stuff, and it will save on brake life too."
Of course the downside of having both diesel and electric systems is extra weight eating into payload.
Johnston says electric-only trucks are still a way off because of such factors as the expense of batteries, their low range, and a lack of infrastructure for electric vehicles.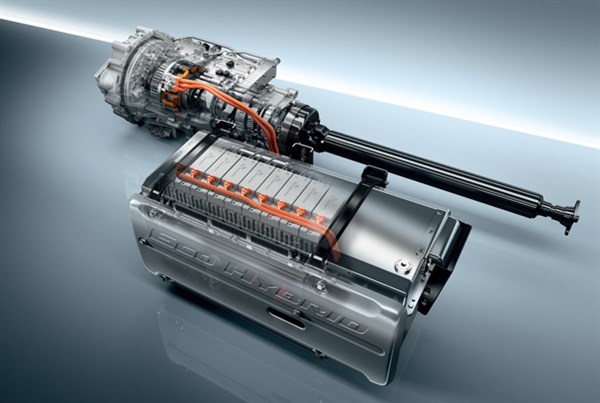 Engine
There's a great little 3-litre turbo diesel engine with plenty of go; a unique and very smooth automated transmission; and an idle stop-start mode which is quite a revelation.
The Canter's 3-litre turbocharged, intercooled diesel engine replaces the older 4.9-litre engine without losing any of the 110kW (150hp) in power.
Transmission
Product Planning Manager Kevin Johnston (below) explains how the duonic automated manual gearbox gismo works: first, the "wet clutch" part.
Rather than using friction plates, the duonic uses fluid and pressure, which Johnston says is non-wearing and gives the clutch a life of 300,000km.
He says the wet clutch also helps give the truck "creep forward" ability and a feel similar to fully automatic cars.
Meanwhile, the two wet clutches operate two separate sets of gears. Clutch A operates the first, third and fifth gears, while Clutch B controls the second, fourth and sixth gears. So, while one clutch is engaged to the engine, the other one has selected the next gear and is ready to change.
"You are effectively swapping from Clutch A to Clutch B and that's something that can be done in milliseconds," Johnston says.
"It's the type of transmission they use in Formula 1. This vehicle never loses momentum."
On top of that, the gearbox has the pulling power and durability of a manual.
But being sequential, it can't skip gears. Boiling all this down from a driver's point of view, you can hear the gears changing but you can't feel them, and a smooth delivery of power is always on hand when you put your foot down.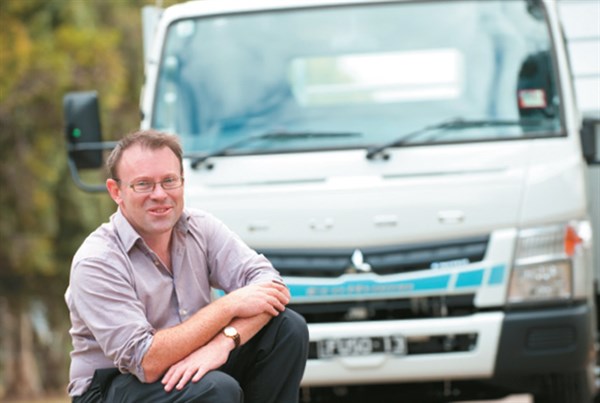 Cab and Controls
One improvement in the new Fuso's comfortable cab is an easier-to-reach multimedia unit, which includes Bluetooth and satellite navigation with truck maps.
Performance
ATN was impressed with the performance of the little unit on the freeway between Werribee and the industrial area past Geelong.
Sitting on 100km/h at about 2,250rpm felt like a comfortable work rate. The baby Fuso even powered up a steepish hill on the freeway at a surprising 90km/h, rounding up other vehicles in the process.
The new diesel engine's fuel economy already exceeds the tough Japanese standard for 2015.
Fuso plans to test the second-generation hybrid in urban Australian conditions, but in the meantime gives its fuel saving estimates based on Australian data from the first generation model, combined with data for the latest version coming out of Japan.
Based on working 35,000km a year at an average speed of 35km/h, Fuso believes the hybrid can pay back its extra purchase price within four years.
Johnston says fuel savings compared with the diesel equivalent will vary with average speeds — the lower the speed, the more economical the hybrid becomes.
"If we're looking at very low speed, say on average 20km/h, we would expect fuel improvements above 25 per cent," Johnston says.
"If you're looking at average speed of 35km/h, maybe 22 per cent improvement might be reasonable.
"Once above 40km/h, you are down into the teens or starting to miss the fuel potential of the hybrid."
For that reason, Fuso won't be selling the hybrid to any grey nomads planning to drive around Australia.
Fuel saving figures within the 20 per cent range might not seem like big numbers, but as Johnston points out, they're a big deal compared with the couple of percentage points improvement in fuel efficiency that purely diesel engine makers battle to achieve with each new model.
ATN Technical Editor Matt Wood and I drove a conventional Canter from Geelong to Queenscliff on the Bellarine Peninsula, and the duonic auto was a delight.
Combined with the comfortable mechanically-suspended driver's seat, you could easily imagine yourself driving around all day doing urban deliveries without being too knackered at the end.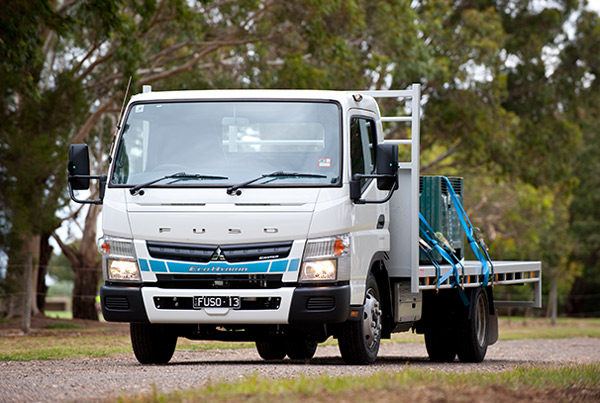 We concluded that the duonic transmission in the Eco Hybrid wasn't as good as in the conventional, though.
Drivers on the previous day had complained about it shifting down too early, and it seemed to be still doing it, to a much lesser extent, after some overnight re-calibration from Johnston, who is a mechanical engineer by trade.
Maybe some more tweaking is in order, or maybe there was more weight on the hybrid's tray compared with whatever was in the back of the pantech conventional.
When you haven't experienced automatic idle stop-start (ISS) before, it can be a bit off-putting. For one thing, all the usual lights that come on when you stall seem to come on with ISS too.
But after a while, you appreciate the peace and quiet at traffic lights and the fact that you're saving fuel.
When stopped and with no turning indicators on, the engine cuts out after about five seconds on the brake pedal. 
When you take your foot off the brake, the engine re-starts remarkably quickly and off you go again.
The starter motor in the Canter has been beefed-up to cope with the extra work and Fuso says it should last for ten years.
Another attraction of the Eco Hybrid is the 30,000km service interval, which is standard for Canters and Fighters.
Fuso attributes this to advanced tighter-engine tolerances and an extra oil cooler.
It says mineral, rather than synthetic, oil is still used, so they don't expect higher service costs compared with their competitors.
Specifications
Make/Model: Fuso Canter Eco Hybrid wide cab
GVM: 7.5 tonnes
Engine: 3-litre turbo charged with intercooler, DPF
Power: 110kW (150hp)
Torque: 370Nm @ 1,350-2,840rpm
Electric Motor Power: 40kW (54hp)
Electric Torque: 220Nm @200rpm
Transmission: Duonic 6-speed automated manual, dual clutch
Warranty: Three years/100,000km; Lithiumion battery 10 years
Subscribe to our newsletter
Sign up to receive the Trade Trucks e-newsletter, digital magazine and other offers we choose to share with you straight to your inbox
You can also follow our updates by liking us on Facebook. 

Trucks For Hire | Forklifts For Hire | Cranes For Hire | Generators For Hire | Transportable Buildings For Hire