Used Truck: Peter Dawson's Volvo FM12
---
Steve Skinner spotted this 2003 Volvo FM12 at the 2013 Penrith Working Truck Show and just had to take a closer look.
At the first sighting of Peter Dawson's 2003 Volvo FM12 you think: "How low can you go?"
We spotted the nice little green prime mover among the shiny big American bangers at this year's Penrith Working Truck Show, and wondered if it was actually sitting on blocks. The front mud flaps were scraping the ground.
But of course grass is softer than black top, "and Volvos are pretty heavy on the steer as well," adds the FM's owner, Peter Dawson.
"That's probably its biggest downfall, but with the furniture that we run, it's not a great drama," he says.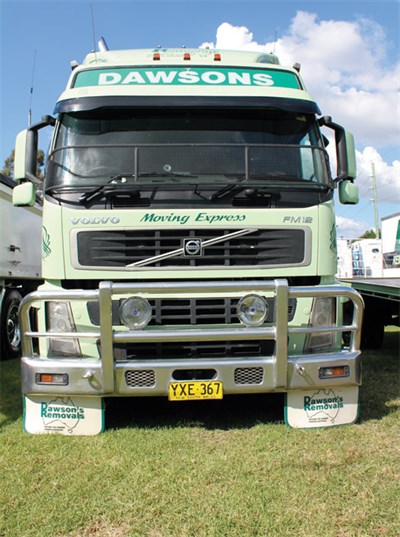 That's because the FM usually pulls a 1998 Lucar bogey axle drop-deck furniture van, grossing roughly only 30 tonnes on average.
(The company doesn't only cart furniture between houses — Dawson's also has contracts with retailers such as Harvey Norman, sending furniture from the Sydney depot as far into New South Wales as the Riverina, Cobar and Bourke. Dawson's also carries some general freight.)
Of course the great advantage of being so low to the ground is that the Volvo is very easy to climb into. No gymnastics needed to get into this rig. But once you're inside, the tall Globetrotter cab allows you to stand up. 
INTRODUCING THE VOLVO FM12
At this point we should explain what 'FM12' stands for. The 'F' stands for 'forward control', which is European lingo for cab over. The 'M' stands for 'medium' height cab, as opposed to the 'higher' cab in the bigger FH range. (Sitting on the grass, the unit at the Penrith Truck Show looked more like an 'FL' for 'low' if there was such a model.)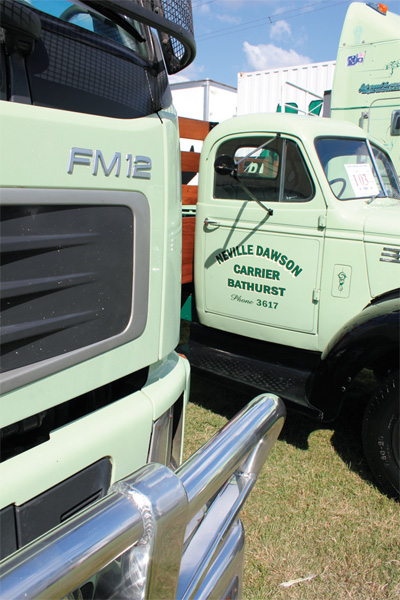 The '12' stands for the engine capacity, which in this truck is 12 litres, throwing out 420hp (309kW). There was also a 9-litre FM9 model in this series when it came out.
By contrast, the current range of FM Volvos doesn't have a number at the end, and there are two new, bigger, engine sizes — 11 litres and 13 litres. The power of the latter ranges up to 500hp (368kW).
Peter Dawson owns Dawson's Removals and Storage, based at Bathurst in the central west of NSW. There are also depots in Dubbo and Sydney, and agents all over the country.
Peter bought the FM12 new, and since then it's done a bit over 840,000km. A recent blown turbo is about the only major thing to go wrong on what has been a very reliable unit. Services have been carried out regularly at Peter's own workshop.
Peter Dawson says he's "very happy" with the Volvos he's run, including a pair of single drive FM12s — one configured truck and dog carting containers of furniture.
He says the single drives use a bit less fuel (they're not carrying an extra axle around) but don't handle as well as the 6x4, especially with full, top-heavy loads. 
DAWSON'S AUSTRALIAN VOLVO HISTORY
A couple of years before buying the FM12, Peter Dawson bought out his dad, Neville who started the business more than 50 years ago.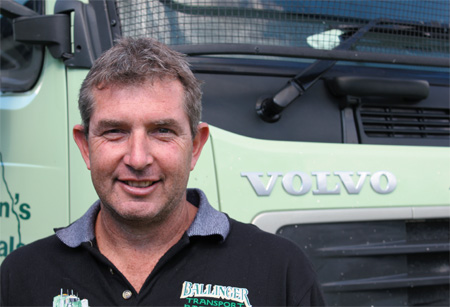 Peter had started off as a diesel mechanic and driver with the company, before becoming operations manager. He still occasionally jumps behind the wheel, and has been as far as Gladstone in the FM12, with his 'bride' Bernadette.
"She likes it because it's nice and quiet," Peter says. "It's just like a car — you don't have to yell at one another."
The little Volvo's regular driver is Dubbo-based Mick Dawe, one of only three drivers the truck has had in its lifetime — which might help explain why it's been so trouble-free.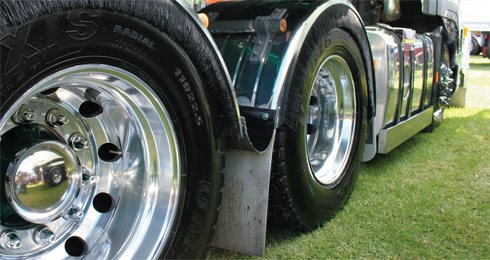 "It's been a great truck," Mick says.
"It's good, it's comfortable. It's got enough power for the furniture.
"We go anywhere in Australia," he says, adding that he enjoys the variety and is mostly home at weekends.
"It's all hand loading, so it keeps you fit." (Offsiders don't travel between locations with Dawson's — they are organised cooperatively through the Australian Furniture Removers Association.)
In the cab Mick has a fridge, TV and Viesa cooling unit which he says "works well". Nevertheless he usually sleeps at night, and says he is rarely on the road between midnight and dawn.
Unlike the experience of this writer in a couple of Volvos, Mick doesn't have false positive fault lights flashing up annoyingly on the dash all the time.
"It doesn't get any faults," he adds.
DIVERSE FLEET
The FM12 is one of 15 vehicles in the Dawson's fleet — which ranges from a Volkswagen Caddy van with a capacity of 3 cubic-metres, through Isuzus and Hinos to a T908 Kenworth pulling a B-double set with a capacity of 135 cubic-metres. Looking very impressive at the Penrith Show painted in the Dawson's colours, the 908 is operated by the company's only subcontractor — Dane Ballinger.
Dane's been with Dawson's for 15 years, but he's still only a young bloke. "As a kid Dane used to hang around with my nephew," says Peter Dawson. "He used to walk around the yard with me every afternoon after school. I couldn't get rid of him so I gave him a job washing trucks."
The rest is history, as they say.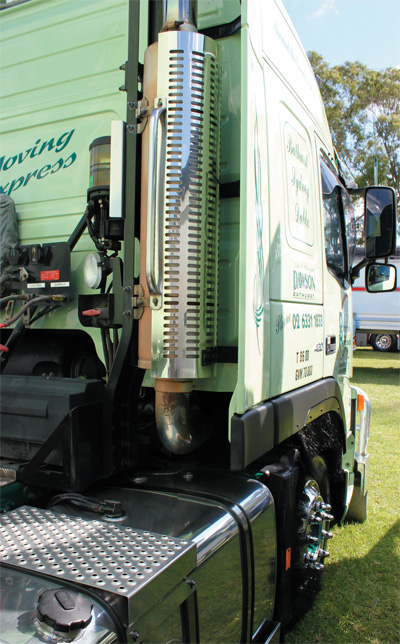 VOLVO TRUCK SPECIFICATIONS
TRUCK: 2003 Volvo FM12
OWNER: Dawson's Removals and Storage
DRIVER: Mick Dawe
ENGINE: Volvo 12-litre, 420hp (309kW)
TRANSMISSION: Volvo 14-speed synchromesh
Subscribe to our newsletter
Sign up to receive the Trade Trucks e-newsletter, digital magazine and other offers we choose to share with you straight to your inbox
You can also follow our updates by liking us on Facebook. 

Trucks For Hire | Forklifts For Hire | Cranes For Hire | Generators For Hire | Transportable Buildings For Hire