Scania Streamline G- And R-Series truck review
---
The Swedish truck builder has tweaked its bigger bangers, which could see line-haul operators using 3 to 4 per cent less fuel. Steve Skinner reports.
Scania has unveiled in Australia the first prime movers in its new 'Streamline' series of long-haul G- and R-series trucks.
The Streamline concept is a reincarnation of aerodynamic models released a couple of decades ago. There's nothing too radical involved; it's evolution rather than revolution.
Aerodynamic Updates
The most noticeable change is that the side air scoops, that have been a trademark Scania look for many years, are gone.
In their place are rounded cab corners, with a small deflector lip just above the headlights to create enough swirls to keep dirt and spray off the door handles. 
Also improving aerodynamics in the new models is a new sun visor which allows air to escape through its opened ends.
Other fuel-saving modifications in the new trucks lead the company to estimate that, based on trials in Europe, at least 3 per cent less fuel should be burnt on long runs in Australia. Scania says hard data on this will be built up with Australian fleets.
Most of the fuel-saving changes have been made out of sight. One is a new lowdrag gearbox that uses 3 litres less oil and has new guiding plates. Meanwhile in the Opticruise automated manual transmission (AMT) there is a new 'economy' setting to go with existing 'standard' and 'power' settings.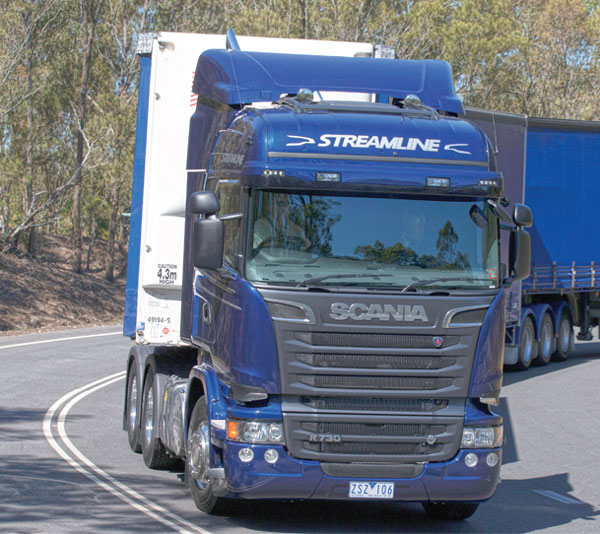 Part of the economy setting is an 'Ecocruise' cruise control function that adapts the cruising speed to topography by sensing the load on the engine. This means reduced throttle near the top of hills and reduced retarder near the bottom.
To save fuel further, both driver kick-down and manual gear changing (above 50km/h) can be disabled. New LED taillights will draw less current and therefore ask a little less of the engines, as well as lasting longer.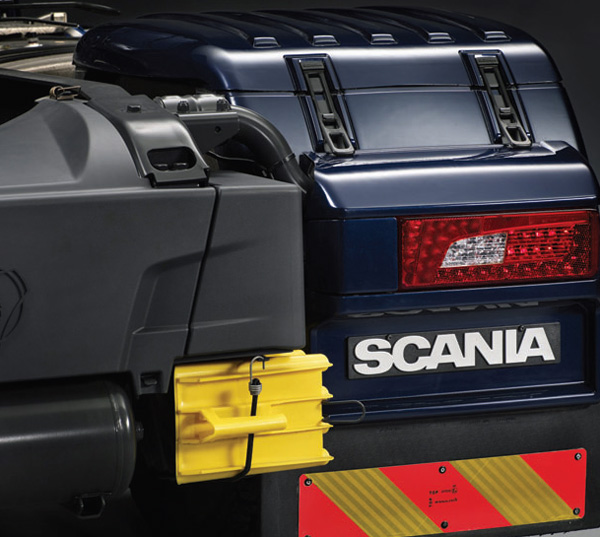 Various other refinements don't save fuel but are handy optional extras for operators who are interested. A new but same-weight dual battery system ensures the engine will always start, such as after the cab light is left on.
A host of new driving light combinations are now also available. There is new and darker upholstery to choose from (apparently that aids sleep, but we think fewer working hours would be more effective) and with summer looming there is a fan available in the base of the new seat to prevent sweaty bums.
Deliveries of Streamline trucks with Euro 5 engines begin immediately, and Scania says Euro 6 engines — using selective catalytic reduction (SCR) and exhaust gas recirculation for emissions control — are available as options at either 450hp (331kW) or 490hp (360kW).
A lighter but stronger single-drive axle is also available for those interested in 6x2 and 4x2 configurations.
Scania Streamline B-Triple
We were part of a group of truck journalists hosted by Scania at the Mount Cotton circuit, near Brisbane, to take the new Streamline models for a spin.
A highlight of the day was driving an R 730 (that's 730hp or 537kW) pulling a set of B-triple trailers. The huge 16.4-litre V8 engine hauled almost 80 tonnes around the hilly and windy course with ease.
Also with ease a 15.6-litre R 620 V8 hauled a B-double grossing nearly 60 tonnes and a 12.7-litre G 440 towed a single trailer at 45 tonnes all-up.
It was the first time I'd driven a B-triple and, contrary to misleading reporting in the mainstream media, they are nothing like driving a triple road train.
Apart from the obvious that they're much lighter, the B-triple hugged the corners remarkably well and there was no sway from the rear trailer on the short stretches of flat, straight track.
Each cab in the range confirms this writer's previous experience that the ride in the Scania is firm, but very comfortable.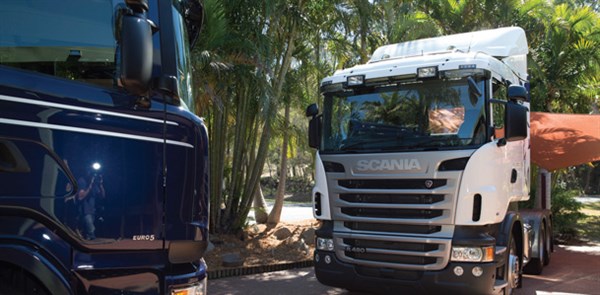 The R 730 has a Hi-Line cab that enables a six footer to stand fully (just), and there is even more headroom in the Topline cab.
Advanced safety technology is taken as a given, but a new feature Scania was keen for us to try out was 'launch control' mode in hill start.
This is meant to enable the driver to flatten the accelerator in taking off from tough starts, but the few times I tried it, the automated gearbox seemed to choose too high a gear. The alternative is to manually select a crawler gear yourself. Whatever way, the hill start function (in whatever brand of truck) is less stressful than riding the trailer brake.
The new 'economy' mode in the Opticruise AMT is presumably very good but there is a trap for new players: to choose standard, power or economy modes in the gearbox, you toggle forward on the gear control wand on the right-hand side of the steering column. If you toggle backwards, you can find yourself embarrassingly (and potentially dangerously) stopped in neutral.
But that shouldn't happen if drivers and operators take advantage of the free technology training provided by Scania with each new truck handover.
There are several other high-tech but fuel-saving functions to master, such as the incredibly strong transmission retarder.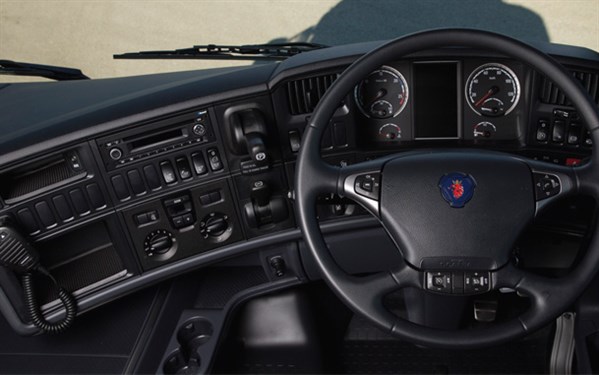 OPERATORS OUT-SOURCING WORKSHOPS
Which leads us to what many truckies would regard as a wanky term — 'Ecolution by Scania'. A slightly more understandable label, also used by Scania, is 'total transport solutions'. Both of them are really just fancy ways of claiming good service and support.
Scania says it's one of the most profitable truck companies in the world, approaching half of market share over 16 tonnes in Europe.
It claims this is based on not just selling a premium product, but on improving customer profitability.
Part of that is the driver training focusing on fuel efficiency, with follow-up if desired, to ensure drivers are maintaining good habits. Up to 10 per cent reduced fuel use has been claimed with this program.
Another part of 'Ecolution' is tailored maintenance and repair contracts (in Australia using more than 50 parts and service dealers).
Back-up can be as basic as maintaining tyre pressures on both trucks and trailers, or as complex as things can get in these days of on-board computers.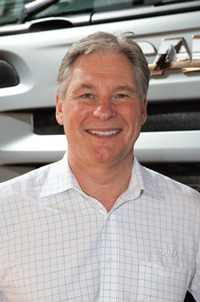 Scania Australia Managing Director, Roger McCarthy (right), says there is a global "acceleration of demand" for spare parts and workshop services. He says more than one third of Scania deliveries in Australia involve a service contract, where the customer can choose one of three levels.
"As the trucks are becoming more sophisticated in terms of electronics rather than mechanical engineering, we're seeing clients wanting to move their service and repair issues to the [original equipment manufacturer] and service networks we provide, because we have the skills and we have the training platforms that can keep the trucks on the road as much as possible," McCarthy says.
"So there is increasing demand — and it's very rapid now — from people considering closing their own workshops and coming over to us.
"There is this transition where customers are realising they have to train technicians and hold spare parts and so forth, so maybe a new generation of operator is saying 'Let's get back to my core business'.
"I think the other thing that's happening is they want to control risk. We manage risk. That's what we do."
Scania's also promising a very interesting new capability from early next year — remote diagnostics. This is tied up with the amazing world of telematics, where global positioning systems (GPS) enable data from trucks to be downloaded in real-time to headquarters.
Scania's system will go further than just monitoring engine and driver behaviour. Among other things, fault codes can be accessed remotely; replacement parts can be identified ahead of workshop visits and operators will be able to extend service intervals because the truck can tell them precisely when it needs some TLC and not before.
Subscribe to our newsletter
Sign up to receive the Trade Trucks e-newsletter, digital magazine and other offers we choose to share with you straight to your inbox
You can also follow our updates by liking us on Facebook. 

Trucks For Hire | Forklifts For Hire | Cranes For Hire | Generators For Hire | Transportable Buildings For Hire