Special Edition Mack Titan truck review
---
Steve Skinner conducts a full review of one of the 10 special-edition Mack Titan road train haulers
The Southern Cross Mack Titan is a big truck for a big occasion.
Gold-coloured model number 2011 — better known as 'Goldie' — is one of only 30 commemorative Macks built to celebrate the Bulldog's 50th anniversary of production in Australia.
The other nine Titans and 20 Super-Liners also named after various years of Australian manufacture, and painted in one of five unique colours, were snapped up within days when the range was announced earlier this year.
Built at the Mack factory in Wacol, Brisbane, and retained by Mack, 'Goldie' had only 3,200km on the clock when ATN took up the invitation to drive it from Sydney to Tamworth recently.
Admirers are never likely to see Goldie in this configuration again, towing a single trailer. For that matter, you'll be unlikely to see a big-cab Titan pulling a B-double either.
Goldie is so long — at about 9m — that it was three-quarters of the length of the full-weight trailer carrying concrete blocks.
Engine
That's because its whopping 685hp (504kW) MP10 powerplant is overkill for a single trailer; and its massive 64-inch (160cm) sleeper cab on a 6.2m wheelbase makes it way too long for B-doubles on the east coast.
I expected it to fly up hills at 100km/h oblivious to the trailer behind, but it didn't.
This truck is about torque rather than horsepower — it's built for road trains.    
Transmission
At 2,300ft-lb (3,118Nm), it has enough torque for four or more trailers. In fact, so much that you can't buy it with a manual gearbox. Standard issue is the 12-speed mDrive AMT.
Both its 16-litre engine and the transmission are based on that of parent company Volvo, but Mack argues convincingly that this is not a bonneted Volvo.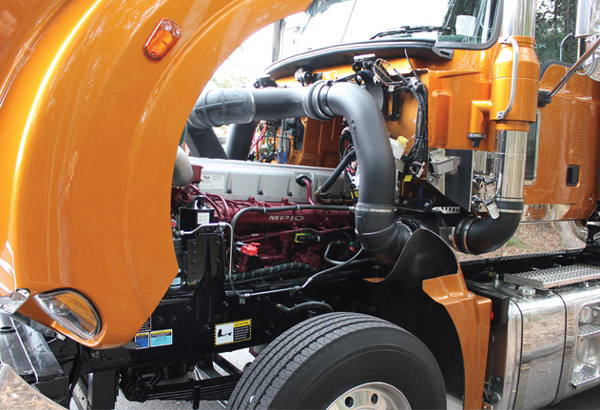 Cab and Controls
There are a lot of software variations, while other differences are more obvious — in terms of visibility, ride, sleeper space, and availability (or lack of) technological wizardry.
For example, the bonnet is massive but slopes downwards nicely. Nevertheless, I had to keep the bum of the Bulldog mascot on the bonnet in line with the fog-line for quite a while before getting used to where the Titan was sitting in the lane.
The sloping bonnet is possible because the engine sits low between chassis rails that are splayed at the front. This also means the driver can easily check the oil and coolant from the ground — once you've lowered the massive bullbar, that is — and mechanics have acres of room to work with.
Road manners are great and the steering is nice and direct, but the ride is a little hard to describe. 'Comfortable' is not quite the right word. You feel the rough stuff underneath you but it's not hard on the body at all.
On one hand, maybe the road feel is because of the Mack inverted-leaf, extra heavy duty suspension using parabolic springs.
On the other hand, cushioning factors include the massive gap between front and rear axles, cute little air bags on the back of the cab, and a very comfy Isri 'Big Boy' leather seat.
The 64-inch (163 cm) high-rise luxury sleeper is a home away from home, like a little flat that you can walk in and out of.
Maybe it's a bit archaic that it's not an integrated sleeper cab, but the join cover on the floor is so high and wide you would be hard-pressed to miss it unless you were stumbling around in the dark.
In this day and age, it's also a little surprising that the new Titan doesn't have stability control, lane departure warning (LDW), adaptive cruise control (ACC) and all the other electronic safety stuff that most European trucks have these days.
On the other hand, an argument can be mounted that, apart from the cost, too much reliance on the truck for safety can lead to dangerous complacency on the part of the driver — a debate which ATN will delve into in a future issue.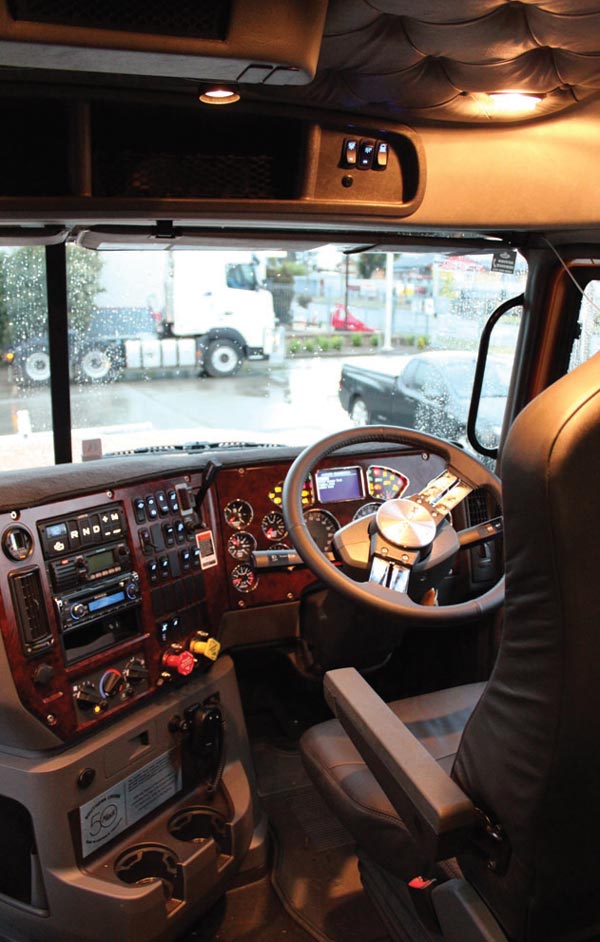 Performance
Riding shotgun with ATN in the Titan, Mack driver trainer Paul Munro has some good tips for saving on clutches and fuel, which can presumably be applied to any truck with an AMT.
Munro points out that when stopped at a set of lights on a hill, riding the accelerator is a big no-no because the AMT clutch would be slipping. The driver's foot should be on the service brake pedal instead, to disengage the clutch.
By the way, the Titan doesn't have hill-start assist.
Meanwhile, Munro's main piece of advice on fuel is to let the truck lug by itself whenever possible when it's in the peak torque band of 1,000rpm to 1,500rpm — there's no green torque band colouring on the display "because Mack drivers don't need it", Munro says.
As he demonstrates, when you kick down a gear unnecessarily when going up a hill, the rev counter obviously swings rapidly to the right, but you lose momentum and road speed actually drops, taking a fair while to build up again. So you've used extra fuel for nothing.
Munro jokes that someone should come out with a CD of truck noise to keep the rev-heads happy. Nevertheless the Titan has a 'Performance' power button which changes the shift range to 1,400-1,800rpm if desired.
Mind you, the Titan could also do with an audio recording to simulate a noisier engine brake.
Mack says the 'PowerLeash' engine brake has retarding power up to 570hp (420kW), but just about all you can hear is a feeble 'whistle', which sounds strange on such a big truck. Nevertheless the engine has a suitable Mack growl when you wind the windows down.
After a very pleasant six hours' or so driving time we arrived in Tamworth, and headed for the local Mack dealer, JT Fossey.
As well as having somewhere secure to park, Munro wanted to show the local boys a pretty spectacular rig that they may not see again.
Stopping sharply in time for a surprise turn showed that the drum brakes (with ABS) work fine.
Turning into Fossey's street and driveway then demonstrated a surprisingly good turning circle for such a big truck.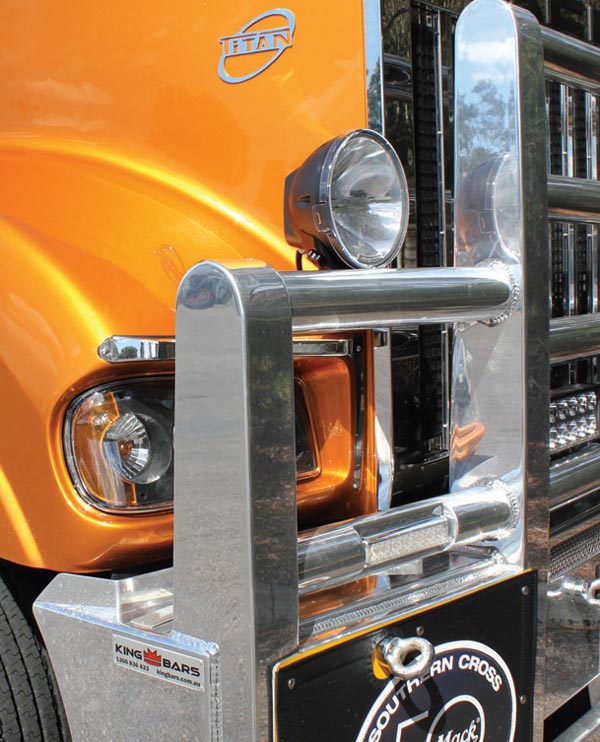 Verdict
Flying back to Sydney courtesy of Mack, it was interesting to see the New England Highway threading its way through prime horse and cattle grazing country and the 'moonscape' of the Hunter Valley coalfields.
While there may never be many Mack Titans hauling mining trailers or stock crates down there on the restricted roads of eastern NSW, it's easy to imagine legions of them hauling road trains in the outback mining and grazing areas of Australia.
Specifications
Make/Model: Mack Titan MP10
Engine: 16-litre 6 cylinder with SCR
Power/Torque: 685hp (504kW); 2,300ft-lb (3,120Nm)
Transmission: 12-speed mDrive 2-pedal AMT
Wheelbase: 6.2m
Rear Axles: Meritor, 4.1 ratio
GCM: 140 tonnes
Subscribe to our newsletter
Sign up to receive the Trade Trucks e-newsletter, digital magazine and other offers we choose to share with you straight to your inbox
You can also follow our updates by liking us on Facebook. 

Trucks For Hire | Forklifts For Hire | Cranes For Hire | Generators For Hire | Transportable Buildings For Hire